Colorado Avalanche: 5 Reasons They Could Be a Playoff Team in 2012-13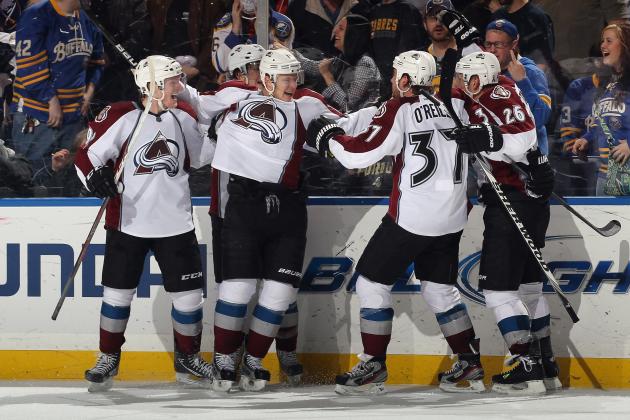 Bruce Bennett/Getty Images
The Colorado Avalanche had a great season, and they're only going to get better.
The Colorado Avalanche have made leaps and bounds since their 2010-11 NHL season. That year, the Avs finished second-to-last with a record of 30-44-8, only ahead of the Edmonton Oilers by four points. Furthermore, they were the only teams that failed to surpass 70 points in the Western Conference.
In the 2011-12 NHL season, the Avs improved their record to 41-35-6 and finished 11th in the Western Conference.
They're also one of the youngest teams in the NHL.
Considering they had a better season than the Minnesota Wild, Anaheim Ducks, Edmonton Oilers and the Columbus Blue Jackets, the Avalanche are poised to make even greater strides in returning back to the glory days of Joe Sakic and Peter Forsberg.
Here are five reasons the Colorado Avalanche have a chance at making the NHL postseason in 2012-13.
Begin Slideshow

»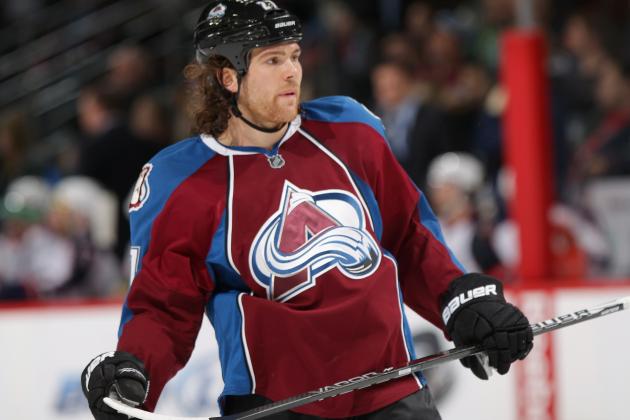 Doug Pensinger/Getty Images
Steve Downie has been a productive player, when healthy and not suspended.
Steve Downie has definitely had some difficulties staying out of trouble in terms of discipline with the NHL.
However, regardless of his antics, Downie has proved that he can be one of the most versatile agitators the NHL has to offer.
While spending his most successful seasons so far with the Tampa Bay Lightning, Downie demonstrated above-average goal scoring in notching 22 during the 2009-10 NHL season. In the 2010-11 NHL playoffs, Downie played in 17 games and amassed 14 points, primarily assists with 12.
Last season, in 20 games with the Avalanche, Downie scored 13 points, 11 of them being assists.
With a 20-goal season under his belt and multiple showings of his passing ability, Downie could be in for a great season with the Avalanche next year.
If he does have what it takes to skate with this talented and youthful squad, Downie will surely have a role to play in getting the Avs to the postseason.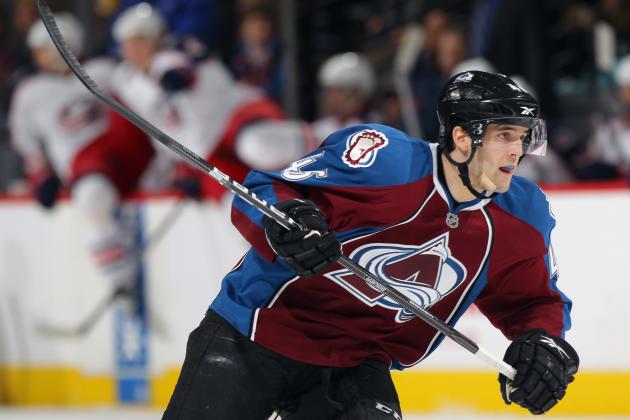 Doug Pensinger/Getty Images
Stefan Elliot is one of many 20-something defensemen on the Avs and he will be ready to take on a larger roll in 2012-13.
The Colorado Avalanche have a defensive corps that could take a turn for the better next season.
While Erik Johnson remains the only major household name on the roster, there are several defensemen that will have a major role to play in the upcoming season. There are a few veterans on the blue line like Jan Hejda and Greg Zanon. But it is the youth on defense that will have to shine for the Avs to succeed next season.
To be more specific, Tyson Barrie, Stefan Elliot and Cameron Gaunce are 21, 21, and 22 respectively. While only Barrie and Elliot played in the NHL last season, Gaunce played 11 NHL games with the Avs in 2010-11.
Considering the individual statistics of the AHL-affiliate Lake Erie Monsters, Elliot, Barrie and Gaunce will be poised to have great seasons with the Avs if they get the call.
With several defensemen locked in for next season, it will be up to the youngsters to step in and a take on a larger role going forward, if the Avs want to see the postseason.
Last season, Semyon Varlamov was splitting time with Jean-Sebastian Giguere but still managed to start 52 games for the Avalanche.
In those 52 games, Varlamov went 26-24-3 with a 91.3 save percentage and 2.59 goals-against average. He has supported a winning record in every season he's played in the NHL, and he will hope to play more games in the coming season.
While Varly has shown the ability to be a starting goaltender, the consistency and injury problems need to improve.
With names like Patrick Roy to live up to, Varlamov better be ready for the coming season if he plans to help his team reach the playoffs in 2012-13, while securing the starting job for years to come.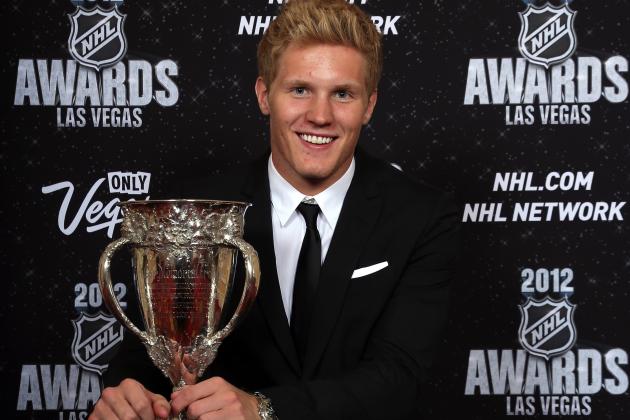 Bruce Bennett/Getty Images
Gabriel Landeskog was the Rookie of the Year for a good reason. He will look to improve on his performance this coming NHL season.
In my previous piece "NHL Player Rankings: Top 40 Non-Rookie, 21-and-Under Players", I stated that "the sky is the limit" for Landeskog.
I still believe that, and I will add to my previous claims.
Firstly, his statistics, for a 19-year old rookie, are nothing short of spectacular. Landeskog had 22 goals and 52 points, while supporting a team leading plus-20. The second best plus/minus on the team was Ryan Wilson with plus-11.
Impressive, but there's more.
He also lead the team in shots with 270. Second place? Paul Stastny with 190.
The cherry on top? Landeskog was the only skater on the entire Colorado Avalanche roster to play in all 82 games last season.
The basic premise of these points is that Landeskog didn't only come in and have a good rookie campaign, but he had one of the best seasons on the team.
At the age of 19, he will surely improve as his career progresses.
Landeskog will become one of the best players in the NHL, and in the process, he can help the Avs reach the playoffs once again.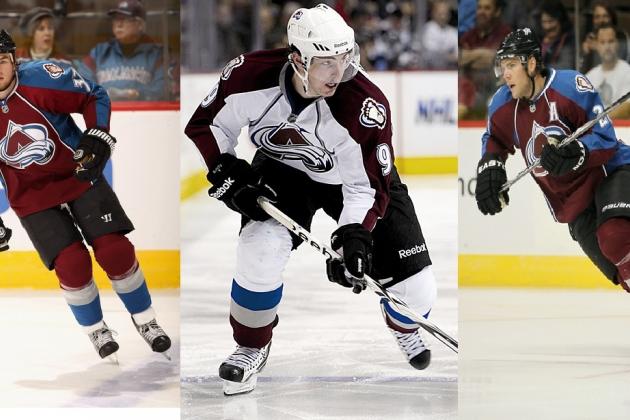 Ryan O'Reilly (left), Matt Duchene (center) and Paul Stastny (right) are the corps of the Avalanche forwards. They will need to have great seasons for this team to make the playoffs.
There are very few teams with this luxury, and the Avalanche can definitely reap the benefits of such depth at center. All three players have the qualities of a top-six center, but only two will get the chance. It is possible that the odd-man-out plays a wing, but it's important to acknowledge the talent the Avs have down the middle.
Paul Stastny
Stastny had a great rookie season. Mind you, when considering the 2006-07 Colorado Avalanche, he had help. However, Stastny surpassed 70 points two other times in his first four seasons while almost averaging a point-per-game pace.
Sadly, his past two seasons have been terrible, at least by his own standards. If Stastny can turn it around and get back to flirting with the 70 to 80-point plateau, he could help the Avs reach the playoffs in 2012-13.
Ryan O'Reilly
Ryan O'Reilly brings more of a defensive game to the ice, but he had a breakout season last year with 55 points. His chemistry with newly-found phenom Gabriel Landeskog will definitely have them playing together next year as well.
O'Reilly's all-around game will become an asset for the Avs in the games that matter. If he can continue to produce over 50 to 60 points, he will be more than a reliable center for the Avs.
Ma tt Duchene
Save the best for last.
If you are a true fan of hockey, you not only follow Duchene's story, but you sympathize with him. He has the potential to be great, and he's shown it with a goal like this, a pair of goals like these or even this goal. He has outstanding offensive instincts and skill, while demonstrating great leadership qualities throughout his hockey career. If he can shake the injuries, Duchene will soon become one of the NHL's best.
Summary
If there's any factor to get the Avalanche back to the promise land, it is these three individuals. If all three players can perform at their best consistently, the Avs will have all the makings of a playoff team for not only next year, but for years to come.