Predictions for the Team USA vs. Spain Gold Medal Matchup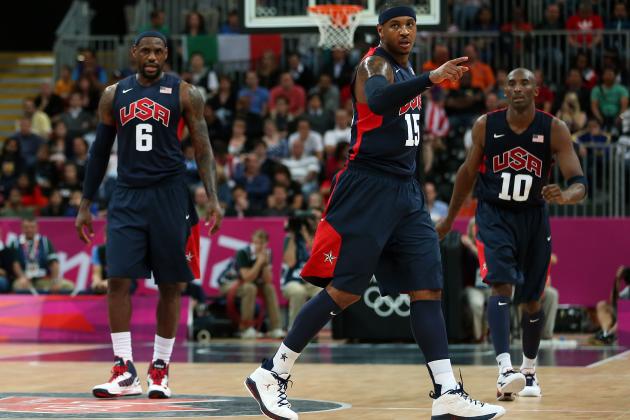 Ezra Shaw/Getty Images

Ladies and gentlemen, we have our gold medal game.
USA vs. Spain. A repeat of the thriller that was the 2008 Beijing Olympics gold medal matchup in which the "Redeem Team" prevailed.
With All-Stars on both sides, national pride on the line as well as a whole myriad of another storylines to cover, this promises to be an enticing matchup.
While Team USA's roster has a lot more talent, athleticism and speed, Spain does have size that the U.S. can't compete with.
Here are some predictions for Sunday's gold medal clash.
Begin Slideshow

»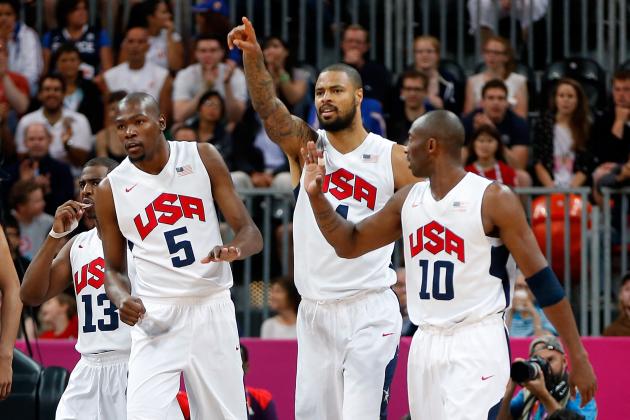 Jamie Squire/Getty Images

For all their dominance throughout the Olympic tournament so far, Team USA has yet to put forward a dominant first quarter outside of the record-breaking triumph over Nigeria.
Whether you agree with it or not, Team USA's starting five is definitely not their best unit, and coach Mike Krzyzewski knows that.
With Kobe Bryant still struggling to fit into the rhythm of the team and Tyson Chandler constantly in foul trouble, the starting five has often come out flat and out of rhythm, allowing other teams to remain competitive.
This pattern should continue against a Spanish team that will come out with all guns blazing.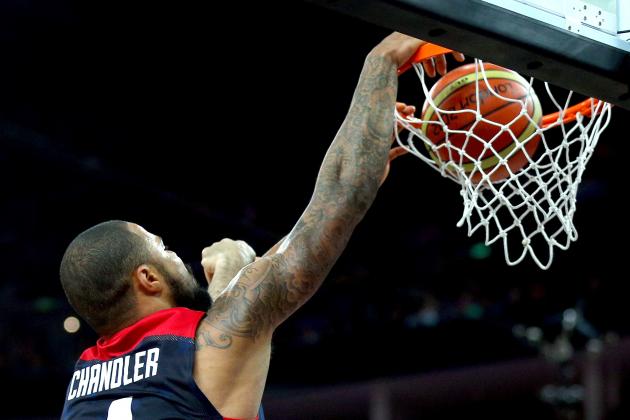 Cameron Spencer/Getty Images

A running theme of this Olympics has been Tyson Chanlder's inability to stay out of foul trouble.
As Team USA's only real center, Chandler is often forced to defend the paint by himself, which is the main reason for his high foul rate.
With Spain possessing arguably the biggest front line in international basketball with Pau and Marc Gasol and Serge Ibaka, Chandler will likely pick up fouls fairly quickly.
One of Spain's primary goals coming into this game will be to get Chandler in foul trouble so their bigs can dominate in the paint.
As Team USA's only true center, Chandler's ability to stay on the court will be crucial to the team's chances.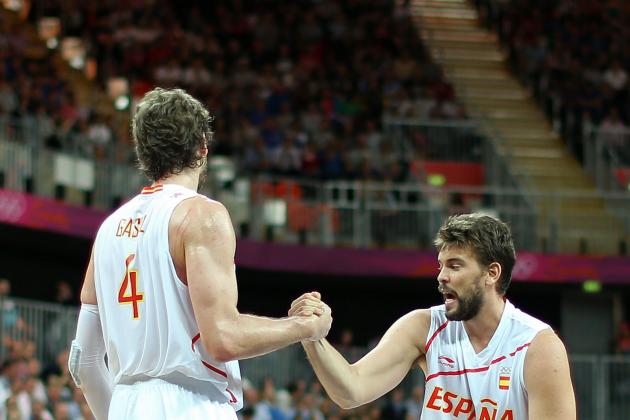 Christian Petersen/Getty Images

Following on from the previous slide regarding Tyson Chandler's foul trouble, I fully expect the Gasol brothers to dominate this game in the paint.
With both Pau and Marc able to post up as well as knock down mid-range shots with ease, Team USA could get in real trouble if the two of them get hot.
Going small with LeBron James at center could deter the Spanish from playing both Gasol brothers, but asking LeBron to defend a seven-footer for extended minutes would be asking too much of Team USA's best player.
If Chandler avoids foul trouble, Team USA should be fine—but if he can't, they could be in big trouble.
Pau Gasol has been one of the best players in the Olympics, and he will be sure to put forward a big performance in this game.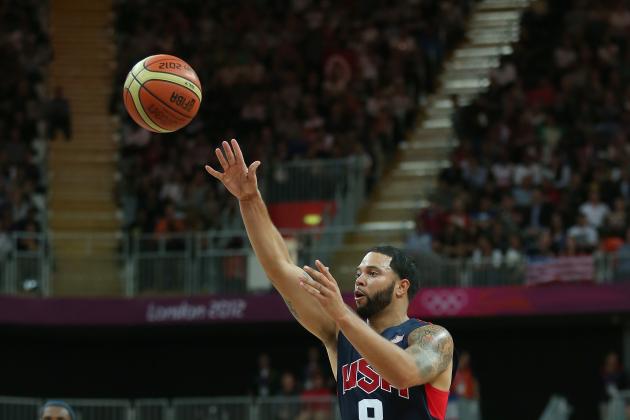 Ezra Shaw/Getty Images

While the starting unit may struggle slightly in this game, I see the second unit coming out strong for the U.S.
The second unit, which features Deron Williams, Russell Westbrook, Andre Iguodala, Carmelo Anthony and Kevin Love, has been among the best five-man lineups all tournament. With Westbrook and Iguodala both providing a defensive tenacity that much of the team has yet to display and Carmelo scoring with ease, the "backups" have been every bit as good as the starters.
Unlike Team USA's rotation-heavy system, the Spanish usually play their starting five players for the majority of the game, with only backup guard Sergio Llull playing extended minutes.
With a fresh five going up against a tiring Spanish five, Team USA should take the lead around the second quarter when these guys come in.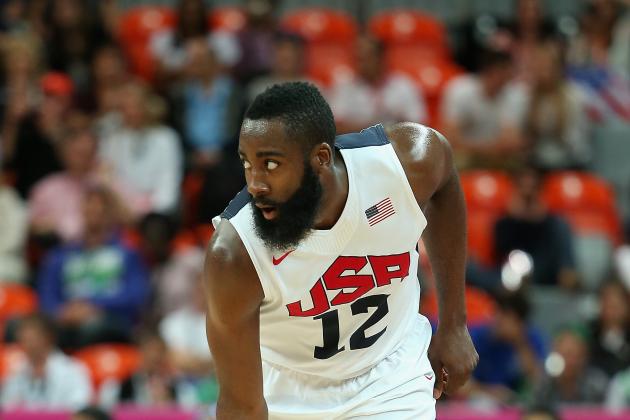 Christian Petersen/Getty Images

The staple of Team USA's offense in these Olympics has arguably been their three-point shooting. With the international game featuring a shorter three-point line compared to the NBA, Team USA has taken advantage and put on some historic shooting performances.
With Carmelo Anthony, Kevin Durant and Kobe Bryant all having lights-out shooting performances throughout the tournament, one could assume someone will step up and have one this game. In my eyes at least, this won't happen.
As Lithuania showed, the best way to beat the U.S. is allow them to get trigger-happy from deep and hope they go cold. Against Lithuania, the United States shot 30.3 percent from downtown and needed LeBron James to come in and save the day at the very end.
Spain will have undoubtedly watched that game tape and will come up with a similar strategy for the gold medal clash.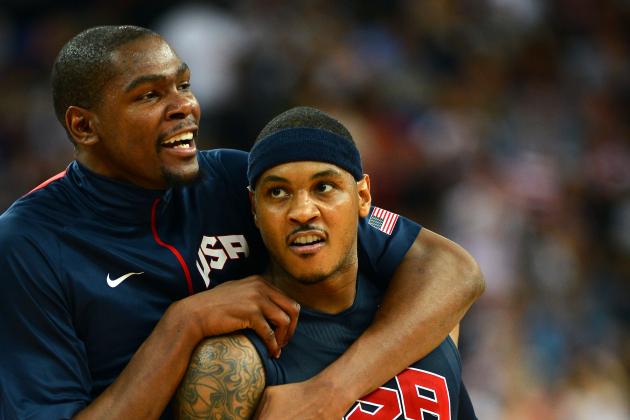 Lars Baron/Getty Images

With most of the games so far, Team USA has been in cruise-control up until halfway through the third quarter, before they truly turn it on.
Their games against Argentina and Australia were very close following the halftime break before LeBron and Co. switched to another gear and started piling it on.
Why this pattern has developed is beyond me. Whether it's an over confidence thing or a lack of respect thing, it's evident that Team USA plays at another level in the second half.
While I expect Team USA to come out playing in the first half, I expect them to fully put their foot on the gas in the third quarter. It's around this time that LeBron, Carmelo and Durant have taken over, and this pattern should continue into the gold medal game.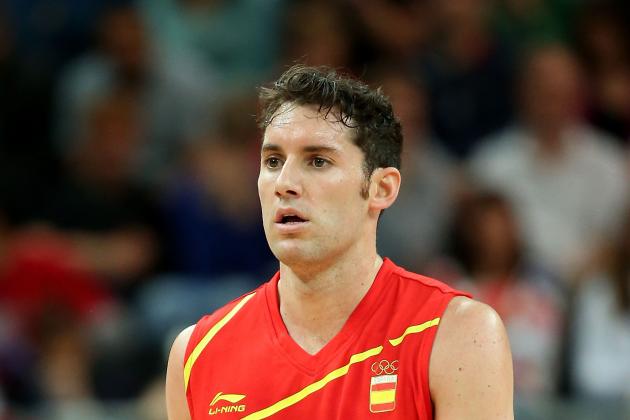 Christian Petersen/Getty Images

For those who watched the 2008 gold medal clash, you will know exactly what I'm talking about.
Four years ago, when it seemed as if Team USA would cruise to the gold, Fernandez and Navarro took over the game, hitting an array of three-pointers, floaters and dunks. They eventually trimmed a double-digit lead to five points before Kobe closed it out with a game-changing four point play.
When Fernandez and Navarro get hot from outside it'll be extremely hard to stop them, especially with the Gasol brothers lurking in the paint.
Last gold medal, these two almost brought Spain to a historic win. Making sure it doesn't happen will be key for the U.S.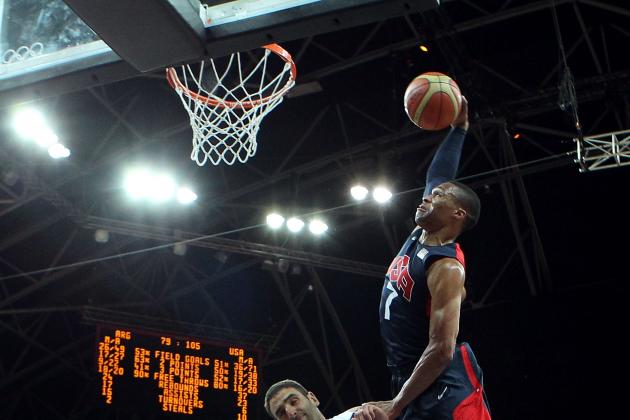 Christian Petersen/Getty Images

As previously stated, I expect the second unit of Team USA to be a big difference-maker in this game, and Russell Westbrook is the reason why.
Westbrook has had a fairly quiet Olympic campaign so far and I think he will break out big-time against Spain.
The Spanish backcourt of Jose Calderon and Juan Carlos Navarro is world-class, but the two of them combined don't have the same kind of athleticism that Westbrook possesses. Spain will most likely try to slow things down to take advantage of their size inside, so it will be in Team USA's best interest to push the ball up and try get some easy buckets. No one does that better than Russell Westbrook.
Westbrook, throughout this tournament, has tried to be a three-point shooter, something that does not suit his style of play. Taking the ball to the hole is his game and with slower guards defending him, he should be able to get into the paint at will.
Lars Baron/Getty Images

It's evident that Carmelo Anthony loves playing international ball. From the shorter three-point lines to the smaller opponents, the international game suits Carmelo's style of play perfectly.
He has been one of Team USA's best players of all time and his play at these Olympics has cemented that. Incredibly, he has averaged over a point a minute throughout the Games, all while shooting over 50 percent from three.
With Team USA looking to perhaps play small, Carmelo could see a lot of minutes in this game and I fully expect him to continue to score over a point and minute.
Carmelo has always stepped up for Team USA and I expect nothing less from him on Sunday.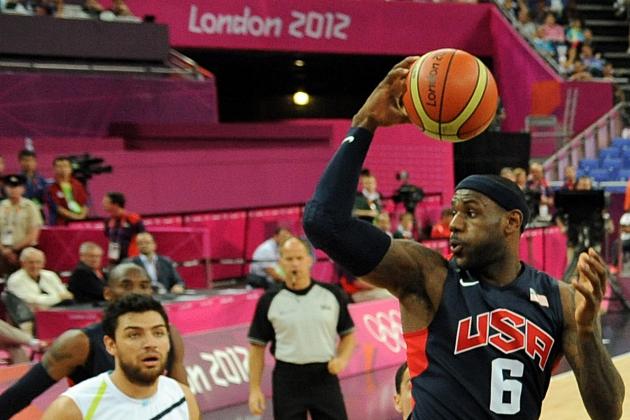 Pool/Getty Images

Whether it's hitting game-winners against Lithuania or recording the first-ever triple-double by a U.S. player, LeBron James has simply owned the Olympics.
This theme should continue well into the gold medal game. LeBron won't lead the team in scoring, but he will be right up there in rebounding and assists. Also expect him to guard everyone from Pau Gasol to Rudy Fernandez. LeBron's versatility is truly what separates him from every other player on the planet, something that will be on full display come Sunday.
Bill Simmons wrote it best:
"We'll look back at LeBron's 2012 Olympics the same way we look back at Jordan's 1992 Olympics—peak of his powers, basically—with one crucial difference. LeBron enjoys his available toys (elite point guards and elite shooters at his disposal, more fast breaks, etc.) more than Jordan did. You know how LeBron can go from MJ mode to Magic mode depending on the moment? He's been in full-fledged Magic mode for the entire Olympics (with a little Larry Bird 2.0 thrown in), save for that one stretch against Lithuania when he had to take over (and did). He's done everything effortlessly. He's just great at basketball. Really, really great. And I mean this in the least condescending way possible: If you love basketball, I really hope you're appreciating this."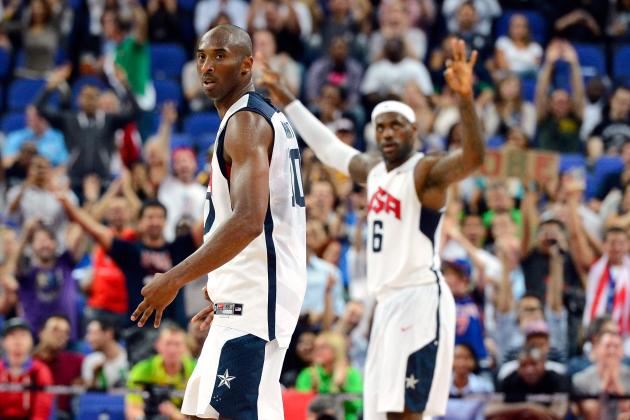 Ronald Martinez/Getty Images

All things considered, this will be an entertaining match between the two best teams in international basketball.
Spain does not fear the USA, and truly believes the U.S. can be beat.
How Team USA defends Spain's size and how Spain combats the United State's speed and athletcism will go a long way in determining the winner.
My Prediction:
USA 112
Spain 94