Power Ranking the Top 10 NBA Stars by Their Marketability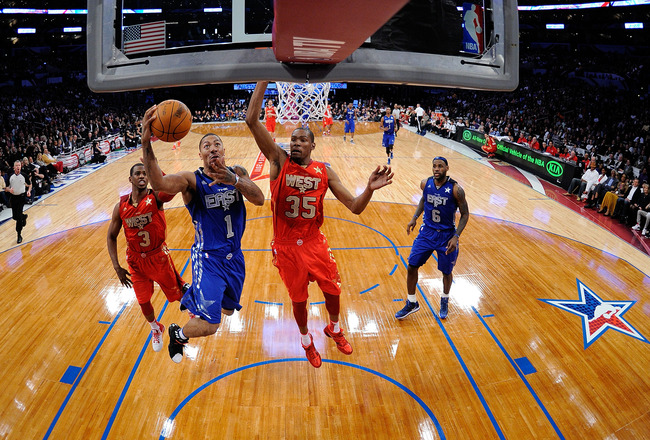 Pool/Getty Images
While some claim that NBA players shouldn't be playing in the Olympics due to the risk of suffering an injury, there are few better ways for a player to gain more exposure.
The current USA roster is stacked with the NBA's best talent, and all the players on the team are viewed favorably by fans back home. Playing for Team USA is once again an honor among the league's current stars, and the results are proving just that.
There isn't one factor that determines what makes a star marketable; rather, it is a combination of elements that play into the equation.
Winners tend to be more marketable, so you won't see any Charlotte Bobcats on this list.
Honestly, there are a lot of marketable players in the NBA, and that speaks to the health of the game. Read on to find out which of the league's amazing athletes are the most marketable.
Honorable Mention: Jeremy Lin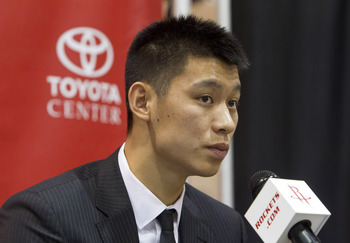 Bob Levey/Getty Images
Jeremy Lin took the NBA by storm last season and wound up finishing second in jersey sales, domestically.
I simply couldn't leave him off the list altogether, but he has to prove that his strong play was more than an aberration before he earns a solid spot on this list.
Lin's eruption during the winter wouldn't have been quite as big if he hadn't been playing in New York.
Now that he is in Houston, it is normal to expect that he won't get the same level of attention that he received when he was with the Knicks.
Don't expect Lin to go away altogether though, as his play last season earned him the spotlight for the rest of his career. Even if he doesn't succeed, we will hear about his every shot until he isn't taking them anymore, due to one magical run.
10. Dwight Howard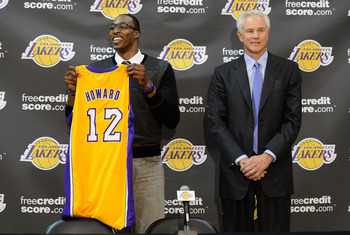 Kevork Djansezian/Getty Images
It wasn't so long ago that Dwight Howard was ranked much higher on this list. He was once a beacon of strength and loyalty; then he became a national headache.
Howard has finally gotten his wish and is no longer a member of the Orlando Magic, but the pressure is on now that he is on the Los Angeles Lakers.
It will take a little time before NBA fans are able to attach Howard's name to anything but how he botched his looming free agency.
If the Lakers manage to win a couple NBA titles in the coming years, then the "Dwightmare" will become a distant memory,
If they struggle for whatever reason, the pressure on Howard will rival what LeBron James felt before he won his first ring earlier this summer.
Howard wanted to move to a bigger market to entice the commitment of more sponsors. Unfortunately for him, his image isn't as highly regarded as it was when he was leading the Magic into the playoffs a couple of years ago.
Dwight is also far more popular internationally, as he ranked fifth in jersey sales versus 14th domestically.
9. Carmelo Anthony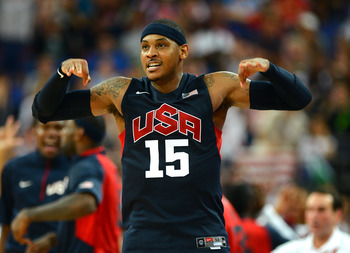 Lars Baron/Getty Images
Carmelo Anthony is the best player on his team—one that happens to play in the biggest market in the country. As Melo goes, the New York Knicks go, as he sets the tone and pace for the team.
Anthony led Syracuse on a magical run through the 2003 NCAA Tournament and emerged as a star on a national scale.
Since then, Melo has proven that he is one of the very best offensive players in the NBA. When he catches fire, he literally cannot be covered and defenses can only contain him.
Anthony should be recognized for his passion in representing the USA in the Olympics. His appearance in London marks the third time he has represented the Red, White and Blue at the highest level and he shows no intention of stopping.
As long as Melo is with the Knicks, he will be in the limelight constantly. This will make him very marketable, and if he leads the Knicks to some playoff success he will certainly move up this list.
8. Kevin Garnett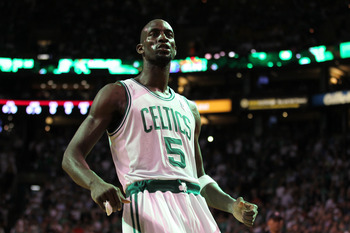 Jim Rogash/Getty Images
Kevin Garnett has been very good for a very long time—17 years to be exact.
In that time, Garnett has carved out a niche as a hard-nosed, tough player who prides himself on playing tough defense.
KG is really popular internationally, as he sold the fourth-most jerseys worldwide.
It doesn't hurt that Garnett plays for one of the most famous franchises in the NBA and is one of the driving forces behind their success.
The fact that KG is so vocal adds to his allure because he represents the old school philosophy of playing tough and not making nice with his opponents.
At this point, Garnett has developed a large fanbase because an entire generation has not seen the NBA without him. Those same fans are rather glad that he decided not to retire earlier this summer.
7. Dwyane Wade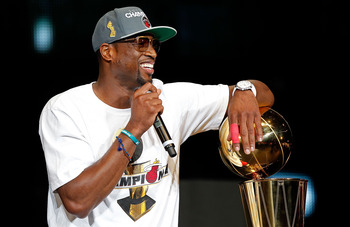 Mike Ehrmann/Getty Images
The Heat are still Dwyane Wade's team and they always will be. LeBron James is the better player and is the MVP on the team, but it isn't his squad.
Wade earned that right when James and Chris Bosh joined him in South Beach two summers ago.
After winning his second title in June, he once again distinguished himself as a champion. He also made us remember that he did carry the Heat to the playoffs on multiple occasions in the past.
While Wade is often overshadowed by LeBron on the national level, his ability to score in the big moments is the perfect compliment to James.
D-Wade is cool, simply put. He's the type of guy you want to hang out with, because he just seems like he would be cool.
That makes him appealing to sponsors, like Gatorade and T-Mobile.
With another title in his back pocket, expect Wade, who missed the Olympics, to pick up another couple of commercial spots to capitalize on last season's success.
6. Blake Griffin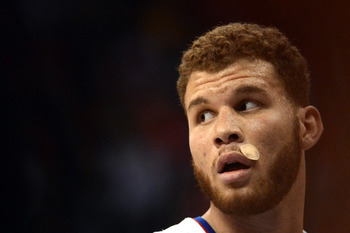 Harry How/Getty Images
Blake Griffin is electrifying, and that alone will always put him right in the spotlight. During the season, it seems like he is posterizing a different big man every other night.
His KIA sponsorship perfectly portrayed his high-flying game which only perpetuated the thought that Griffin is the most exciting player in the league.
I mean, come on. The guy was shot out of a cannon.
How is that not exciting?
On a serious note, Griffin has helped in changing the culture surrounding the Los Angeles Clippers and made the team a destination that Chris Paul didn't mind joining.
Griffin is one of the more marketable players in the league; if you don't believe me check out the cover of NBA 2K13.
5. Dirk Nowitzki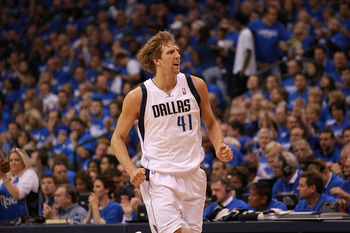 Ronald Martinez/Getty Images
Dirk Nowitzki may be the best European player in the history of the NBA. The 7-foot German is arguably one of the most versatile players in the league and is the master at finding ways to get open looks, no matter who is guarding him.
Dirk has proven to be fun-loving over the course of his career, but is also as intense as they come in crunch time.
Who can forget how emotional Nowitzki got after he led the Dallas Mavericks past the Miami Heat in last year's NBA Finals?
Dirk's passion for the game of basketball and drive to win is inspiring, which makes him extremely likable. He also tends to keep to himself and is never in the news for the wrong reasons.
The Dallas Mavericks have also have the honor of being the only team that Nowitzki has played for, and that kind of stability is looked upon positively in the volatile NBA.
Very few players in the league today have defined their current franchise in a similar way to Nowitzki; in fact, only Kobe Bryant and Tim Duncan are in that conversation with Dirk.
4. LeBron James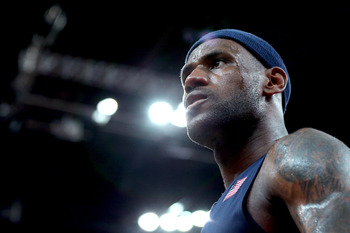 Cameron Spencer/Getty Images
What a difference a successful year can make. This time last year, LeBron James was coming off a disappointing NBA Finals performance against the Dallas Mavericks and was being slammed by critics left and right.
After leading the Miami Heat through a tumultuous playoff run, James captured his maiden NBA title and began to rebuild his image. After "The Decision" left his reputation in shambles, it was clear that winning was the only thing that would improve the way he was perceived.
James is without a doubt the best player in the NBA and is the favorite to win the MVP again this season. Watching him play last season was a joy because he portrayed pure excellence on the court.
There just wasn't anything that LeBron didn't do for the Heat, and the best player on a championship winning team will always be marketable.
Winning heals all wounds, as does the certainty of future success. Both of which are in LeBron's favor at the moment.
3. Kevin Durant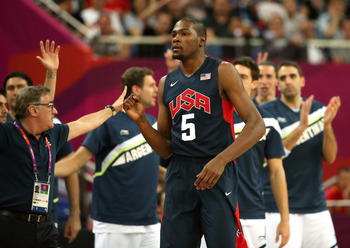 Christian Petersen/Getty Images
Kevin Durant is the NBA superstar who every team covets. He is almost unguardable on the offensive end of the court and never gives anything less than his best effort.
He is also humble and genuinely seems content to be on a winning team in a smaller market. While players like Dwight Howard, Carmelo Anthony and Chris Paul all forced trades out of smaller markets, Durant is leading the Oklahoma City Thunder as the favorite to win the Western Conference entering this season.
When he signed an extension with the Oklahoma City Thunder, it wasn't a spectacle. He simply went about his business as usual, albeit with a little more change in his pocket.
Durant never seems to take anything for granted either. The world's second-best player is intense, yet still manages to take a step back and smell the roses.
He also proved in this commercial for Sprint that he is entertaining in advertisements. I think it's fair to assume that Durant will making a few more appearances on our televisions during commercial breaks.
2. Derrick Rose
Jonathan Daniel/Getty Images
Derrick Rose ascended into the ranks of the NBA elite during his 2011 MVP season. Prior to the All-Star game, Rose signed a huge deal with Adidas.
What fans love about Rose, other than his tenacious and exciting style of play, is how humble he is despite all of his success. He takes everything serious and has earned the trust of the public, which isn't easy to do.
Athletes are among the most important role models for today's youth, but they don't always conduct themselves in a responsible manner. Rose has never given the public a reason to not trust that he is a genuine, good person.
That makes him a safe investment for sponsors, so expect him to continue to gain endorsements once he recovers from his knee injury.
D-Rose is so popular that he sold more jerseys than anyone else last year domestically and second-most internationally.
Rose has also proven to be on a winner, as he led Memphis to the national championship game in 2007. He was a critical member of the Chicago Bulls teams that finished each of last two seasons with the best record in the Eastern Conference.
1. Kobe Bryant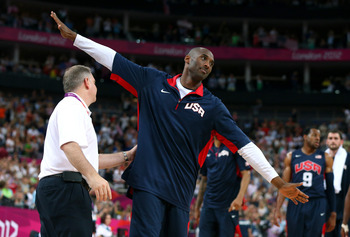 Cameron Spencer/Getty Images
Kobe Bryant has developed his image into a brand. If you don't believe me just take a look at the international jersey sales, which has him in the top spot.
Kobe is the most marketable player in the NBA for a couple key reasons.
First, he is a champion. Over the span of his 16-year career, he has won five NBA championships and lost in the Finals on two other occasions. Basically, he has appeared in the NBA Finals almost once every other year.
It's hard to hate all-time great players and that's exactly what Kobe is. A strong argument could be made for Kobe being the second best shooting guard in history and a top 15 player overall.
Second, the Black Mamba has a calm, powerful personality. He doesn't mind speaking his mind, just take a look at what he said about David Stern's thoughts about banning players over 23-years old from the Olympics in the future, and he backs up his talk on the court.
In today's sports world, athletes open their mouth before thinking and look like fools when they are forced to eat their words after tough losses.
Bryant isn't one of those guys, as he always knows the exact situation and judges what he says accordingly. This leads to an aura of invincibility that is unmatched in the NBA.
Everyone is envious of life's biggest winners, and few NBA players in history have won as much as Kobe.
Keep Reading