Arena Bowl XXV Preview: Soul vs. Rattlers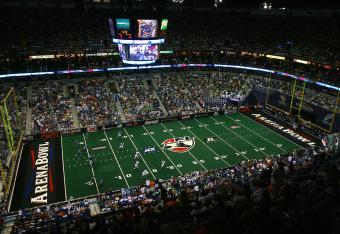 Doug Benc/Getty Images
Who: (15-3) Philadelphia Soul vs. (13-5) Arizona Rattlers
What: Arena Bowl XXV
When: Friday, August 10th at 10:30PM
Where: New Orleans Arena (Home of NBA Hornets and AFL VooDoo)
TV/Radio: NFL Network
The last time the Philadelphia Soul were Arena Bowl champions was the 2008 season in New Orleans. Now it's 2012, and the AFL Championship is back in the Big Easy. The Soul went 15-3 in this year's Arena Football regular season, outscoring opponents 1228 to 919. First-year head coach Doug Plank has turned the franchise over after the disappointing 2011 season where Philadelphia was 6-12—last in the East Division.
Philadelphia will take on a tough Arizona Rattlers squad, who finished the 2012 campaign with a 13-5 record.
Philadelphia's Road to Arena Bowl XXV:
Round 1:
Defeated New Orleans VooDoo 66-53:
Soul Quarterback Dan Raudabaugh threw for 250 yards and 7 touchdowns in the 13-point victory over New Orleans. Philadelphia was leading by just one at halftime (31-30), but they pulled away with three Raudabaugh touchdowns in the second half.
Round 2:
Defeated Jacksonville Sharks 89-34:
The Soul's offense has been lethal all year long. The 89 points against Jacksonville set a new AFL postseason record for most points in a game. Wide Receiver Larry Brackins caught five TDs from Raudabaugh in the blowout semifinal victory. Confetti fell from the Wells Fargo Center's ceiling as the Philadelphia Soul are headed to the franchise's second ever AFL Championship Game.
Arizona's Road to Arena Bowl XXV:
Round 1:
Defeated San Jose SaberCats 51-48:
Arizona didn't have the easiest trip to the 2012 Arena Bowl. The Rattlers sneaked out a 51-48 victory over upset-minded San Jose. WR Maurice Purify caught four touchdowns and 134 yards from quarterback Nick Davila in the victory. The Rattlers jumped out to a 14-0 lead at the end of the first quarter, but San Jose played tough and almost pulled off a shocking first-round win.
Round 2:
Defeated Utah Blaze 75-69:
The 13-7 Utah Blaze outscored Arizona 35-16 in the second quarter, but Davila threw for 331 yards and eight TDs as the Rattlers held back Utah in the National Conference semifinal. Blaze quarterback Tommy Grady threw for 441 yards and 10 TDs in the losing effort.
Who Will Win Arena Bowl XXV?
Keys to Arena Bowl XXV:
For Philadelphia:
Offense, Offense, Offense:
The Soul only had three games where they scored less than 60 points. If Philadelphia can put up at least 70 points, their defense is good enough to stop the Rattlers on a couple of possessions. The Philadelphia offense has embarrassed AFL defenses all season long, and it would be no surprise if the Soul did that in Arena Bowl XXV.
For Arizona:
Get Some Stops:
It's almost impossible to stop the Soul offense, but Arizona will need to slow it down to win the Arena Football Championship.
Prediction:
Philadelphia Soul 69, Arizona Rattlers 55
Philly's offense is way too lethal for the Rattlers, who will give a good showing, but fall short in the second half. Again, I wouldn't be surprised if the Soul score more than 69 points.
Follow Teddy Bailey on Twitter:
This article is
What is the duplicate article?
Why is this article offensive?
Where is this article plagiarized from?
Why is this article poorly edited?