Denver Nuggets: 5 Reasons the Nuggets Can Beat the Lakers After the D12 Trade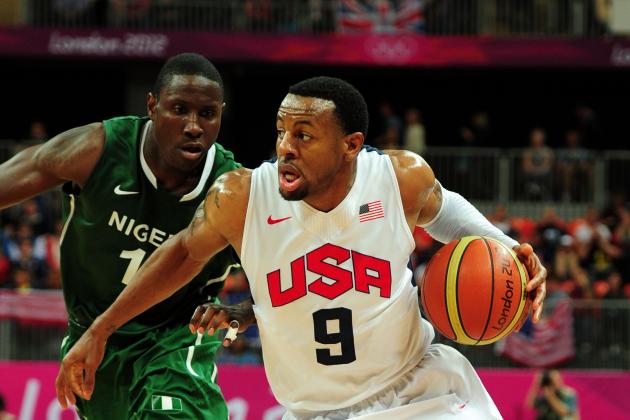 Mike Hewitt/Getty Images

The Denver Nuggets effectuated a four-way trade that moved megastar Dwight Howard to the Los Angeles Lakers in return for Andre Iguodala in order to win a championship.
Albeit a risky move, the Nuggets may very well accomplish their goal this upcoming NBA season.
The following segment explores five reasons that the Denver Nuggets can win the Western Conference in 2012-13, which will presumably include a seven-game series against the Los Angeles Lakers.
Begin Slideshow

»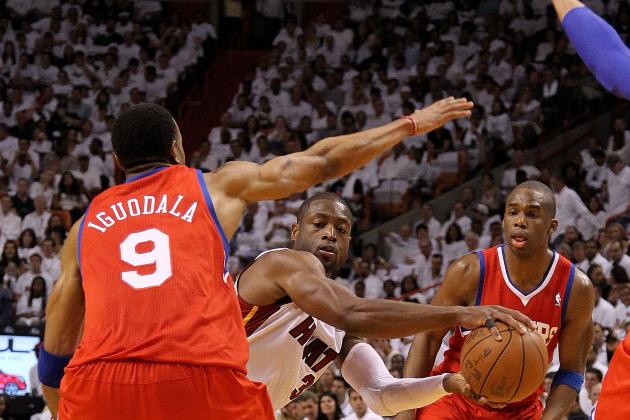 Mike Ehrmann/Getty Images

The 2011-12 Denver Nuggets ranked near the bottom of the NBA in a swath of categories: field goals allowed (29th out of 30), opponents' field-goal percentage (24th), three-point shots allowed (30th), opposing teams' assists (27th) and if it isn't obvious by now, points allowed per game (29th).
The addition of elite swingman Andre Iguodala will address many of these issues.
Expect Iguodala to "change the culture" of the Nuggets on defense. He was the anchor behind the Philadelphia 76ers' league-leading defense in 2011-12, where he earned an All-NBA Defense second-team berth.
Iguodala—who has a career average of 1.7 steals a game and had a superb defensive rating of 99 a game last year—can defend all areas of the floor. The 28-year-old Iguodala has the athleticism to defend well against an aging Kobe Bryant.
Other Denver Nuggets players should step up on defense as a result of Iguodala's tenacious play on the defensive end of the floor.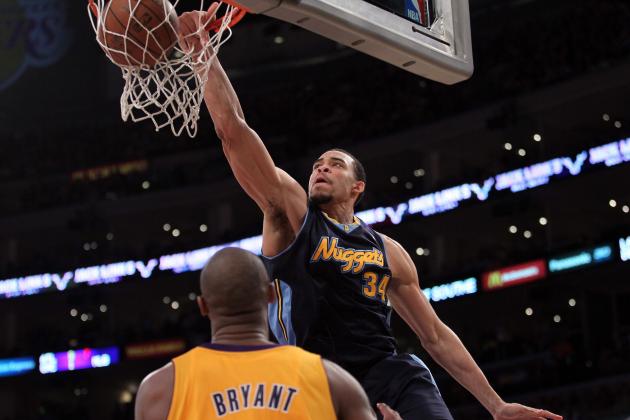 Jeff Gross/Getty Images

Lead by Iguodala, center JaVale McGee and Kenneth Faried, the Nuggets will boast one of the most explosive frontcourt scoring teams in the league.
Between 2007 and '10, when the 76ers offense focused more on inside scoring, Iguodala averaged close to 19 points a game per season. Notably, he took 4.5 shots a game from around the rim.
Expect Iguodala to reach this level of production again with the Nuggets in 2012. In addition, both the 7'0" center McGee (56 percent shooting from the field) and Faried (58 percent) will attack the rim from different angles on the floor.
Each player is strong on defense as well. McGee averaged two blocked shots a game last season, and both he and Faried will combine as one of the best rebounding duos in the league next year. Iguodala's six rebounds-a-game average is strong for his position.
With these three players contributing major minutes in tandem, even the Lakers' twin tower defense of Pau Gasol and Dwight Howard will have their difficulties against the Nuggets.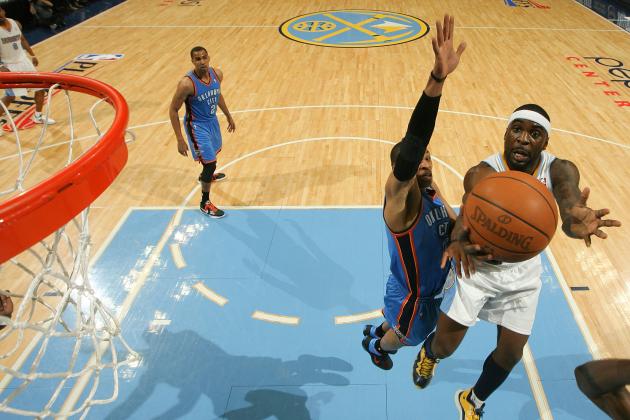 Justin Edmonds/Getty Images

The Nuggets do not have the same elite lineup as do the Lakers. However, the top of the Nuggets' roster has four young players who can emerge as superstars in 2012-13.
In just his third year in the NBA, Ty Lawson established himself as a top-tier point guard, averaging 16.3 points, 6.5 assists and 1.3 steals a game. Lawson deftly buzzed around the Lakers' perimeter defense in the first round of the Western Conference playoff last spring for 19 points and six assists a game.
Before suffering a knee injury around the All-Star break of the 2011-12 season, Danilo Gallinari averaged 17 points off only 12 shots a game. When healthy, Gallinari is not only a lethal spot-up shooter, but extremely adept at getting to the free-throw line. Last year, he visited the charity stripe 6.4 times a game before the All-Star break.
JaVale McGee has the potential to be a center in the NBA who averages, per game, 15 points, 12 rebounds and 2.5 blocked shots.
While McGee has had a very inconsistent NBA career thus far, the 25-year-old is about to spend a full season under future Hall of Fame coach George Karl, who has a reputation for cultivating raw NBA talent into superstar players. Expect McGee's game to become consistently excellent on a nightly basis.
Andre Iguodala, for the reasons stated prior to this slide, has a strong chance at earning his second All-Star berth in 2012-13.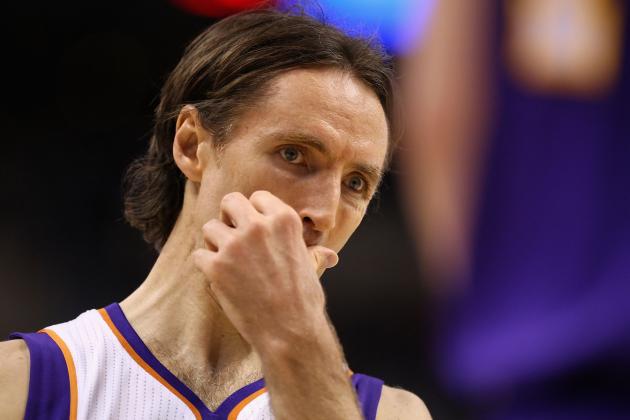 Christian Petersen/Getty Images

From the top to the bottom of their roster, the Nuggets are built on young, athletic runners whose consistent full-court attack (last year, the Nuggets lead the NBA at 104 points a game) will tire veteran opposing defenses come playoff time.
Beyond the Nuggets' starting lineup, the team boasts a second unit that will keep the track and field meet going for 48 minutes. The Nuggets' presumptive sixth man, 25-year-old swingman Wilson Chandler, is essentially a young Iguodala with upside.
And 23-year-old Power forward Anthony Randolph is a lithe 6'11", 225-pound player who will do well under Denver's fast-break offense
Point guard Andre Miller—the oldest nugget at 36 years old—is still extremely productive. He averaged 6.7 assists in just 27 minutes a game last season.
The Nuggets' youth and depth beg the question of whether after an 82-game season, a veteran superstar squad like the Lakers can keep up in the playoffs. Point guard Steve Nash is 39 years old and—already not a particularly strong defender—will struggle to contain the speedy and aggressive Ty Lawson.
Kobe Bryant (34), Antwan Jameson (35), Pau Gasol (32) and Ron Artest (31) may very well struggle to keep up with the Nuggets' high-octane, full-court offense. The Nuggets have more than enough offensive pieces to keep the ball moving fast, and it will be a considerable challenge for the Lakers to stop them.
Kevork Djansezian/Getty Images

Of course, the Lakers have 26-year-old Dwight Howard at center—a young, ferociously strong center who has won the NBA Defensive Player of the Year award a record three consecutive years. How can the Nuggets, for all their myriad talents, stop both Howard and five-time NBA champion Kobe Bryant?
The answer: Kobe Bryant and Dwight Howard.
The Nuggets effectuated this trade on the assumption that Howard and Bryant—who may be the most egotistical duo in sports—won't be able to co-exist in Los Angeles.
Even if the Lakers do manage to find a fluid team game (something the Nuggets will have no problem doing), there is a small but significant chance the Lakers will suffer injury issues come playoff time.
Bryant will now challenge himself at 34 years old to make a 100-plus-game run at the 2012-13 NBA Championship after playing for the Olympic men's basketball team at the London Games.
Dwight Howard recently had an offseason surgery on a herniated disc in his back: an injury which, even post-op, may limit his effectiveness next season. Howard's poor free-throw shooting won't help in this regard: Expect opposing defenses to hack him on a nightly basis.
Granted, the Nuggets took a big risk when they helped the Lakers attain Dwight Howard. However, it's a risk the Nuggets were willing to take, and the right one to optimize their title hopes.