2014 Olympic Games: Team Canada Hockey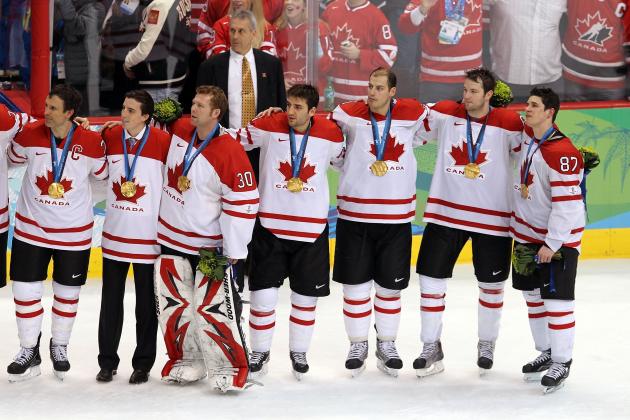 Jamie Squire/Getty Images

Watching the London Summer Olympics over the past couple of weeks has already gotten me thinking of the upcoming Sochi Winter Games in 2014. As is the case with every Winter Olympiad, the feature event is Men's Ice Hockey.
The defending champion Canadians will have significant competition that will pose a strong threat to stop them from repeating as gold medalists.
Canada will have an abundance of NHL superstars eligible to represent their team which always makes it fun to predict who will be chosen to sport the red and white maple leaf. These projections are based on the 13 forwards, seven defensemen and three goaltenders used in the Winter Olympics.
Begin Slideshow

»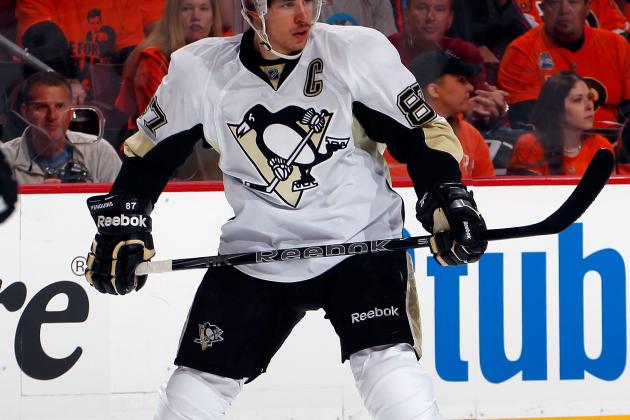 Paul Bereswill/Getty Images

Once again, the greatest player in the game will likely anchor Canada's forward unit by being their top centre. Even though he has already been given the title of Olympic Hero due to his 'Golden Goal' against the USA in 2010, Crosby will be looking to put forth a better performance in 2014. In many of Canada's games in Vancouver, Crosby at times was unnoticeable on the ice. Look for him to be a candidate for the team's captaincy as well.
Projection: 1st Line Centre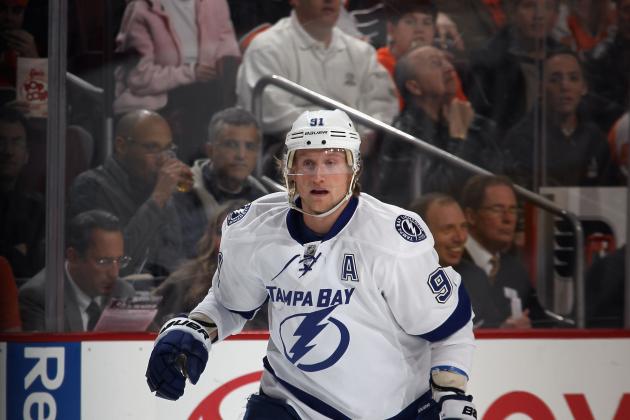 Bruce Bennett/Getty Images

While Stamkos plays centre for the NHL's Tampa Bay Lightning, the simple fact is that there will be four stronger 'natural centres' on Team Canada which will allow him to play on the wing in a top six role. Look for Stamkos to be utilized in an Alex Ovechkin sense in which he will use his right-handed shot to play on the left wing of Sidney Crosby. A one-two punch of Crosby and Stamkos on the top line will be a nightmare for opponents.
Projection: 1st Line LW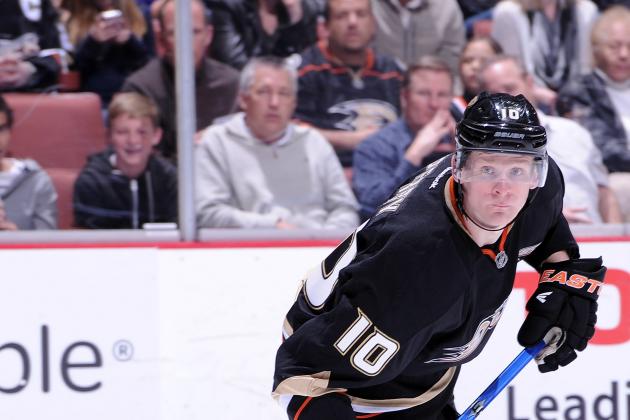 Harry How/Getty Images

A combination of Crosby and Stamkos on the first line gives Team Canada an abundance of skill, yet a lack of size and toughness. Adding a prototypical power forward in Perry to this line will allow for a proper balance of size, skill and grit. Many people would consider placing Rick Nash in this role, yet as was proven in Vancouver, the Nash and Crosby combo may not be that effective in the Olympic Games.
Projection: 1st Line RW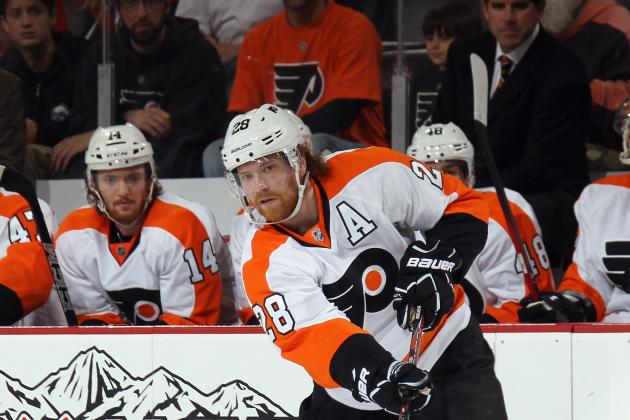 Bruce Bennett/Getty Images

After his breakout season in 2011-2012, look for Claude Giroux to slide into that #2 centre position right behind Sidney Crosby. Giroux has the ability to not only be a force offensively for the Canadians, but also a defensive presence as well, as he has the potential to kill penalties if necessary. He can score and can create scoring opportunities for others which will make him a key member of the Canadian top six.
Projection: 2nd Line Centre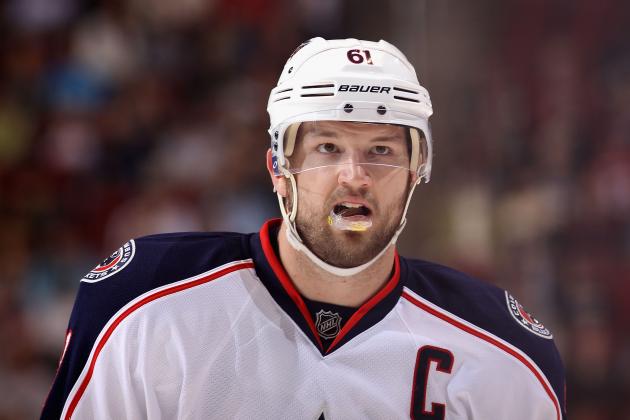 Christian Petersen/Getty Images

A veteran of the Canadian National Team, Rick Nash will be looked upon to provide a leadership role in 2014. While many predicted him to play wingman to superstar Sidney Crosby, their lack of chemistry in 2010 should allow him to fit in nicely onto the second line playing with emerging star and playmaker Claude Giroux.
Projection: 2nd Line Winger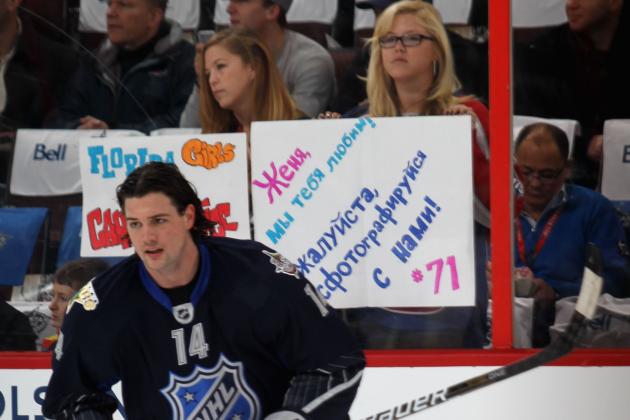 Bruce Bennett/Getty Images

Potentially the biggest wildcard in this group of forwards, Jamie Benn has only recently come onto the map as a potential forward for Team Canada in 2014. Along with Nash, Benn will be able to provide size and skill to the Canadian forward group. His versatility will allow for him to move up and down the lineup as he has the skills that allow him to be productive offensively and defensively.
Projection: 2nd Line Winger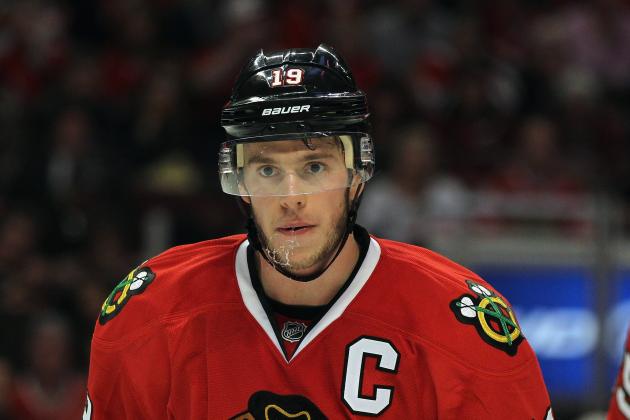 Jonathan Daniel/Getty Images

Another holdover from the 2010 Gold Medal winning team, Jonathan Toews will be the perfect two-way forward needed to anchor the third line for Canada. Along with his great skill set, it's the intangibles that Toews possesses, including his leadership abilities, that will make him so valuable to the Canadian team. His offensive abilities could also allow for Toews to step in as a top two centre if either Crosby or Giroux falter.
Projection: 3rd Line Centre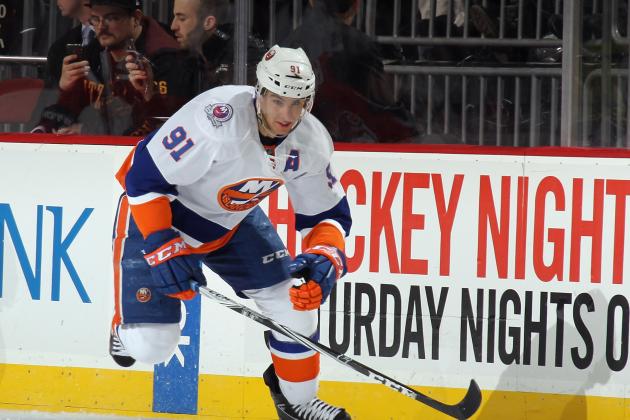 Bruce Bennett/Getty Images

The highest touted prospect since Sidney Crosby is coming off of a career season with the New York Islanders and should have himself a spot on Team Canada in 2014. Tavares has a history of performing well for his country as was shown throughout his experience with the World Junior Team. Due to the abundance of centres on the team, look for Tavares to be shifted to the wing.
Projection: 3rd Line Winger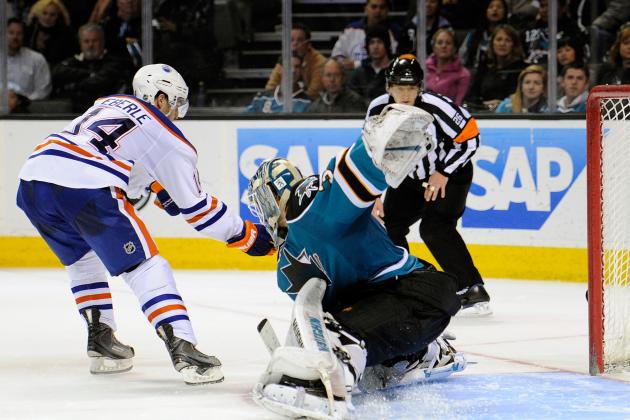 Thearon W. Henderson/Getty Images

The Team Canada Hero himself, with one of the most famous goals scored in IIHF history, is starting to develop into a star in the NHL. The young Oiler has not only seen his skills improve over the past couple of years, but he has also developed into a leader on a youthful Edmonton team. The Canadians are lacking in natural wingers and the fact that Eberle fits into that group should improve his chances of making the team.
Projection: 3rd Line Winger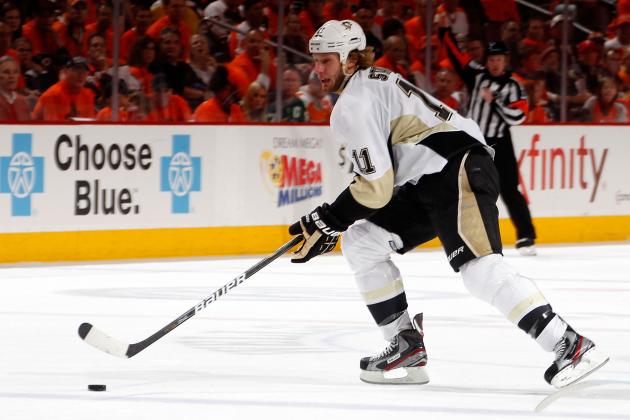 Paul Bereswill/Getty Images

While there are other Canadian centres with greater skill and scoring ability than Jordan Staal, creating the perfect Team Canada is about balance. There needs to be that player that can play in a checking situation, who can kill penalties and potentially shut down the opposing teams' top players. Staal perfectly fits this role and will be able to contribute offensively in addition to his defensive prowess.
Projection: 4th Line Centre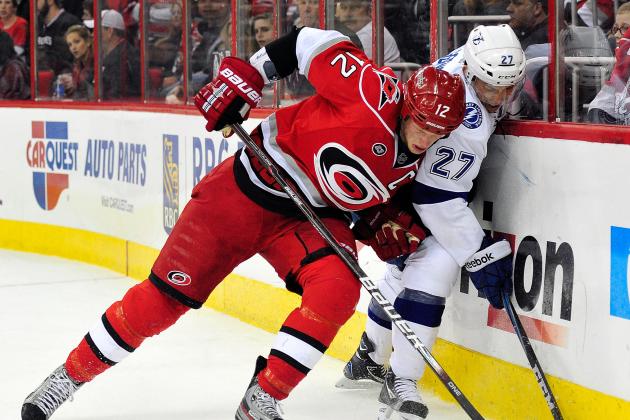 Grant Halverson/Getty Images

Veteran Eric Staal is far from a lock to make the Canadian squad in 2014, yet his experience with the team should give him an advantage over the competition. He has the size and skill to be useful to the team and he could be a fit playing on the wing with his brother Jordan. Based on his performance over the next two seasons, Staal could be replaced on this list by the likes of Ryan Getzlaf or Jason Spezza
Projection: 4th Line Winger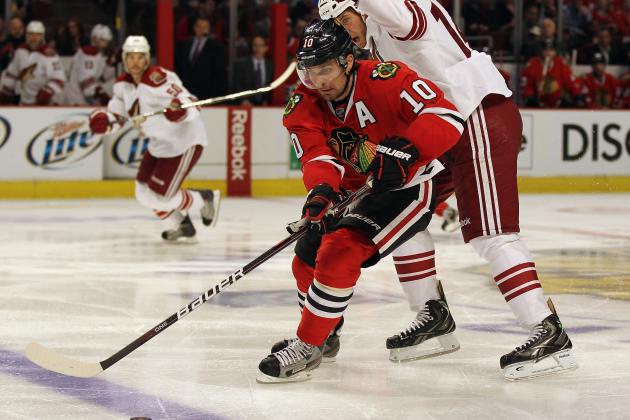 Jonathan Daniel/Getty Images

Sharp's inclusion on this list may be a big surprise, yet it's his ability to succeed in the offensive and defensive areas of the game that will allow him to be of use for Team Canada. Sharp will most likely predominantly be utilized on the fourth line along Jordan Staal while also getting penalty kill duty.
Projection: 4th Line Winger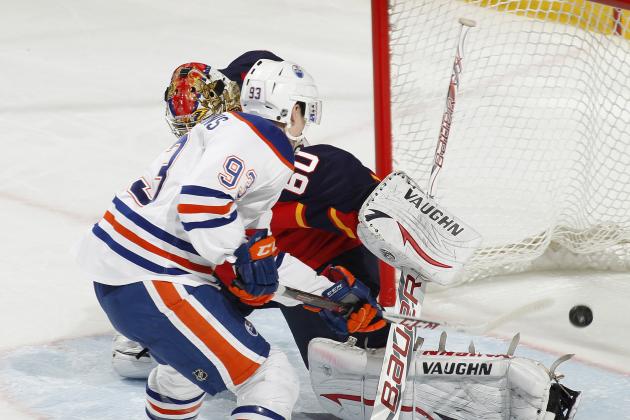 Joel Auerbach/Getty Images

The 13th forward position will allow for Canada to take a chance on a player who could potentially have a big impact for the team. In just his first season in the league, Nugent-Hopkins showed signs of brilliance that will allow him to fill in on scoring lines and even powerplay units come 2014. If his improvement progresses over the next couple of years, Nugent-Hopkins may cement himself in the top 12 rather than as the 13th forward.
Projection: 13th Forward
Christian Petersen/Getty Images

There is no question that Shea Weber will be the leader of the Canadian defence come 2014. He has emerged into a top 3 D-Man in the league and unquestionably is the best Canadian one. His grit, toughness and booming shot will allow for him to become a force on the blue line during the Sochi Games.
Projection: 1st Pairing D-Man
Jim McIsaac/Getty Images

The third of the Staal brothers to make this team, Marc is a shutdown defender who has the ability to chip in the occasional goal. While he may not be the best partner for Shea Weber on the top pairing, he could be well suited to be paired up with an offensively-minded D-Man on a lower pairing.
Projection: 2nd Pairing D-Man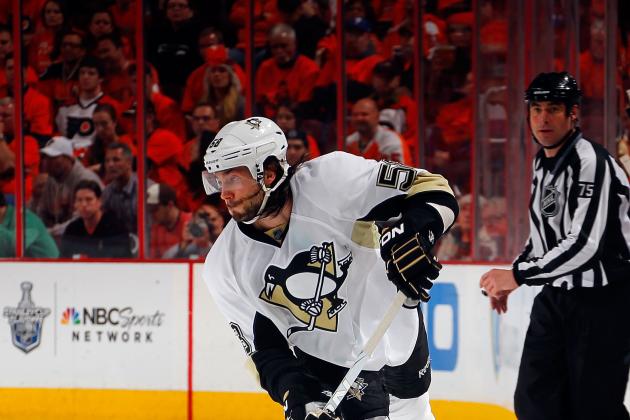 Paul Bereswill/Getty Images

Letang would be a solid partner for Marc Staal on the second pairing as his offensive abilities are what sets him apart from his competitors. Letang's smooth skating and playmaking abilities will allow for him to be utilized in all situations of the game. While not being necessarily used to shut down the opponents' top players, Letang will be significantly utilized for Team Canada in 2014.
Projection: 2nd Pairing D-Man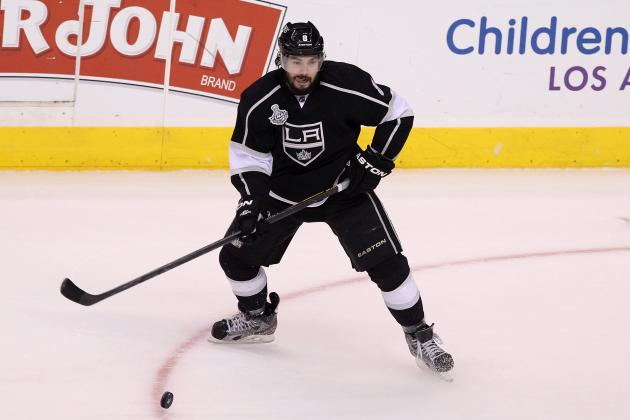 Christian Petersen/Getty Images

Another remainder from the 2010 team in Vancouver, Drew Doughty recently cemented himself as one of the NHL's premier D-Men due to his performance in the 2012 Stanley Cup Playoffs. His dynamic offensive abilities will most likely allow for him to anchor a powerplay unit while also being utilized on the penalty kill as well.
Projection: 1st Pairing D-Man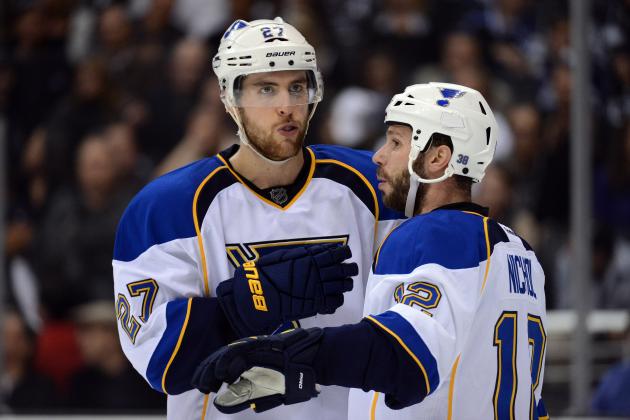 Harry How/Getty Images

The young Pietrangelo who has the potential to emerge as the game's best D-Man in a couple of years should find himself a spot on the Canadian blue-line in 2014. He has the ability to create offensive plays from his own zone while also shutting down top opponents. His lack of experience will limit his use in the games, though.
Projection: 3rd Pairing D-Man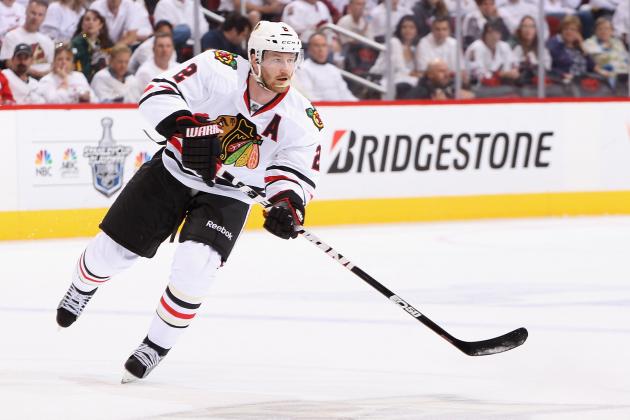 Christian Petersen/Getty Images

While Keith's stock has diminished since his Norris Trophy victory, he still continues to be one of the game's top defenders. He will be looked to on this team for his experience and calming presence on the blue-line. Pairing him up with the young Pietrangelo will provide a good balance on the third Canadian D-pairing.
Projection: 3rd Pairing D-Man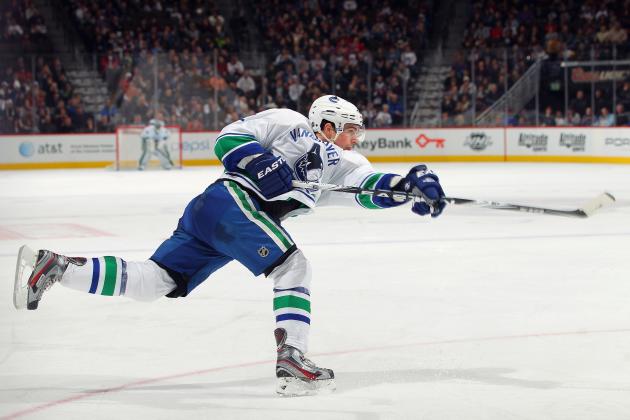 Doug Pensinger/Getty Images

This may be a bit of a homer pick due to me being a Vancouver Canucks fan, yet there is no denying that Dan Hamhuis is one of the premier shutdown D-Men in the league. His role as the seventh D-Man for Team Canada will allow for Hamhuis to be utilized in roles that he specializes in, including the penalty kill and shutting down the opponents' top players.
Projection: 7th D-Man
Richard Wolowicz/Getty Images

It's time for the usuals in Martin Brodeur and Roberto Luongo to pass the torch over to newer and younger Canadian goaltenders for 2014. The much criticized Carey Price has improved his attitude and composure over the past couple of seasons and he should now be able to handle the emotional load of being considered Canada's Top Goaltender.
Projection: Starting Goaltender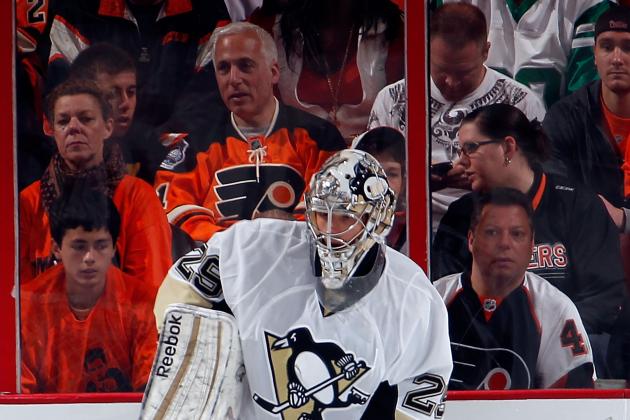 Paul Bereswill/Getty Images

The third string goalie from Vancouver in 2010, Marc-Andre Fleury has had a history of clutch performances, including his play in the 2009 Stanley Cup Playoffs in which he led his Pittsburgh Penguins to the Stanley Cup. At this current time, Fleury's abilities are viewed as inferior to those of Price, yet his experience may allow for him to snag the starting job come Sochi.
Projection: Back-Up Goaltender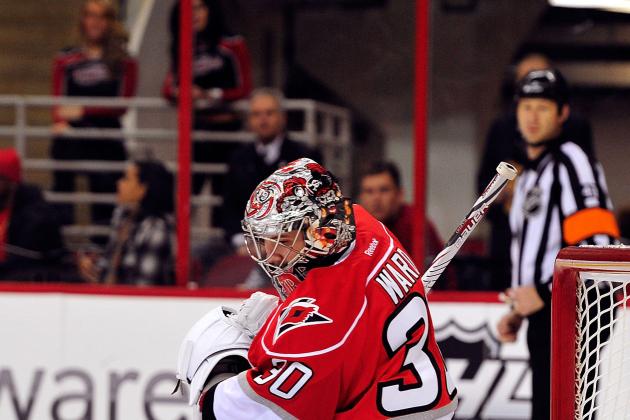 Grant Halverson/Getty Images

The reason that Cam Ward has been selected for the third string goaltender over rising star Mike Smith is due to the fact that Smith simply has only one solid season to his name. If he continues to improve, there is no doubt that he will make his way into the discussion for Canada's #3 Goaltender. Ward's experience in big games should make him the current favorite for this spot.
Projection: 3rd String Goaltender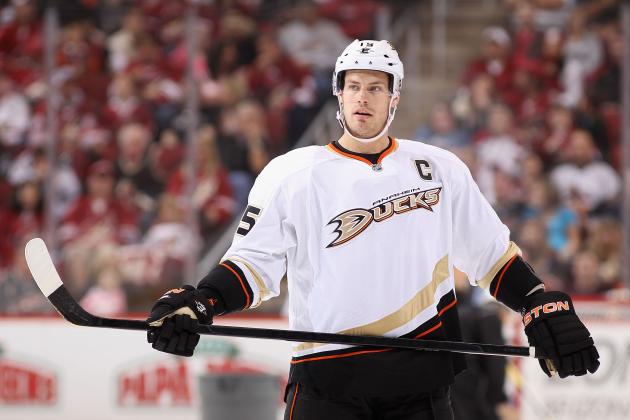 Christian Petersen/Getty Images

Forwards:
Ryan Getzlaf
Jason Spezza
Taylor Hall
James Neal
Defence:
Dan Girardi
Brent Seabrook
Tyler Myers
Goaltenders:
Roberto Luongo
Mike Smith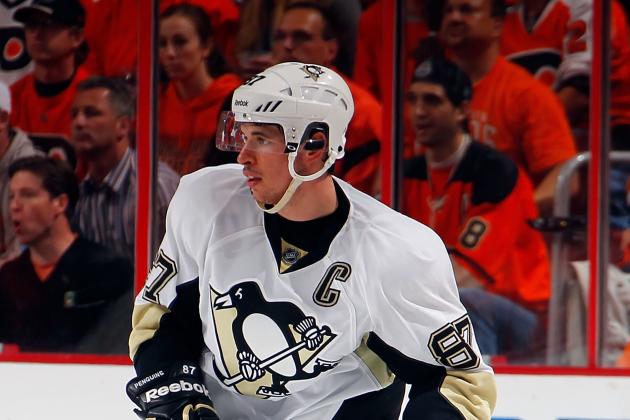 Paul Bereswill/Getty Images

Captain:
Sidney Crosby
Alternate Captains:
Shea Weber
Jonathan Toews
Rick Nash
Eric Staal
Personal opinions aside, Crosby is the face of Canadian hockey and will most likely be given the 'C' on his sweater come Sochi. Look for Weber and Toews to have large leadership roles as well.