The Most Overrated and Underrated Players on Every NHL Team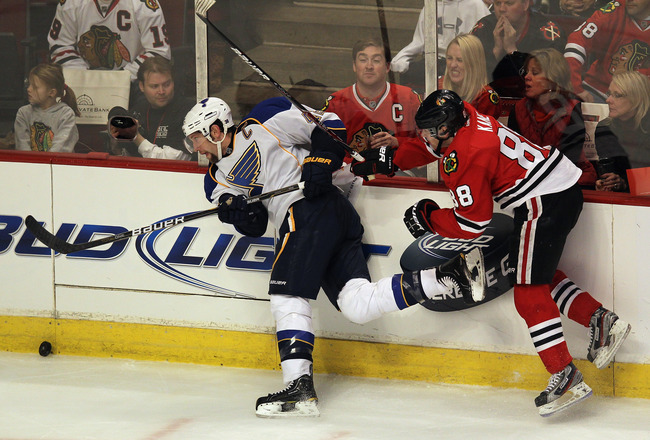 Jonathan Daniel/Getty Images
For some reason, fans are fascinated by players who are overrated (players who get more attention and credit than they deserve) and players who are underrated (players who don't get the attention and credit they deserve).
These players are oh-so-common in sports, including the NHL. In fact, there seems to be at least one of each on almost every team.
Here's a look at the players on each team I believe to be the most overrated and underrated.
Anaheim Ducks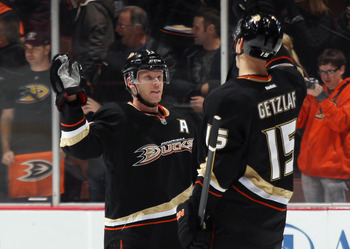 Bruce Bennett/Getty Images
Overrated: Ryan Getzlaf
Ryan Getzlaf is a great hockey player and can excel in many different areas of the game, as an offensive threat and a physical presence. I wouldn't label him as one of the more overrated players in hockey, but he only scored eleven goals last season despite playing in all 82 games.
His 46 assists make his stats look better, but finishing 64th in points is still not what you'd expect out of someone who leads one of hockey's best lines and is regarded as one of the league's top offensive threats.
His minus-11 rating also showed that he struggled a little bit playing defense last year.
Underrated: Saku Koivu
Koivu is still getting the job done at age 37. He scored just as many goals as Getzlaf last season despite playing in eight less games and on a less talented line.
Koivu and teammate Teemu Selanne have been proving that age is not always an obstacle when it comes to productivity.
Boston Bruins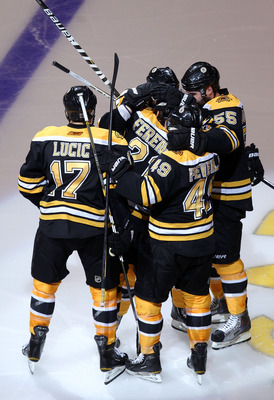 Bruce Bennett/Getty Images
Overrated: Milan Lucic
Lucic is a great player, but his physical and often dirty play left his team shorthanded too often. He can score goals and put up points, but he could have contributed a lot more if he weren't 12th in the NHL in penalty minutes this year.
Underrated: Rich Peverley
Rich Peverley is the kind of guy I would love to have on my team. He put up a plus-20 rating this season and is great in the clutch.
He made a name for himself in the 2011 Stanley Cup Playoffs and was a huge under-the-radar contributor who helped bring the Cup to Boston.
Buffalo Sabres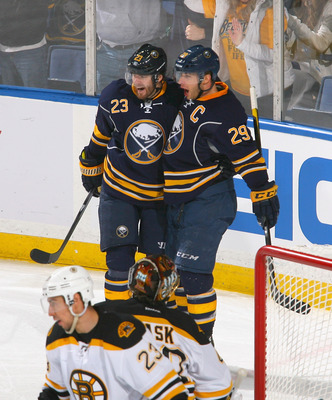 Rick Stewart/Getty Images
Overrated: Ville Leino
Leino was a great clutch performer with the Flyers, but last summer he signed a huge contract with the Sabres. He had a horrible year with there and did not nearly live up to expectations, tallying only eight goals in 71 games—not a lot for someone expected to be a perennial 20-goal scorer.
Underrated: Jason Pominville
Everyone knows who Pominville is, but he doesn't get nearly as much attention as players who score less than him. Last year the Sabres underachieved, but he still put up 30 goals and 43 assists.
Calgary Flames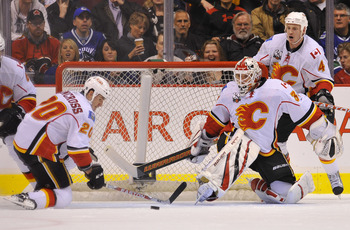 Rich Lam/Getty Images
Overrated: Jay Bouwmeester
Bouwmeester is getting paid about $6.7 million a year, but last year he scored only five goals while finishing with an unimpressive minus-21 rating. That's not too good for a high-paid defenseman.
However, Bouwmeester has never been on a playoff team, and his stats with Florida were significantly better than those with Calgary. If he gets traded to a different team, I wouldn't be surprised if his production increased.
Underrated: Curtis Glencross
Curtis Glencross is widely regarded as a near-average player. Not true. Glencross is easily one of the better players on the Flames and also a top-six forward. He was one of the league's top 50 goal scorers with a tally of 26 in 2011-12.
Carolina Hurricanes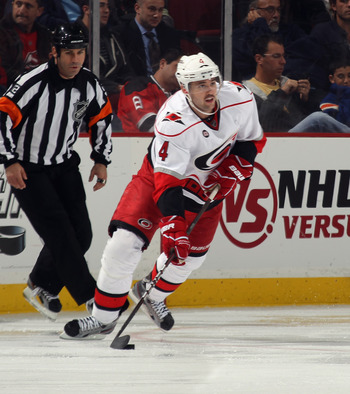 Bruce Bennett/Getty Images
Overrated: Anthony Stewart
Like his brother Chris, Anthony Stewart has been expected to be a tough physical force while also being able to put up decent offensive numbers. In 77 games last season, all he could manage were nine goals and 11 assists, and he finished the season with only 30 penalty minutes.
It's not what you would expect from a physically intimidating grinder who should do a bit of scoring.
Underrated: Jamie McBain
McBain is a great defenseman who hardly ever takes penalties. He had a total of only four penalty minutes in 76 games last season—something every coach would love to have.
Also, McBain puts up decent offensive numbers. He finished second on the team in power-play goals last season.
Chicago Blackhawks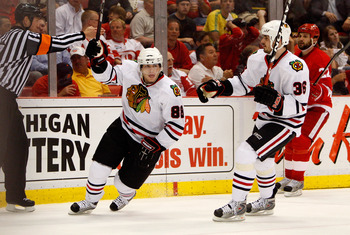 Gregory Shamus/Getty Images
Overrated: Patrick Kane
Kane was a first overall pick in 2007 and has had many exciting highlights throughout his career, including the overtime goal that won the Stanley Cup for the Blackhawks in 2010.
However, Kane is often regarded as one of the league's elite players but has only scored 30 goals once in a season. His alcohol problems have also hurt his reputation as a team player.
Underrated: Dave Bolland
Dave Bolland is one of my favorite NHL players. As a Red Wings fan, I am always afraid when he steps on the ice; he's a smart player, he's good at taking draws and he is great in the clutch.
Colorado Avalanche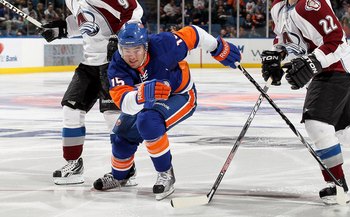 Jim McIsaac/Getty Images
Overrated: Erik Johnson
I don't know if it's fair to call Erik Johnson overrated anymore, but he was the first overall pick in 2006 and has not nearly lived up to the names drafted behind him (Jordan Staal, Jonathan Toews, etc...).
Underrated: P.A. Parenteau
Zach Parise was the top-prized free agent in this summer's class. Strange enough, P.A. Parenteau only scored two less points than Parise last season...with a team that finished near the bottom of the league last year rather than one that was two wins away from the Stanley Cup.
Columbus Blue Jackets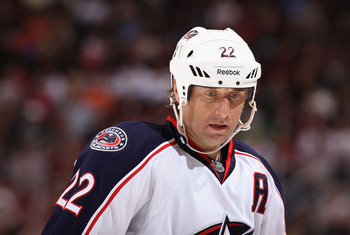 Christian Petersen/Getty Images
Overrated: Steve Mason
Everyone knows Mason has not been the same goalie as his rookie year in 2009, and because of this he's not technically overrated—but who else could I put here for the Blue Jackets?
Underrated: Vinny Prospal
Prospal is one of the more underrated players in hockey. Believe it or not, he only scored four less points than Rick Nash last season and was among the top 40 assist-getters in the NHL. Not bad for someone on the league's worst team.
Dallas Stars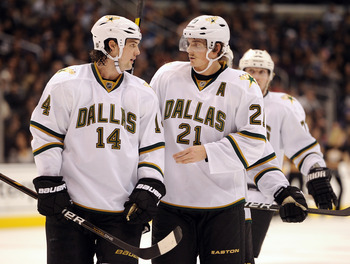 Harry How/Getty Images
Overrated: Alex Goligoski
Sometimes, I consider Goligoski to be underrated, as he's a decent defenseman. However, he was traded to Dallas in exchange for James Neal, who finished as one of the league's top scorers last season with Pittsburgh.
Underrated: Jamie Benn/Loui Eriksson
This is a toss-up between Jamie Benn and Loui Eriksson, two of the league's most underrated players. Benn and Eriksson have put up astonishing numbers in recent years, as they both had terrific plus/minus numbers.
Benn put together seven game winners last year, and Eriksson, despite playing in every single game, only spent 12 minutes in the penalty box.
Detroit Red Wings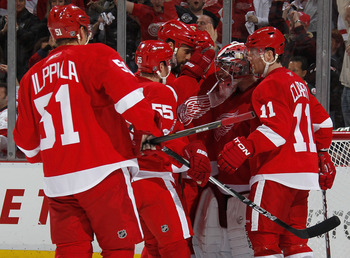 Gregory Shamus/Getty Images
Overrated: Jimmy Howard
Yes, Howard's statistics look great, but let me tell you, as a Red Wings fan, he gets more credit than he deserves.
This is how a typical Red Wings playoff game will go: The Wings will be either leading by a goal or tied near the end of a game and threatening to score again. Then they'll give up a breakaway and Howard will be on his stomach, leaving it easy for the opposing player to go top shelf and score.
This happens far too often, as Howard has yet to prove he can play well in the clutch.
Underrated: Valtteri Filppula
Filppula is a terrific player who took his game to a whole new level last year, on a line with Henrik Zetterberg and Jiri Hudler.
He was a terrific under-the-radar scorer for the Wings, putting up 23 goals and 43 assists while posting a plus-18 rating.
Edmonton Oilers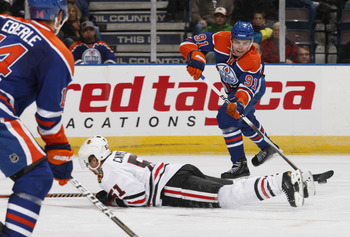 Dale MacMillan/Getty Images
Overrated: Magnus Paajarvi-Svensson
Paajarvi was a top pick in 2009 and is regarded as one of the young stars on the Oilers team. However, he has not lived up to expectations recently. Despite missing half of last season, he still only tallied two goals and six assists with a minus-seven rating.
Underrated: Jordan Eberle
Eberle has clearly been the best player on the Oilers lately, as he scored 34 goals and added 42 assists last season. Eberle looks to have nothing but upside, and he could soon become one of the elite players in the NHL.
Florida Panthers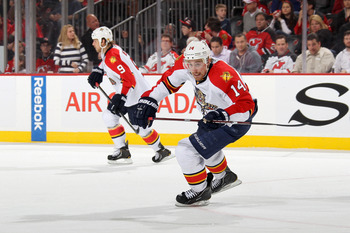 Bruce Bennett/Getty Images
Overrated: Filip Kuba
The Panthers paid Kuba a lot of money this offseason to be one of their top defensemen, but he has not put up overly impressive numbers throughout his career and is sometimes given more credit (or money, in this case) than he deserves.
Underrated: Tomas Fleischmann
Fleischmann is one of the top under-the-radar scorers in hockey. He tallied 27 goals and 36 assists last season, leading the division champion Panthers in points.
He is an asset to the team and a great help offensively.
Los Angeles Kings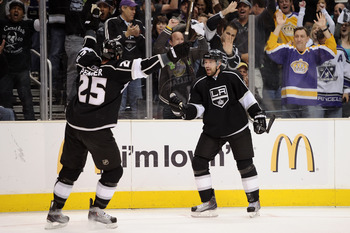 Harry How/Getty Images
Overrated: Dustin Penner
It's tough to pick an overrated player from the team that just won the Stanley Cup, especially when the beset player you can come up with redeemed himself in the playoffs.
Nevertheless, Penner is being paid a lot more money than he deserves according to his seven goals, 10 assists and minus-seven rating last season.
Underrated: Justin Williams
Believe it or not, Williams finished last season with more points than Drew Doughty, Dustin Brown or Mike Richards. He doesn't get enough credit for being one of the top leaders of the reigning Stanley Cup champions.
Minnesota Wild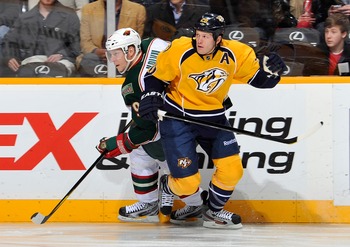 Frederick Breedon/Getty Images
Overrated: Ryan Suter
Until I see Ryan Suter play like his contract says he should—and without Shea Weber—I'll say he's overrated. Even his stats with Weber weren't extremely impressive, and now he's getting paid $90 million over 13 years to play next to probably Tom Gilbert instead of Weber.
Fans are calling Suter an elite D-man while he still hasn't played one game with the team.
Underrated: Kyle Brodziak
Kyle who? Kyle Brodziak was second on the team in points scored last year, and the 21-year-old is one of the least-known players of last season's top-75 goal scorers.
Montreal Canadiens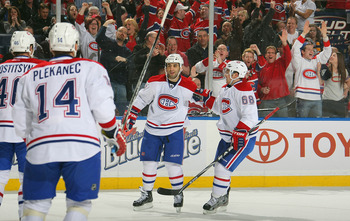 Dave Sandford/Getty Images
Overrated: Scott Gomez
This is pretty much a given. Gomez isn't nearly the player that he used to be, and his salary is hurting the Habs.
Underrated: David Desharnais
Surprisingly, Desharnais was one of the league's top assist men last year, finishing with 44 helpers. Not a lot of people know who he is, but he is one of the best offensive players on the team.
Nashville Predators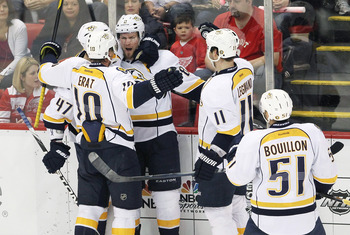 Gregory Shamus/Getty Images
Overrated: David Legwand
Legwand has been a Predator since it all began in 1998 and has had some great seasons with the team. However, if you watch him during the game, he kind of just floats around waiting for the puck to come to him instead of being involved in the play. That's not something a lot of people want on their team.
Underrated: Martin Erat
Erat puts up great offensive numbers every year in Nashville but never quite gets the respect he deserves. He has arguably been the best offensive player the Predators have ever had.
New Jersey Devils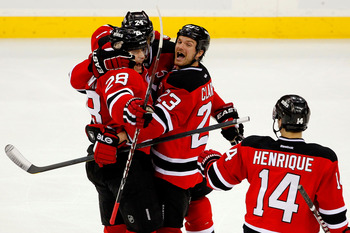 Paul Bereswill/Getty Images
Overrated: Anton Volchenkov
Volchenkov isn't bad at all, especially as a defensive defenseman. However, the team spent quite a bit of money on him after losing Paul Martin in free agency a few years back, and he has hardly put up any offensive numbers whatsoever in his stay with the Devils.
Underrated: Adam Henrique
Henrique showed us this postseason how effective he can be as a clutch scorer. The fact that he is on the team and has nothing but upside makes the loss of Zach Parise a whole lot easier to deal with.
New York Islanders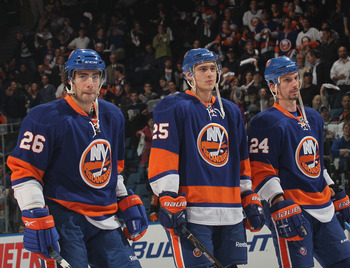 Bruce Bennett/Getty Images
Overrated: Nino Niederreiter
The Islanders as well as many fans and experts considered Niederreiter to be a superstar talent when he was drafted.
However, he played 55 games last season and tallied just one goal and zero assists, finishing with a minus-29 rating. Ouch.
Underrated: Matt Moulson
Not a lot of people know who Matt Moulson is since he plays on the Island, but he put up 36 goals and 33 assists last season while being one of the only Islanders to have a positive plus/minus rating. Things are definitely looking up for this future star who has been under the radar.
New York Rangers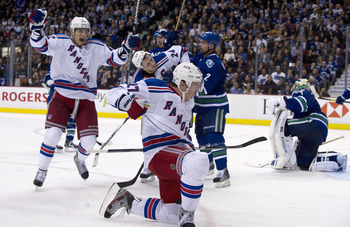 Rich Lam/Getty Images
Overrated: Ryan Callahan
Callahan is a great leader and a great player, but he finished with the lowest plus/minus on the team—a team whose goals for/goals against differential was one of the best in the league.
He's a talented player and leader on and off the ice, but he does not quite live up to the superstar status that some accredit to him.
Underrated: Ryan McDonagh
McDonagh is about to become one of the NHL's elite defensemen. He's a young star who has nothing but upside, and he excels both offensively and defensively.
Ottawa Senators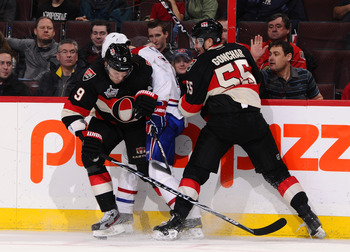 Phillip MacCallum/Getty Images
Overrated: Sergei Gonchar
Gonchar has had a great career, but he definitely hasn't been playing like his contract says he should. He has had negative plus/minus ratings both of his seasons in Ottawa and has failed to put up staggering offensive numbers like he did in Washington and Pittsburgh
Underrated: Milan Michalek
This guy is terrific. He came over from San Jose in the Dany Heatley deal a few years ago and had an offensive explosion in 2012, scoring 35 goals.
Philadelphia Flyers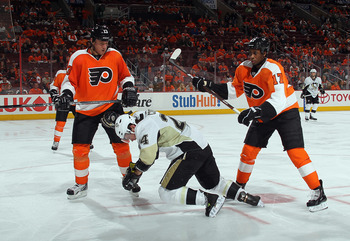 Bruce Bennett/Getty Images
Overrated: Pavel Kubina
Yes, Kubina is a free agent and will likely not be back with the Flyers, but he is more overrated than anyone on the roster as of right now. He doesn't put up the offensive or defensive numbers that he used to despite being coveted so highly at the trade deadline this year.
Underrated: Wayne Simmonds
Wayne Simmonds can do it all: score, hit, and fight. Simmonds adds a huge amount of depth to the team while also being a legitimate physical threat, something that the Flyers always like to have.
Phoenix Coyotes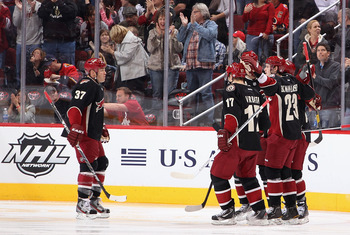 Christian Petersen/Getty Images
Overrated: Raffi Torres
Torres has been a part of two teams that went to the Stanley Cup Finals—Edmonton in 2006 and Vancouver in 2011—but his play, which can get overly dirty, can really cost his team.
For example, his hit on Marian Hossa of Chicago in last year's playoffs cost him the rest of his playoff season and about a quarter of this upcoming season.
Underrated: Radim Vrbata
Vrbata proved last year that he may very well be the best player on the reigning Pacific Division champions. He scored 35 goals, which was good for 11th in the NHL. He had a plus/minus rating of plus-24, good for 12th in the NHL. He also lead the league in game-winning-goals with 12.
Pittsburgh Penguins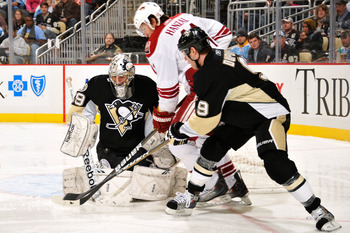 Jamie Sabau/Getty Images
Overrated: Marc-Andre Fleury
Before I get yelled at for this, let me explain myself.
First of all, who else can you call overrated on the Penguins? Paul Martin doesn't count because nobody says he's good anymore.
Second, I know that it was partially the defense's fault, but even though the Penguins were able to put up an ample amount of goals in last year's series with the Flyers, Fleury had an even tougher time making stops than Ilya Bryzgalov. If he doesn't straighten his game out after that performance, the team may be in trouble again come playoff time.
Underrated: Pascal Dupuis
Dupuis is the kind of guy I'd want on my team. He's an excellent penalty killer, and he had eight game-winning goals last season. Also, he scored 25 goals and added 34 assists while keeping an astonishing plus-18 rating.
People say that Sidney Crosby needs a winger. He doesn't. Dupuis is the guy.
San Jose Sharks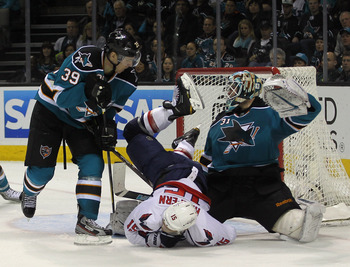 Bruce Bennett/Getty Images
Overrated: Antti Niemi
Niemi is a decent goalie, but he is often misjudged because he won a Stanley Cup with Chicago in his rookie season despite not performing outstandingly. He's about middle-of-the-pack when it comes to NHL goalies in reality, and he does get a little more credit than he deserves because of that Stanley Cup.
Underrated: Logan Couture
Everyone knows who Logan Couture is, but the truth is that he may very well be the best player on the Sharks. He's an excellent penalty killer and also one of the league's top power play scorers, and he has nothing but upside at 23 years old.
St. Louis Blues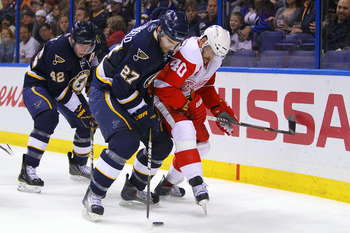 Dilip Vishwanat/Getty Images
Overrated: Chris Stewart
Like his brother Anthony, Chris Stewart is expected to be a physical force who can also score. Last year, he put up less-than-impressive offensive numbers for a team who needs offense a lot more than defense.
Underrated: David Backes/Alex Pietrangelo/David Perron
There are three players I could list here who would probably make a list of the 10 most underrated players in the NHL.
First is David Backes, the captain of the Blues who led the team in points last year and is an intimidating physical force. Think of him as a younger Shane Doan.
Next is Alex Pietrangelo. Other than Shea Weber, I believe Pietrangelo is the best defenseman in hockey. He will become one of the NHL's elite players in the next few years, and I believe that sooner or later, he will help lead the Blues to a Stanley Cup.
Third is David Perron. Despite missing over 20 games last year, Perron was one of the Blues's leading scorers and is also a decent penalty killer.
Tampa Bay Lightning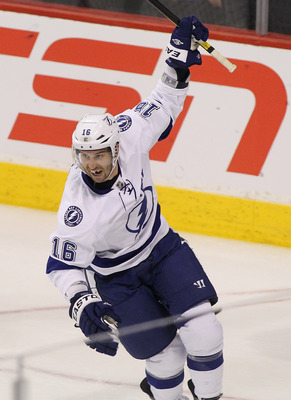 Marianne Helm/Getty Images
Overrated: Eric Brewer
Brewer is supposed to be one of the team's top defensemen, but he has been having trouble putting up decent offensive and defensive numbers in recent years.
Underrated: Teddy Purcell
Purcell gets my vote for the most underrated player in hockey. He is excellent on the power play, and he can also be a great defensive forward, finishing with the best plus/minus rating on the team.
Despite being a great all-around player, Purcell is still never associated with Tampa's "Big Three" of Steven Stamkos, Martin St. Louis, and Vinny Lecavalier.
Toronto Maple Leafs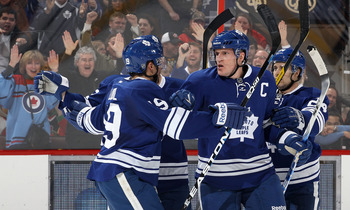 Jana Chytilova/Freestyle Photo/Getty Images
Overrated: Dion Phaneuf
Phaneuf's numbers are okay, but before coming to Toronto, he was expected to be one of the NHL's premier defensemen. He has definitely not lived up to these expectations and is often labelled as one of the league's most overrated players.
Underrated: Joffrey Lupul
Lupul had a terrific season, and there's no reason to believe he can't follow it up this coming year. He was great on the power play and finished second on the team in scoring despite missing almost 20 games.
He was also one of the only players on the Leafs to post a positive plus/minus rating.
Vancouver Canucks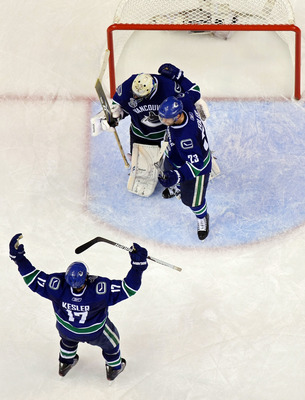 Elsa/Getty Images
Overrated: Ryan Kesler
I was really considering putting Roberto Luongo here, but since he will probably not be a Canuck much longer and everyone already knows that he struggles in the playoffs, I'll go with Kesler.
He was terrific in the 2010 and 2011 seasons, but his play steeply dropped in 2012. It could have been a one-year fluke, but Kesler did not look like the highly-touted star people portray him as. If he continues his play from last year this coming season, he will surely be cemented as one of the NHL's most overrated players.
Underrated: Alex Edler
Edler is one of the better defensemen in the NHL, but despite being so talented and a member of one of hockey's most popular teams, other defensemen (say, Ryan Suter) inexplicably get a lot more attention than him.
Washington Capitals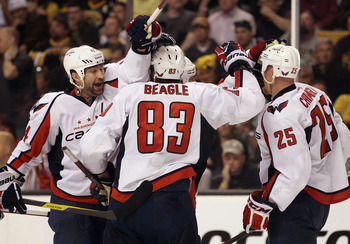 Bruce Bennett/Getty Images
Overrated: Mike Green
I'm going with Green over Alex Ovechkin because Ovechkin set the bar too high for himself in his first few seasons.
Green, on the other hand, seems to think that he's a forward rather than a defenseman, but despite playing 32 games last year, the offense-minded defenseman put up only seven points.
Underrated: Jay Beagle
His stats won't show you anything, but watch Jay Beagle play and you'll see why he's listed here. Not a lot of players hustle as hard as Beagle does, and his terrific effort make him an under-the-radar threat to any team the Caps are playing.
Winnipeg Jets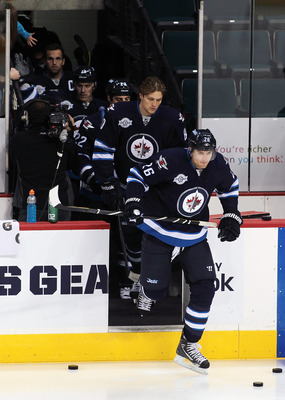 Marianne Helm/Getty Images
Overrated: Nik Antropov
Antropov isn't a bad player—he's had some great years in his career—but he's the kind of guy who is picked too early in fantasy hockey drafts (my mistake).
He's a decent player, but he can be very streaky at times.
Underrated: Blake Wheeler
Believe it or not, Wheeler led the Jets in scoring last year and was one of the NHL's top assist-men. He made the Bruins, a team he once held an unbelievable plus-36 rating with, regret that they had given him up.
Keep Reading