Tyrann Mathieu Dismissed: Predicting Where Honey Badger Will Play in 2012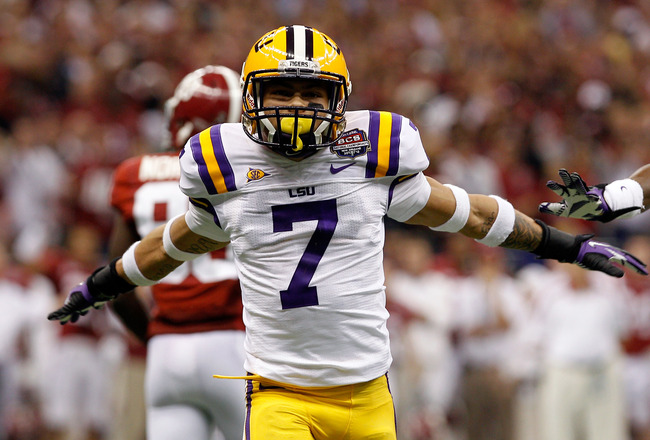 Chris Graythen/Getty Images
Tyrann Mathieu is now looking for a new place to play in 2012 after he was dismissed from LSU for an undisclosed rules violation.
The man better known as the "Honey Badger," was a shutdown cornerback and a Heisman finalist last season for the Tigers.
However, after his dismissal, it looks as if he will be making impact plays for a new team this fall. And according to ESPN's Joe Schad, he's already seeking a new school.
People close to LSU CB Tyrann Mathieu have been looking for new place for him to play this season

— Joe Schad (@schadjoe) August 10, 2012
Mathieu has two years of eligibility left heading into the fall. But, he would have to sit out a year if he were to transfer to another major-level university. However, if Mathieu moved down to the D2 level, he would get to play right away.
So, let's examine a few possible destinations for the Honey Badger for the 2012 season.
Jacksonville State University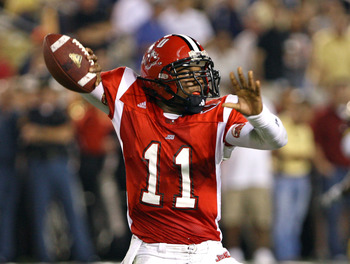 Mike Zarrilli/Getty Images
Since Mathieu can't play Division-1 football this season, he will most likely look for a FCS team to make his new home.
If that's the case, Jacksonville State is a very likely destination for Mathieu.
The school is a FCS power, and they also have a history of allowing troubled players to transfer there after they ran into issues on their original team.
Actually, four years ago another Tiger was in a similar situation to Mathieu, quarterback Ryan Perrilloux.
Perrilloux was a highly touted quarterback prospect when he arrived at LSU. However, his career there was marred by off-the-field issues, and he never really found a way to get on the gridiron.
He was dismissed from the team in 2008 due to numerous rules violations, much like Mathieu. After that, he transferred to Jacksonville State and had a very solid career there.
Now, the former Tiger has caught on with the New York Giants, and has a chance to make the roster this season.
Mathieu, could have a very similar path if he chooses to play with the Gamecocks this coming season.
Northern Alabama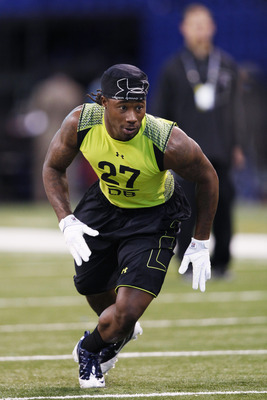 Joe Robbins/Getty Images
Former Florida corner Janoris Jenkins' career path seems to be quite similar to the Honey Badger.
Both were outstanding corner backs at top-flight SEC schools, both helped led their universities to a National Title game berth and both were kicked off their teams due to repeated rules violations.
After Jenkins was dismissed from Florida, he decided to take his talents to North Alabama. There, he played one year before entering the NFL draft.
Mathieu could follow the exact same gameplan Jenkins executed at Norther Alabama.
He only needs to play for one season before he can jump into the draft, and once he gets his name in the draft, he'll be one of the best players available much like Jenkins was.
Northern Alabama may not be LSU, but they have a history with troubled talents like Mathieu, and it would not be surprising for the Honey Badger to spend his junior season there.
Penn State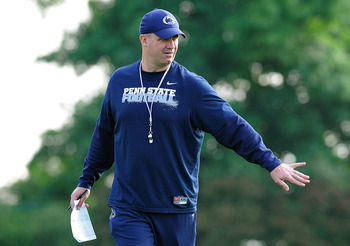 Rich Barnes-US PRESSWIRE
What would be a more perfectly poetic school for Tyrann Mathieu than Penn State?
Both player and school are in need of a fresh start, and the Nittany Lions certainly have a number of scholarship spots available.
Only problem is, Mathieu would have to sit out a season in order to play in the Big 10.
However, CSN's Ray Ratto suggested that Mathieu might be able to secure a special wavier to play there.
Let's see if this rumor can get some traction: Tyrann Mathieu to Penn State on special waiver . . . in three . . . two . . . one

— Ray Ratto (@RattoCSN) August 10, 2012

OK, maybe the tweet was in jest.
But, come on, how awesome would it be for the Honey Badger and Penn State to come together in 2012?
Keep Reading