There's almost nothing that can be learned about what a team may look like in the regular season from their first preseason game, but there are hints at least at what may need more work, which players didn't live up to their potential and what new looks on both offense and defense they are trying to install.
Here are the three biggest takeaways from the Baltimore Ravens' 31-17 win over the Atlanta Falcons.
The Offensive Line Needs Some Work
Josh D. Weiss-US PRESSWIRE
Heading into the first preseason game, the Ravens looked thin when it came to their offensive line depth chart, and nagging, lingering injuries haven't helped either.
Last night, the starting offensive line didn't adequately protect quarterback Joe Flacco nor provide for much running room for Ray Rice and Co. The Ravens' first-team offense couldn't get down the field at all, being outgained by the Falcons offense 191 yards to nine in the first quarter and strung together three straight three-and-outs.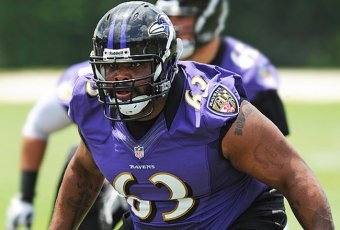 Guard Bobbie Williams has a lot of work to do if he can prove himself a true heir to the spot that once belonged to Ben Grubbs. Michael Oher didn't seem cut out for the left tackle job, and fill-in center Gino Gradkowski showed just how valuable starter Matt Birk truly is.
Only rookie Kelechi Osemele, who was plugged in at right tackle, looked good and even then, he wasn't consistent.
There are three more games and a lot of practices ahead for the Ravens to get their offensive line shaped up and at least stabilized. What we saw on Thursday night cannot continue into the regular season, especially in a season when Flacco is hoped to have a truly breakout season.
Undrafted Rookies Stepping Up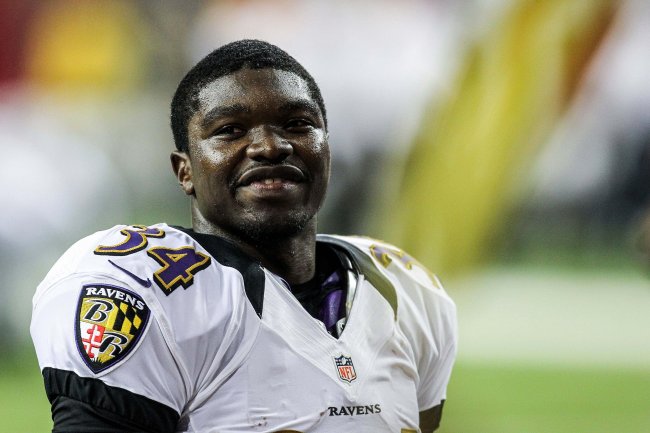 Daniel Shirey-US PRESSWIRE
The Ravens' scoring tear came in the second half, with the offense putting up 24 unanswered points. Three of those touchdowns, surprisingly, came from third-string quarterback Curtis Painter, who spent last season under center and a blanket of ridicule for the Indianapolis Colts.
Two of those Painter touchdowns were thrown to undrafted rookies—wide receiver Deonte Thompson and running back Bobby Rainey.
Thompson ended the night with three receptions for 53 yards and a touchdown and was the Ravens' leading receiver. Rainey rushed 12 times for 36 yards and caught three passes for 28 more and a score and was the second-best rusher behind second-string quarterback Tyrod Taylor.
Yes, it is just the first preseason game, and running backs and wide receivers emerge in these games only to not even make the 53-man roster for reasons beyond how they look with a third-string quarterback against a second- or third-string defense.
However, reports from camp have been consistently good about both Thompson and Rainey, and after Thursday's performances, they've certainly made stronger cases for roster spots than players with more expected from them.
Injuries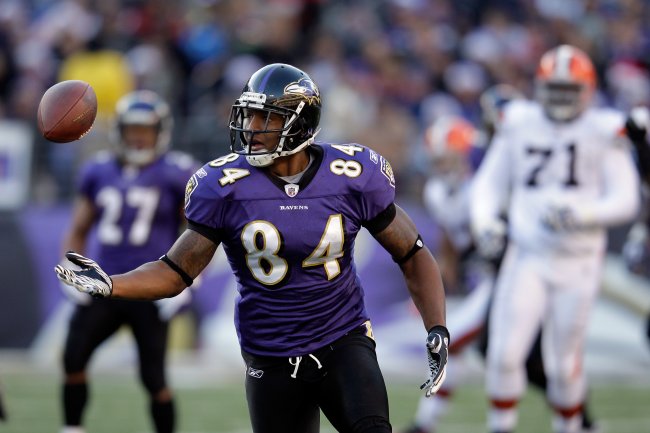 Rob Carr/Getty Images
One of the most frustrating things that can happen in a preseason game, let alone the first one, is any injuries suffered by key players.
The Ravens came away from Atlanta with five injured players. As reported by Aaron Wilson of The Baltimore Sun, tight end Ed Dickson sprained his right shoulder and will likely miss the rest of the preseason. Wilson also wrote that defensive end Ryan McBean is thought to have broken his ankle.
Josh Alper of ProFootballTalk reported that wide receiver Torrey Smith sprained his ankle which should have him sidelined for at least a week or two.
Jason Butt of CBSSports.com reported that cornerbacks Asa Jackson and Chykie Brown both tweaked their hamstrings.
The most significant injury is the one suffered by Dickson. Like fellow starting tight end Dennis Pitta, who is out presently with a broken hand, Dickson is expected back in time for the preseason. However, the Ravens were hoping to step up their two tight-end set game during training camp, and now those efforts have suffered a setback without Dickson and Pitta practicing.
In their stead, for probably the next three games, will be Billy Bajema and Matt Balasavage. Bajema did have some flashes against the Falcons with two receptions for 12 yards and a touchdown. Balasavage also had 12 total yards on the night with one catch. At the very least, the Ravens can test their depth at the position for the remainder of the preseason.