Dwight Howard Trade: Best Opinions from Around the Web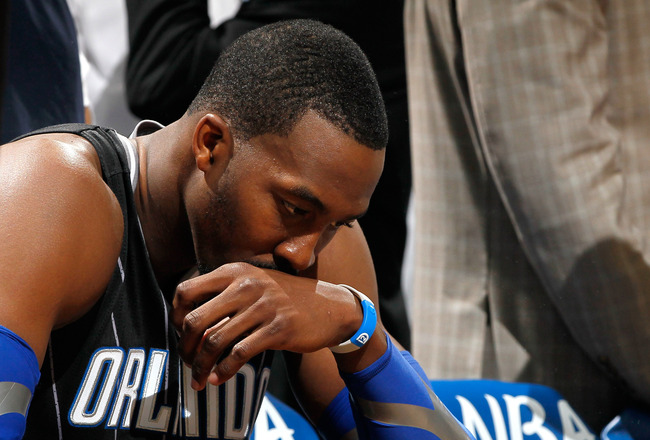 Kevin C. Cox/Getty Images
It's finally over.
Sort of.
Dwight Howard is finally going where we all expected him to go. That much we know, and that much is in the books. But the fun is only just beginning.
The reactions, opinions and debates that make life in the NBA so thoroughly engaging are already off to a roaring start. Predictably, there are those who like this deal for what it means to the league's ongoing dynastic dramas.
There are those who hate it on account of the fact that the rich just got richer, while the poor Orlando Magic got what they could.
And there are those who simply can't wait to see how just a blockbuster deal transforms this season's title race.
To be sure, there are probably those with conflicting emotions, those who feel a little bit of all the above. Here's a look at what the NBA's talking heads are saying.
Bill Simmons on Dwight Howard's Reputation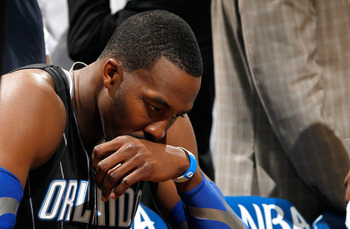 Kevin C. Cox/Getty Images
Blogger extraordinaire Bill Simmons nails it when describing how soon we'll all forget and forgive Dwight Howard for his affront to all things good and holy:
When the Lakers are rolling and their fans are chugging the Howard Kool-Aid in a few months, nobody will remember that Howard disgraced himself with some of the wishy-washiest behavior in recent sports history. Remember what happened when LeBron won the 2012 title and played at a level that we hadn't seen since Jordan's prime? We forgave him for "The Decision." Really, really quickly.
Yes, there were differences between "The Decision" and Howard's protracted siege of Orlando. James never spent an entire season distracting his team with "trade me, or else!" shenanigans. Nor did he make us sit through unimaginably painful interviews in which he duplicitously denied trying to get his coach fired.
But an hour-long special announcing some hometown abandonment was classically awful, and the public at large acknowledged as much.
At least for a year-and-a-half or so.
We know Laker fans will forgive anyone for anything so long as he's wearing Purple and Gold. The rest of the nation may not be so kind, though. The Miami Heat didn't just find themselves a championship rival.
They now have a rival for most hated team in the universe.
Bill Simmons on Andrew Bynum Being Weird in Philly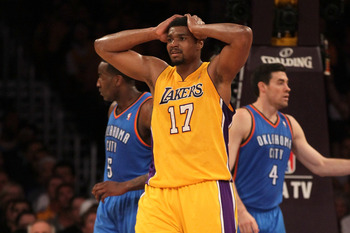 Stephen Dunn/Getty Images
It's easy to forget this trade had any implications outside of Dwight Howard changing ZIP codes. Yet one of the most significant implications from a basketball standpoint will be Andrew Bynum's relocation to Philadelphia.
The All-Star seven-footer should instantly elevate the 76ers to the status of a rapidly up-and-coming club with the possibility of contending in the not-too-distant future. Of course, that all assumes Bynum fits in with the organization... and the city. Bill Simmons notes that Bynum may have to grow up fast in his new environs:
Along those same lines, Bynum is a relatively strange guy, someone who loves pushing buttons, saying head-scratching things and keeping people on their toes. In Los Angeles, nobody really cared — Kobe pulled all the attention away from him, and besides, it's not like L.A. is a ravenous, life-or-death sports market or anything. The Laker fans love their team, but they also live near the Pacific Ocean in a place that's 75 degrees every day. Tends to keep everything in perspective.
Simmons goes on to note that Philadelphia isn't nearly so understanding.
Bynum's carefree eccentricity fit right in when he was an auxiliary star on the West Coast. How long will that last amidst the most demanding fans in the country?
Arash Markazi on the Lakers Contending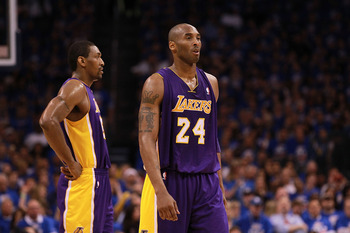 Ronald Martinez/Getty Images
Most Lakers fans figured their team was the one to beat for the better part of last season.
Forget that the San Antonio Spurs and Oklahoma City Thunder were both demonstrably better throughout the regular season. Forget that the Denver Nuggets pushed Los Angeles' mediocre defense to its limits.
The Lakers were just waiting to play their A-game when it really counted, right?
Wrong.
Given the eternal optimism (founded or otherwise) surrounding this team's title prospects, little has actually changed in the subjective estimation of Lakers fans. Objectively speaking, though, ESPN Los Angeles' Arash Markazi reminds us that Kobe Bryant's chances of returning to the promised land just got a lot better.
The window was supposed to be closed -- or at least closing -- on the Lakers' pursuit of a championship after this past season, and the new collective bargaining agreement was supposed to have locked that window shut for the foreseeable future.

This offseason, Lakers general manager Mitch Kupchak and Lakers executive vice president Jim Buss took a sledgehammer to that window, and now it's wide open. In the process, they might have also made the Lakers the favorites to win the NBA title yet again.
Are the Lakers indeed the favorites? As measured by star power alone, probably.
Of course, winning it all in this league requires more than star power. We've yet to see this team take the floor together. We've yet to see how the vastly different personalities now leading it will ultimately mesh.
There's reason to be hopeful, but the wisest fans will also be cautious.
Chris Sheridan on Magic Getting Bad Deal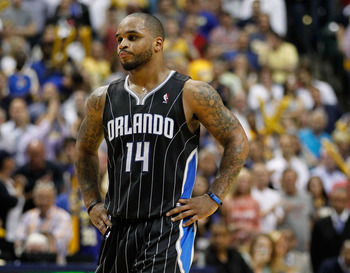 Gregory Shamus/Getty Images
No, the returns on this deal don't look especially good for the Orlando Magic, at least at first glance. Chris Sheridan maintains it was an especially bad outcome given what might have been:
They had a chance to get Brook Lopez, MarShon Brooks, Kris Humphries and four (!) first-round draft picks, three of which would have been unprotected coming from Brooklyn. They also had a chance to acquire a bevy of young players and unprotected draft picks from the Houston Rockets, as detailed here and here. If Rob Hennigan is only going to acquire one first-round pick from each of the other three teams (the Lakers can only trade a 2017 first-round pick, as their 2013 and 2015 picks were shipped to Phoenix in the Nash sign-and-trade), he is getting killed in this deal.
There's no question that Orlando received little that will be of much help in the near future.
Still, there's something to be said for Arron Afflalo being one of the more underrated shooting guards in the league, and there's more to be said about Al Harrington having a cap-friendly contract.
Who knows? Maybe Maurice Harkless and Nikola Vucevic have more upside than we know.
More importantly, Orlando positioned itself to make important acquisitions on the free-agent market over the next couple of seasons. Yes, they could have been saddled with talented but overpriced pieces like Lopez and Humphries, but there's a good argument for spending cap space on guys who actually fit with the program.
Brook Lopez is a solid center, but would you want him occupying cap space with a maxed-out deal for the next five years?
Me neither.
Michael Rosenberg on the Injustice of It All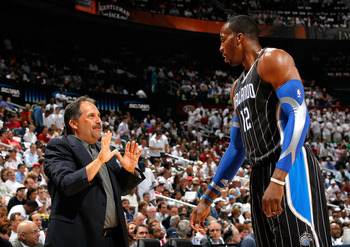 Kevin C. Cox/Getty Images
Amidst a flurry of indulgent back-slapping, Sports Illustrated's Michael Rosenberg emerges as the lone voice of reason:
In the meantime, Howard is a Laker, and how rich is that? He nuked his old franchise in Orlando, establishing himself as the best all-around franchise-destroying star in the NBA. He complained like Carmelo, got his coach fired like Jason Kidd, and ditched adoring fans like LeBron -- and, like all the all-time greats, he brought something new to the game: world-class waffling, which hurt Orlando even more.

Predictably, here is Howard's punishment: He goes to a better team (though not the one he wanted), in a bigger market, and he still gets to sign a full maximum-salary deal with the Lakers next summer.
Rosenberg couldn't be more on point.
The NBA is turning into a parody of itself. Just when you thought fairness and decency couldn't be more perversely turned on their heads, something like this happens.
It sends the wrong message, and it sets the wrong precedent. Whatever this deal means for the respective organizations involved, the fact that deals like this happen in the first place means something incredibly sad for professional sports.
The truly nice guys are indeed finishing last. The fake ones wind up with contenders.
Lee Jenkins on What Made It a Steal for the Lakers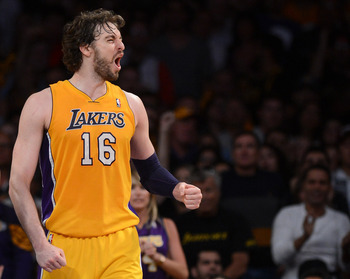 Harry How/Getty Images
The Lakers could have very easily been tempted into overspending for Dwight Howard, but no such thing happened. In fact, they came out of this one relatively unscathed.
Sports Illustrated's Lee Jenkins contends that's what really made this deal so sweet:
The best part of the deal for L.A. is the player who wasn't included. The Lakers could have slid Gasol into the package and pared salary, significant considering they are well into the luxury tax, and soon the super tax. All winter, the Lakers indicated they planned to cut costs, but then they were left to watch the Finals on television in June, and saw a path back in July. By retaining Gasol, the Lakers keep an unselfish and undervalued 7-footer who will thrive alongside Nash while deferring to Howard.
He's absolutely right, too.
Gasol will thrive in pick-and-roll situations with Steve Nash, and he'll help spread the floor with his ability to pop out and hit mid-range jumpers. That's crucial to balancing Howard with a presence that needn't remain completely lodged in the painted area.
It would have been hard to like this move if Los Angeles lost Gasol and didn't receive an additional piece or two worth liking.
This scaled-down version, however, is a win-win scenario for the Lakers.
Kelly Dwyer on Why We Shouldn't Forgive Dwight
Howard Smith-US PRESSWIRE
We all know that it's divine to forgive and all that business, but things have gone too far.
Too many in this league don't just forgive. They absolutely refuse to call things what they are. They refuse to stand up for those left in the dust by disingenuous celebrities, their egomaniacal ambitions and the damage inflicted on fans and franchises alike.
Ball Don't Lie's Kelly Dwyer has had enough, and you should too:
Because he's a phony, you know.

He lied to all of you about "loyalty," last March. Lied. To. You. Looked in the camera and lied to you, whether you live in either Florida or California's Orange County, or you're reading this site from a time zone that has you up at four in the morning. Dwight Howard lied to you on record and in writing, whether you're a fan of the Magic or not, about what he really wanted. He lied to his teammates, he lied to his front office, he lied to the press that had to show up to talk to him in March, and he lied to the children that he couldn't muster up the courage to face at a camp their parents paid money for them to attend.

Overwrought, this? No. For one last time, revisit the nonsense that he's created. Say goodbye to it, as he's off to El Lay, but don't forgive it.
People should expect better from these overpaid drama queens. We should expect them to stand for something other than themselves.
At the very least, we should expect some honesty.
Keep Reading