Auburn's First Scrimmage Begins to Answer Questions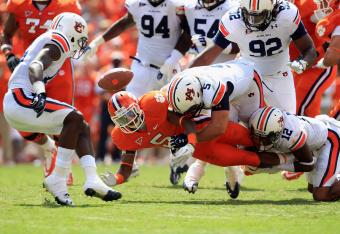 Streeter Lecka/Getty Images
Auburn held an early preseason evaluation scrimmage this Wednesday. These types of scrimmages are not designed to give an idea of how the team will do against competition. It is a scrimmage designed to give all players base-line knowledge of where they are at and where they need to be.
Trying to weed through all the information from these types of scrimmages is sometimes confusing. Seldom can anything be gained from individual statements from the staff. Usually the staff expects upperclassmen to perform solidly in these scrimmages. Most general coaching statements are aimed at the depth players on the team.
Sorting Out the Facts
In Brian VanGorder's defense, the linebackers play the most cerebral role. This wasn't good news for Auburn fans as linebacker play was certainly less than stellar in 2011.
Jake Holland laid claim to his best day since VanGorder arrived, according to Ryan Wood of oanow.com. This is particularly positive news since it has been speculated that true freshman Cassanova McKinzy has been pushing Holland for the starting job, according to Phillip Marshall of 247sports.com.
Overall it appears the linebackers are making marked progress, according to Ethan Bernal of http://www.wareagleextra.com/.
This means that Auburn has at least two players that are making progress toward absorbing and executing VanGorder's scheme at the crucial middle linebacker position. Moving into fall camp, this was the biggest possible weakness of the Auburn defense, and it appears this deficiency is being successfully addressed.
There were multiple whistle sacks by the defense in this first scrimmage. Sacks were made by both the defensive line and linebackers.
Disruption around the quarterback is a key staple of the VanGorder defensive scheme. Disruption at this level has not been witnessed on the field at Auburn since Brodie Croyle felt the wrath of the Auburn defensive line in 2005.
VanGorder admitted that the first team played well the majority of the time. He stated that more consistency was needed as the defense did allow some explosive plays as well.
Photos of the scrimmage were made available by Auburn University and posted by al.com.
For the offense it was a day of frustration with some short moments of triumph. Onterio McCalebb, Jovon Robinson and Mike Blakely all showed promise running the football, according to quotes by teammate Greg Robinson—the current leader for the starting left tackle position.
The quarterbacks were inconsistent as a group, largely due to harassment from the defensive front seven. The Auburn offensive line has a long way to go before being consistent when facing a defensive line with the depth and quality at Auburn this season.
Opinion
As Gene Chizik stated, it was about what one expects from the first fall scrimmage. Inconsistency is usually the rule of the day in these exercises. This appeared to be the case for Auburn as well.
The Auburn defense appears to be moving rapidly toward becoming a very solid unit to start the season. There is really no comparison for the Auburn defensive line. This unit will likely be the strength of this football team. The third rotation of this unit would likely start on the majority of SEC teams.
The Auburn linebackers are making quick progress toward becoming a solid group that can execute the VanGorder defensive scheme. While they are not where VanGorder wants them just yet, it does appear likely they will be solid to start the season.
The Auburn secondary has improved, but brought down the wrath of VanGorder with some poor tackling and busted coverage. It is likely these players will find that such mistakes are heavily frowned upon in a VanGorder defense.
The Auburn offensive line has the physical nature and maturity to execute Loeffler's offense to perfection. They lack the experience to convert that physical advantage into positive results in execution at this point.
The positive point is that they have the ability and will likely be practicing against one of the very best defensive line units in the nation. This should speed their progress up considerably. This will also be a unit that will likely improve throughout the season this year.
The first big challenge for this offensive line unit will likely be on September 22 against the LSU Tigers, which is some three dozen practices and four games into the future. This should be plenty of time for them to gel as a solid unit.
The Auburn quarterbacks are going through a trial by fire. They have been thrown to the wolves and it is a sink-or-swim situation for these three young men. While they were inconsistent as a unit, there were also some very positive moments.
Given the protection afforded by a less active defensive line or the performance of a proficient offensive line, this unit as a whole will dominate opponents. Gene Chizik is giving last season's starter every chance to win out, but facing bad luck and overwhelming talent has presented a huge obstacle for the incumbent starter.
Kiehl Frazier has simply taken this team under his wing during the offseason. Clint Moseley is, by most accounts, more than capable. The problem is that a sore shoulder that has persisted since January appears to be holding him back.
In fact, he might be in danger of dropping to the third slot as Jonathan Wallace, a true freshman, has wowed teammates at times this fall. Wallace appears to have the very kind of game managing skills that Loeffler desires as a backup quarterback in his system.
While this may be bad luck for Moseley, it is certainly a window of opportunity for the younger players. Hopefully Moseley can overcome the sore shoulder and begin to perform in the next scrimmage Saturday.
It is difficult to put an opinion on the Auburn receivers until a quarterback manages to avoid being sacked long enough to deliver the ball consistently. With this being the benchmark, Auburn fans may not know much about this unit until the season begins.
Auburn special teams are shaping up as one of the best units in the nation as expected. Every indication is that this unit will perform better than last season. With the new rules regarding kickoffs there is a lot of work left in preparation for this unit before the season begins.
This article is
What is the duplicate article?
Why is this article offensive?
Where is this article plagiarized from?
Why is this article poorly edited?

Auburn Football: Like this team?