Why Andrew Luck and Robert Griffin III Can Exceed Expectations in 2012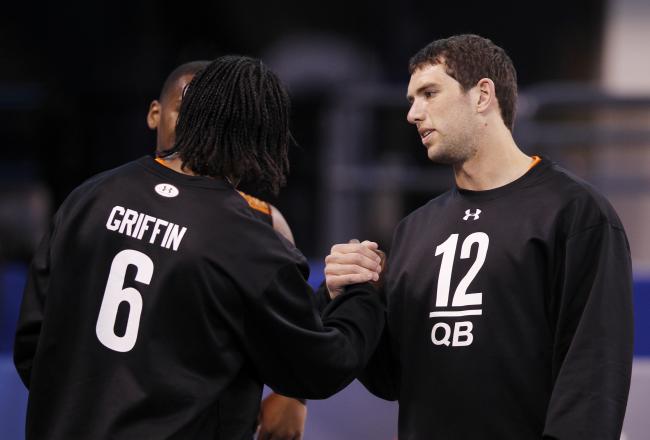 Joe Robbins/Getty Images
Andrew Luck and Robert Griffin III better prepare to spend their entire careers being compared to one another. It's a byproduct of quarterbacks being selected with the first two picks of the draft.
On top of that, these two will also be compared to previous quarterbacks who began their careers as starters from Day 1. While expectations are high for both players, these two have the mix of skills needed to have great NFL careers.
Every year, a handful of quarterbacks is selected in the first round of the NFL draft. However, the success rate of these players isn't great.
A lot has to do with teams placing too much emphasis on the position, which leads to players being over-drafted. The graph below shows that the chances of success for a quarterback aren't great. Note that the graph begins in 2010, so the players I've looked at have had time to develop track records.
Basically, it shows that there's a 50 percent chance for a first-round quarterback to have a winning record. That number is a little skewed because of the fact that players like Vince Young and Mark Sanchez have benefited from strong supporting casts.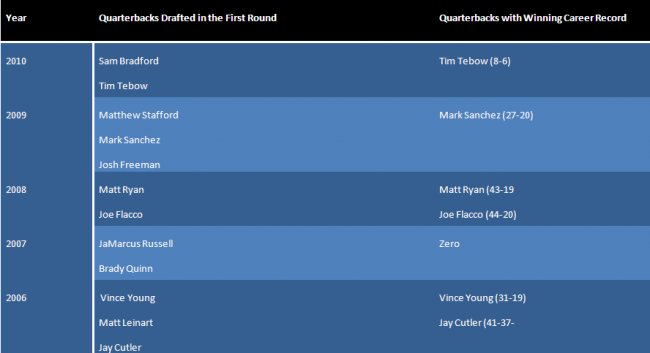 Despite the number above, I still expect Griffin and Luck to outperform the high expectations placed at their feet.
Robert Griffin III
Robert Griffin III is known for his exceptional athleticism. During his career at Baylor, he used his top-notch speed to create with his feet. However, he mostly used that quickness to extend plays and find open targets in the passing game. This is going to help him overcome some of the issues the Washington Redskins have along the offensive line.
One of the most important factors in Griffin's projected success is his ability to go across the field with his progressions. The clips below show how he notices that his first read was covered, went through his progression and squared up toward the new target. His ability to execute this play properly resulted in a big gain to Pierre Garçon.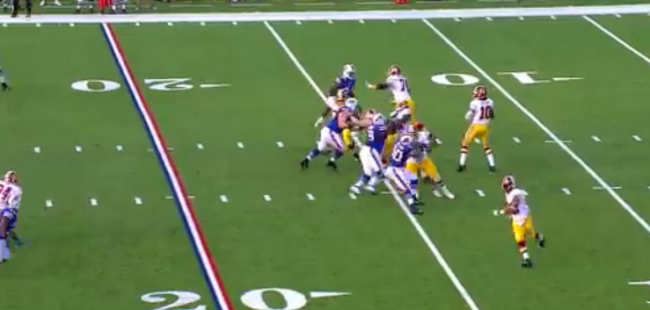 Most young quarterbacks struggle to process information quickly. They tend to stare down their No. 1 targets and panic whenever they're covered.
Griffin isn't like most rookie quarterbacks, as he has a tremendous amount of poise.
Another area that separates Griffin is his ability to attack the deep part of the field. He plays an aggressive brand of football and has the arm strength to stretch out defenses. However, it's his accuracy to that part of the field that's really impressive.
Griffin knows how to place the bucket pass out in front of his targets so that they have opportunities to gain yards after the catch. The photo below shows a play in which Griffin delivered a perfect pass to then-Baylor teammate, wide receiver Kendall Wright—a pass that resulted in a touchdown.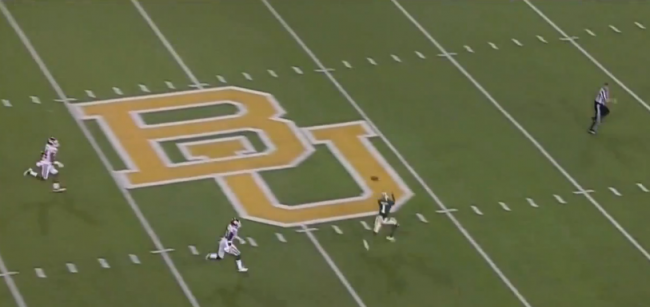 The Washington Redskins had an aggressive offseason that focused on adding pieces to help Griffin's development. The biggest addition was the signing of Garçon, who is the type of vertical threat that will complement Griffin's skills.
This is a tandem that used the Redskins' first preseason game to show its already strong relationship. In that game, Garçon caught three of Griffin's four completions, including a touchdown.
Andrew Luck
In order for any young quarterback to find success early in his career, he must have a good head on his shoulders. Andrew Luck displayed last season that he has the poise and mentality to deal with the responsibility of being labeled a "franchise" quarterback.
Luck's ability to deal with the pressure he faced after returning for his junior season was incredible. All eyes were on him because he was projected to be the No. 1 pick in the 2012 draft. Actually, many felt that he would have been the top pick in the 2011 draft if he had left Stanford a year earlier.
All this equates to Luck having what it takes to deal with the scrutiny that comes with being an NFL quarterback.
The Indianapolis Colts selected Luck because he appears to be a can't-miss prospect. He has all the talent needed to succeed in the NFL. His ability to consistently and accurately place the ball is one of his best attributes. Luck's accuracy allows him to avoid turnovers, give targets the ability to pick up yards after the catch and keep the chains moving.
The photos below show just how well Luck places the football.
The first is an example of how he's capable of splitting defenders. This pass to Austin Collie is placed in such a way that he's the only person that can make a play on the ball. If it were underthrown or thrown more toward the center of the field, the St. Louis Rams defenders would've been able to make a play on the ball.

This throw shows that Luck understands when to release the football. He delivers this ball over the head of one defender and before another can close. The receiver had to make a leaping catch, but the ball couldn't have been thrown in a better spot.
It's obvious that Luck can put the ball where he wants, and he also knows what types of throws are needed.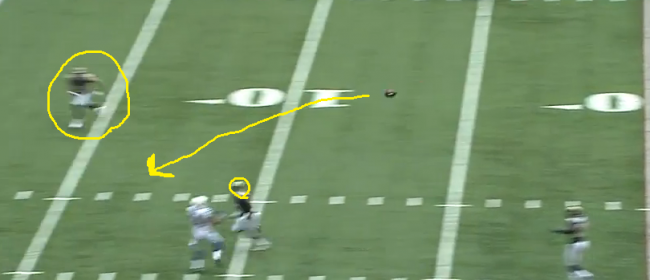 Luck will benefit from the presence of holdovers on the Indianapolis offense, such as Reggie Wayne and Austin Collie. These two veterans know how to make plays and act as professionals.
Wayne in particular brings a workman-like attitude to the team. As outlined by Brad Wells of Stampede Blue, Wayne has shown up to training camp in some very creative ways. Things like wearing a hard hat while driving a dump truck are meant to show his teammates that it's time to get to work.
Besides their leadership roles, both receivers run clean, precise routes. The last thing a young quarterback needs is a receiving corps that's never in the right position.
Luck can head into each game knowing he has these two reliable targets.
The Indianapolis Colts and Bruce Arians are developing an offensive game plan that will help Luck ease into the NFL. This attack is very similar to the one Luck ran at Stanford, which will help make this tough transition easier.
Probably the biggest similarity is the use of a base set with two tight ends. Indianapolis selected Coby Fleener and Dwayne Allen in the 2012 draft to ensure they could run this type of offense. Adding to the familiarity is the fact that Fleener was Luck's favorite target at Stanford.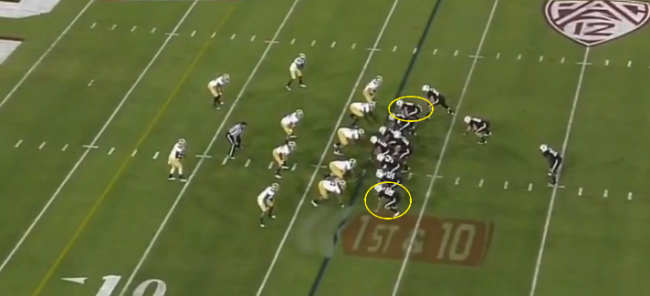 Stanford Offense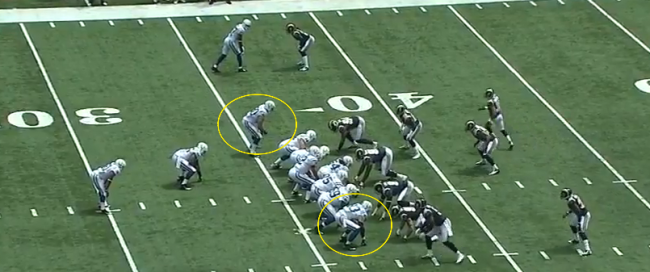 Above is a basic sample of the similarities of the two offensive systems. Of course, the NFL offense will be more complex, but Luck's familiarity will make for a smooth transition.
Closing Thoughts
Both Robert Griffin III and Andrew Luck have the talent needed to excel in the NFL. However, there are other factors that will play key roles in their success.
These two are complete packages, though, and I'm confident both will have great NFL careers.
This article is
What is the duplicate article?
Why is this article offensive?
Where is this article plagiarized from?
Why is this article poorly edited?