2012 Olympics Results: Winners and Losers from Day 14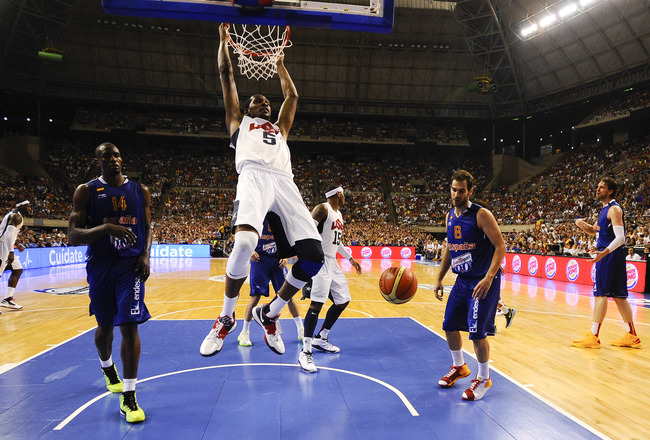 The U.S. and Spain are set to play for the gold medal in basketball.
David Ramos/Getty Images
Day 14 at the 2012 Summer Olympics provided some strong competition from the women in track and field and the men in the boxing ring. There were also several team events, as medals will be finalized over the final weekend of the London Games.
With the volume of medals awarded on Friday, all of the day's winners ended up on the podium.
As for the losers...there are a variety of reasons why they made the list.
After reading the following slides, please share your winners and losers of the day and what made their performances memorable.
Loser: U.S. Men's Water Polo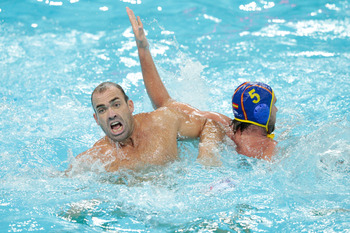 Adam Pretty/Getty Images
The U.S. won the silver medal in men's water polo at the Beijing Games. It dedicated the next four years to winning the gold medal in London.
The only problem is, the Americans didn't show up for the last four matches.
They won the first three matches to take an early lead in group play. Then, they were manhandled in their next two group games and fell from the first seed to the last heading into the medal rounds.
Another lifeless performance landed them in classification play and a merciful end to their tournament.
Oh, wait...they still have one more game to go, meeting the other two-time loser from the knockout round. That was almost the gold-medal winner from Beijing, but Hungary rallied to beat Australia, 10-9.
Winners: Netherlands and Great Britain Women's Field Hockey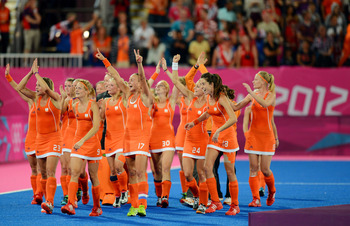 Mike Hewitt/Getty Images
Medals were handed out today in women's field hockey, and both matches were competitive and exciting.
The Netherlands and Great Britain were both tied, 0-0, at the half and surged to two-goal wins against Argentina and New Zealand, respectively.
Sports fans who haven't had the opportunity to watch field hockey are missing some great action.
The ladies play hard and fierce with very little padding to protect themselves from flailing sticks and a fast-moving ball.
Loser: Russia Men's Basketball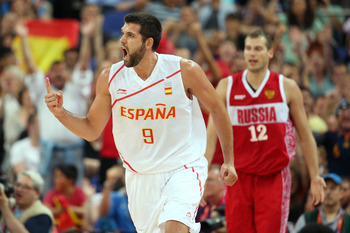 Christian Petersen/Getty Images
Prior to this contest, I was determined to exclude Russia from consideration as a "loser" if it lost its semifinal game to Spain. After all, the Russians performed very well in group play and are still advancing to a medal game.
Then they came out with a dominating defensive showing in the first half against Spain, taking a 31-20 lead at the break. With a solid second half, they'd be guaranteed an Olympic medal.
During halftime, though, Spain remembered that perimeter shooting is acceptable in Olympic competition...even encouraged if taken behind the three-point line.
Russia couldn't keep up with the shooters, allowing too many open jump shots. It surrendered more points in the third and fourth quarters individually than in the first two combined.
The Russians can redeem themselves with a win over Argentina in the bronze-medal game, but they were simply flat in the second half.
Winner: Russia Synchronized Swimming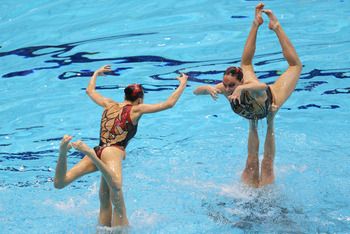 Clive Rose/Getty Images
While hardly a surprise, the synchronized swim team from Russia did what it was supposed to and won both gold medals in synchronized swimming.
Svetlana Romashina and Natalia Ishchenko won the pairs event earlier in the week, while the team came through today.
It had the highest score in the technical and the free program, solidifying its place as the premier nation relative to synchronized swimming.
Loser: U.S. Women's Field Hockey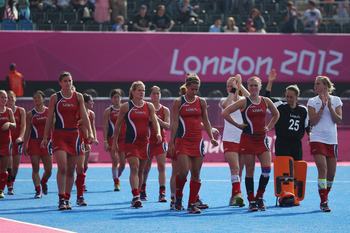 Daniel Berehulak/Getty Images
The U.S. women were off to a great start in field hockey at the London Games. They had an early win over the eventual silver medalist, Argentina, and were poised to make a run.
Similar to the U.S. men in water polo, things began to go downhill...fast.
The women lost their classification game to Belgium, 2-1. They finished the tournament in a disappointing 12th place.
Winner: Bahamas Men's Track, 4x400-Meter Champions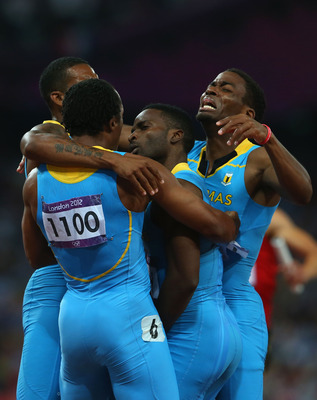 Alexander Hassenstein/Getty Images
The Bahamas isn't a traditional power in track and field and hasn't excelled in relays or getting gold medals.
Perhaps the best summary is, prior to 2012, Carl Lewis had a more impressive resume than the history of that nation.
It is closing the gap.
Anchor Ramon Miller ran down and passed Team USA's Angelo Taylor on the final leg to give the Bahamas its second-ever gold medal in track and field.
Loser: Connor Fields, U.S. BMX Cycling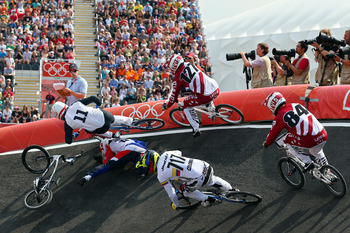 Alex Livesey/Getty Images
Connor Fields was a favorite to medal in BMX cycling. The fact that he failed to medal isn't why he makes this list, though.
Rather, it is that he wasn't competitive in the process.
It is odd that a sport that uses three races to place cyclists into the finals decides the event on a lone race. With the priority being consistency and the ability of a single crash to dash a rider's hopes, a multi-heat final seems to make more sense.
"That's what's great about BMX," Fields told ESPN.com. "You never know what's going to happen."
Winner: U.S. Women's 4x100-Meter Relay Team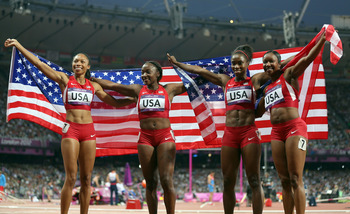 Clive Brunskill/Getty Images
Winning a gold medal is the ultimate goal of almost every Olympic athlete. That alone makes the women's 4x100-meter relay team a big winner.
What really sets it apart, though, is that it shattered a world record, particularly in an event the Americans hadn't won since 1996.
Tianna Madison, Allyson Felix and Bianca Knight combined to give the U.S. a big lead after three legs. The only remaining question was if they'd set a new world mark.
Carmelita Jeter made sure they did.
The U.S. beat the 1985 East German time, the previous world record, by over half a second.
Loser: Morgan Uceny, U.S. Track and Field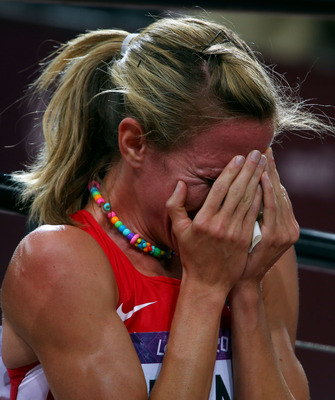 Alexander Hassenstein/Getty Images
One of the biggest hard-luck losers of this Olympics is Morgan Uceny. After a fall cost her the shot at a medal in the 2011 World Championships, she was hoping for some redemption in London.
Instead, it was déjà vu all over again.
She fell in the finals of the women's 1,500-meter race.
Uceny fell as she was making her move on the final lap. She remained on the track sobbing, pounding the rubber with her hands. She didn't move until well after the race was over, making things a bit awkward for finishers, as she was only about 15 meters beyond the finish line.
None of the competitors stopped to check on her, including her teammate, Shannon Rowbury. Perhaps that actually makes the rest of the field the day's biggest losers.
Winner: Jordan Burroughs, U.S. Wrestling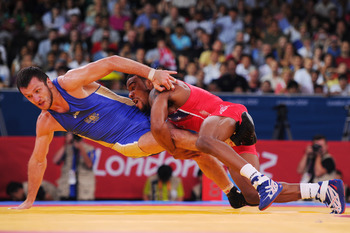 Michael Regan/Getty Images
When you announce your intentions on Twitter, it makes anything but a gold medal a failure.
Thanks everyone for the goodlucks tomorrow. Dreaming of Gold tonight. My next tweet will be a picture of me holding that Gold medal!!!

— Jordan Burroughs (@alliseeisgold) August 9, 2012
It is understandable why the defending world champion believed he could win. He had a pair of undefeated national-championship seasons in college and came into the Olympics with a 34-0 record in freestyle competition.
Make that 38-0.
In the final today, it was almost like he was toying with his opponent, like a big brother making his little sibling think he had a chance, only to finish him off near the end of Rounds 1 and 2.
True to form, Burroughs shared the following...
I did it! 2012 Olympic Gold Medalist! twitter.com/alliseeisgold/…

— Jordan Burroughs (@alliseeisgold) August 10, 2012
Honorable Mention: BMX Racing, Māris Štrombergs, Latvia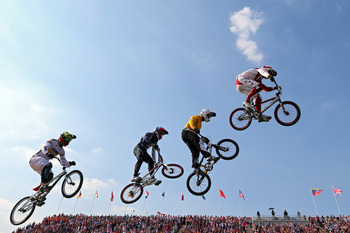 Alex Livesey/Getty Images
Cycling introduced BMX to the Summer Olympics in 2008. It has received a fair amount of praise and scorn in the media—traditional and social alike—making it both a winner and a loser as an Olympic sport.
BMX was awesome, got some surprise tickets to track and field right now #busyday #pumped

— Sam Mikulak (@SamuelMikulak) August 10, 2012
But the racing was fun to watch, and the short sprints over jumps and through tight corners made for some excitement. The crashes don't exactly hurt the entertainment factor, either.
Māris Štrombergs of Latvia defended his Beijing gold medal by winning the men's event in London.
Traditional cyclists may be slow to embrace BMX as an Olympics-worthy event, but it is certainly better than solo synchronized swimming.
Keep Reading