UFC 150 Results: Post-Fight Matchmaking for the Entire Fight Card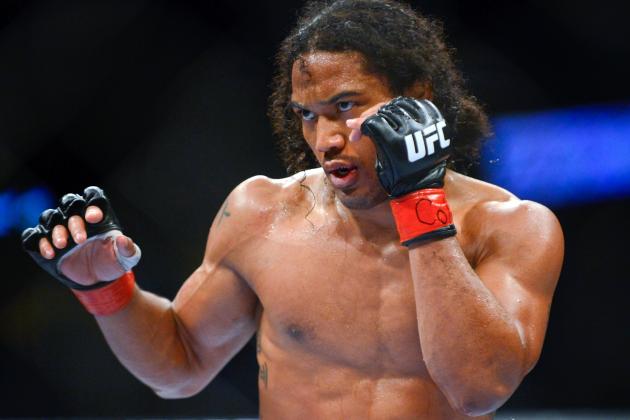 Ron Chenoy-US PRESSWIRE

Frankie Edgar delivered another controversial result at UFC 150, where he came out on the wrong end of a split decision against lightweight champion Benson Henderson.
After a slow start, Edgar had a strong second round, dropping Henderson with a right hand. The following three frames saw both fighters land their fair share of strikes, which left the judges responsible for determining the winner of a very closely contested title fight. Ultimately, they sided with Henderson for a second straight contest.
Though Edgar's almost deserving of a third straight meeting with Henderson, that's simply not a fight that is reasonable right now, and it might never make sense. Therefore, Edgar may finally be forced to make a highly anticipated move to the 145-pound division in order to return to title contention.
With another hotly debated lightweight title bout in the books, let's take a look at who should be next for Henderson, Edgar and the rest of the UFC 150 competitors.
Begin Slideshow

»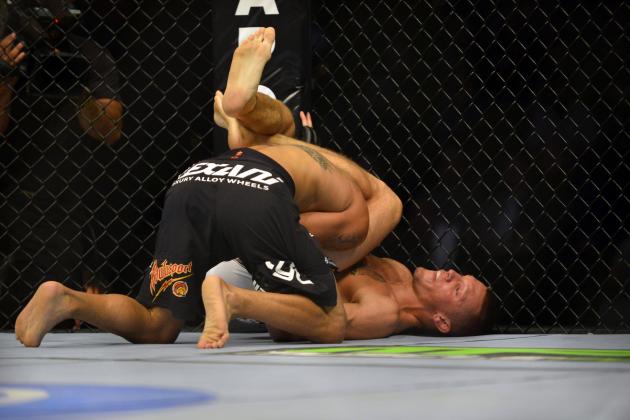 Ron Chenoy-US PRESSWIRE

A string of three fights in three months has taken its toll on Dustin Pague, who has now lost in three of his past four appearances after dropping a decision against Chico Camus at UFC 150. Should he lose his next bout, Pague could be looking for work outside of the UFC's Octagon.
At UFC 152, where he will meet Walel Watson, Mitch Gagnon will attempt to avoid suffering a second straight loss. If Gagnon loses that September matchup, it could make sense for him to face off against Pague in a loser-leaves-town fight.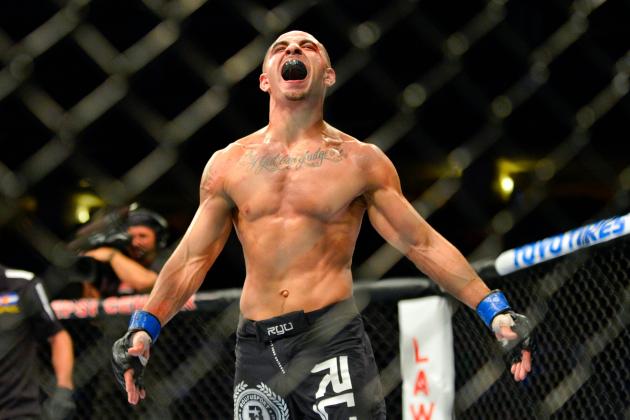 Ron Chenoy-US PRESSWIRE

Chico Camus performed well in his UFC debut against Dustin Pague, but he still has a lot of proving to do in the bantamweight division. For his next fight, Camus should be tested against a veteran opponent, but not one who is riding any type of significant winning streak.
In the event that Walel Watson breaks out of his two-fight losing streak in his fourth Octagon appearance in September, he would make for an interesting opponent against Camus, as he would pose more of a threat for submissions off of his back than Pague did on Saturday night.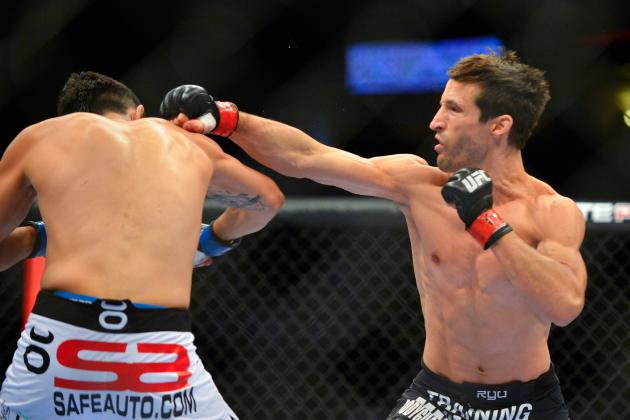 Ron Chenoy-US PRESSWIRE

At UFC 150, Ken Stone had a two-fight winning streak ended with a knockout loss to Erik Perez. The short run of success had marked Stone's first string of consecutive victories since April 2009, when he was still working his way toward Zuffa-owned promotions.
As Stone looks to begin another win streak, a bout against Roland Delorme seems most logical. Delorme recently had a two-fight winning streak of his own halted by a knockout loss against Francisco RIvera.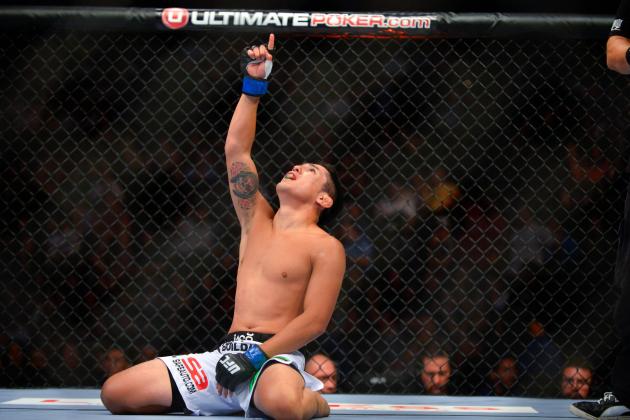 Ron Chenoy-US PRESSWIRE

Following a controversial submission win over John Albert in his UFC debut, Erik Perez scored a more decisive win with a swift knockout of Ken Stone on Saturday night. Now the owner of a seven-fight winning streak, the 22-year-old Perez is quickly becoming a very bright prospect in the bantamweight division.
In an effort to begin building the exciting young talent's name, the UFC should consider matching Perez up with a recognizable veteran. A bout with Raphael Assuncao, who is currently on a two-fight winning streak, would give Perez the chance to elevate his status.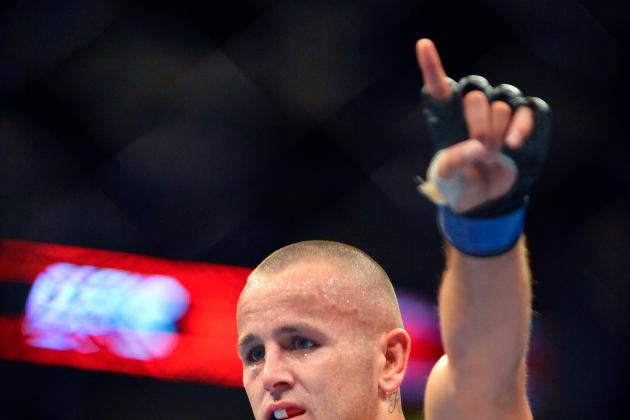 Ron Chenoy-US PRESSWIRE

Michael Kuiper followed up a decision loss in his UFC debut against Rafael Natal with a mostly dominant victory over Jared Hamman at UFC 150. In addition to moving him up the middleweight ladder, Kuiper's win on Saturday night essentially guaranteed him a few more fights inside the Octagon.
For his next appearance, the Dutch middleweight could meet the winner of a UFC on Fuel TV 5 bout between Brad Tavares and Tom Watson. A matchup with either fighter could allow Kuiper to engage in another stand-up battle.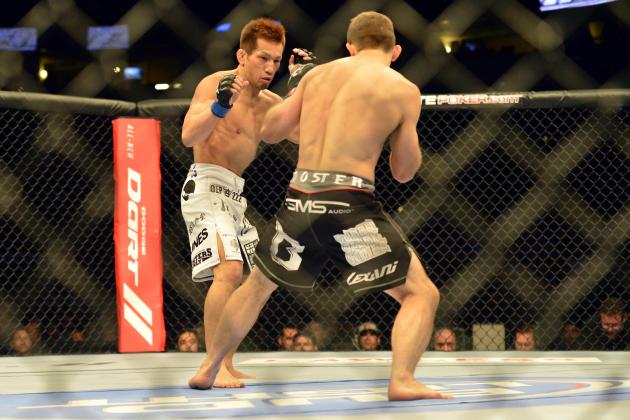 Ron Chenoy-US PRESSWIRE

Despite suffering losses in their UFC debuts, Eiji Mitsuoka and Tommy Hayden were both handed very tough opponents at UFC 150, as they respectively met Nik Lentz and Dennis Bermudez. As a result, both Mitsuoka and Hayden are winless in two UFC appearances and could be in danger of being released from the promotion.
Given the tough task they were given on Saturday night, though, it would seem they are deserving of one more chance to prove themselves inside the Octagon. A bout between Mitsuoka and Hayden to determine which fighter will be allowed to keep their UFC roster spot could bring the best out of both competitors.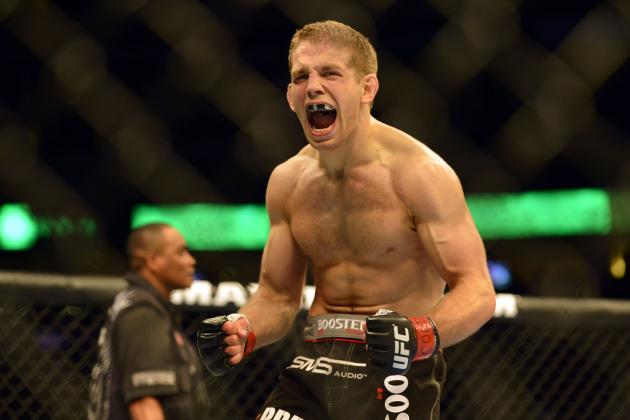 Ron Chenoy-US PRESSWIRE

Wrestling played a big part in the victories of Nik Lentz and Dennis Bermudez at UFC 150, so let's find who the better featherweight wrestler is by matching the two against one another in the near future.
Both fighters have the potential to become contenders in the 145-pound division. This bout would set the winner up for the big step up in competition they'd need to reach that level.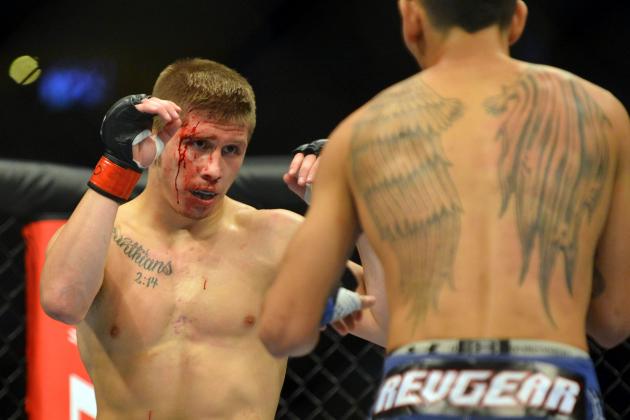 Ron Chenoy-US PRESSWIRE

Justin Lawrence is one of the flashier strikers in the UFC, but flashy doesn't always make for a great fighter. The 22-year-old has plenty of time to turn things around, but he did suffer a significant setback by running into an even better stand-up fighter in Max Holloway at UFC 150.
Despite the loss, it's clear the UFC brass would like to see Lawrence succeed. The promotion would do well to pit the former TUF participant against a fighter who has showed some holes in their striking defense. Coming off of a knockout loss against Antonio Carvalho, Daniel Pineda is that opponent for Lawrence.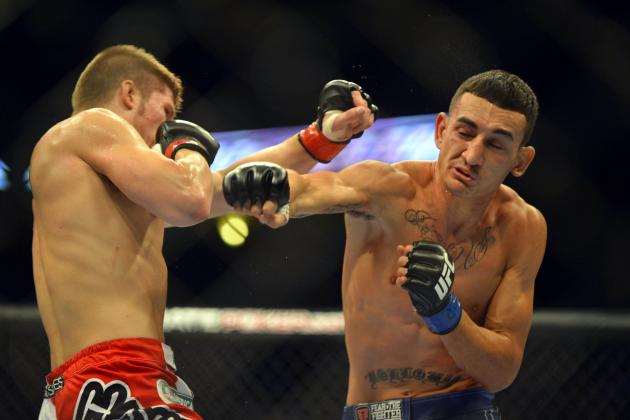 Ron Chenoy-US PRESSWIRE

In a rare move, the UFC paired two up-and-coming prospects against one another at UFC 150. With a few second-round body shots, Max Holloway emerged as a more promising featherweight than Justin Lawrence and should receive the step up in competition that comes with that.
By matching Holloway up with another bright young fighter like Lawrence, the UFC made it clear they'd like to push the Hawaiian up the featherweight ladder quickly. Therefore, it wouldn't be surprising to see the promotion book Holloway for a second straight fight with another potential contender.
Should the undefeated Jimmy Hettes remain just that against Marcus Brimage at UFC 152, he could meet Holloway in a matchup that would launch the winner toward a fight with a top 145-pound fighter.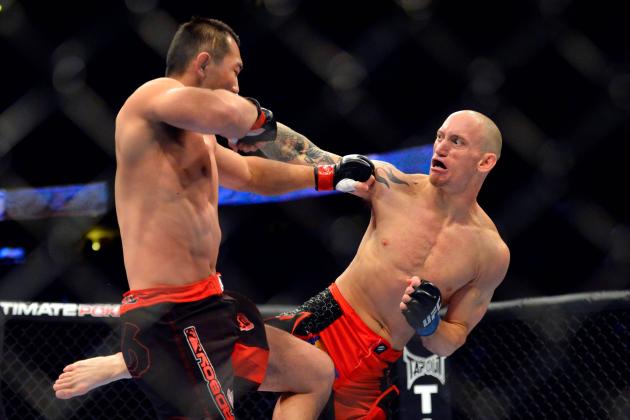 Ron Chenoy-US PRESSWIRE

Buddy Roberts received a huge opportunity in a chance to fight former top middleweight contender Yushin Okami. However, at UFC 150, Roberts showed he wasn't quite ready for an elite opponent like Okami, especially once he was taken to the ground by the Japanese grappler.
A step back is in order for Roberts, who could meet fellow UFC 150 loser Jared Hamman in his next appearance. Hamman took a lot of punishment on his feet and showed a ton of heart against Michael Kuiper, so he could turn in another inspiring performance against the heavy-hitting Roberts.
Ron Chenoy-US PRESSWIRE

Against former Strikeforce middleweight champion Jake Shields, Ed Herman had a chance to take his impressive return from multiple knee injuries one step further.
However, Herman utilized a questionable game plan of clinching with his Cesar Gracie-trained opponent, which led to "Short Fuse" spending a majority of the fight on his back.
Still, Herman did display solid submission defense against one of the best grapplers in the game, so he's deserving of another notable opponent in his next fight. A bout between Herman and Patrick Cote would be of interest to longtime MMA fans, as the pair have been significant players in the UFC's middleweight division for much of the past decade.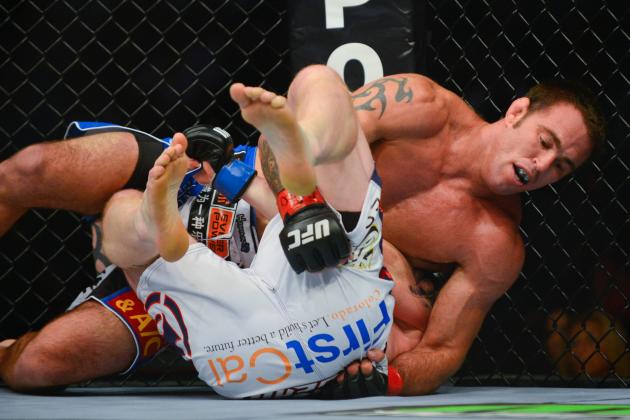 Ron Chenoy-US PRESSWIRE

In their respective victories over Ed Herman and Buddy Roberts at UFC 150, Jake Shields and Yushin Okami showed that they weren't ready to fade away quite yet. The wins were expected, but they showed both fighters still have enough in the tank to make another title run.
As they sat next to one another at the UFC 150 post-fight press conference, each speaking of their desire to continue their winning ways and climb the middleweight ladder, it became obvious that the 185-pound grapplers should meet to determine which one of them is more prepared to make that move for a title shot.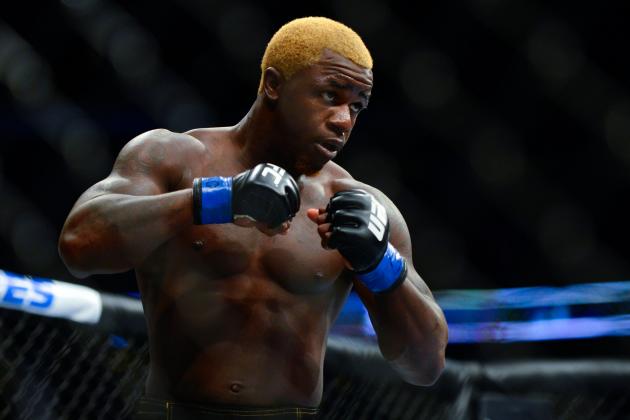 Ron Chenoy-US PRESSWIRE

For very different reasons, Melvin Guillard and Edson Barboza have proven to be two of the more entertaining strikers in MMA. Despite losing, Guillard reminded fans of his power by rocking the granite-chinned Donald Cerrone in the opening round of his UFC 150 contest. However, after being unable to put Cerrone away, Guillard succumbed to the more technical striker on Saturday night.
A bout with another technical striker in Barboza would give Guillard a chance to show he can fight with both knockout power and the presence of mind to defend himself while looking for a stoppage. At the same time, a matchup with Guillard would allow Barboza to test his chin and potentially demonstrate that his first career loss—a first-round knockout against Jamie Varner—was more a fluke than a showing of his ceiling in the lightweight division.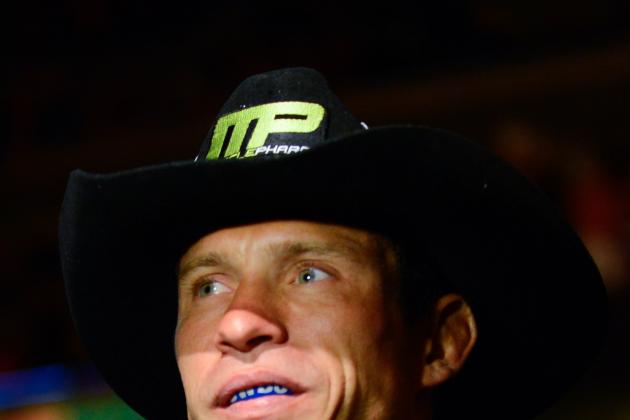 Ron Chenoy-US PRESSWIRE

Before his meeting with Melvin Guillard, Donald Cerrone was already picking a fight with Anthony Pettis. Well, Pettis accepted the challenge and now appears to be the next opponent for "Cowboy" after Cerrone was able to knock out Guillard at UFC 150.
The UFC already appears to be on board with the matchup as a lightweight title shot eliminator, and who would complain? As with just about any Cerrone fight, this potential bout has stand-up war written all over it. The 155-pound title fight implications only add to its intrigue.
Ron Chenoy-US PRESSWIRE

Whether he deserved to win or not, Frankie Edgar has now lost twice against the current lightweight champion. It would take some luck for Edgar to return to a 155-pound title fight anytime in the near future, so Edgar may be forced to finally make his highly anticipated move to the featherweight division.
Given the controversial nature of his loss to Henderson, Edgar would be put on the fast track to a title shot at 145 pounds. The UFC wouldn't want to eliminate a potential title challenger like Chan Sung Jung in the process, though, so a bout with a former top contender like Chad Mendes should be the one that potentially sets Edgar up for what could be a blockbuster championship fight against Jose Aldo.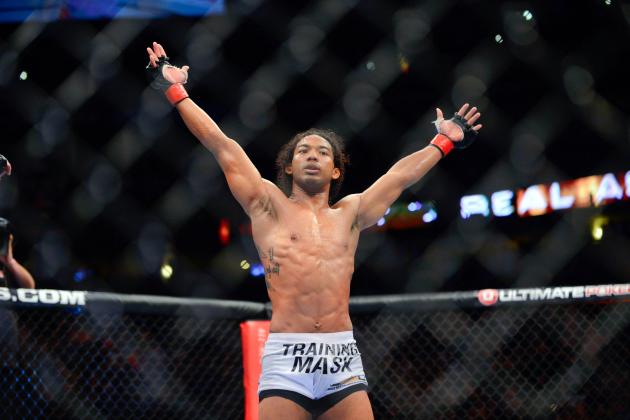 Ron Chenoy-US PRESSWIRE

Benson Henderson barely did enough to retain his belt at UFC 150, but in doing so, he may have eliminated the threat of Frankie Edgar for the rest of his reign as champion.
Next up? Nate Diaz.
The polarizing fighter earned his lightweight title shot with three straight wins over Takanori Gomi, Donald Cerrone and Jim Miller since returning to the 155-pound division after a brief move to welterweight.
Five years after winning TUF due to an unfortunate injury suffered by opponent Manvel Gamburyan, Nate Diaz will finally have a chance to reach the top of the UFC's lightweight division.