Real Madrid Transfer Rumors: 5 Players They Should Target Before Window Closes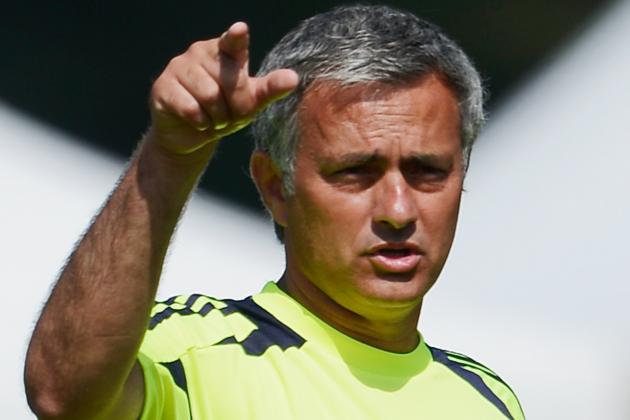 Kevork Djansezian/Getty Images
Real Madrid manager José Mourinho will be looking to add a few more pieces by the end of the summer.
Real Madrid's wildly successful 2011-12 season proved a truism often spoken about manager José Mourinho. "He's always better in the second year." And so it was, as Los Blancos won La Liga by a staggering nine points and advanced to the Champions League semifinals for the first time in many years. As the new season approaches, the goals can rather plainly be stated as a continuation of form, "do it again." More good times, it would seem, are further ahead.
And yet, any great team must be always improving. Competitors evolve, opposing strategies are worked out (much as Barcelona's tiki taka has been schemed against), players age and fatigue—there are countless reasons to always dip one's feet in the transfer market no matter how great the current squad.
Anyway, are Madrid fans really content with the simple narrative that their team was "unlucky" not to progress against rival's Barcelona in the Copa del Rey? Are those same fans, moreover, satisfied with their performance over two legs against Bayern Munch in the Champions League? A poor run of form, perhaps? Tired legs, maybe?
The truth of the matter is that while things are "always better in the second year..." a third year doesn't always mean a logical improvement. Real Madrid's players may very well improve team chemistry, tactics and talent with another year under the guidance of José Mourinho—they almost certainly will do so—but team's don't perform in a vacuum.
Mourinho met this fate in his third season at Chelsea, when Manchester United overtook the two-time holders of the Premier League crown. That Chelsea team had remained roughly intact since Mourinho's early acquisitions, but Manchester United had quickly grown—Berbatov, Tevez, Vidic and a flourishing of a certain Portuguese player. By the end of that third season, Mourinho had jumped ship to Milan, Italy.
Of course, the current project at Real Madrid is very different. For one, the current squad is exceptionally young and well-balanced. For another, the youth system is showing signs of promising returns. But, nonetheless, clubs have been warned. "Nueve puntos." Nine points.

So, without further ado, here are some players who could fill needs in the current Madrid roster. Those needs aren't glaring like most other squads (because Real Madrid aren't like other squads), and thus the players are of a rather high caliber; or, in some cases, they offer something different than what's currently on the current roster.
Begin Slideshow

»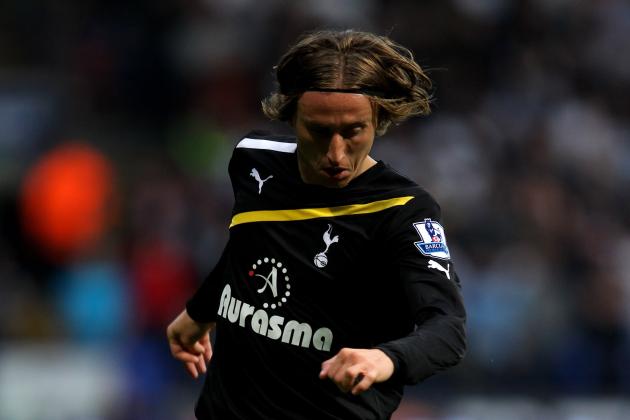 Alex Livesey/Getty Images
Tottenham's Luka Modrić
The case for a player like Luka Modrić is divisive amongst Real Madrid supporters.
On the one hand, Modrić is a world-class player; he's thrived for years in both the English Premier League and the Champions League, and one would be hard-pressed to find anybody who would outright oppose having the Croatian midfielder in the squad. Furthermore, Modrić's skills are perfectly suited for the Spanish game, and the Tottenham player's consistency (an average of 32 games played per season) is outstanding.
That said, it's debatable whether Modrić is actually needed. For instance, the supremely talented Nuri Sahin seems to be patiently biding his time for more playing time, and while the former Borussia Dortmund player's lack of favor with Mourinho appears to be a bizarre, ongoing saga, there's little doubt that he's more than an adequate fill-in for an aging Xabi Alonso. Additionally, Mesut Özil, who plays in a more attacking position in which Modrić could be featured, is seemingly undroppable at this point in his career.
And, yet, Modrić makes perfect sense.
Think back to the last season's Champions League semifinals leg in Munich. Bayern Munich in a sense is a very similar side to Real Madrid: both play an attacking, possession-based 4-2-3-1 formation with inverted wingers and attacking fullbacks.
The difference in that particular contest, however, was the role of Özil versus Toni Kroos (who started instead of Thomas Muller). Mesut Özil is a sublime footballer, and in contests against weaker opponents and less ball-playing sides, he's often the overwhelming mismatch with his unique capacity to drift into wide areas and combine with Angel DiMaria and Cristiano Ronaldo.
Unfortunately, against teams that like to keep the football like Bayern Munich and Barcelona (statistically, the two best sides in Europe at possession in 2011-2012), he's a liability. His defensive work-rate is weak at best, and he isn't the type of midfielder who likes to create neat triangles with the holding players.
Kroos and Modrić are that type of player. Both can play in an advanced midfield position—each of them interprets the role in the same, cautious way—but are equally comfortable playing further back, shuttling side-to-side to orchestrate things. (Xavi has a similar ability and, indeed, began his Barcelona career as a defensive midfielder.) Mourinho clearly understands this pressing need, and it's the reason why reports of a bid in the range of £30million have been made by Madrid.
With Modrić, Real Madrid can play a very compact version of 4-3-3 without sacrificing Pepe. Real Madrid have only won once with Özil starting at central attacking midfield against Barcelona, and playing Modrić would allow Cristiano Ronaldo and Angel DiMaria a greater license to play as true forwards rather than outside midfielders.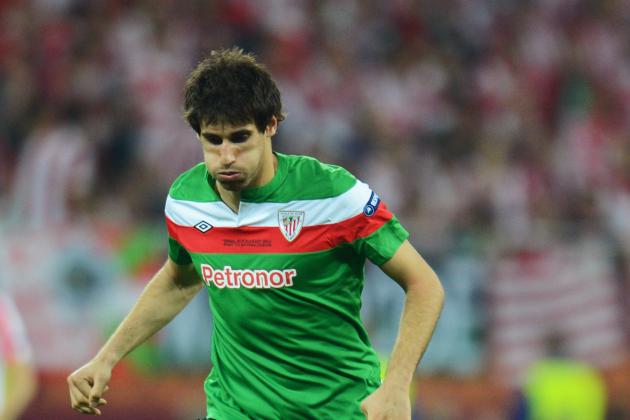 Shaun Botterill/Getty Images

Another option in midfield would be Athletic Bilbao's Javi Martínez. The price-tag that Bilbao is demanding—€40 million—is an enormous sum, but few young players in the world have such a guaranteed upside as Javi Martínez.
As a defensive midfielder, Martínez is potentially world-class. He has a touch on the ball that is similar to other great Spanish international players, but is also blessed with a ruthlessness and physical strength that is comparable to Sami Khedira and Yaya Toure. His pursuit by Barcelona, Manchester United and Bayern Munich exhibits just how highly top-flight clubs think of his ability.
But what makes the Bilbao player so coveted is his versatility.
Playing the majority of last season as a centerback in coach Marcelo Biesla's peculiar system, Martínez was superb, showcasing his physicality and composure on every occasion. His usefulness at Real Madrid should seem obvious: he could play both at the base of the midfield or as a centerback, relieving Madrid of their concerns at right back since Sergio Ramos is about as good they come.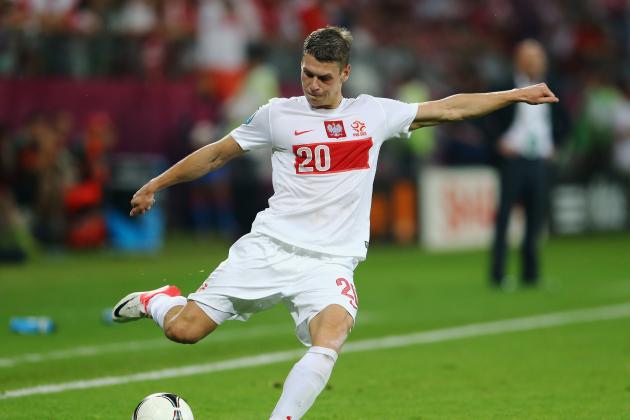 Christof Koepsel/Getty Images

It's strange to say that Real Madrid "need" a right back, when the current option there starts for arguably the greatest international team of all-time. But Álvaro Arbeloa is a liability for Real Madrid. And considering that he plays in the position that would mark David Villa, Frank Ribery and Eden Hazard, a big question mark has to be placed on the right fullback.
For one, he's not very attacking, only scoring two goals in his time at the Spanish capital (compare that to Marcelo, who plays on the left who has scored fourteen goals in a similar time frame). There's not a lot of pace and quickness in Arbeloa, and he's frequently wont to give up the ball rather than take on an opponent with a dribble. He's also injury prone, to boot.
Additionally, he's somewhat of a shaky defender, often prone to mental mistakes and beaten easily off the dribble. João Pereira and Bacary Sagna would both be an improvement over Arbeloa, but I suggest Madrid should pursue Łukasz Piszczek.
Perhaps Dortmund's player of the season, Piszczek had both the most goals (four) and assists (seven) of any defender in the Bundesliga last year. Explosive, fast and good in the air, Piszczek is as remarkable of an athlete as he is a footballer. His potential partnership with Angel di Maria would be scintillating and would fully round out the Real Madrid attack.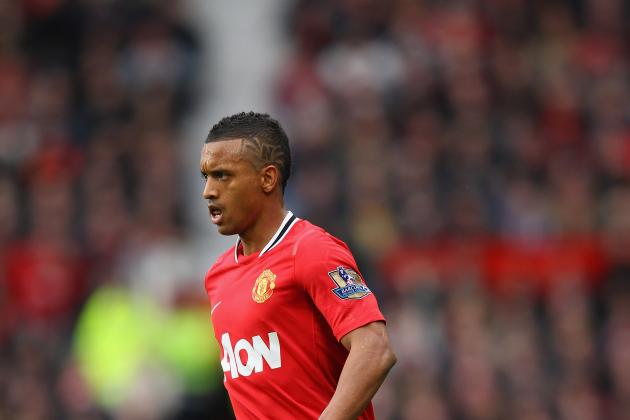 Alex Livesey/Getty Images

The recent rumors linking Nani to Real Madrid have left a lot of fans groaning. Nani's preferred position is Ángel Di María's, a fan favorite and a player who provides crucial goals and assists to the other Los Blancos frontmen. There is concern about Di María's injuries, but there's no doubt that the Argentine is a great footballer.
The need for Nani, then, is to diversify the attack of Real Madrid.
What Nani can provide is a very direct attack down the right-flank. He's fast, right-footed and can cross the ball very effectively. Against shorter opposition in La Liga—especially against FC Barcelona—Nani would allow Madrid's height advantage to take full-effect.
With Ronaldo increasingly taking up positions in central zones during attacks, Nani would be able to cross the ball for his Portuguese compatriot and whomever is playing central striker (Gonzalo Higuaín or Karim Benzema).
He also provides a lot of trickery and a goal-scoring threat that is very difficult to stop. His recent performance in a friendly against Barcelona showcased a lot of these strengths.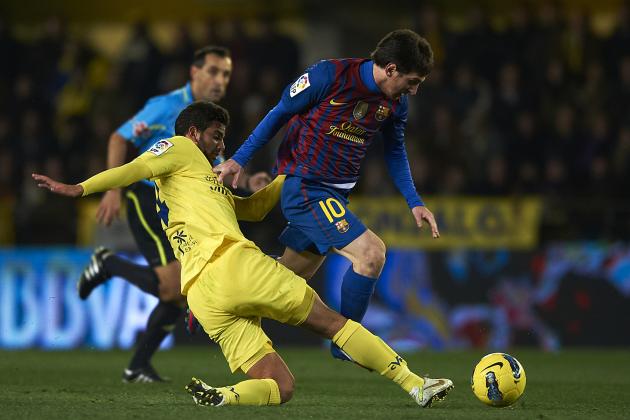 Manuel Queimadelos Alonso/Getty Images

Central defense isn't a huge concern with the world-class partnership of Pepe and Sergio Ramos, but Real Madrid will lose some depth with the eventual departure (and overall decline) of Ricardo Carvalho.
While Raul Albiol and Raphaël Varane patiently await their day in the spotlight, it's worth considering purchasing Mateo Musacchio of recently-relegated Villareal. A swift, hard tackler, Musacchio would at best be a third-place option for Los Blancos, but his purchase would allow Mourinho further depth in their foray into European competitions.
Speaking of Villareal, why not—if the price is right, of course—consider a bid for Giuseppe Rossi or Bruno Soriano. Both are potentially superstars (some would argue that Rossi was before his leg injury), and fill needs at striker and defensive midfield, respectively. Villareal's relegation was unfortunate for such a talented club, and the amount of skillful players that the club is considering getting rid of due to lost profit of playing in the Segunda Division is rather staggering.
Conclusion
All in all, Real Madrid can perfectly compete this season with the players currently at their disposal. Even with the probable departure of Kaka and Carvahlo, Madrid has a bench as deep as any assembled in footballing history. Not to mention, the club's youth program, largely ignored for half a decade, is one of the strongest in the world. What worked for Barcelona some odd years ago (if you need a reminder, try here) is an enviable strategy no matter one's dislike for the Catalan rivals.
Nevertheless, it must always be reminded that Madrid, for the first time since 2008, have a target on their back. Even with the wretched, impoverished state of La Liga, other Primera teams will be fighting to steal a point from the recent champions.
In Europe, PSG, Chelsea and Manchester United (to a lesser extent) have all had very good summers of transfers. And that's not to say anything of an angry, bitter team who has heard, over and over, "nueve puntos...nueve puntos..."