Predicting the Anaheim Ducks' Top 7 Scorers in 2012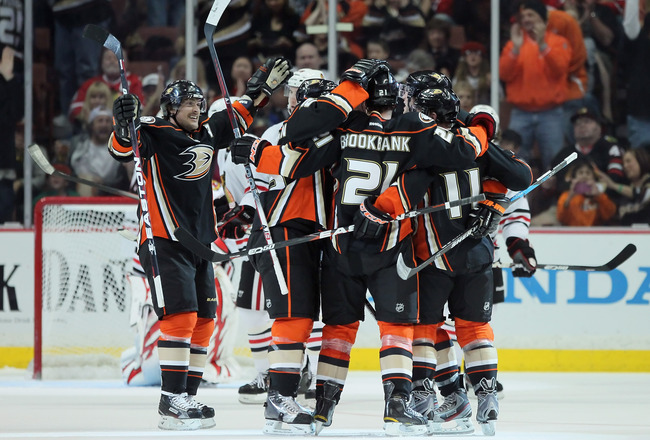 Jeff Gross/Getty Images
If you were to try and predict the Anaheim Ducks' leader scorers and their point totals before last season, your predictions would have likely been entirely off the mark.
Unless you had Teemu Selanne at number one breaking 65 points, Ryan Getzlaf stalling out at 11 goals, and Corey Perry at only 60 points after a 98 point league MVP season the year before, than your predictions wouldn't be worth a hill of beans.
Therefore, it goes without saying that trying to predict the top seven anything of a team is spotty at best. If you throw in another stat, like point totals for that top seven, it gets even more unreliable. Then again, that's the beauty of the world of sports commentary; it can be interesting, fun, engaging and completely wrong all at the same time.
Though I'm honestly going to give this my best shot. I want to take a reasonable look at Anaheim's team and make a sensible prediction about who will be their top seven scorers, and how many points each of those players will obtain during the 2012-2013 season.
An article like this is where the comments section comes in really handy. I welcome all opinions, thoughts and disagreements. Lets get started.
7.) Saku Koivu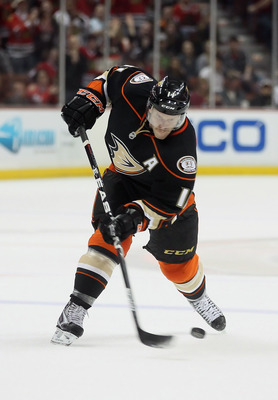 Jeff Gross/Getty Images
Saku Koivu has regularly been a 50 point producer during his time in Montreal and in his first couple of years with the Ducks.
Last year he dropped back to 38, and while still very respectable, he's going to have a reduced role this year because of the fact that the Ducks are going to need a completely revamped second line once Koivu and Selanne retire. If I were a betting man, I'd say that will be after this season.
Goals: 11
Assists: 20
Points: 31
6.) Luca Sbisa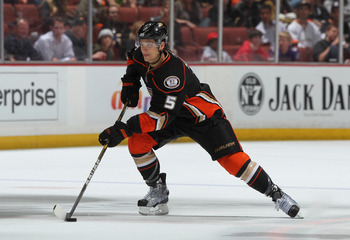 Jeff Gross/Getty Images
Luca Sbisa had a career year in 2012 with 24 points, and with the addition Bryan Allen and Sheldon Souray, he'll likely have a more reliable defensive partner this year.
Sbisa is my pick from the Ducks to have a breakout season offensively. He's known for his physicality, but he's also got a powerful shot and saw a lot of power-play time last year.
If he continues to improve in his own right on the offensive and defensive side of the puck, I think he'll play a much bigger role in the offense than in recent years.
Goals: 9
Assists: 29
Points: 38
5.) Cam Fowler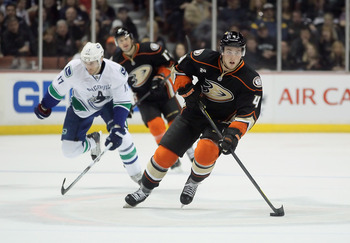 Jeff Gross/Getty Images
Though Cam Fowler saw a bit of a decline in terms of point totals during his sophomore year, he (like Sbisa) should see an increase in stability at his position this year. This should benefit his offensive output, and make him even more effective on the power play.
Expect this to be the year Fowler asserts himself as Anaheim's top defenseman, as he'll keep pace with a typical second line forward's point totals.
Goals: 14
Assists: 31
Points: 45
4.) Teemu Selanne
Jeff Gross/Getty Images
Selanne may be 42, but he doesn't play like it. As usual, he'll be a staple on both Anaheim's second scoring line, and on their first power play unit.
I wouldn't expect Selanne to lead the team in scoring again, although I wouldn't have expected him to last year either. That's really not what is required of Selanne at this point, and part of the reason he was able to stand out in 2011-2012, was because of the poor play of Anaheim's top line.
Selanne is very much in a secondary role at this point, though he's still capable of a lot of offense. This year, I'd put him closer to the 50 point mark.
Goals: 24
Assists: 28
Points: 52
3.) Bobby Ryan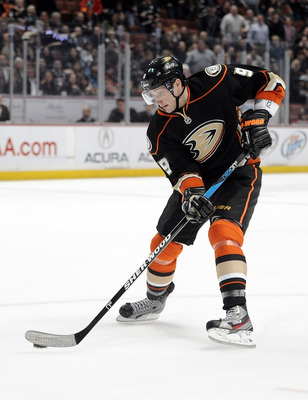 Harry How/Getty Images
I have to admit, I did a quick glance around the web before I wrote this slide to make sure that Bobby Ryan hadn't been dealt. However, with every passing day it's getting safer to assume that Ryan will play for the Ducks this year, and hopefully, for years to come.
If things in Anaheim have indeed been patched up, I don't think there's any reason to believe that Ryan's production will suffer. He's had four straight 30 goal seasons, and I'm going to say he makes it five in 2012-2013.
Goals: 36
Assists: 29
Points: 65
2.) Ryan Getzlaf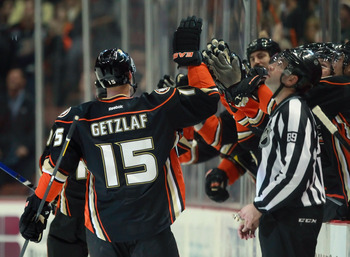 Jeff Gross/Getty Images
With such a terrific shot, watching Getzlaf choose to pass so often can at times be frustrating from a fan's perspective. Though his meager 11 goals last year was considered poor output even for him, and I wouldn't expect him to slump two seasons in a row, especially with this year being the last of his contract.
Both Getzlaf and Perry are capable of 90-plus point seasons, and they belong at the top of Anaheim's stat sheet.
I'd watch for Getzlaf to take a lot more shots this year, especially on the power play. He's certain to center the first line with Corey Perry on his right and likely a few different rotating left wingers. The most obvious choice for that left wing spot is Ryan, although Bruce Boudreau moved Ryan around to different lines last year in an effort to spread out the scoring.
Whether or not he does it again, and if he does, who will play in that left wing spot and how successful they are, will go a long way in determining what kind of season Getzlaf will have.
Goals: 25
Assists: 58
Points: 83
1.) Corey Perry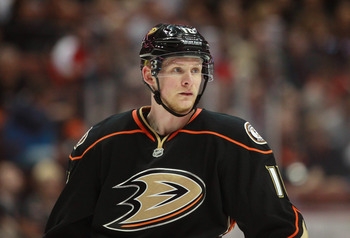 Jeff Gross/Getty Images
In the past couple of years Perry has established himself as the offensive leader and go-to guy for the Ducks in terms of point totals.
Like Getzlaf, Perry had an unusual downtrend in his production last year, but also reaches the end of his contract once this year runs out.
He'll be playing for keeps, and conventional wisdom dictates that he should be leading his team in scoring regardless. He'll do just that, and though I wouldn't expect him to win another Hart Trophy this year, I think we can count on him earning a pay raise come next summer.
Goals: 43
Assists: 46
Points: 89
Keep Reading

Anaheim Ducks: Like this team?