Carmelo Anthony and the 10 Best Knicks in Olympic History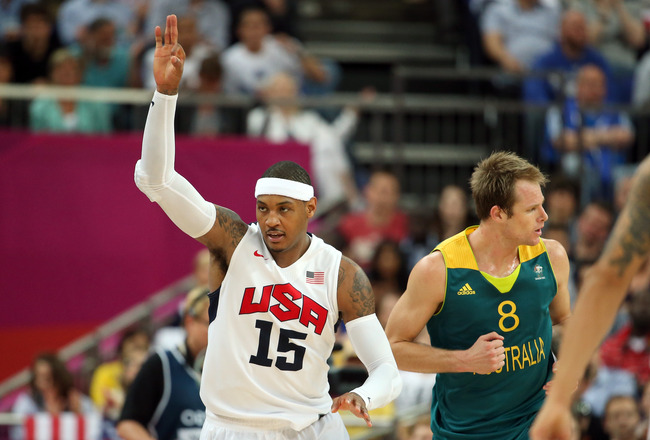 Christian Petersen/Getty Images
The United States dominates the global game of basketball. In 16 Olympics, the USA has medaled 16 times, including 13 golds. Carmelo Anthony, who led the 2012 American squad with 38 points per 36 minutes on average with a patriotic vigor, the all-time U.S. scoring record, wants to make that 17 medals and 14 golds.
Assuming that happens, and Team USA avoids the unthinkable—no medal—can Anthony's London performance be considered the best by a Knick ever?
Maybe.
The Olympics first included basketball as an event in 1936, even before the formation of the NBA. The sport has been a regular part of the Summer Games since 1948, missing only when the U.S. boycotted the 1980 Moscow Olympics.
Between 1948 and 1988, only amateurs were permitted to play, so Olympic rosters were populated with the best college players, some of whom would become Knicks.
Beginning with The Dream Team in 1992, NBAers were finally welcome to suit up in the old Red White and Blue. Since then, five Knicks have made the team.
These are the 10 best Knicks in Olympic History, five sitting Knicks players and five who would eventually make their way to Madison Square Garden.
Honorable Mention: Ernie Grunfeld, 1976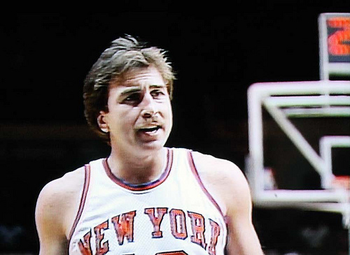 When entering the 1972 Munich Olympics, the Americans had yet to lose a single Olympic basketball game, but in the most controversial final that year, the U.S. lost to the Soviet Union and for the first time did not ascend the highest step of the winners' podium.
To avoid a repeat, careful consideration was employed in selecting the 1976 U.S. Basketball Team, and future Knicks player and general manager Ernie Grunfeld, a junior at Tennessee averaging over 25 PPG, made the cut.
Grunfeld totaled 21 points and 15 rebounds in six games, and the USA reclaimed its gold in Montreal.
10. Walt Bellamy, 1960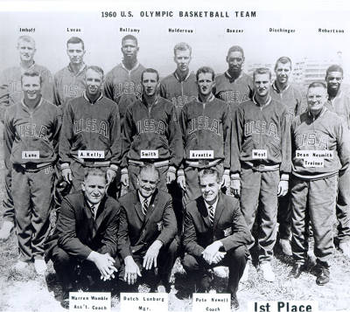 The U.S. was looking for its fifth straight gold medal in 1960 and put together a fierce team that included NBA legends and future Hall of Famers Oscar Robertson and Jerry West.
Before The Dream Team, there was this team, "often considered the greatest amateur basketball team of all-time."
Walt Bellamy was one of two future Knicks on that team. They too would find themselves enshrined in Springfield. More on the other later.
Bellamy, a sophomore at Indiana, totaled 65 points in eight games at the 1960 Rome Olympics—three games in double figures.
9. Tyson Chandler, 2012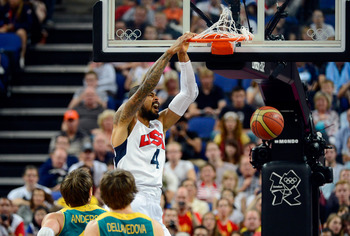 Ronald Martinez/Getty Images
Tyson Chandler is having a solid 2012 Olympics by mostly "controlling the paint" defensively, but he's having trouble adjusting to the global rules.
He can do with more points (4.3 PPG) and less foul trouble (12 in 11.5 MPG), but the starting center's 28 rebounds in limited time speaks for itself.
With two more games left, Chandler could improve his standing amongst Knick Olympians.
8. Allan Houston, 2000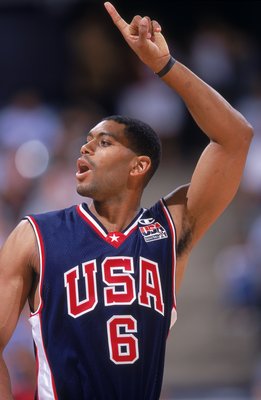 Harry How/Getty Images
Allan Houston was a triple threat (mostly off the bench) at Athens in 2000 and lined up behind a team stacked with Hall of Fame guards: Jason Kidd, Gary Payton, Ray Allen, Tim Hardaway (maybe) and Vince Carter (less maybe).
Houston contributed soundly—he scored (56), rebounded (13) and assisted (seven) en route to another U.S. gold medal.
7. Charles Smith, 1988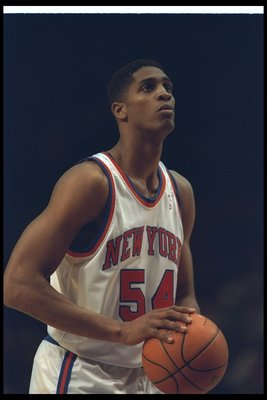 Simon Bruty/Getty Images
1988 turned out to be the worst U.S. Basketball Olympic performance to date. For the first time, America won bronze.
But don't blame Pittsburgh Panther senior Charles Smith. He poured in a respectable 62 points over eight games, was fourth on the team in rebounds (33) and second to David Robinson in blocked shots (six).
6. Stephon Marbury, 2004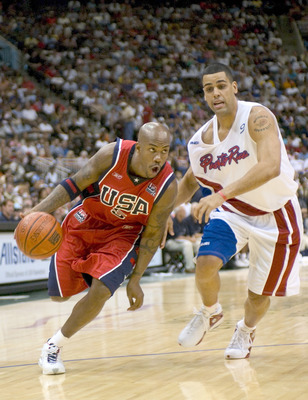 Matt Stroshane/Getty Images
Not surprisingly, Stephon Marbury's 2004 Sydney Olympic adventure ended with a bronze medal.
The Americans lost not only to Argentina in the semifinals, but also to Lithuania and incredulously to Puerto Rico along the way.
Marbury, though, finished with 84 total points and led the team with 27 assists.
It was Marbury's 31-point game against Spain that was the U.S. record until Carmelo Anthony surpassed it this year with his 37 against Nigeria.
5. Bill Bradley, 1964
Princeton Tiger junior Bill Bradley averaged over 10 points a game at the 1964 Tokyo Olympics. He scored in double-digits five times, including the critical final three games and helped to secure the U.S.'s game—and gold-medal-winning streaks.
Bradley scored over 90 points in total, the most of any Knick Olympian up to that time.
4. Spencer Haywood, 1968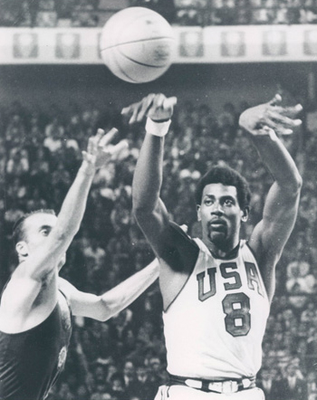 Nineteen-year old Trinidad State Junior College freshman Spencer Haywood led the U.S. Team at the 1968 Mexico City Games with over 16 points per game.
Haywood was the most valuable player of that squad, having shot in double-digits in seven of the nine games and having sunk over 20 four times.
The USA's winning and gold streaks and global basketball monopoly would end after these Olympics.
3. Jerry Lucas, 1960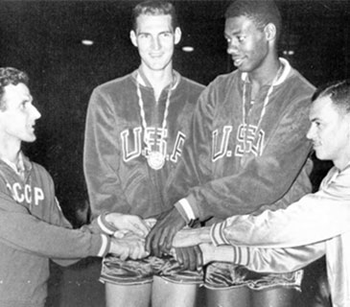 Jerry Lucas, who later would be a key player on the injury-saddled 1973 championship Knicks, had just come off his freshman year in 1960, one in which his Ohio State Buckeyes won the NCAA championship.
Lucas joined future Knicks teammate Walt Bellamy on the "original," amateur dream team of 1960 and put on a show by keeping pace with Oscar Robertson and by finishing with just two less points than the older "Big O".
Lucas scored 28, a huge number back then, against Japan in the preliminary round and went for 26 and 23 in the two-game final round. He personally delivered the gold medal to Americans.
2. Patrick Ewing, 1984 and 1992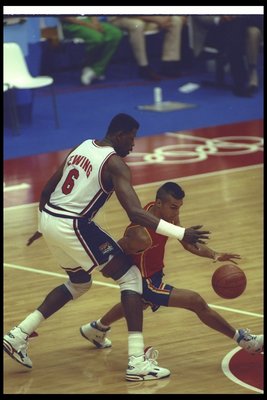 Gray Mortimore/Getty Images
Patrick Ewing, arguably the greatest Knick of all time, went to the Olympics as a Georgetown junior in Los Angeles and as a member of the Dream Team in Barcelona, both undefeated gold-medal-winning teams.
Ewing scored in double-digits in 10 Olympic games and sports—the only recorded double-double of any Knick on the list other than our No. 1 Knick Olympian.
Ewing crashed the boards to the tune of 45 and 42 rebounds in 1984 and 1992, respectively, and totaled over 160 points in the two Olympic Games.
1. Carmelo Anthony, 2012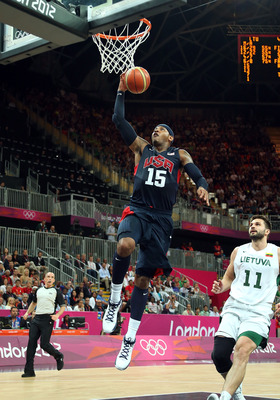 Christian Petersen/Getty Images
We're jumping the gun, but assuming that the U.S. gets the gold in 2012 or at least does not look that bad losing it, then Carmelo has to be called the best Knick Olympian yet.
He's going off, and that does not even count his record-setting 37 points the other day.
Anthony's working at a ridiculous pace of over 17 PPG, while playing only a third (16 minutes) of each outing, and he's demonstrating all of the tools with 27 rebounds—owning long distances, a stingy defense and a handful of steals and assists.
This is Anthony's third Olympic run. He represented the Denver Nuggets in 2004 and 2008.
Keep Reading