4 Reason Not to Give Up on the Tampa Bay Rays
J. Meric/Getty Images
Here we are in mid-August, less than two months to go in the regular season, and a handful of people have already wrote off the Tampa Bay Rays. The Rays stand just a half-game out of a playoff spot, but that hasn't stopped people from overlooking them, even after their incredible comeback last season.
Although there are some fair reasons to look upon the Rays doubtfully, here are four legitimate reasons why nobody should count out the Rays just yet.
Fantastic Pitching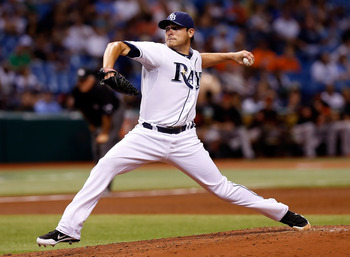 Like the rest of the Rays' starting rotation, Matt Moore is on a roll right now
J. Meric/Getty Images
The Rays' pitching—starting and bullpen—has been absolutely outstanding this season since the All-Star break, and is as hot as ever at the moment. In the last 30 days (post All-Star break excluding a few games), the Rays have posted a (by far) MLB-best ERA of 2.27, the most strikeouts in the league (243) and the best opponents average (.195).
The bullpen has probably been the most spectacular part of Tampa Bay's dominant pitching staff. The 'pen has been pretty much untouchable as of late, and like the Rays's starting rotation, has probably been the best in baseball recently. Closer Fernando Rodney—who has been the league's best relief pitcher this year—has been perfect in save opportunities since the All-Star break and set the franchise record for most consecutive scoreless innings (22) earlier this week.
As bad as the Rays' offense has been, I believe that they can clinch a playoff spot if their pitching continues to be this great down the stretch. The good sign is that it doesn't seem to be slowing down any time soon, and it could even improve with the return of Jeff Niemann.
The Return of Evan Longoria and Luke Scott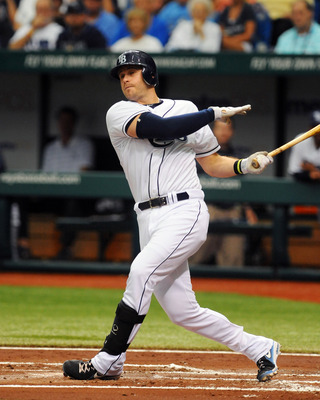 Al Messerschmidt/Getty Images
Another positive sign for the Rays is that it appears as if their offense can only get better from here. The much-missed Evan Longoria finally rejoined the Rays after being on the DL for over two months, which of course means the Rays' struggling lineup will get a big boost.
But Longoria isn't the only key bat the Rays have missed, as Luke Scott has been on the DL with an oblique strain. Scott, the DH who could likely platoon with Longoria (due to his lack of ability to play third base at the moment), is expected to return next week. His return would be another huge boost for the Rays, and would mean they would have a 100 percent healthy lineup for the first time this entire season.
A healthy Rays offense is definitely better than the horrible one we've witnessed for the past couple of months, which is why—when combined with great pitching—the Rays should have themselves a dangerous team down the stretch.
September Call-Ups
Tim Beckham
Elsa/Getty Images
Tampa's offense could use any help it can get, and some answers could be found down in the farm. Any potential call-ups to boost the offense would probably be in September.
One legitimate option is Henry Wrigley. The slugging first baseman has hit .319/.355/.523 with 11 homers and 47 RBI ever since being promoted to Triple-A Durham 74 games ago. With the Rays now planning to play Carlos Pena less against left-handed pitching, Wrigley could possibly platoon with him at first, or he could perhaps just serve as an extra right-handed bat off the bench with the rosters expanding to 40 men.
Tim Beckham could finally break into the big leagues this September after five disappointing years in the minors. I'm not sure how much Beckham—who's currently hitting .262/.342/.342 with Durham—would boost the Rays' offense. His best-case scenario in 2012 is taking over Will Rhymes' role, and he could contribute if he gets hot down the stretch.
One last Triple-A bat worthy of mentioning is that of C/OF Stephen Vogt. Vogt failed to record a hit in 17 at-bats with the Rays earlier this season when he was called up, but he'll likely get a second chance in September. He has hit .290/.359/.456 with nine homers and 40 RBI this season in Durham.
They're Only a Half-Game Back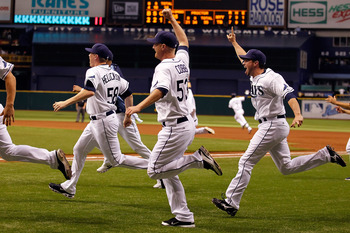 J. Meric/Getty Images
If anybody can comeback from a wild-card deficit to clinch the playoffs it's the Tampa Bay Rays. The "comeback kids" were trailing the Red Sox for their only chance at a playoff spot by nine games as late as September 1 last season, and we all know how that story ended.
Now trailing by only a half-game with plenty of time left, the Rays have a much easier challenge in 2012. The teams ahead of them—such as Baltimore, Oakland and Chicago (assuming Detroit outplays them down the stretch)—are probably weaker teams than the 2011 Red Sox.
Another reason to like the Rays' chances of making the playoffs is the new postseason format; there's now an extra wild-card spot. This heavily increases their playoff odds, and makes them a wild-card favorite in my eyes.
Keep Reading

Tampa Bay Rays: Like this team?