UFC 150: Frankie Edgar vs. Benson Henderson Breakdown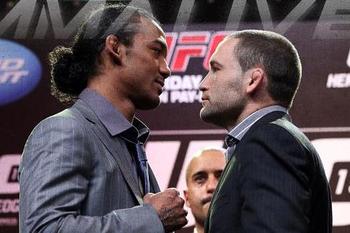 This upcoming Saturday, Frankie Edgar will get a chance to reclaim his status as champion when he faces Benson Henderson, who defeated him for the belt last February.

Frankie Edgar has never lost a rematch in his career. He has done better against every opponent that he has ever faced the second and third times that he has faced them. If he can continue this success in rematches, he will find himself crowned the lightweight king once again.

Will Edgar's technical boxing and speed be able to overcome Henderson's size and kicks? Will Edgar's wrestling be enough to counter Henderson's submission grappling? Here's a complete breakdown of this Saturday's championship fight.



Striking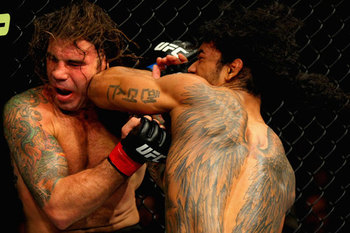 Most of this fight will probably be fought on the feet again, as it was last time, making this arguably the most important factor of the fight.

In the first fight, Edgar and Henderson landed roughly the same number of total blows on the feet. Edgar landed more blows to the head, whereas Henderson frequently connected with kicks to the midsection.

However, while volume of their strikes may have been similar, their damage was not.

Henderson connected with force on Edgar, whereas Edgar never really wounded Henderson. Skill and power both considered, it is clear that the current champion has a slight edge in the striking department.

Advantage: Henderson
Wrestling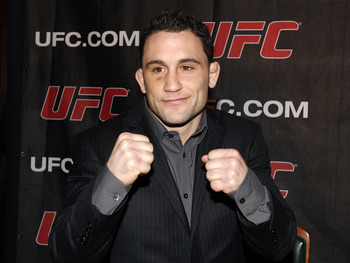 Michael Cohen/Getty Images
Edgar is an amazing MMA wrestler. He's the epitome of speed over power. He is able to fend off takedown attempts from much larger wrestlers (Maynard, Henderson) and land plenty of his own.

Henderson is no slouch in the wrestling department, either. He surprised many people by easily out-wrestling Jim Miller and continued his success by out-wrestling Clay Guida.

Still, the smaller and faster Edgar was able to get the better of the wrestling exchanges in the last fight. I suspect that he will be able to do the same in this one.

Advantage: Edgar
Ground Fighting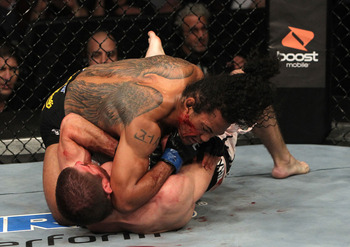 Edgar has very good wrestling, but he has never been a very impressive submission artist or ground-and-pound specialist.
Henderson, however, is one of the most dangerous ground fighters in the lightweight division.

He proved his remarkable resilience to submissions against Bocek, Miller and Guida.

He also showed off his violent ground-and-pound from the top position against those same opponents—often while simultaneously avoiding submission attempts.
His game off his back is also dangerous. Henderson has good sweeps and strong chokes and also throws a nasty upkick.

Edgar will fare better on the ground if he can maintain the top position over Henderson, but it's not clear that he has an advantage from this position. What is clear is that Edgar is bound to find himself in trouble every time Henderson finds himself on top.

Advantage: Henderson
Cardio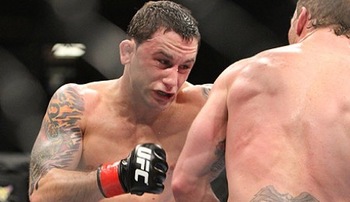 mmaweekly.com
Cardio is an area where Edgar usually trumps his opponents. He looked fresher in his final rounds against B.J. Penn and Maynard than he did against Edgar.
But since leaving the WEC, Henderson has not ever looked gassed. In his three-round dominations over Bocek, Miller and Guida, he pushed a relentless pace and never slowed down.

He then fought five rounds against Edgar, and neither fighter ended up gassing before the end of the fight.

I'm sure if there was a no round limit, we'd see one of them tire before the other. However, in a five-round fight, the two have effectively the same cardio.

Advantage: Even
Winnner: Benson Henderson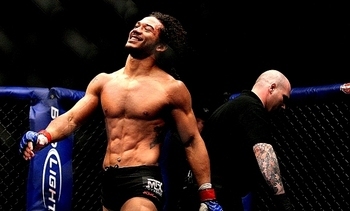 Henderson proved himself the more capable fighter last time around. I suspect that he'll do the same this time.

Henderson's power advantage will open up opportunities for finishes both on the feet and on the ground.

Edgar can win this fight. He unanimously won the first round against Henderson in their first fight by using his speed to avoid serious punishment and by using his boxing to counter Henderson on significant strikes.

But in every other round Edgar ended up getting tagged and threatened by Henderson. I think that this time around, Henderson will be better prepared to capitalize on Edgar's injuries and finish the fight.

Benson Henderson by fourth round submission
Keep Reading