5 Miami Marlins Players Who Will Be Key to a Playoff Surge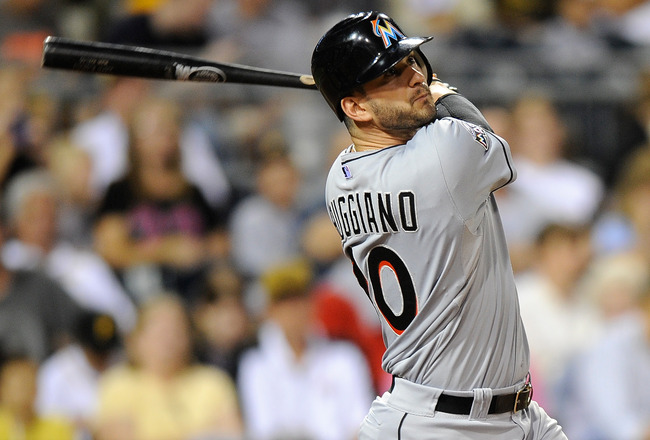 Joe Sargent/Getty Images
As ridiculous as the idea may seem, MLB expanded their playoff format to include an additional wild-card team for a reason.
The reason is to give teams that normally are on the outside looking in on the playoffs a bit of hope. The Miami Marlins are currently 12.5 games out of the last wild-card spot, with 50 games to play. Stranger things have happened, look no further than the miraculous late postseason run made by the St. Louis Cardinals and Tampa Bay Rays last year.
Even after trading away Hanley Ramirez, Omar Infante and Anibal Sanchez, the Marlins still have some talented players.
If Miami has any chance in making a playoff surge, here are five players who will be key in that run.
Giancarlo Stanton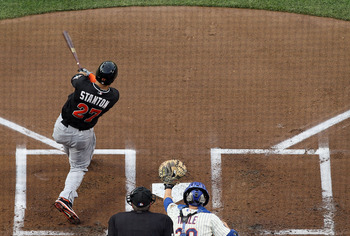 Jim McIsaac/Getty Images
Miami fans got a glimpse of what they have been missing since the All-Star game.
In just his second game back from injury, Giancarlo Stanton went 4-for-5 with two home runs and four RBI while proving his worth to the Marlins organization. The team stuck with him while trading away many of its pieces earlier this month, and he's out to prove why the team made the smart move.
With Hanley Ramirez gone, Stanton is the clear franchise cornerstone moving forward. His offensive power in the middle of the lineup will be key for the Marlins.
If Stanton can resemble anything close to his 12 HR and 30 RBI he put up while being named the Player of the Month back in May, he may just help lead this team toward a postseason berth.
Stanton won't be able to do it alone, but his presence is definitely felt, and he may have also helped save manager Ozzie Guillen's future with the Marlins.
Josh Johnson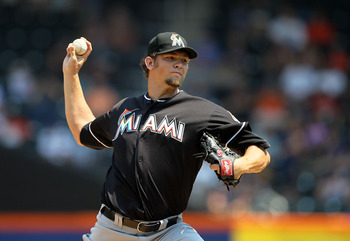 Jim McIsaac/Getty Images
After all was said and done, the Marlins chose not to deal Josh Johnson at the trade deadline. It was reported that the asking price for Johnson was a bit too excessive, which might turn out to work in the Marlins favor.
Josh Johnson has had a mediocre-at-best season while compiling a 7-8 record with a 3.88 ERA. He has had some brilliant starts, including almost throwing a complete game with nine strikeouts just two starts ago.
Johnson has all the tools to lead the rotation, and he might be able to prove those wrong who have already written off his performance this season as a down year. If he can return to the dominance that he has shown in the past, he could help lead a talented pitching staff into dangerous territory.
Keep in mind the Marlins still have Mark Buehrle, Ricky Nolasco and Carlos Zambrano behind Johnson, for what it's worth.
Jose Reyes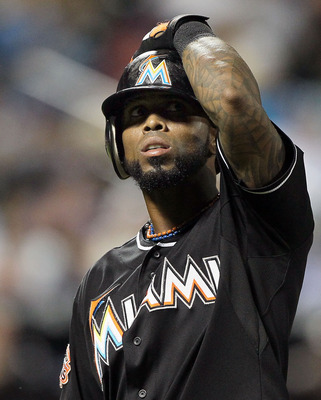 Jim McIsaac/Getty Images
The Marlins paid a lot to bring Jose Reyes down to Miami from the division rival New York Mets. Reyes struggled in the beginning of the season, trying to find his stride in the lineup.
Reyes has caught fire lately and compiled a 26-game hit streak which was the second-longest in Marlins history. He's provided the spark at the top of the lineup while staying focused as the team traded away his good friend Hanley Ramirez.
Jose Reyes may not last long enough in Miami to fulfill his six-year contract, but he can certainly play a key role in helping the Marlins get to the postseason. His .285 AVG is moving upwards towards .300, which is exactly where the team hoped he would be.
One of the most impressive feats Reyes has accomplished this year has been to stay healthy. He's struggled with injuries in recent years but has played 111 games thus far. If Reyes can stay on the field, he will certainly pay dividends in helping the Marlins chase the postseason.
Mark Buehrle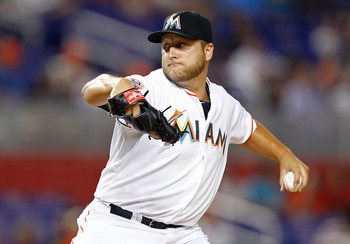 Sarah Glenn/Getty Images
Mark Buehrle has given the Marlins everything they expected when they signed him in free agency.
Buehrle has been a quality starter who has thrown for the most innings in the rotation while closing in on 10 wins. He's been the most reliable pitcher on the staff and a solid No. 2 behind Josh Johnson.
He's struggled in his recent starts but can still be relied on to give the Marlins solid starts to finish off the season. With the Heath Bell experiment proving to be a disaster, Buehrle has all but proved to be one of the smartest offseason moves the Marlins made.
It will be very important for Buehrle to continue being the most reliable lefty option coming out of the Marlins rotation. His consistent effort will only help jolt the Marlins' chances in rising up in the NL wild-card standings.
Justin Ruggiano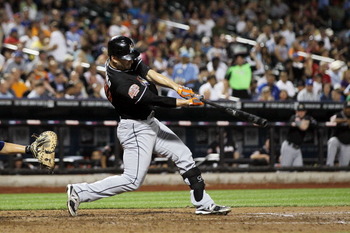 Jim McIsaac/Getty Images
Justin Ruggiano has been the team's silent hero since his emergence halfway through the season.
His numbers are staggering, as in 55 games he's hit .353 with nine HR and 24 RBI. He's steadily been the Marlins' most reliable offensive threat since the All-Star game and has earned his spot in the team's starting lineup.
With the combination of Ruggiano, Reyes and Stanton, the Marlins offense may be able to do enough damage to help create wins. Ruggiano was arguably a more productive offensive threat toward the end of Hanley Ramirez's tenure with the Marlins.
If Ruggiano can continue to produce high numbers on the offensive side while filling in a gaping offensive hole left by Omar Infante and Hanley, the team will be extremely happy.
This is all from a guy who never really got a true shot to show what he was worth in the majors until he was 30 years old.
Keep Reading

Miami Marlins: Like this team?