Cincinnati Reds: Going Down on the Farm and Checking in on Reds Prospects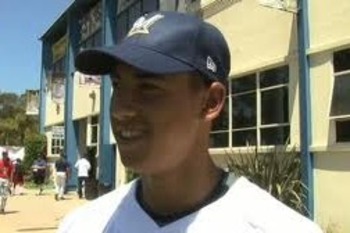 Photo Credit: Google Images
The minor league season is over three quarters of the way through and many Reds prospects have shown this season. Highlighted by Billy Hamilton's blazing speed and Tony Cingrani's pitching prowess, there have been and continues to be many other performances that should not be overlooked.
Over the past couple of months the farm system has seen the addition of new draftees from the June draft join the mix as well as the addition of players still playing in the "short season" leagues.
In this article we will take a look at all four minor league levels and highlight those who have stood out—mostly for positive reasons, but there are a few negative performances that should be noted.
Let's get this show on the road.
Rookie Level: New Faces Getting Their First Taste of Professional Ball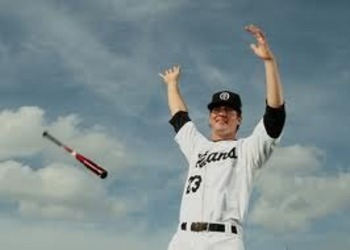 The guy in the picture above may not look familiar to you now, but I am pretty sure he will in a few years. Jesse Winker was listed in my article Predicting the Reds' 2015 Opening Day Roster. The Reds had a strong draft last year and once again this year. The rookie level teams are full of fresh talent.
Here are a few highlights:
OF Jesse Winker—Sometimes you run into a hitter that just looks like he gets it—the second pick by Cincy from the 2012 draft gets it. The left handed-hitting outfielder is batting at a .348/.466/.484 clip through his first 40 professional games. What is most impressive about Winker is his approach. His patience and plate discipline have already produced 32 walks. Remember his name.
OF Jeff Gelalich—The third pick by the Reds from this past June—Gelalich was the last pick to sign. Many thought the Reds got a steal drafting the outfielder here. He is hitting at a .237/.333/.355 clip early on, but the ceiling is high. He currently has more runs scored (21) than hits (19). He is smart on the base paths and has reasonable plate discipline. Much like Jesse Winker, I would expect him to produce above average power numbers beginning next season.
SP Nicholas Travieso—The Reds No. 1 draft pick in 2012 once again came in the form of a pitcher. Travieso has just recently began getting his professional feet wet. In four games he has pitched 11 innings, giving up five hits and four runs while maintaining a 3:8 K/BB ratio. The book is still out on Travieso as to if he will be a starter or reliever, but next season should give us a better indication.
Class Single-A Is Now Home to the Reds 2011 First Overall Pick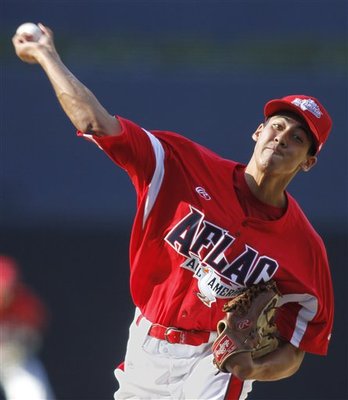 Both Class Single-A clubs have seen some talent role through this year. The Bakersfield Blaze started the season with Billy Hamilton and Tony Cingrani on the roster, while the Dayton Dragons have added the man pictured above, starting pitcher Robert Stephenson.
So what Single-A performers are standing out? Let's take a look.
SP Robert Stephenson—During Stephenson's first 10 professional starts (three at Single-A), he has maintained a 1.81 ERA through 44.2 innings pitched. He has also allowed only 29 hits and 12 walks while striking out 53. The 19-year-old is pitching like the No. 1 pick that he is.
OF Steve Selsky—Selsky has come out of nowhere since his promotion to Advanced Single-A Bakersfield. He had a solid first season in rookie ball last season with a .311/.413/.585 slash line and has continued to put up overall solid totals. His 2012 slash looks like this—.305/.361/.501. He has also hit 15 home runs this year. He is a bit older at 23, than most players at Single-A, but he is someone to keep an eye on next year. If he makes the jump to Triple-A by mid next year and continues to at these levels then we know his numbers are legit.
SS Ryan Wright—This kid is a solid player. He doesn't project to be a big league starter but rather to be a very serviceable utility guy. He has batted .288/.343/.424 at Single-A this season, with 29 doubles and only 59 K's in over 400 at-bats. He has been putting the ball in plays the game the "Cincinnati way." Look for this Louisville Cardinal to become a valuable team player.
Class Double-A Pensacola, Stocked and Loaded
It's safe to say that the most exciting prospect in minor league baseball resides in Pensacola and his name is Billy Hamilton. Many Reds prospects have taken the next step this season and are currently on the Wahoos' roster.
The following three players are putting together excellent 2012 campaigns.
Billy Hamilton—He has been talked about all season by everyone, including the national media. Hamilton made the jump to Double-A at the All-Star break and has continued to dominate on the base paths. His overall numbers look like this; .315/.412/.439 slash line with 103 runs scored, 20 doubles, 13 triples, and a ridiculous 139 stolen bases and counting.
The best part about Hamilton's continued development though is the rate at which he is getting on base due to walks. He should end the season with near 90 walks and that is simply phenomenal. Look for him to break the all-time single season stolen base record of 145 sometime during the next week.
SP Tony Cingrani—The left-handed pitcher has been simply amazing. Cingrani has thrown more innings than he ever has in a season and the toll may be beginning to wear on him, though his numbers are still amazing. Through 126.1 innings pitched he maintains a 1.57 ERA with a 40/143 BB/K ratio. It's hard to express how unique Cingrani's pro career has been thus far—he maintains a 1.64 ERA through his first two seasons.
Daniel Corcino—The man who continually gets compared to Johnny Cueto has had another solid season and continues to show great progression. Through 127.1 innings pitched he has compiled a 3.25 ERA with a 56:113 BB/K ratio and has allowed only nine home runs. Don't forget that he also threw an eight inning no-hitter earlier this season. Corcino will probably see a start or two in Triple-A toward the end of the season.
Class Triple-A Louisville Has Been a Disappointment This Season
To say the Louisville Bats have had a rough season would be to sugar coat the truth. The team was robbed of nearly all of it's top notch talent through trades and promotions and opened the season with only two bright spots—Todd Frazier, who was promoted to the parent club and is in the mix for Rookie of the Year honors and Neftali Soto, more on him below.
Let's take a look at three Triple-A prospects that deserve mention.
Henry Rodriguez—The second baseman pictured here has been a solid performer throughout his minor league career, hitting .316, .322, .305, and .320 over the past four seasons. He got off to a hot start before facing an injury that has seen him miss half of the season. He was promoted to Triple-A after he made his comeback and has hit a bit of a wall over the past month. He has been racking at a .288/.319/.380 clip over the entire season though. I would expect him to finish strong though and end the year batting around the .300 mark yet again.
Didi Gregorius—He started the season at Double-A and amassed a .278/.344/.373 slash line through 316 at bats. He managed to hit all of one home run during this time. Since his promotion to Triple-A he has added five home runs in only 122 at-bats. His overall season accumulates to a .274/.332/.404 slash line. Didi is an interesting study—he can show spurts of power and then seemingly fall off the earth in those categories. Regardless, his numbers are averaging out to about his career norm from the plate.
Neftali Soto—Big things were expected from this first baseman. He hit 31 home runs in only 396 at bats last season but got off to a horrible first half this year. His current totals net him a .241/.305/.405 slash but, include only 14 home runs in 395 at-bats. He has been playing at a much higher level over the past three weeks which should be good sign if he can maintain through the end of the season. The most concerning part of Soto's game is his unimpressive walk to strikeout ratio (34:104)—something that has plagued him his whole career.
Let's Sum It All Up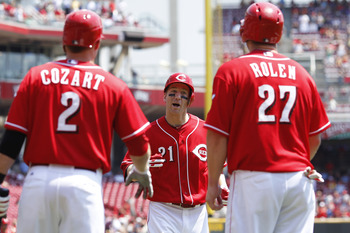 Joe Robbins/Getty Images
Who will be the next Zach Cozart or Todd Frazier? It was only last season that we were keeping tabs on them and now they are competing for the N.L. Rookie of the Year award.
It's always great catching up with the youngsters down on the farm. Be sure to check out the official site of Minor League Baseball, MiLB.com for more Cincinnati Reds minor league info and stats.
The players mentioned in this article are just a sample of what is going on. Honorable mentions should go to players like OF Ryan LaMarre, P Kyle Lotzkar, 1B/OF Donald Lutz, OF Bryson Smith, P Chad Rogers, OF Theo Bowe, and 3B Seth Mejias-Brean.
Don't forget to keep a close watch on Billy Hamilton as he speeds his way to the record books.
You can follow Joshua Ramsey on Twitter @JRamCincy
Keep Reading

Cincinnati Reds: Like this team?