Men's Decathlon 2012: Ashton Eaton, Trey Hardee Best Decathlon Duo Ever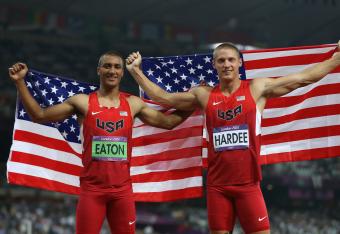 Streeter Lecka/Getty Images
Ashton Eaton and Trey Hardee proved they were the best all-around athletes with a one-two finish in the decathlon Thursday.
Eaton, who set the world record at the U.S. Olympic Trials, fell short of breaking the 9,000-point mark, instead scoring 8,869. Hardee wasn't too far behind as he scored 8,671 points.
What the pair showed not only the U.S., but the world, was that there have been no greater two athletes to represent their country in a single Olympics.
With a combined score of 17,540 points, the duo bested the gold-silver duo consisting of East Germany's Christian Schenk and Torsten Voss, who had a combined score of 16,887 in the 1988 Seoul Olympics. West Germany's Jurgen Hingsen and Siegfried Wentz had a combined score of 17,085 points in the 1984 Los Angeles Olympics, but they didn't take home the top two spots, instead they got silver and bronze.
So, how did the pair do it?
It all started on the first day in the first event. Eaton ran a 10.35 in the 100 meters for 1,011 points (best overall), while Hardee ran a 10.42 for 994 points (second).
Eaton dominated again in the long jump, jumping 8.03 meters for 1,068 points (best again), while Hardee had a sixth-best mark of 7.53 meters, which was good enough for 942 points.
The shot put wasn't as strong for Eaton as he had the 11th-best throw of 14.66 meters, while Hardee had the fifth-best throw of 15.28 meters. Still, they stayed atop the standings.
In the high jump, Eaton jumped 2.05 meters, good enough for 850 points, while Hardee jumped 1.99 meters for 794 points.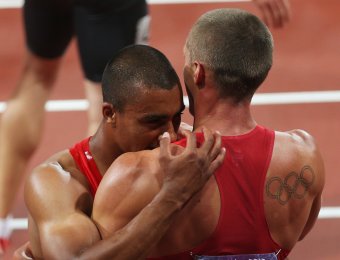 Clive Brunskill/Getty Images
The 400 meters, which was the final event of the first day, saw total domination from the pair as Eaton ran a 46.90 (963 points) and Hardee ran a 48.11 (904 points). Those scores gave Eaton 4,661 points (first overall), while Hardee was in second with 4,441 points.
The first event of the second day was the 110-meter hurdles, and the pair again took the top two spots. This time it was Hardee besting Eaton with a time of 13.54 (1,035 points), while Eaton had a time of 13.56 (1,032 points).
In the discus, Hardee stayed strong, throwing 48.26 meters (834 points). Eaton struggled as he threw the worst in his group with 42.53 meters (716 points).
The pole vault saw the pair perform well again as Eaton got up to 5.20 meters (972 points) and Hardee reached 4.80 meters (849 points).
In the final field event, the javelin throw, Hardee threw 66.55 meters (838 points). Eaton wasn't too far behind with a throw of 61.96 meters, good enough for 767 points.
As the pair entered the final event, the 1,500 meters, Eaton led Hardee by 151 points.
In the 1,500, both athletes just had to put up a decent showing and they knew they would take home gold and silver. Eaton ran a 4:33, while Hardee ran the metric mile in 4:40.
All in all, it was a dominating performance for Eaton and Hardee as they led the competition from start to finish. You'll be hard pressed to find anything like that happening before, especially from teammates.
This article is
What is the duplicate article?
Why is this article offensive?
Where is this article plagiarized from?
Why is this article poorly edited?