St. Louis Rams' Sleepers to Watch in Training Camp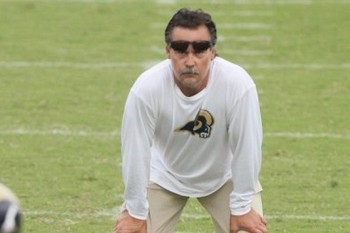 Rams head coach Jeff Fisher watches practice during St. Louis Rams training camp at Rams Park in Earth City, Mo. Photo by Chris Lee.
When NFL training camp rosters go 90 names deep, there are bound to be more than a few sleeper players, who are ready to make a sudden, unpredictable impression.
Sometimes, those sleeper players are free agents signed off the street. Oftentimes those players come with no expectations other than to be a punching bag for a more highly-touted first stringer.
Sometimes, those sleeper players are names who have had a few moments of glory in past games and seasons, but for whatever reason (injury, performance, etc.), they have been forgotten or otherwise written off.
For the St. Louis Rams, here are five sleepers to watch throughout the rest of training camp and preseason.
TE: Mike McNeill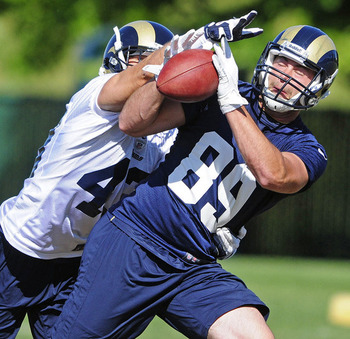 St. Louis Rams tight end Mike McNeill (89) catches during minicamp. Credit: Jeff Curry-US PRESSWIRE
The competition at tight end for the Rams is incredibly deep. There are at least eight names competing for just a few roster spots.
For native St. Louisan (Kirkwood HS), Mike McNeill has his work cut out for him.
The path to making the Rams active roster or practice squad does exist for McNeill, as distant as it may seem.
Presumptive starters Lance Kendricks and Michael Hoomanawanui have their own issues.
Kendricks did not perform up to his billing last year as a second-round draft pick. Hoomanawanui has proven himself a walking candidate for injured reserve.
Consider also that fellow competitor at TE, Brody Eldridge, also has his own hurdles facing him, with a four-game suspension awaiting at Week 1.
Rams reporter, Jeff Gordon, has noted that McNeill looked good in practice (via stltoday.com), particularly at the Fan Fest scrimmage at the Edward Jones Dome. McNeill reportedly worked with the starters at the scrimmage, making several catches in the two-minute drill at the end of the practice.
My guess is that McNeill wants to play at home. Don't underestimate a player's desire to play in front of his home crowd, and for the team he grew up rooting for.
DE: Eugene Sims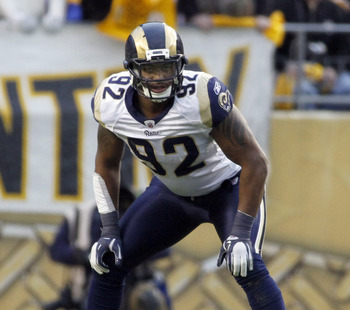 Justin K. Aller/Getty Images
Chris Long and Robert Quinn have strangleholds on the starting positions at defensive end for the Rams. But the competition for one of the backup spots in the rotation is rather thin.
Enter Eugene Sims. The former sixth-round pick in 2010 for the Rams has been making steady progress as a pass rusher, earning the training camp version of a "sack" in the Rams scrimmage at the Dome last weekend.
If something happens to Long, or if Quinn does not progress as expected during the season, Sims will be called on as a replacement on the defensive front.
Sims played in all 16 games last season, so Jeff Fisher and staff have plenty of film to review his work.
I think it speaks volumes that the Rams front office and coaches have kept Sims as the primary backup for their very highly touted (and highly paid) defensive line.
OT: Barry Richardson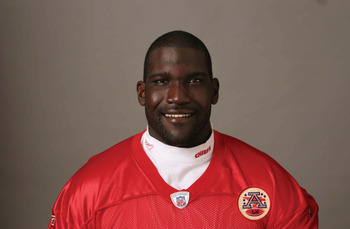 Handout/Getty Images
Breaking News Sleeper Alert!
As reported Thursday on stltoday.com, Barry Richardson worked at right tackle with the starting offense for the second day in a row, moving former No. 2 overall draft pick, Jason Smith, to the backup unit.
Considering Smith took a very sizable pay cut in the offseason ($10 million down to $4 million), this really shouldn't be too much of a surprise.
There is no indication that Smith is injured or out of shape. It appears he's just not performing up to Jeff Fisher's standards.
Richardson was a free agent pickup in the offseason from Kansas City, and he appears to be making a good impression on Fisher and staff.
"There's a lot of competition all over the roster, and Barry's created some competition at right tackle," Fisher told Jim Thomas (via stltoday.com).
OG: Rokevious Watkins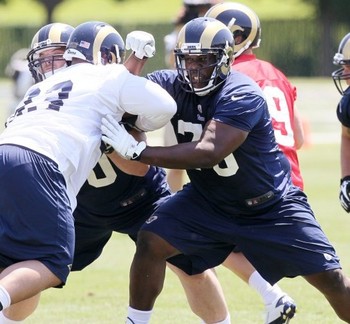 Photo by Chris Lee.
Rokevious Watkins is the future at the offensive guard position for the Rams. At 6'4", 340 pounds, Watkins has a huge base that can push forward the line of scrimmage in the running game.
Watkins didn't make a good first impression with Rams coaches, reportedly showing up to camp out of shape and overweight.
It's taken Watkins a while to work his way back into camp shape, let alone game shape. But he's getting there.
Jeff Fisher told Andrew Wagaman (via stltoday.com) that Watkins is "not all the way there yet, but he's getting close."
Watkins seems determined to get the respect of his teammates and coaches back, and find his way back into the offensive line rotation.
Watkins has all the physical tools to be a permanent fixture on the Rams' offensive line, but so do many others. It's the mental aspect and self-discipline that need to be added to Watkins' game.
This training camp appears to be the perfect lesson at the perfect time for Watkins.
WR: Danny Amendola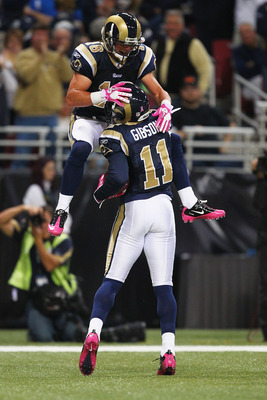 Dilip Vishwanat/Getty Images
You don't often hear about a wide receiver with a 85-catch season being a sleeper. Danny Amendola has that, and he has led the NFL in All-Purpose Yards (2,364 in 2010).
But that was two years ago. Missing virtually all of last season with a triceps injury has put Amendola far from the memory of most football fans.
Amendola is back for 2012 and he's looking good this training camp.
It's always good to be a top pass-catching threat for an NFL team. It's even better when you have a quarterback in Sam Bradford who is looking to prove the sophomore slump doubters wrong.
Offensive coordinator, Brian Schottenheimer, is implementing a "Coryell" type offensive scheme, involving many West Coast principles to the passing game.
The last time the Rams used such an offensive system was with Pat Shurmur, in (you guessed it) 2010.
I think it's fair to say that Amendola has a 90-plus catch season waiting for him.
And nobody sees it coming.
Keep Reading

St Louis Rams: Like this team?