San Diego Chargers: One Question for Every Player on the Roster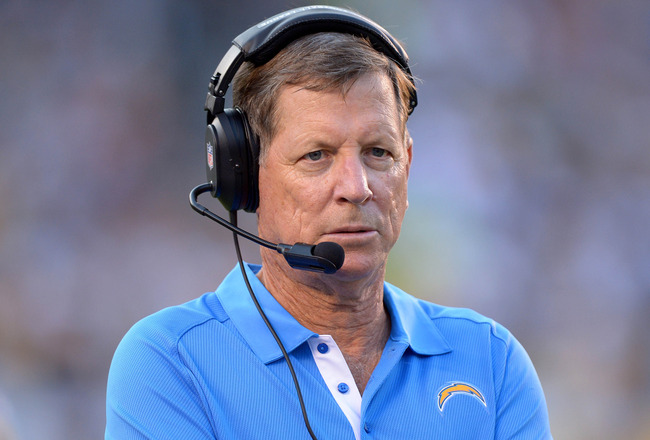 Jake Roth-US PRESSWIRE
Following an extremely disappointing 2011 season, the San Diego Chargers have question marks all over their roster.
Despite the Chargers missing the playoffs the past two seasons, fans expect the team to win the division this year.
Fans are right to expect this talented roster to make the playoffs, but things always tend to go wrong for the Chargers.
Here are questions that need to be answered for each player on the Chargers' roster heading into the 2012 season.
Quarterbacks
Donald Miralle/Getty Images
Will Rivers get the same protection he received down the stretch in 2011?
Rivers made some poor decisions last year, and a number of them can be attributed to his offensive line. Once Jared Gaither stepped in the as the offensive tackle, Rivers was able to stand in the pocket and deliver precise throws to his receivers. If Rivers' offensive line keeps him on his feet in 2012, he should be able to produce at a Pro Bowl level.
Charlie Whitehurst
Can Whitehurst return from his injury at full strength?
The Chargers let Billy Volek go during the offseason in favor of ex-Charger Charlie Whitehurst. Whitehurst was a disappointment for the Seattle Seahawks, but he has shown that he can be a very good second string quarterback in the NFL. It's unfortunate for the Chargers that Whitehurst got hurt so early in training camp. The team needs a healthy Whitehurst to back up Rivers, because the quarterbacks behind him on the depth chart are unproven arms.
Jarrett Lee
Is Lee for real?
At LSU, Lee was a huge disappointment. However, he has looked like a solid quarterback after being forced into duty as the second-string quarterback following Whitehurst's injury. In his first preseason action, Lee threw for 235 yards, one touchdown, one interception and completed 15 of 22 passes. If Lee continues to perform this well during the preseason, Chargers will likely keep him as their third-string quarterback in 2012.
Running Backs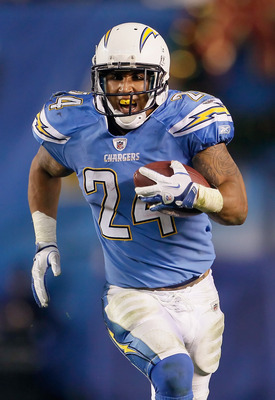 Jeff Gross/Getty Images
Ryan Mathews
Will Mathews ever stay healthy?
In his first carry of the 2012 preseason, Mathews suffered a broken clavicle. He was expected to have a monster year in 2012, but his injury means that he will miss the beginning of the regular season. Mathews' absence will be a huge hindrance to the Chargers' offense. Moving forward, the Chargers' organization and their fans will always wonder whether Mathews will be able to remain healthy.
Ronnie Brown
Can Brown handle being a starting running back?
It appears as if Brown will be forced to start at least one game during the regular season due to Mathews' injury. Brown used to be a very good running back, but his performance with the Philadelphia Eagles last season was absolutely terrible. Fortunately, Brown has been very impressive during training camp. For the Chargers to come out of the gates fast in 2012, Brown will have to produce.
Jackie Battle
Will Battle take advantage of his opportunity?
When Battle was signed, the Chargers already had a log jam at running back. His signing only made the backup running back situation more complicated. Following Mathews' injury, Battle has the opportunity to show that he deserves carries during the regular season. If he performs well, he could potentially be the main running back at the start of 2012. If he disappoints, he could find himself out of an NFL job.
Curtis Brinkley
Will Brinkley's familiarity with the Chargers keep him on the roster?
Brinkley is not as big of a name as Brown or Battle, but he has been a solid running back for the Chargers. His familiarity with the playbook might help keep him on the team.
Edwin Baker
Did Baker make a poor decision leaving school early?
Despite being selected by the Chargers, Baker has not been as impressive as fellow rookie Michael Hayes. It looks like Baker should have stayed at Michigan State.
Michael Hayes
Will the coaching staff believe in an undrafted rookie?
Hayes entered training camp with least fanfare out of the running backs, but he has been very impressive during training camp. If the coaching staff gains enough confidence in Hayes, there is a chance that he could make the roster over Battle, Brinkley and Baker.
Fullbacks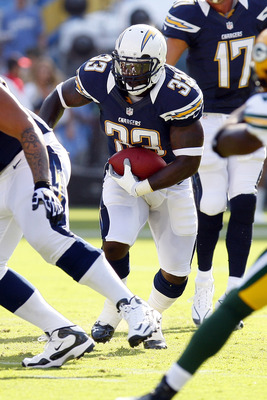 Jody Gomez-US PRESSWIRE
Le'Ron McClain
Will McClain's addition help turn the Chargers into a tougher running team?
McClain is a big man who can hurt opposing defensive players. He is a much more imposing fullback than Jacob Hester. Hester excelled at making blocks at the right time, but he rarely ever hurt a defender. With McClain leading the way, the Chargers will hopefully become a much tougher running team.
Jacob Hester
Will Hester do enough on special teams to make the roster?
With the addition of McClain, Hester has become expendable. He is a player who is good at many things but excellent at none. His only chance to make the team will come on special teams. Hester gives 100% effort on the field and he can become one of the best special teams players in the NFL if it becomes his full-time focus.
Wide Receivers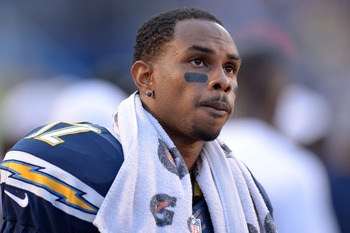 Jake Roth-US PRESSWIRE
Robert Meachem
Will Meachem become a No. 1 wide receiver?
Meachem was one of many good receivers on the New Orleans Saints, but he will be asked to do much more as a Charger. His playing style fits Norv Turner's offensive philosophy, and he can put up big numbers in San Diego. Meachem is no Vincent Jackson, but if he produces stats similar to a league-average No. 1 receiver, the Chargers' offense will be explosive.
Malcom Floyd
Can Floyd stay healthy for a full season?
Last season, Floyd played in 12 games. In 2010, he only stepped on the field for just 11 games. If Floyd can stay healthy for all of 2012, a 1,000 yard season is not out of reach for him. In his 12-game 2011 season, he had an impressive 856 yards.
Vincent Brown
Will Brown get the playing time he needs to shine?
As a rookie, Brown gave Chargers' fans something to be excited about in the future. After a solid season, it looks like Brown will have to earn his playing time due to the signings of Meachem and Eddie Royal. Luckily for Brown, it looks like he has friends in high places. In an article written by the Associated Press, Rivers said, "He really is an easy guy to throw the ball to. He really is a first-class guy the way he practices and prepares."
Eddie Royal
Can Royal revert to his rookie form?
If Royal can perform like he did in either 2008 or 2010, then he can give Brown a run for the slot receiver spot. If he performs like he did in 2009 or 2011, he will most likely just be the punt returner.
Richard Goodman
Will Goodman remain the primary kick returner?
Goodman was great as a kick returner in 2011, but the Chargers brought in a few guys to compete with him.
Micheal Spurlock/Roscoe Parrish
Can Spurlock or Parrish beat out Goodman as the kick returner?
It'll be interesting to see all of the different return specialists compete during the preseason. Spurlock and Parrish are two very talented return men.
Tight Ends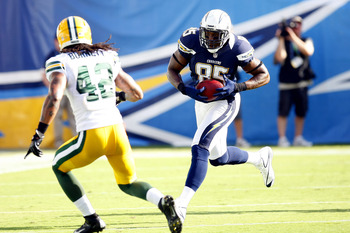 Jody Gomez-US PRESSWIRE
Antonio Gates
Will Gates' improved offseason program make him the top tight end in the NFL?
Gates has lost weight in an effort to become the Gates of old. Hopefully, he can stay healthy this year, because Rivers will need him.
Randy McMichael/Dante Rosario
Will McMichael be able to hold off Rosario for the backup tight end spot?
Both McMichael and Rosario are talented tight ends, but it appears as if only one of them will make the roster. This will be an intriguing battle to watch during preseason.
Ladarius Green
Can Green put on weight and become an effective blocker?
Offensive Tackles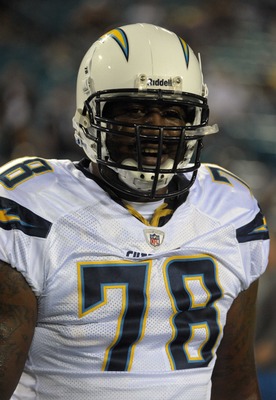 Kirby Lee-US PRESSWIRE
Jared Gaither
Can Gaither stay healthy for the entire season?
Gaither has long been viewed as a talented athlete at the tackle position, but he has often been the victim of injuries throughout his career. The Chargers locked up Gaither long-term during the offseason, but he has already succumbed to back spasms. For the Chargers to do well this season, they need Gaither to stay healthy so that he can help Rivers stay on his feet.
Jeromey Clary
Why does Clary still start for an NFL team?
Despite the fact that Clary has looked like one of the worst tackles in the NFL over the past few years, the Chargers still believe that he is a starting tackle. At one point in his career, Clary was a serviceable tackle, and it seemed as if he had the potential become a good tackle. However, those days are long gone, and Clary's level of play has declined. Clary is certainly in the debate for the worst starting offensive tackle in the NFL.
Mario Henderson
Will Henderson's weight loss help him stay in the NFL?
According to PFT, Henderson was almost 390 pounds when the Chargers signed him. Since then, he has lost about 60 pounds. Henderson's dedication shows that he is serious about sticking in the NFL following a wasted 2011 season. Although he won't ever be a great tackle in the league, there's little doubt that Henderson can be a good swing tackle.
Mike Harris
Will Harris receive significant playing time during the regular season?
After Harris's fantastic training camp, there's no doubt that the undrafted free agent will make the roster. It will be interesting to see if he will get playing time in the regular season. He seemed to hold up against the Packers' defense quite well on Thursday night.
Brandyn Dombrowski
When will Dombrowski be able to practice again?
Dombrowski is far from a great lineman, but he does possess the ability to play every offensive line position except for center. His versatility is very helpful, and the quicker he comes back from his foot injury, the better.
Guards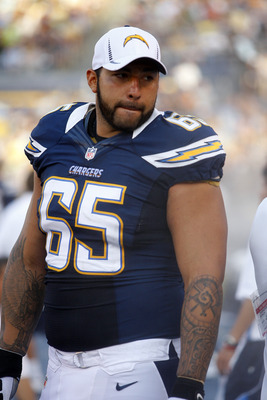 Jody Gomez-US PRESSWIRE
Louis Vasquez
Can Vasquez take the next step towards becoming an above average guard?
For the most part, Vasquez has been a decent starter at the right guard for the Chargers. However, he was expected to be a top guard after the Chargers drafted him in the third round. The Chargers hope to see a big improvement in Vasquez's game this season—especially since Kris Dielman has retired.
Tyronne Green
Can Green make fans forget about Dielman?
Asking Green to replace one of the best guards in the NFL is a daunting task. The Chargers do not need Green to perform at the same level as Dielman—they just need Green to minimize his mistakes on the field.
Rex Hadnot
How much playing time will Hadnot receive this season?
Hadnot was brought in to compete with Green for the left guard position, but it looks like Green has already won the spot. If Green makes mistakes, Hadnot will likely receive extensive playing time at left guard. If Hadnot remains the backup, there is the possibility that he can also play some spot duty at center.
Johnnie Troutman
When will Troutman be able to prove that the Chargers didn't reach on him?
The Chargers drafted Troutman in the fifth round despite most draft services projecting him as an undrafted player. To top it all off, Troutman has a torn pectoral, and he won't see the field for a long time. Hopefully, AJ Smith struck gold by taking the unheralded Penn State guard, but Troutman is an unknown for the foreseeable future.
Centers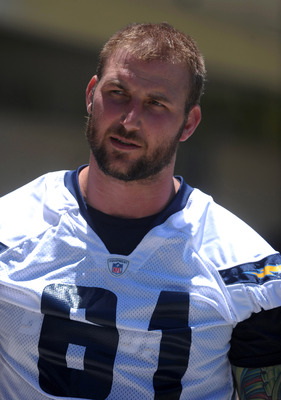 Kirby Lee-US PRESSWIRE
Nick Hardwick
How committed is Hardwick?
After last season, Hardwick considered retirement. Luckily for the Chargers, Hardwick decided to return to football and re-sign with the Chargers. If Hardwick is completely committed to the game of football, he should continue to be one of the better centers in the NFL.
Colin Baxter and David Molk
Which player will make the team?
Baxter and Molk were both great centers in college. Baxter was a finalist for the Rimington Trophy—the award given to the best center in college football—in 2010, and Molk was the Rimington Trophy winner in 2011.
Both centers have been impressive in training camp, but only one will make the roster.
Defensive Ends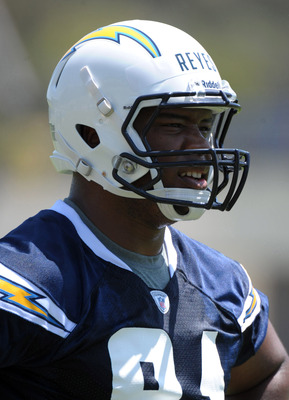 Kirby Lee-US PRESSWIRE
Kendall Reyes
Will Reyes get a chance to start as a rookie?
According to Bill Williamson, Reyes has shown the ability to both stuff the run and rush the passer during training camp. Reyes has a world of talent, and he should definitely get a lot of playing time as a rookie. Don't be surprised if Reyes becomes the starter at one defensive end spot.
Corey Liuget
Will a full offseason allow Liuget to become a good starter?
Liuget disappointed fans last year, as he did not look like a first-round draft pick. The Chargers need him to take a huge step forward in 2012; otherwise, A.J. Smith could be facing more scrutiny for his draft selections.
Vaughn Martin
Will Martin continue to progress as a player?
Martin has improved slowly, but surely ever since he was selected by the Chargers out of Canada in the 2009 Draft. The Chargers hope that his development will not stagnate this year. Martin will likely battle Reyes for one defensive end spot, and it would be nice to see both of the players improve throughout 2012.
Logan Harrell
Can Harrell force himself on to the roster?
Harrell is an impressive player, and he made some big plays against the Green Bay Packers in the first preseason game. If he doesn't make the roster, he should be a top candidate for the practice squad.
Nose Tackles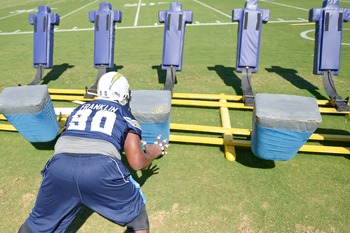 Jake Roth-US PRESSWIRE
Aubrayo Franklin
Can Franklin revert back to his old San Francisco 49ers' form?
Franklin was a beast for the 49ers in the middle of their 3-4 defense a few years ago. After a disappointing season with the New Orleans, Franklin was an afterthought in free agency. However, he has looked good for the Chargers, and it looks like they may have struck gold. Franklin looks comfortable playing in a 3-4 again, and he might end up being the starting nose tackle in 2012.
Cam Thomas
How much playing time will Thomas get?
Thomas looked like a solid nose tackle last year when he got playing time. Unfortunately for Thomas, the Chargers brought in Franklin and re-signed Antonio Garay. This is great for the Chargers though—they will be able to rotate nose tackles and keep them fresh.
Antonio Garay
How much time will Garay see at defensive end?
After a disappointing 2011, Garay did not receive the contract offers in free agency that he anticipated. Now, he might be out of the Chargers' nose tackle rotation. He might get a chance to be a significant player at defensive end, and he should excel due to his power and quickness.
Outside Linebackers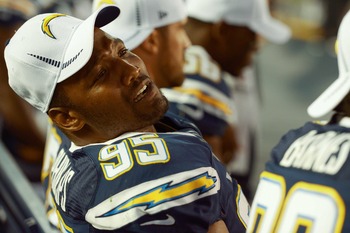 Jake Roth-US PRESSWIRE
Shaun Phillips
Is Phillips in decline?
Last year, Phillips suffered a foot injury, and he looked slow in the 12 games he played. After the injury, it looks like Phillips might be on the decline as a player.
Jarret Johnson
How much will Johnson be on the field?
Johnson is one of the best in the league at stuffing the run from the 3-4 outside linebacker position. However, Johnson is a poor pass-rusher. It will be interesting to see how many downs Johnson plays a game.
Melvin Ingram
Does Ingram have a chance at the Defensive Rookie of the Year?
Ingram looked great in his first preseason game against the Packers. The Chargers lucked out when Ingram fell to them in the draft. Ingram appears to have a legitimate chance at being crowned the best defensive rookie in 2012. Keep an eye on this impressive rookie.
Antwan Barnes
Can Barnes replicate his 2011 season?
Barnes is the exact opposite of his ex-Raven teammate Johnson. He is a fantastic pass-rusher, but he struggles in other facets of the game. Barnes will only see the field in passing situations, and it will be huge for the Chargers if he can get anywhere near the 11 sacks he produced in 2011.
Larry English
Will English do anything in 2012?
Probably not.
Inside Linebackers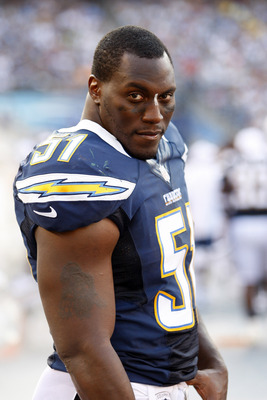 Jody Gomez-US PRESSWIRE
Takeo Spikes
Is this the year that Spikes completely falls off as a player?
Spikes has been a highly productive player in the NFL for 14 years. The 35-year-old is still looking to make the playoffs for the first time, and he will never stop giving it his all. However, there's a possibility that his body begins to fail him this year.
Donald Butler
How much will Butler improve after his first full season?
After missing his rookie season due to a torn Achilles' tendon, Butler had a very productive 2011 season. It will be interesting to see how much Butler improves after 2011—especially since he's another year removed from his Achilles injury.
Jonas Mouton
What can the Chargers expect from Mouton?
Big things were expected from Mouton last year, but he suffered a shoulder injury that made him miss his entire rookie season, just like Butler. Mouton is an unknown, so it will be interesting to see what he does in 2012.
Bront Bird, Andrew Gachkar, Demorrio Williams
Which of these linebackers will produce enough on special teams to make the roster?
All of these guys are solid players, but their calling will be on special teams. Bird, Gachkar and Williams all have a good chance of making the roster.
Cornerbacks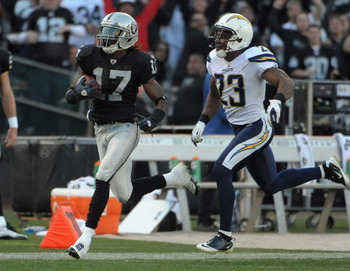 Kirby Lee-US PRESSWIRE
Quentin Jammer
Was Jammer's poor 2011 season due to his personal problems?
NFL.com talked about Jammer's divorce last year and how it may have contributed to his problems on the field. While the divorce had a big impact on Jammer, there's also the chance that Jammer's skills are simply in decline. For the Chargers' defense to excel in 2012, they will need Jammer to revert to his 2010 form. If he doesn't, their pass defense could be in big trouble.
Antoine Cason
Will Cason prove that he deserves to be a starting cornerback in the NFL?
Cason played well at times last season, but he also got burned too often. The prime example of Cason getting burned was when Plaxico Burress racked up three touchdowns against him in one game. Cason needs to improve for the Chargers' defense to get better.
Marcus Gilchrist and Shareece Wright
Who will win the nickelback job?
Gilchrist got more playing time last season, but Wright seems to have the upper hand following a camp injury to Gilchrist. This is one of the more interesting preseason battles to watch.
Free Safety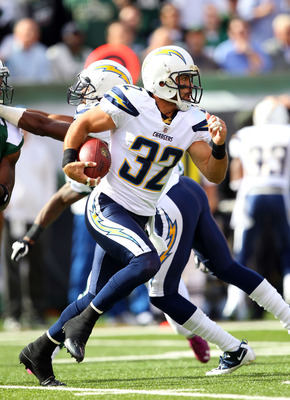 Danny Wild-US PRESSWIRE
Eric Weddle
How much better can Weddle get?
Weddle has developed into one of the best safeties in the NFL, and A.J. Smith was smart to lock him up long term. Weddle had a great season in 2011, and it will be interesting to see how he progresses as a player.
Darrell Stuckey
What will Stuckey's role be this year?
Stuckey has yet to stand out as a safety, and he will likely continue to be a special teams contributor.
Strong Safety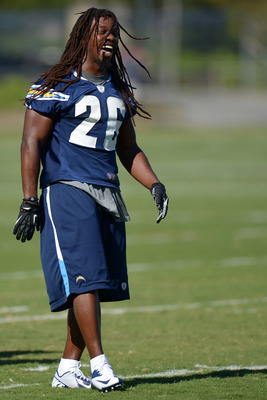 Jake Roth-US PRESSWIRE
Atari Bigby
Can Bigby stay healthy?
Bigby's career has been one marred by injuries. Barring an injury, he should go into the 2012 season as the starting strong safety.
Brandon Taylor
Will Taylor overtake Bigby as the starter?
Taylor is a very talented player, and A.J. Smith didn't bring him in to sit on the bench. However, his playing time will hinge on his development as a player and the health of Bigby. It will be fun to watch Taylor in preseason. If he flashes enough promise, don't be surprised to see him starting by midseason.
Special Teams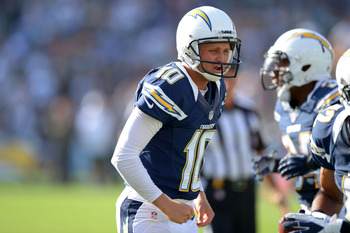 Jake Roth-US PRESSWIRE
Nate Kaeding
Will he be fully recovered from his torn ACL in time for the regular season?
Kaeding's injury on the first play of the 2011 season was a heartbreaker. The Chargers need him to be fully recovered and ready to go this season.
Mike Scifres
Can Scifres only allow touchbacks again?
Last year, only two of Scifres' punts went for touchbacks. It would be great to see that again in 2012.
Nick Novak
Dear Nick Novak: Why did you miss a 35-yard field goal?
Your contributions in 2011 were appreciated by the organization, but good luck finding a job after you flubbed a 35-yarder.
Keep Reading

San Diego Chargers: Like this team?