5 Reasons Top Prospect Manny Machado Can Be Orioles X-Factor Down the Stretch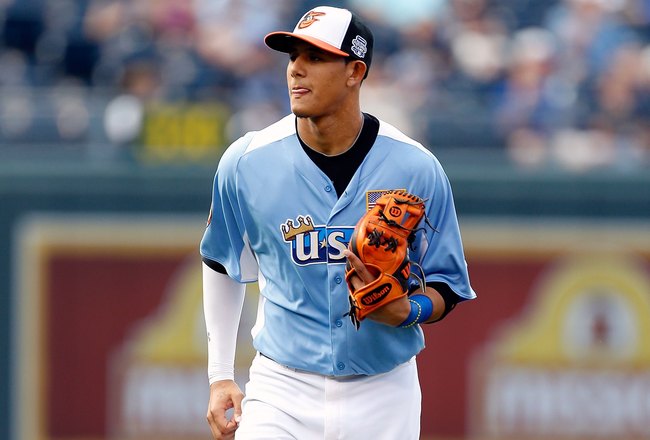 Jamie Squire/Getty Images
The expectations for Manny Machado, especially under the circumstances of his arrival, are already extreme when they shouldn't be. He's not going to come up and do what Bryce Harper and Mike Trout have done this season. He won't. So, before reading the rest of this article, please nod your head if you understand.
Good.
Machado just turned 20 in July and is being called up to the major leagues to play a position at which he's logged two professional games. Still, I highly doubt the Orioles would be thrusting him into an unchartered position, so assume that Machado has been taking extensive reps there over the last couple weeks.
Machado's promotion is partially a result of the Orioles' sense of urgency. As Dave Cameron of FanGraphs noted this morning, the team is 60-51 heading into Thursday night's game despite being outscored by 47 runs this season. Against the odds, the Orioles just continue to win, when all trends suggest they should be losing.
Perhaps they fear that their luck will run out or they will inevitably falter down the stretch. Regardless, the youngster's promotion is a proactive move that they believe will improve the overall performance of the team.
Prior to the news of his promotion, Machado was batting .266/.352/.438 with 11 home runs, 48 walks and 70 strikeouts in 402 at-bats for Double-A Bowie.
Although those numbers don't suggest he's big league ready, it does indicate that the Orioles have some reasoning to support the decision.
1. Keep His Double-A Performance in Context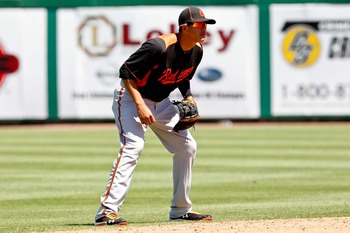 Derick E. Hingle-US PRESSWIRE
While his stats don't jump out at you, he's actually performing much better than it appears. This season, Machado has posted a 19.5-percent line-drive rate, which is above the league average of 18.1 percent.
Furthermore, his plate discipline has been advanced enough to make the Orioles believe he won't be overwhelmed in the major leagues. Both his 10.5 percent walk rate and 15.1 percent strikeout rate are above the Eastern League average—8.6 percent and 18.6 percent, respectively.
2. Machado Torches Left-Handed Pitching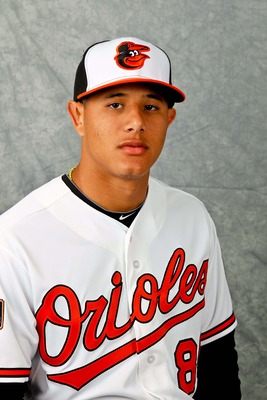 Derick E. Hingle-US PRESSWIRE
One area where Machado has excelled this season is against left-handed pitching, where he boasts a .303/.394/.525 slash line, .337 BABIP, 12.6-percent walk rate and 14.2-percent strikeout rate.
Over the last two seasons, the right-handed hitter has posted an .829 OPS against southpaws in 260 plate appearances.
3. He's Red-Hot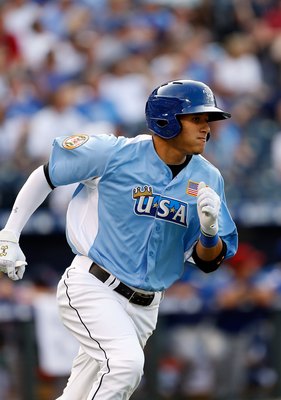 Jamie Squire/Getty Images
I've always been a strong advocate of a team bringing up its prized prospect only when his confidence level is sky-high. In this case, Machado has been on fire at Double-A over his current nine-game hitting streak, batting .485 with 16 hits in his last 33 at-bats.
It's not as though he's beating out infield singles, either. Of those 16 hits, eight have been for extra bases, including three home runs. And let's not discount his performance on August 4 against Trenton, when the 20-year-old hit for the cycle.
It was almost fitting that last night, in his final game for Double-A Bowie, Machado launched a solo home run.
4. His Defense Will Be a Guaranteed Upgrade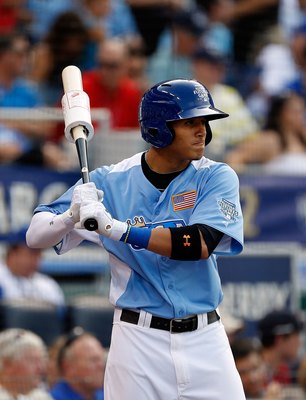 Jamie Squire/Getty Images
Even if Machado's bat doesn't click immediately, he offers a substantial defensive upgrade over the likes of Mark Reynolds, Wilson Betemit, Steven Tolleson, Ryan Flaherty and Robert Andino.
This season, those five players have combined for 24 errors, a .914 fielding percentage and a 2.27 RF/9. Machado has made 22 errors this season as Bowie's shortstop, which isn't great, but isn't overly concerning. Young shortstops are going to make errors; it's an incredibly difficult position that requires both tremendous athleticism as well as an overall feel gained through experience.
At third base, however, Machado won't have to range as far to get ground balls and can be more reactionary than instinctual. Basically, if he can play at least mediocre defense, it will be an upgrade for the Orioles.
5. The Orioles Are Actually in the Playoff Race
J. Meric/Getty Images
For the first time in, well, a long time, the Orioles are realistically in the playoff race. With Machado's promotion, the organization is potentially giving him two months of major league experience during the biggest, and most important, stretch of the 2012 season.
Along with Dylan Bundy, Machado is a future face of the Orioles franchise, and his aggressive promotion marks an exciting sea change in the team's short- and long-term outlook.
Keep Reading