The longer this Shane Doan saga drags on, the more I start to believe that he actually is dragging his feet in order to play out his entire career as a member of the Phoenix Coyotes organization. If that is the case, the 35-year-old winger may still get his wish...if that's what he really wants.
On July 1, Doan, like many other players without a team, became an unrestricted free agent. As of today, he is the only big-name player that does not have a contract, and that isn't because Doan is unwanted. Quite the contrary, Doan has suitors lined up with bags of cash, at least that's what his agent is telling us. According to Pat Leonard of the NY Daily News, Doan's agent, Terry Bross, claims Doan has a four-year offer "worth at least $7 million per season" sitting on the table.
That number may be totally made up. At this point we can't really tell, but the reality is that teams want to sign Doan. They want his leadership, hockey sense and skill, and they are going to have to pay for it—unless of course "they" are the Phoenix Coyotes.
Will Doan stay with Phoenix?
Doan and Bross have made it clear that Doan's future in Phoenix is very much dependent on Greg Jamison finding the cash to purchase the team and keep the hockey club in the desert. As of last week, it looked like Jamison was short of purchasing the team by $20 million. Well, according to the Phoenix Business Journal, he may have found that money in the form of additional investors.
If tales of Jamison's purchase are accurate, Doan may find himself in a pickle. He and Bross have been painting a picture of how Doan wants to remain a Coyote, but with the future of the team being unknown, they have had to listen to offers from other teams. It's almost certain that those teams have been driving Doan's asking price into the stratosphere. Doan's last contract was worth $22.75 million for five years, a pretty far cry from the four-year, $28 million deal Bross mentioned to the Daily News.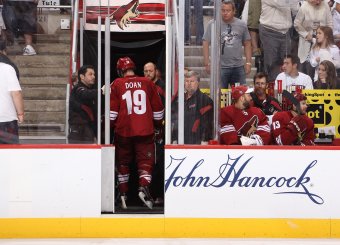 Christian Petersen/Getty Images
So now what? If Jamison does purchase the team and Doan bolts for the cash, how does he explain the move to the Phoenix faithful? Honestly, I doubt that anyone could pull off that move or would even have the audacity to attempt to. So he leaves town as public enemy No. 1 and all the goodwill he developed in Phoenix disappears and he becomes a pariah.
On the other hand, if he stays in Phoenix and leaves stacks of cash on the table as well as a possible run at the Stanley Cup, does he live with the overwhelming feeling of regret? Does he live the rest of his life wondering "what if"?
Doan is now at a crossroads and things could get real ugly. Does he keep his word to the Phoenix fans, or does he take his talents elsewhere? Hopefully, we'll know sooner rather than later because, honestly, this drama is getting old.