Five Things We Learned from Olympic Women's Soccer Final
Michael Regan/Getty Images
The U.S. women's soccer team won its third consecutive gold medal at Thursday's Olympic final.
With the sport's largest crowd in history on hand, the U.S. women's soccer team claimed its third consecutive Olympic gold medal and its fourth since the turn of the century. Avenging a harrowing loss in 2011's World Cup final, keeper Hope Solo and company pulled out all the stops en route to a 2-1 victory over Japan.
It certainly wasn't the easiest of wins, but the Americans squeaked out a thriller to give their country a world-leading 39th gold. Check out five things fans learned about the Team USA and the state of the sport on Thursday.
Begin Slideshow

»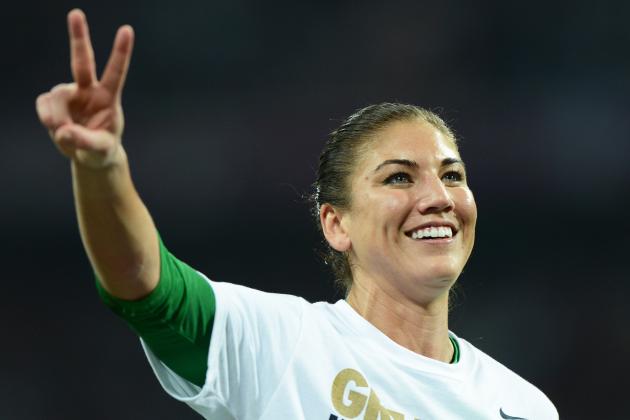 Michael Regan/Getty Images

The recipient of 2011's Golden Glove award, Hope Solo is widely recognized as the most dominant keeper in women's soccer. She did nothing to dispel that notion on Thursday.
Solo was magnificent, despite a few uncharacteristic lapses from her defense. Allowing just one goal—a second-opportunity ball from Japan's Yuki Ogimi that fluttered around the box for far too long—she notched a few spectacular saves and held down the lead for the U.S.
Solo's leaping save along the crossbar in the 17th minute was dubbed by NBC's Arlo White and Brandi Chastain as "gold medal soccer" and "the save of the tournament thus far." She made another timely stop in the 83rd minute, lurching to the left to save a shot from Asuna Tanaka.
For the first time all summer, Solo was kept busy and saw plenty of opposing shots. She certainly rose to the occasion.
Julian Finney/Getty Images

Despite maintaining a lower profile than teammates Abby Wambach and Hope Solo, forward Alex Morgan has emerged as one of the world's most lethal set-up players. Drawing comparisons to the great Mia Hamm, Morgan's cross was on point Thursday, assisting midfielder Carli Lloyd for the game's first score.
She tallied a couple other impressive crosses—including a near goal to Wambach in the 50th minute—and seems to be something of a field general for the U.S.
Her performance on Thursday was inspiring, setting the stage for future matches. After taking four corners in Thursday's action, the Americans will certainly need a set-up player of Morgan's caliber.
Morgan's effort was crucial for maintaining Team USA's game tempo early on. Flaunting a strong left foot all afternoon, she seems to have really found her niche in this lineup.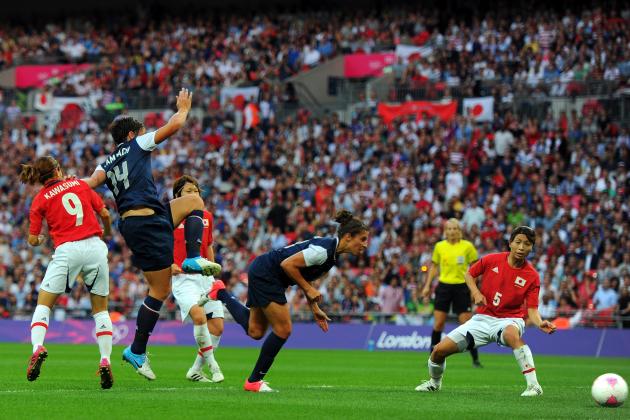 Michael Regan/Getty Images

Abby Wambach may be the team's most prolific scorer, but she didn't net anything at Wembley on Thursday. Still, her teammates had no problem taking care of business and stepping up, as evidenced by Carli Lloyd's two goals.
Living and dying by a superstar's performance exists across all sports, leagues and teams, yet the U.S. was able to etch out a W without Wambach's best stuff.
It means a lot for a team looking to stay competitive beyond 2012, with or without a 32-year-old Wambach.
Surprisingly, Wambach made a veritable impact on the defensive end, establishing a presence in the box. The ability for Team U.S.A. to find offense beyond its top shooter is a testament to its depth and balance.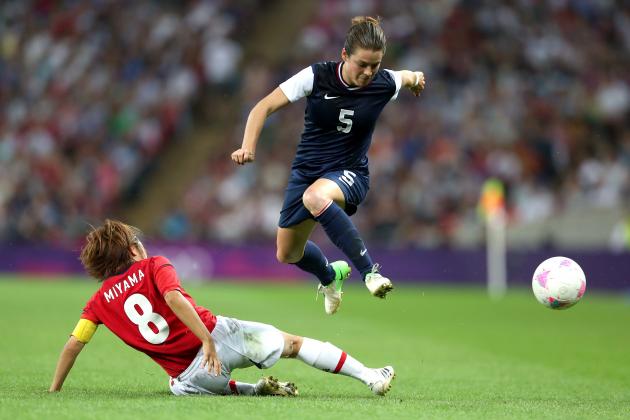 Julian Finney/Getty Images

Early on, the Americans dominated the game tempo, rhythmically working the ball through the pitch at their pace.
However, as the action progressed, the U.S. seemed to be strangely trying to keep pace with themselves, turning the ball over and giving Japan three promising chances in the first half. The Americans were the clear-cut faster and stronger team, but wound up trying to do too much throughout the afternoon.
A few long shots and missed passes don't put much of a damper on a historic day for U.S. soccer, but it's interesting to note the contrast presented by Japan's slower, finessed style of play.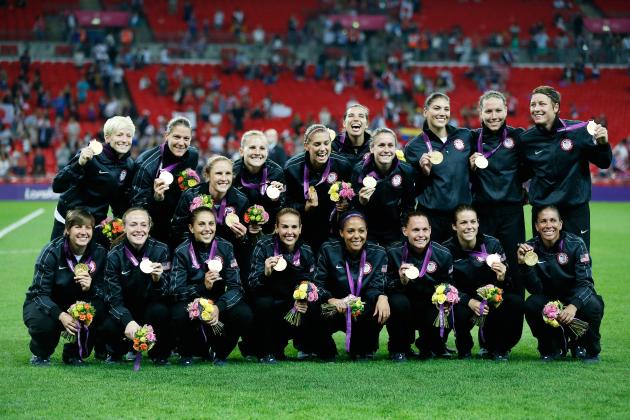 Jamie Squire/Getty Images

Above all, the world learned of the U.S.' resolve and focus. They came out hungry for a shot at redemption and a chance to honor their long-standing reputation, and they didn't disappoint.
Wambach, Solo, Morgan and the rest remained professional, dedicated and at their best.
Facing a formidable Japan team that had already bested them once before, Team USA took care of business and claimed yet another gold medal.