Boston Bruins: Predicting Claude Julien's Lines for the Coming Season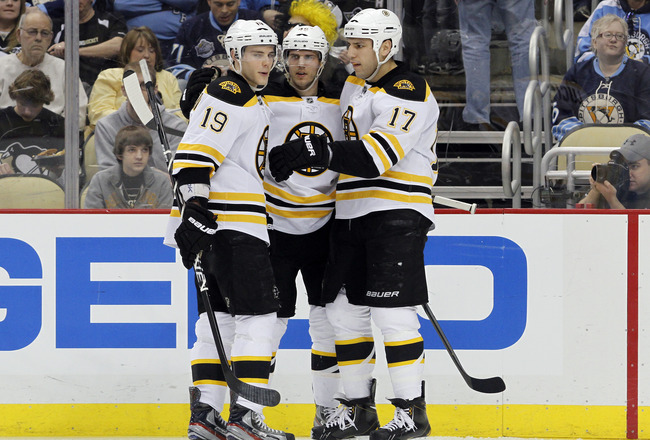 Justin K. Aller/Getty Images
Boston Bruins head coach Claude Julien has several challenging decisions to make when he forms his lines for the upcoming NHL season.
Young players such as Tyler Seguin, Jordan Caron, and Dougie Hamilton will need to be placed alongside the right players in order to maximize their potential and production at both ends of the ice.
Let's predict the Bruins' offensive lines and defensive pairings for next season.
1st Line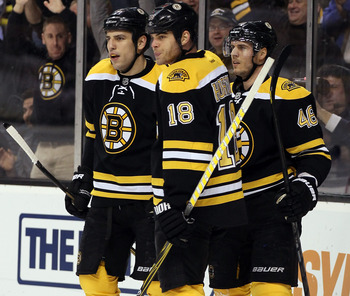 Elsa/Getty Images
LW - Milan Lucic
C - David Krejci
RW - Nathan Horton
The Bruins' first line should be exactly what it was to start last season. Milan Lucic, David Krejci and Nathan Horton were quite productive together for most of the 2010-11 season and during the team's Stanley Cup run.
However, Horton's concussion issues forced Boston's top line to undergo several changes last season. Horton's spot at right wing was filled by Tyler Seguin, Rich Peverley and others.
If Horton is healthy, there's no reason to break up this trio. Krejci's playmaking skills are perfect for Horton and Lucic, both of whom are power forwards with the ability to net 30-plus goals next season.
2nd Line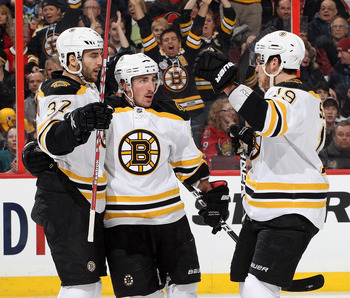 Jana Chytilova/Freestyle Photo/Getty Images
LW - Brad Marchand
C - Patrice Bergeron
RW - Tyler Seguin
The Bruins' second line was the most dangerous from an offensive standpoint last season because the above trio was able to form solid chemistry early in the year.
Seguin stepped into veteran Mark Recchi's spot on the line after he retired, and went on to lead the team in scoring.
Bergeron's passing ability and awareness in the attacking zone is very beneficial to Marchand and Seguin, who are arguably the team's two best goalscorers.
Since Marchand and Seguin are both entering the final year of their respective contracts, expect Bergeron to have two motivated young stars who will be hungry for goals alongside him next season.
3rd Line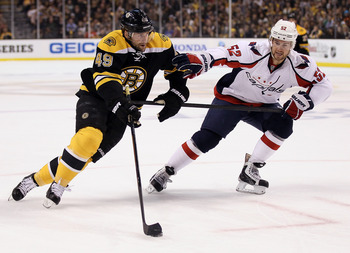 Elsa/Getty Images
LW - Jordan Caron
C - Chris Kelly
RW - Rich Peverley
The third line will be the Bruins' most important line next season because it will either give the team tremendous depth with solid play at both ends of the ice, or it will struggle and force general manager Peter Chiarelli to make a deal at the trade deadline.
Jordan Caron is expected to be the third-line left winger in what will be his best opportunity to extend his Bruins career past this season.
Rich Peverley is the offensive star of the group, and already has some good chemistry with center Chris Kelly after playing together numerous times over the past one and a half seasons..
Kelly got paid this summer following his best NHL season to date, signing a four-year, $12 million deal at the start of free agency. He will be expected to reach the 20-goal plateau again this season in addition to his defensive excellence.
If the Bruins are to win another Stanley Cup, the third line, regardless of who's on it, has to provide strong depth throughout the year.
4th Line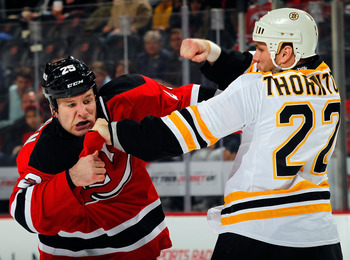 Paul Bereswill/Getty Images
LW - Shawn Thornton
C - Gregory Campbell
RW - Daniel Paille
If the Bruins didn't want to have the same fourth line they have used for the past two seasons, then Chiarelli wouldn't have re-signed each of the above three players to new contracts since the start of last year.
This line has impressive chemistry and is a group that Julien can rely on when games become very physical at both ends of the ice.
This trio gives the Bruins a bit of offense, a lot of toughness and strong penalty-killing performances, so it's easy to understand why this line is so important to the team's success.
1st Defense Pairing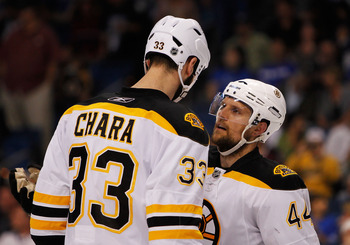 Eliot J. Schechter/Getty Images
Zdeno Chara
Dennis Seidenberg
The Bruins' top two defensemen should make up the team's top defense pairing from the start of the season, although splitting them up may happen throughout the year when injuries and other things force Julien to consider changes.
Chara is obviously an elite defenseman, while Seidenberg has become one of best himself over the last three years in Boston.
This is the best pairing that Julien can put together, and when the Bruins absolutely cannot allow a goal, these two will likely be on the ice.
2nd Defense Pairing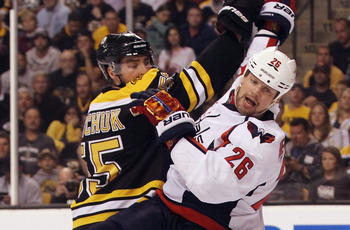 Bruce Bennett/Getty Images
Johnny Boychuk
Andrew Ference
The Bruins' second line will likely feature Andrew Ference and Johnny Boychuk. Both players are dependable at both ends of the ice and have plenty of experience at the NHL level.
After Chara, Boychuk is the team's best offensive player on the blue line, and will be an important part of the team's defensive depth going forward since his three-year contract extension will begin in the fall.
Ference is entering the final year of his current contract, and will be an unrestricted free agent if he's not re-signed before July 1, 2013.
He will be very motivated to have a fantastic season, and make himself a very attractive player if he decides to test the free-agent waters.
3rd Defense Pairing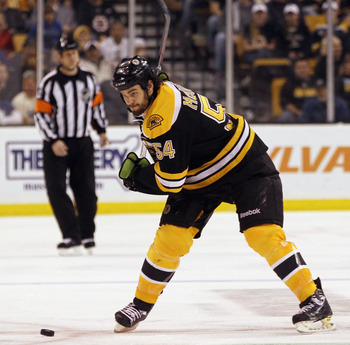 Bruce Bennett/Getty Images
Adam McQuaid
Dougie Hamilton
Young prospect Dougie Hamilton will likely end up being the Bruins' biggest addition heading into next season. The best place for him to start out will certainly be the third defense pairing, where he would likely partner with Adam McQuaid.
McQuaid is a great partner for Hamilton because he can help the young defenseman adjust to the NHL. Not too long ago, McQuaid was a young blueliner trying to earn his place on the team, and he will share that experience and what he did to become an impressive player with Hamilton this season.
Hamilton's offensive ability and McQuaid's defensive talent would also compliment each other nicely.
Julien has several options for the third defensive pairing, but this tandem is the one that makes the most sense.
Keep Reading

Boston Bruins: Like this team?