Previewing the Cincinnati Bengals' Preseason Week 1 Game vs. Jets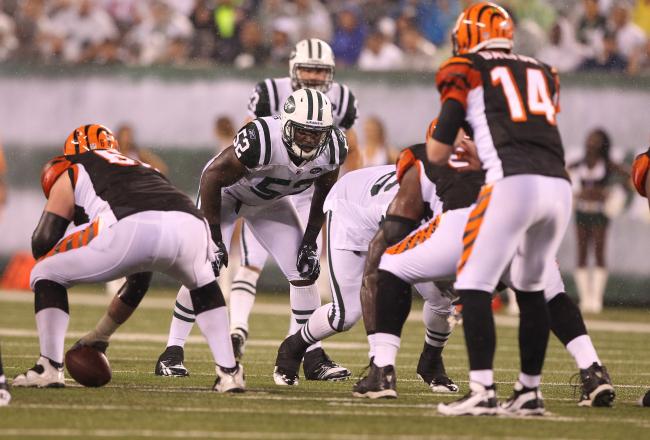 The Bengals and Jets meet in the preseason yet again.
Al Bello/Getty Images
With so much young and new talent on both sides of the ball and a number of crucial positional battles yet to fully play themselves out, the Cincinnati Bengals' four preseason games are going to be more important than usual.
Though Friday's game against the New York Jets is just the first of the series, it will provide valuable insight as to which players' stocks may be rising and falling, who has found themselves on the roster bubble and which plays are set in stone and which need more work.
Here are the three biggest things to watch for as the Bengals host the Jets this week.
The Receiver Shuffle
Brandon Tate has hold of the No. 2 receiver job right now, but can he keep it?
Fernando Medina-US PRESSWIRE
Though Brandon Tate is listed ahead of Armon Binns on the Bengals' first depth chart of the year, the battle for the No. 2 receiving job alongside A.J. Green is all but over. Binns has been just as impressive in camp as Tate, and rookies Mohamed Sanu and Marvin Jones are also still in the mix for the job, as are Ryan Whalen and Andrew Hawkins.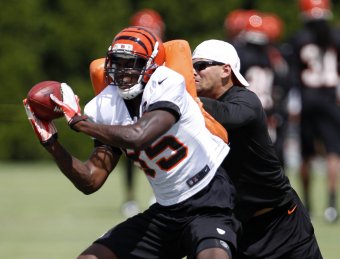 Armon Binns has had a strong offseason and training camp, too.
Frank Victores-US PRESSWIRE
All of these players will get time on the field on Friday, though not all will get the limited chance to work with quarterback Andy Dalton. That means they'll have to shine with Bruce Gradkowski, Zac Robinson and Tyler Hansen under center. If anyone distinguishes himself with the second-, third- or fourth-string quarterback, that will likely result in more time with Dalton.
Basically, with Tate at the top of the depth chart, the Bengals are seeing if he can step up and maintain hold on that job or if someone can adequately challenge him. At this point, there aren't many dark horses in this race, and it likely won't be won until after the fourth preseason game. This is just the beginning of this competition.
Rookie Defenders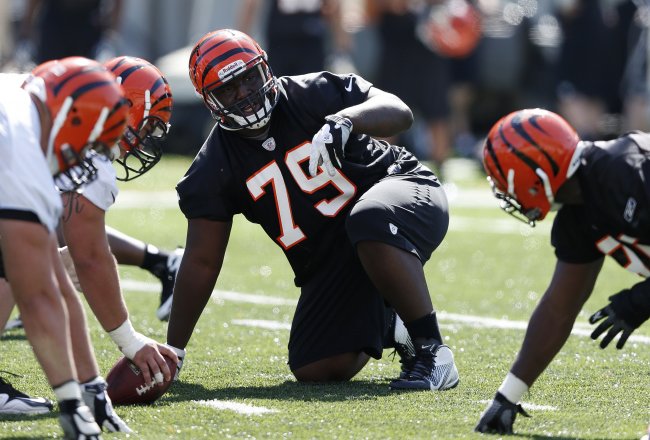 Brandon Thompson (along with Devon Still) will be fighting for time in the Bengals' defensive line rotation; they may even force Pat Sims out of town.
Joe Robbins/Getty Images
The Bengals rely very heavily on a rotating cast of defensive linemen to get the job done for them up front, and it's been a successful strategy thus far. This year, they drafted players to serve as the future of their line, defensive tackles Devon Still and Brandon Thompson.
Still and Thompson could both see time in the starting defensive rotation, as well as with the second team. Both are trying to boot the injured Pat Sims down the depth chart, and with Sims not taking the field on Friday, we'll get our first real look if either or both of them are putting Sims' job in serious jeopardy.
Also worth noting is undrafted rookie Vontaze Burfict. He'll absolutely see time at middle linebacker (and perhaps elsewhere) and could be matched up against Jets quarterback-slash-jack-of-all-trades Tim Tebow, which could at least provide for some entertainment.
Speaking of which...
Tim Te-Blah, Blah, Blah
The Bengals will have to prepare for the many faces of Tebow.
Mark L. Baer-US PRESSWIRE
It's worth noting that the Bengals defense will be tasked with stopping the aforementioned Tebow for up to two full quarters on Friday.
Considering how Tebow has been used in Jets' training camp—as a traditional quarterback, as a Wildcat option, as a running back and fullback as well as a special teams contributor—it's quite possible the Bengals defense will be seeing quite a few different sides of the Jets' No. 2 on Friday.
It presents a very special opportunity for the Bengals (and no, not just to get close to the nearly-sainted Tebow)—the defense gets a chance to prepare for and take on one of the NFL's biggest offensive wildcards.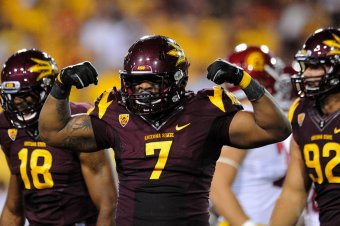 Maybe this guy will get his hands on Tebow.
Matt Kartozian-US PRESSWIRE
The knowledge they gather about Tebow on Friday can help them immeasurably during the regular season. For example, the Pittsburgh Steelers have a hybrid wide receiver/running back named Chris Rainey who poses mismatch issues for opposing defenses not entirely dissimilar to those of Tebow.
With teams all around the league searching for ways to be more creative and unpredictable on offense, the fact that Cincinnati gets to test the waters with Tebow does give them a slight advantage.
Also, there is the possibility, as I mentioned above, that Burfict could have the opportunity to pancake Tebow, which, you have to admit, sounds like a good time.
This article is
What is the duplicate article?
Why is this article offensive?
Where is this article plagiarized from?
Why is this article poorly edited?