Chris Pronger: Why the Flyers Defenseman Should Retire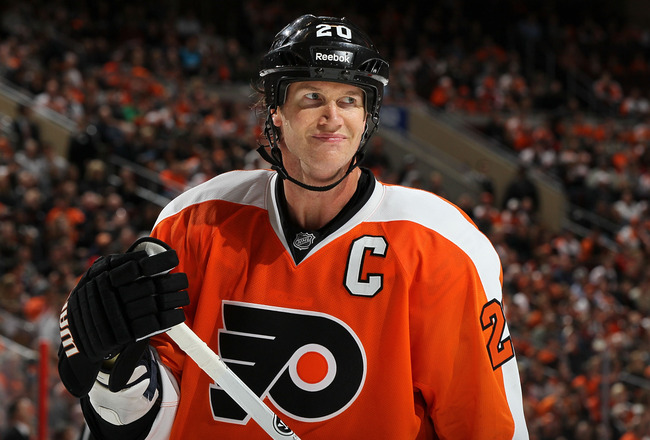 Jim McIsaac/Getty Images
The last time Chris Pronger stepped onto the ice was November 19, 2011. The hulking defenseman played a total of 26:41 minutes during that game, notching two assists. When Pronger didn't suit up for the following games for the Flyers, the team initially stated that he was out with a virus. In December the club came clean and admitted that their captain was suffering from concussion-like symptoms.
Not long after, Pronger shut down his season. Since then not much has been heard from the Flyers or Pronger on his status. There have been some rumblings that he hopes to return, but the term hope isn't one that I would put a lot of stock in.
When someone bases his or her future on hope it's not a good thing. Pronger and the Flyers need to uncross their fingers, stop shaking the magic eight ball and reading tea leaves. They need to remove hope from their vocabulary and replace it with retirement.
Chris Pronger needs to stop hoping and start retiring. Here's why.
The Flyers Need a Captain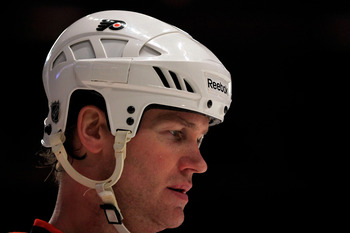 Chris Trotman/Getty Images
The team needs a leader. No one can say that Pronger was not the ideal captain for the Flyers. He was a tough guy, an in your face leader who expected the best from those who played on the same team as he did. He was, in short, the type of captain the fans in Philadelphia have always loved, a throwback to the Broad Street Bully days.
With that being said, the team needs to move on and let the next leader stake his claim on the team. Will the next player to wear the "C" be the same type of player as Pronger? Probably not, and that is why the team needs Pronger to retire; they need to move on to their next incarnation, something they will never be able to do if the specter of Pronger's return continues to hover over the team.
The Flyers Have Him Around the Team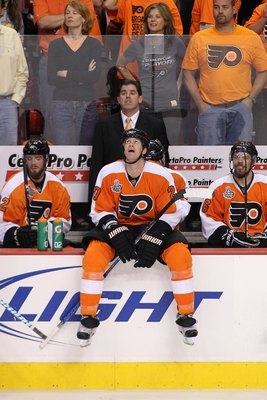 Andre Ringuette/Getty Images
Injured players usually stay away from practices and games so as not to be a distraction, an admirable stance. In Pronger's case, it's also fully necessary. He's an oversized player with an oversized personality and having him around would be a distraction.
Where he would not be a distraction would be behind the bench or at least in the dressing room doling out advice, something that he could do as a coach, if he retired.
The Flyers have always taken care of their own and to have a Stanley Cup, Norris Trophy and Hart Trophy winner assisting the team would be a huge plus. Pronger is part of the Flyers organization and will most likely be so for a long time; he should be used in the role most suitable for him and the team.
He Has Nothing Left to Prove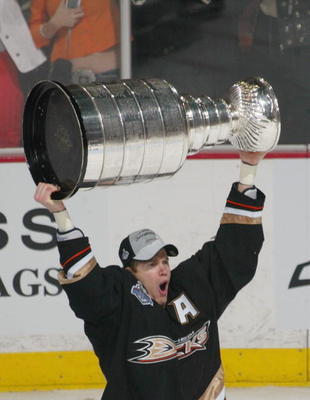 Bruce Bennett/Getty Images
Chris Pronger has been to the top of the mountain. He has won the Stanley Cup, the Hart Trophy, the Norris Trophy and two Olympic gold medals. His career achievements dwarf many of his contemporaries and as such no one would blame him if he left the game.
No one is claiming that this is the ideal way for a potential Hall of Fame career to end, but all things must come to an end. Some end well, some end due to misfortune. While Pronger's retirement would fall into the latter category, he has left nothing on the table; there's nothing left for him to prove at this point and he can go out with his head held high.
He Could Be Risking Another Injury or Long-Term Damage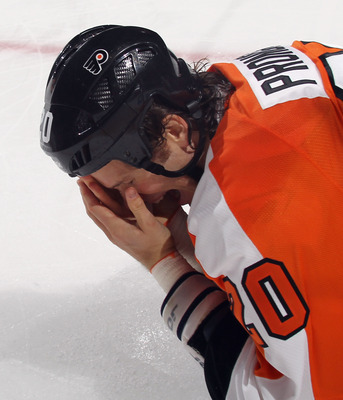 Bruce Bennett/Getty Images
Pronger is no spring chicken. He will turn 38 in October and even if he doesn't retire this summer, he's not too far away from hanging the skates up for the final time.
Brain injuries are a tricky thing and no one is really too sure of the long-term damage that comes with repeated concussions or brain injury.
Pronger has no reason to risk another brain injury at this point in his life. He's made enough money that he shouldn't have to worry about anything ever again. To think that another blow to the head could lessen his future quality of life is reason enough to step away from the game.
Everyone likes the idea of a player coming back from an injury to succeed; that story gets great play in the press. What doesn't get great play in the press, but is just as likely to occur, is the player will return only to be left crumpled on the ice in a heap.
It's not worth the risk for Pronger to come back.
He Could Be a Great Spokesman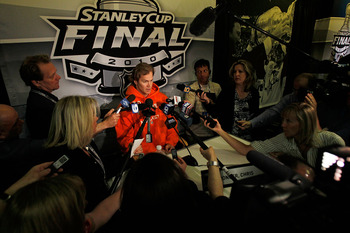 Jonathan Daniel/Getty Images
Brain injuries are a hot topic in sports these days, especially in the NFL and NHL. More players that know the ins and outs of the game need to step up and talk about the dangers they face in their sport and what can be done to reduce those dangers. That's where Pronger would be a perfect fit.
Pronger is a natural in front of the camera and microphone. He's comfortable, he's witty and he's funny; in short, he's a perfect spokesman. He can deliver a message without it coming across as overbearing or scripted and he can also deliver a blunt and pointed message when the time is needed.
The players need a guy like Pronger on the front lines working to protect their futures.
Bonus Slide: Why He Should Not Retire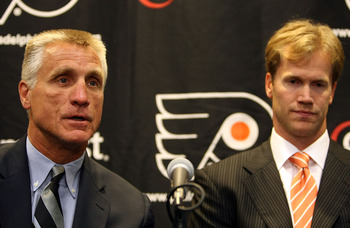 Nick Laham/Getty Images
This one is strictly from the Flyers' point of view and should not have any bearing on Pronger's decision, but the fact remains that even if Pronger does retire, his salary will go against the cap until his contract expires in 2017.
That's $4.9 million per year against the cap. For the team it may be better to keep him on the long-term injury reserve list until his contract runs out.
Keep Reading

Philadelphia Flyers: Like this team?