Ray-Ray Armstrong Injunction: It's Not About Playing Time, It's About His Rights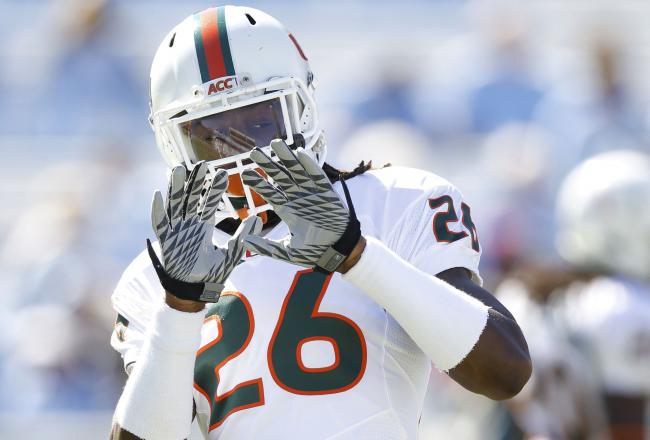 US PRESSWIRE
Yesterday, we touched on Ray-Ray Armstrong and his filing for an injunction in order to be reinstated to the University of Miami football roster. Obviously, the Miami fans, tired of the "headache" that Armstrong has become and terrified of the NCAA and what might happen, did not agree.
They're worried about their school crumbling, and if dumping Armstrong can help out, then why not do it, right?
Then came the discussion of Armstrong—even in winning the injunction—possibly still not playing. The injunction just gets him on the roster and eligible to compete, but it doesn't force the coaches to play him.
Honestly, I don't care. This filing for an injunction is about so much more than just Miami and Ray-Ray Armstrong playing. On the micro level, yes, the senior is hoping to get back on the field to play his final year. On the micro level, he certainly would like to get a shot to audition for the league.
However, in the grand scheme of things, this is bigger than merely Ray-Ray Armstrong. This is bigger than getting to play. This is bigger than just one player, one team and the like. This is about NCAA investigations, players' rights and schools protecting themselves.
We've seen in the past where the NCAA strips eligibility in an effort to teach a lesson. Dez Bryant's year-long suspension for lying about a non-violation spoke to that effect. An egregious exercise in power by the NCAA.
We've also seen schools strip players of eligibility preemptively to, hopefully, appease the NCAA. Devon Ramsay and Michael McAdoo at North Carolina speak to that effect. Ramsay was luckier than McAdoo, as he got the lost season back, but McAdoo was not so lucky. North Carolina, in a panic, declared both players ineligible prior to doing a formal review and letting their cases play themselves out.
Now, we have Armstrong—dismissed amid rumors of dealing with agents, having his girlfriend pay for a hotel room and suspect tweets, as ESPN reported. As his lawyer put it:
According to Morgan, Armstrong was dismissed after several incidents. Armstrong attended a dinner with his girlfriend, who works for a public relations firm and whose dinner payment was called into question. Another time, according to Morgan, Armstrong was at a South Florida hotel with his girlfriend. When questioned, he failed to admit being there before then saying he was, but that she paid for the room.

In at least two instances, Armstrong's use of social media led to questions from the school. According to a source, Armstrong's alleged receipt of a sports jersey at one point was also called into question.
There's a lot of smoke there. As we stated at the beginning of this piece, if you're a Miami fan, this is the sort of headache that you don't have time for. Maybe Armstrong did receive extra benefits. Maybe he didn't.
The fact is if you're backing Miami, you don't want to hear about it—you just want the troublemaker/thug/bum off your team.
Should Ray-Ray Armstrong move forward with his injunction?
Except here's the thing: You don't get to kick people off the team for rumors. You get to kick them off for offenses. Failed drug tests. Arrests. Academic issues. That's what kids get kicked off teams for.
But wait, what's that, you say? What if Ray-Ray Armstrong did some of these things and they are violations?
Guess what?
You don't get to just kick him off and move on from that. No, you get to report the violations, detail the issues, make a recommendation on his eligibility to the NCAA and, based upon the sliding scale, suspend him. Now, after that's done, if you choose to part ways with him, then so be it. But you don't get to do it before.
The point here, and the reason the injunction is a must for the big picture, is that you can't just let schools dismiss kids on their whims. Not at Miami, not at any school.
If a player has committed a violation, report it, suspend him and move on from there. Otherwise, what are we really talking about here?
This article is
What is the duplicate article?
Why is this article offensive?
Where is this article plagiarized from?
Why is this article poorly edited?