Ranking Team USA Players Who Should Have the Ball in the Clutch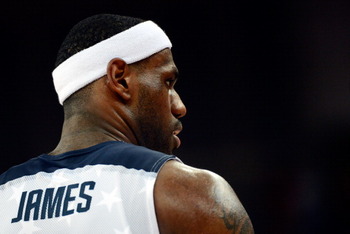 Ronald Martinez/Getty Images
Bear with me here, because Team USA has given no indication that it will find itself in a situation that comes down to the final shot.
However, if an upset is brewing, which American players should have the ball in the clutch?
Team USA has great player after great player on the roster, with plenty of options to take the final shot or make the final pass.
These five players stand out against the backdrop of tremendous basketball players, though.
5. Kobe Bryant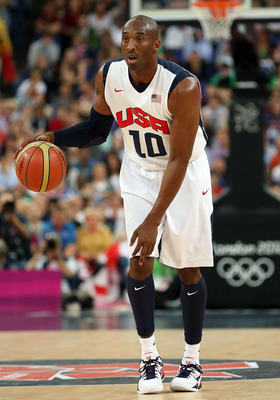 Christian Petersen/Getty Images
Although he appeared to turn it up a notch during the fourth quarter of Team USA's quarterfinal win against Australia, Kobe Bryant has struggled tremendously during his London experience.
Kobe hasn't played many more than 15 minutes per game and is only shooting 40 percent from the field through six games, but he's still Kobe Bryant.
This man wants the ball in his hands during the most crucial moments of the game, and that trumps his poor performance thus far.
A born killer, Kobe has always expected to be the man in the clutch, and he's come through quite a few times during his career.
4. Chris Paul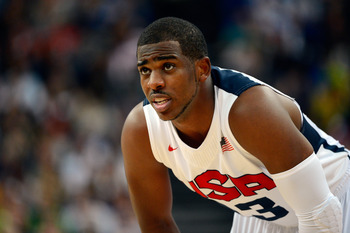 Ronald Martinez/Getty Images
The best point guard both on the Olympic roster and in the world, Chris Paul should have the ball in his hands if Mike Krzyzewski decides to run a set play in a crucial situation.
CP3 can create his own shot with his shiftiness and constant subtle movements while dribbling, but he can also find any open teammate on the court.
Having Paul control the ball at the end of the game allows for the best shot, because you can be sure that he won't force anything up when surrounded by talent.
3. Carmelo Anthony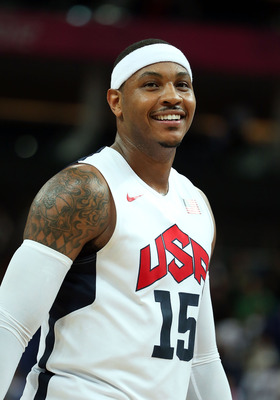 Christian Petersen/Getty Images
Carmelo Anthony would be Team USA's irrational confidence guy, except for the fact that he actually deserves to be confident.
If his 37-point outburst during the group stage proved anything, it's that Melo can score a whole bunch of points in a very short amount of time. Remember, it only took him 15 minutes to set the American record for points scored by an individual in a single game.
Melo was born to score the basketball and can score in any way you can dream up.
If a member of Team USA is going to take a tough, contested shot at the buzzer, you want Anthony to be the one taking the shot.
2. Kevin Durant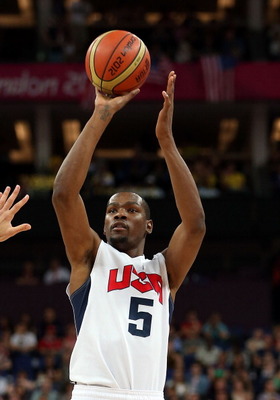 Christian Petersen/Getty Images
Kevin Durant is the best scorer on the Olympic roster and has been given the green light to fire at will from the opening tipoff until the final buzzer.
It only makes sense to let him take the last shot if he's been shooting the ball well during the other 39:30 of action.
Durant's size and length make him a mismatch against any defender, and he'll have no trouble getting off a clean look on a moment's notice.
That said, he still isn't the No. 1 option.
1. LeBron James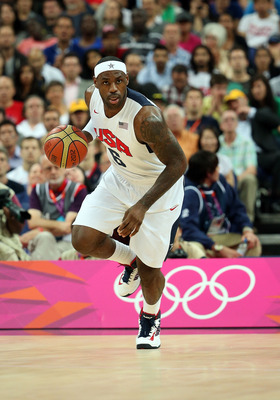 Christian Petersen/Getty Images
LeBron James is the best player on Team USA and has performed marvelously with the ball in his hands.
The NBA's reigning MVP and Finals MVP has proven that he knows when to call his own number and when to pass the ball off to his teammates. Just like Chris Paul, he gives the Americans a dual-threat option in crunch time.
If I was drawing up the ideal final play for Team USA in a close game, I'd give LeBron the ball on the elbow and let him go to work. With the right matchup, he could capitalize and score the points by himself.
If that opportunity didn't present itself, I'd have full confidence in LeBron's ability to make the correct pass.
And after this past season, don't even try arguing that LeBron can't come up big when it matters most. His lack of a "clutch gene" has been one of the NBA's biggest myths.
Keep Reading