South Korea vs. Japan: Olympic Men's Soccer Live Score, Highlights, Stats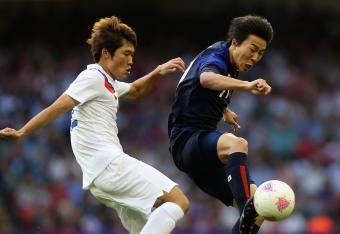 Julian Finney/Getty Images
2012 Summer Olympics, men's football, bronze medal match.
South Korea 2-0 Japan
LINEUPS
South Korea: Sung-Ryong Jung; Jae-Seok Oh, Suk-Young Yoon, Young-Gwon Kim, Seok-Ho Hwang; Sung-Yong Ki, Bo-Kyung Kim, Koo Ja-Cheol, Jong-Woo Park; Dong-Won Ji, Chu-Young Park
Japan: Shuichi Gonda; Yuhei Tokunaga, Takahiro Ogihara, Hiroki Sakai, Maya Yoshida, Daisuke Suzuki; Yuki Otsu, Keigo Higashi, Hotaru Yamaguchi, Hiroshi Kiyotake; Kensuke Nagai
Goals: Park (38') Koo (57')
Fulltime–KOR 2-0 JAP
One very important point worth making here, of course, is that none of this South Korean side will need to enter their nation's military service with that medal place.
Perhaps England players could do with a similar threat in order to live up to their high expectations..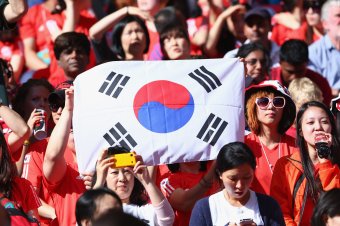 Michael Steele/Getty Images
Fulltime–KOR 2-0 JAP
But it amounts to nought!
The Millennium Stadium erupts as South Korea claim a momentous win over Japan and, as a result, the bronze medal in the men's football.
It wasn't done in the most beautiful of ways, but discipline and organisation have run true with this side all throughout their competition.
Fully deserved.
90'+3–KOR 2-0 JAP
We're in the last minute of added time and Japan are lumping everything and the kitchen sink and the bathtub and the shower up in search of a goal.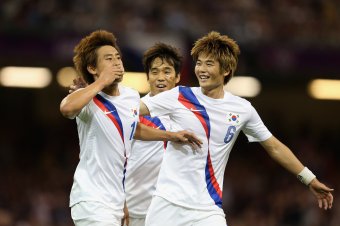 Julian Finney/Getty Images
90'–Substitution (South Korea)
South Korea are definitely content with this scoreline as Koo Jacheol is withdrawn for Kim Keehee to come on.
89'–Yellow Card!
In the melee, Yoshida was shown a yellow card for apparently shoving the Korean 'keeper but upon watching replays, we can see it should have been Otsu to receive the telling off and his marching orders, as a result.
Will that be a key decision in this fixture?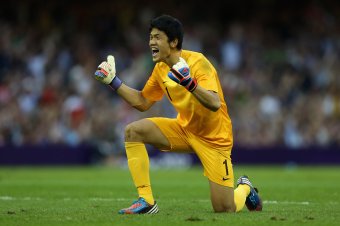 Julian Finney/Getty Images
88'–Disallowed Goal!!
The goals in the net for Japan! But it won't count...
Otsu continues to walk a fine line and obstructs Jung illegally so that Yoshida can nod into the open net.
It's quickly taken away and the free-kick awarded.
86'–KOR 2-0 JAP
If South Korea do indeed go on to win this, it's a perfect example of why it's totally fine to win without the most beautiful of styles.
Teams like England, Italy and Chelsea have been criticised for using approaches that are too defensive but winning pretty isn't always an option.
82'–KOR 2-0 JAP
Yuki Otsu may consider himself lucky to still be on the pitch.
The youngster reaches out with a high foot that catches the head of Park Chu-Young and, while not malicious, may have warranted a second cautioning from some officials.
79'–KOR 2-0 JAP
All credit to South Korea for their formational discipline. From a bystanders point of view, Myung Bo Hong's side are in perfect lines of what looks like a 5-3-2 as Japan pass the ball around.
If they carry on this way, they'll keep the clean sheet, as well as the bronze medal.
77'–KOR 2-0 JAP
With limbs aching and bodies bruised, the game is beginning to open up in a promising fashion.
Fitness will be paramount in these stages of the game and we look to be in for an entertaining last ten minutes.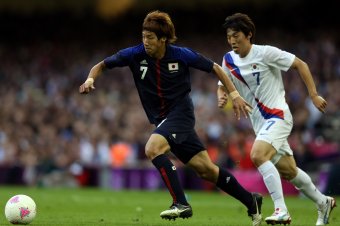 Julian Finney/Getty Images
75'–Yellow Card
Just before Japan's substitution took place, Yuki Otsu was shown a yellow card for an aerial challenge with Oh. Little harsh but arguable that it was deserved.
73'–KOR 1-0 JAP
Usami nearly makes an instant impact and after showing some decent footwork, shovels a ball to his left but it's just too far ahead of Yamaguchi.
71'–Substitution (JAPAN)
Final change for Japan who take Nagai off in favour of Takashi Usami.
Nothing left to lose time now.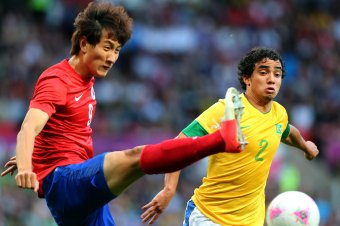 Stanley Chou/Getty Images
69'–Substitution (KOREA)
It's the Wearside warrior, Ji Dong-Won that takes a bow for South Korea as midfielder Nam Taehee comes on.
This might be around the time where the aforementioned "shutting of the shop" occurs..
67'–KOR 1-0 JAP
As is only natural after throwing on more offensive substitutions, Japan have become distinctly vulnerable at the back in the last ten minutes and are often matched, man for man, with the Korean attack.
Sekizuka can only hope that his tactical changes make the difference at the other end of the pitch.
65'–KOR 1-0 JAP
If I haven't said it already, I apologize if I have/do get any player names slightly wrong tonight.
There's only so much fingertips can handle in a fixture like this..
62'–Substitution (JAPAN)
With Korea descending upon his side's goal, Sekizuka throws on another attacker as Keigo Higashi makes way so that Kenyu Sehimoto can come on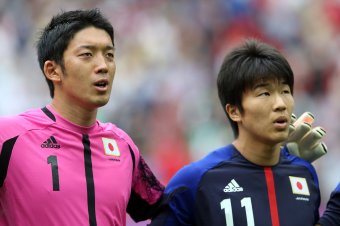 Julian Finney/Getty Images
60'–CHANCE!
Japan are playing a very risky game.
Minutes after conceding a second goal, Shuichi Gonda gets fingertips to a Kim effort that was soaring goalwards.
You can bet your bottom dollar that would have been game, set and medal if that had gone in.
58–Substitution (JAPAN)
It's a defender for a midfielder and Kazuya Yamamura comes on for Takahiro Oghihara as Japan seek to add some more attacking impetus.
56'–GOAL!!! (KOO)
Mere seconds after Yuki Otsu creates a goal scoring chance at the other end, the ball is lofted deep into the Japanese half and the defence fail to deal with it.
However, Korean captain, Jacheol Koo, is alert and lashes home a half-volley that Gonda couldn't get near.
That goal could have "bronze" written all over it.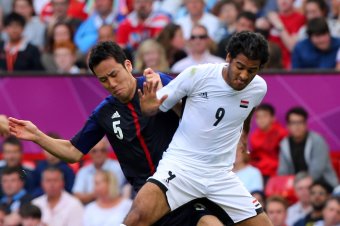 Stanley Chou/Getty Images
54'–KOR 1-0 JAP
Just as I say that, Maya Yoshida, the one man that Japan need to be calmer than any, rushes in unnecessarily to foul an opponent.
52'–KOR 1-0 JAP
For all the passing they can muster, Japan just seem unable to get the ball behind this Korean defence at the moment.
The leaders seem more than happy to sit back, apply the pressure and recover the ball in time.
Japan need to be patient here. 35 minutes is an age in this game.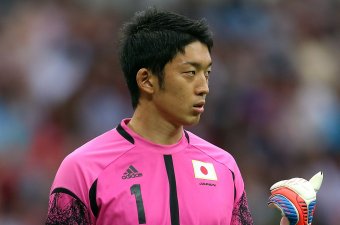 Julian Finney/Getty Images
49'–KOR 1-0 JAP
After copping a bit of the blame for the Korean goal, Gonda shows he isn't eager to let Park penetrate the Japanese goal again and the 23-year-old is quickly out to defend his net.
Better from the Japan No.1.
46'–KOR 1-0 JAP
South Korea kept Japan waiting with a huddle before kicking off the second half and appear to be using a similar tactic in their play, drawing the tackles of the Japanese.
It wouldn't be surprising if the Koreans decided to shut up shop at some point.
We're in for a spectacle.
This article is
What is the duplicate article?
Why is this article offensive?
Where is this article plagiarized from?
Why is this article poorly edited?