Orange Crush: Denver Broncos' Defensive Depth Chart vs. Chicago Bears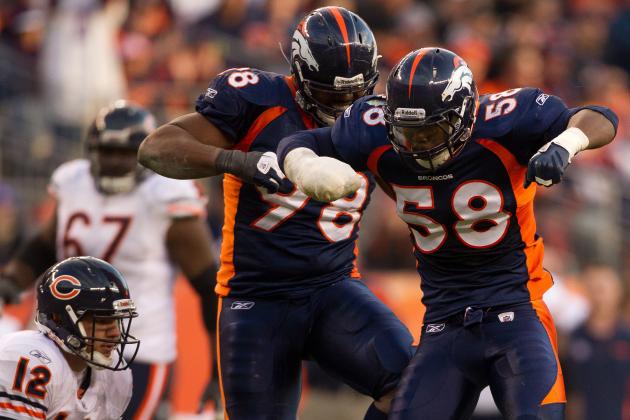 Justin Edmonds/Getty Images

After Dennis Allen was hired away by their AFC West rival, the Oakland Raiders, the Denver Broncos invited their seventh defensive coordinator in seven years, Jack Del Rio. Del Rio brought a few things to the team—his head-coaching experience, his playing experience from his several years as a linebacker in the NFL and ultimately a fresh set of eyes and perspective on the Broncos defense.
Those eyes saw some necessary changes during the offseason, and those adjustments have shown up on the depth chart. Let's take a look at where the defense stands going into the 2012 preseason schedule.
Begin Slideshow

»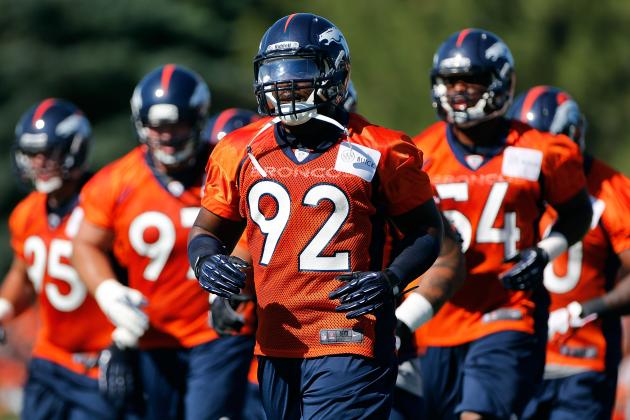 Doug Pensinger/Getty Images

Most analysts believed that the Broncos' defensive ends for 2012 were set, with the sensational Elvis Dumervil on the right side and Robert Ayers, an above average counterpart who was steadily improving year by year, opposite him.
Enter Jason Hunter.
Hunter has been with the team for a few seasons now and has primarily been involved in a backup or reserve role. There have been moments of greatness on the field, however—a sack here or a defensive stuff against the run there—but for one reason or another he hasn't earned significant playing time with the first team defense.
That all changes now as he finds himself atop the depth chart opposite of Dumervil, and the starting job is his to lose.
The other surprise is that Derek Wolfe, who many figured would see significant time at defensive tackle, is backing Jason Hunter up at defensive end. That tells me that Hunter is on a short leash, as the team's top draft pick in 2012 has his sights set at Hunter's spot across from Dumervil.
This battle will be something to pay attention to in the upcoming game against the Chicago Bears.
Left Defensive End
First-string: Jason Hunter
Second-string: Derek Wolfe
Third-string: Jeremy Beal
Right Defensive End
First-string: Elvis Dumervil
Second-string: Robert Ayers
Third-string: Cyril Obiozor
Other: Jamie Blatnick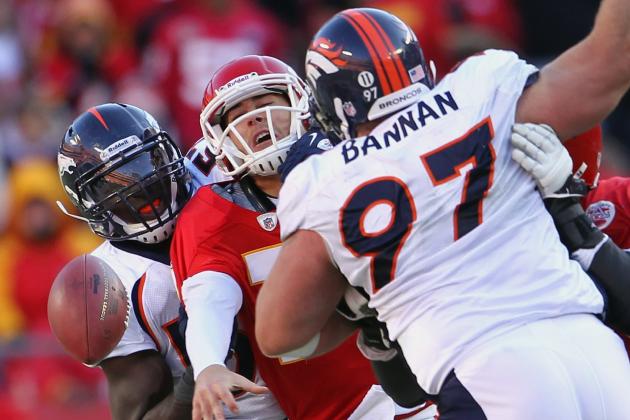 Jamie Squire/Getty Images

Defensive tackle was one of the Broncos' weakest links last season, as it seemed like opposing teams' offense could always find a hole right up the gut. The Broncos' middle also hardly ever got any push or pressure on opposing teams' quarterbacks from the middle of the defense in 2011.
But the Broncos have two of their biggest (literally) pieces on the defensive line back in Ty Warren and Kevin Vickerson. They are healthy this offseason, and it is reflected in the depth chart.
Justin Bannan is listed as the starter even though he will likely be held out of the preseason opener with the Bears due to a strained calf. Fan favorite and Colorado resident, former Air Force cadet Ben Garland finds himself buried down the depth chart with some serious work to do.
Defensive Tackle
First-string: Ty Warren
Second-string: Kevin Vickerson
Third-string: Malik Jackson
Other: Ben Garland
Nose Tackle
First-string: Justin Bannan
Second-string: Mitch Unrein
Third-string: Sealver Siliga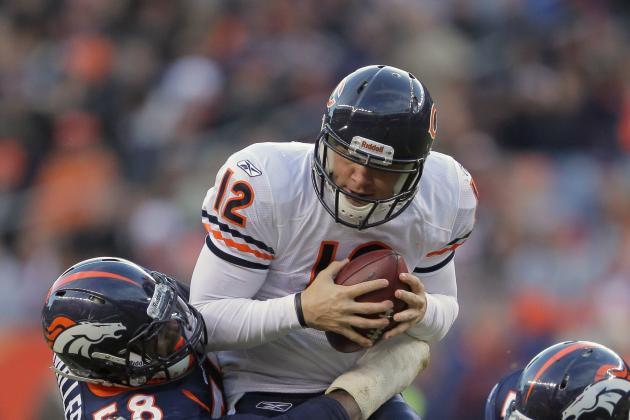 Doug Pensinger/Getty Images

Two of the three linebacker spots appear to be already wrapped up before the first preseason game even gets underway. Defensive Rookie of the Year in 2011, Von Miller maintains a stranglehold on the strong-side linebacker position, and the organization looks for him to continue to improve in 2012.
The Broncos also made a deal earlier this offseason to keep middle linebacker Joe Mays in Denver for another three seasons. He has shown that he was worth it as he's secured the starting spot for the preseason opener and has spent most of his offseason with the first-team defense.
The biggest question mark going into training camp this offseason was D.J. Williams' status. He was suspended for six games this season after testing positive for performance-enhancing drug use, which has been upheld after a failed appeal and will begin on the team's season opener with the Pittsburgh Steelers.
Wesley Woodyard looked to be the team's heir apparent while Williams serves his suspension until the Denver Broncos signed the 36-year old Keith Brooking to the roster. Brooking's experience and accolades (five-time Pro Bowler) were probably the biggest reason he was brought in
The Denver Post's Mike Klis reports, "Don't be surprised if Brooking becomes the starter in the 4-3 base while Wesley Woodyard and rookie Danny Trevathan compete for the nickel linebacker position." It looks like Brooking's chances, even though he isn't even listed on the depth chart, are great—as long as he can prove he hasn't lost a step.
Strong-Side Linebacker
First-string: Von Miller
Second-string: Nate Irving
Third-string: Jerry Franklin
Middle Linebacker
First-string: Joe Mays
Second-string: Mike Mohamed
Third-string: Steven Johnson
Weak-Side Linebacker
First-string: D.J. Williams (Suspended for first six games of regular season)
Second-string: Wesley Woodyard
Third-string: Danny Trevathan
Other: Eliot Coffey
Not listed: Keith Brooking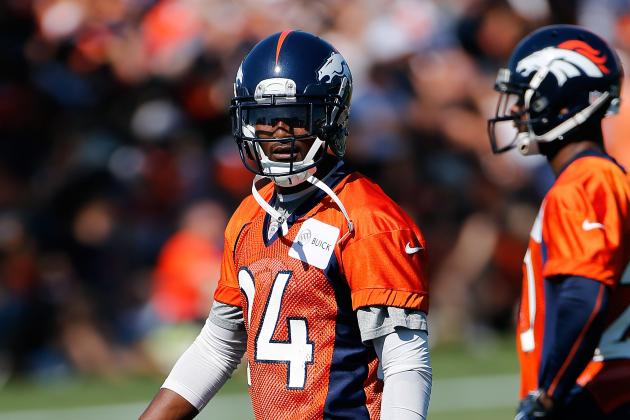 Doug Pensinger/Getty Images

Champ Bailey already has locked up the left cornerback position, but the Broncos made some offseason acquisitions when they added Drayton Florence and Tracy Porter at cornerback to compete for the spot opposite Champ in 2012.
Both have responded. Florence has demonstrated some superior leadership abilities on the Broncos with his attitude and workmanlike contributions on the field, and Porter has been impressive on the field in practice against Peyton Manning.
Florence and Chris Harris will likely be competing over the nickel cornerback position, and the other outside competitor will be Omar Bolden, the team's Round 4 draft choice this season, who is turning heads as well. Cornerback may be the team's deepest position on defense this season.
Left Cornerback
First-string: Champ Bailey
Second-string: Chris Harris
Third-string: Tony Carter
Others: Joshua Moore, Ramzee Robinson
Right Cornerback
First-string: Tracy Porter
Second-string: Drayton Florence
Third-string: Omar Bolden
Others: Syd'Quan Thompson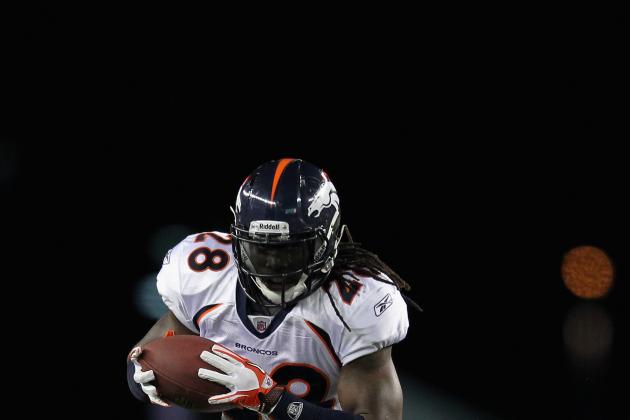 Jim Rogash/Getty Images

The starters at the safety position are fluid at this point. The Broncos have added two new faces—veterans from other teams in free agency—adding Mike Adams and Jim Leonhard to contribute for the Broncos this season. However, neither of the new guys are starters at their respective positions.
While Adams has been taking most of the reps at starting strong safety, Quinton Carter has been given the first-string slot, despite being hampered by a hamstring injury during training camp. Rahim Moore has strengthened his case for another try at securing the starting position at free safety after he lost his job midseason last year.
After signing Leonhard, the Broncos put him on the physically unable to perform (PUP) list, as he continues to rehab a knee injury he suffered last season. In December 2011, he required surgery that takes up to ten months to fully heal.
Strong Safety
First-string: Quinton Carter
Second-string: Mike Adams
Third-string: David Bruton
Other: Duke Ihenacho
Free Safety
First-string: Rahim Moore
Second-string: Rafael Bush
Third-string: Jim Leonhard
Other: Anthony Perkins