Olympic Gymnastics 2012: Ranking the Top 5 Women's Gymnasts at London Games
Michael Regan/Getty Images
The 2012 Olympic women's gymnastics competition featured one of the deepest fields of all-time with a diverse group of talented gymnasts from around the world.
No gymnast truly dominated the competition and the most medals won by one athlete was four.
Which gymnasts really were the most dazzling and talented? Here's a look at the top five, working our way up.
5. Deng Linlin, China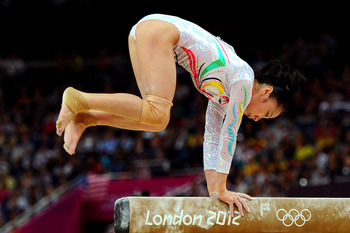 Michael Regan/Getty Images
The Chinese women performed below their expectations in the team final, leading me to believe China had no major talent this year.
They proved that assumption wrong during the balance beam finals, where Deng Linlin and Sui Lu were the two steadiest and smoothest competitors on the apparatus.
Deng pulled off a difficult and near flawless routine to surpass Sui.
The 1.46-metre gymnast, whose age is officially given as 20, produced a routine full of difficult combinations, finishing with two backflips, a double-pike dismount and a huge smile as she saluted the judges.
The gold medal helped Deng feel better after a subpar team finals.
"After the team event I was depressed," she told reporters through an interpreter. "Motivation for this event came from my coach and other teammates so I was able to recover and prepare for this."
4. Catalina Ponor, Romania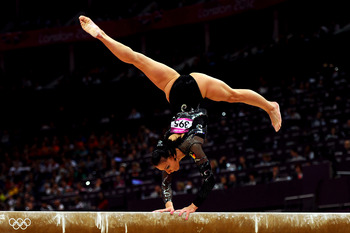 Michael Regan/Getty Images
Catalina Ponor proved that comebacks were possible through strong execution, difficult skills, and a broad smile. She also showed how age did not always have to be a factor when determining gymnastics prowess.
Ponor won three gold medals in 2004, team, beam, and floor. Her comeback was not quite as successful. She helped Romania to the bronze medal, narrowly missed the bronze on beam due to a tiebreak rule, and ended with a silver on the floor exercise.
She will retire with five Olympic medals.
"I retire with no regrets. I worked every second for the team, I worked every second for me, I worked every second for everyone. I was already Olympic champion and I leave the gym with my head up. I thank everyone for their support and I'm sorry that I have disappointed them," said Ponor for the official site of the London Olympics.
3. Aly Raisman, U.S.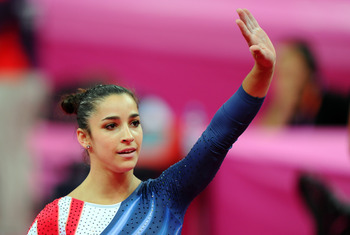 Michael Regan/Getty Images
I would have to say that Aly Raisman, hands-down, had the most tumultuous Olympic experience of any gymnast.
She broke through the Jordyn Wieber and Gabby Douglas wall and stunned the world by finishing prelims as the top American all-around qualifier and second overall. She then helped bring Team USA to the team gold medal.
Raisman narrowly missed the bronze medal in the all-around due to a tiebreak rule. She came back a few days later and won a tiebreaker bronze medal on the balance beam.
Then she finished on top of the world with a gold medal on the floor exercise.
2. Aliya Mustafina, Russia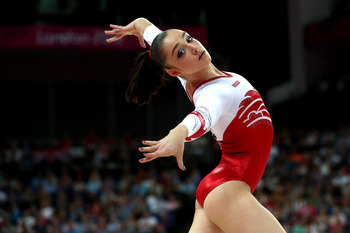 Ronald Martinez/Getty Images
Mustafina had a miraculous comeback for London. The 2010 all-around world champion blew out her ACL in 2011 and at the beginning of the games she just didn't look like she had much to offer.
Mustafina kept pushing on and rallied to win the most medals of any gymnast.
She helped Russia to the team silver medal and then tied with Team USA's Aly Raisman for third place in the all-around, but won the bronze due to a tiebreak rule.
Mustafina finally won her gold medal in the uneven bars finals and finished off with another bronze on the floor exercise.
Some question her attitude but I think it takes a strong, hard soul to get through everything she has been through.
1. Gabby Douglas, U.S.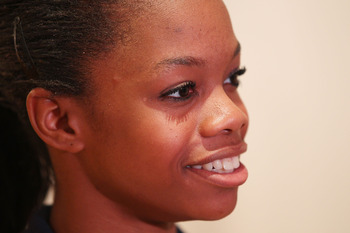 Joe Scarnici/Getty Images
Gabby Douglas made history as first American woman to win the individual and team all-around gold medal in the London 2012 Olympics, and she became the first African-American to win the all-around.
She may have fallen short during the individual event finals, but her two golds are what will be remembered.
Her legacy is young, but Douglas' success story will inspire millions of young girls around the world. They will be fueled by her passion, success, and work ethic.
Douglas stole the show during the games with her acrobatic release moves on uneven bars, killer smile and fun attitude.
Honorable Mentions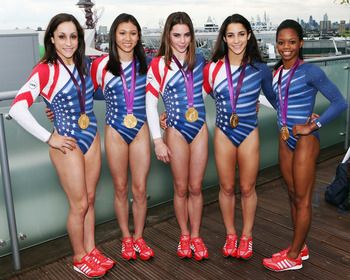 Alex Grimm/Getty Images
I really wish I could have put the "Fab Five" just 1-5 here, but that just wouldn't be fair.
McKayla Maroney probably would have been given a spot if she had won the vault gold medal. Her Amanar vault is completely untouchable no matter what happened during event finals.
Jordyn Wieber gets points for dealing with controversy and her amazing rebound with the team finals. And Kyla Ross, who seems to get the least amount of attention of anyone, should be recognized for rounding out the team.
On the international level, a shout-out goes to Sandra Izbasa, who upped her vault difficulty and rightfully won the gold. She was waiting in case anything happened to Maroney, which it did.
Keep Reading