Atlanta Falcons Football Is Back, Time to Evaluate Roster Versus Baltimore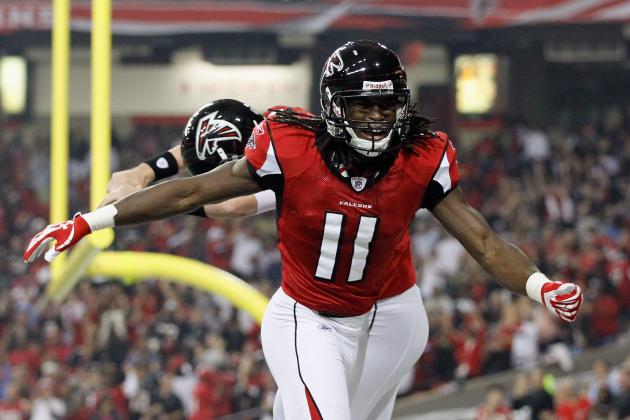 Kevin C. Cox/Getty Images
Everyone's excited for football to start!
Atlanta Falcons football is back! And just like every other Falcons fan, I'm excited to see what the Falcons do in the new offense and defense. However, it's time for us fans to evaluate the rosters just as much as the team itself would.
In breaking down the roster, there are a couple things that everyone should look for. Here's a position-by-position of what to look for when watching the Falcons tonight.
Begin Slideshow

»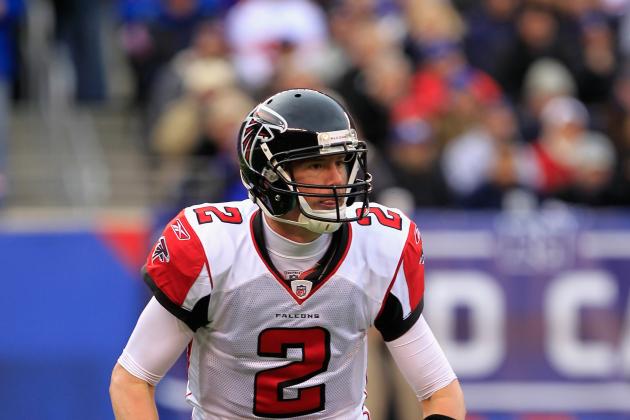 Chris Trotman/Getty Images

Projected Starter: Matt Ryan
Camp Battle to Watch: Dominique Davis vs. John Parker Wilson for QB No. 3
What else to look for
Matt Ryan and Co. are adjusting to a new offense. It's time to look at the play-calling and how much no-huddle is incorporated. The play-calling should be better, but Ryan also needs to get better at stepping up in a chaotic pocket and making the throw.
Also, watch how the transition from Ryan to the backups looks. The backups are never a seamless transition from a Pro Bowl-caliber quarterback, but the battle for the backup spot is going to be based on how well they can manage the game.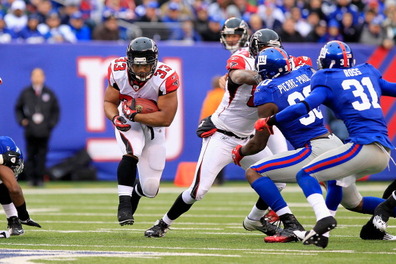 Chris Trotman/Getty Images

Projected Starters: Michael Turner as Featured RB, Jacquizz Rodgers as the Change of Pace RB, Bradie Ewing as the FB
Camp Battle to Watch: Mike Cox versus Bradie Ewing for Starting Fullback
What else to look for
The Falcons have one of the more versatile groups of running backs out there. Expect Turner and Rodgers to get some looks in both running the ball and the screen game. When in shotgun, Snelling is someone who comes in and plays that hybrid fullback and running back role.
The big battle here is Cox and Ewing. Ewing was a fifth-round pick at running back for a reason. He's an excellent receiver out of the backfield and can block extremely well on running plays. It will be interesting to see who gets the most snaps versus the Ravens.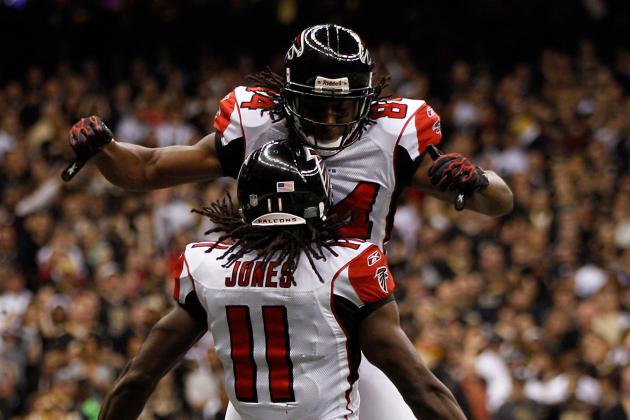 Chris Graythen/Getty Images
This should be a common sight in 2012.
Projected Starters: Roddy White and Julio Jones at WR, Tony Gonzalez at Tight End
Camp Battle to Watch: No. 3 Tight End between Adam Nissley, Aron White, LaMark Brown and Tommy Gallarda
What else to look for
White and Jones are going to be electric. But look for more spread formations that will put the ball into Harry Douglas' hands as well. Add in the Hall of Fame tight end to the mix and it should be a fun offense to watch.
The No. 3 tight end battle should be an interesting one. It has a Georgia graduate in Aron White, a guy from last year's practice squad in Tommy Gallarda and Adam Nissley, who is primarily a blocker. The one who looks to be the front-runner for the job, however, is LaMark Brown, a converted WR and TE.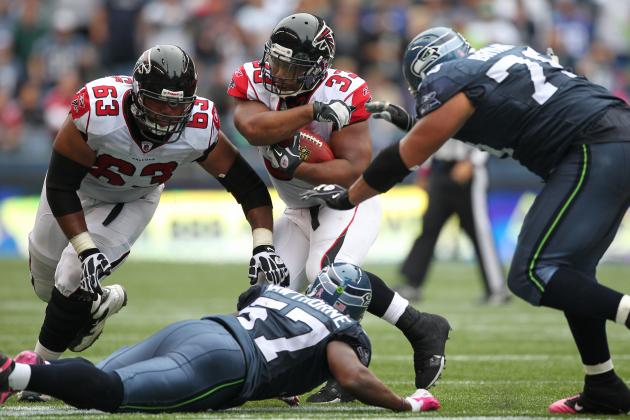 Otto Greule Jr/Getty Images

Projected Starters: Sam Baker at LT (for now), Justin Blalock at LG, Todd McClure at C, Garrett Reynolds at RG (for now), Tyson Clabo at RT
Camp Battle to Watch: Two here—Baker versus Will Svitek at left tackle and Garrett Reynolds versus Peter Konz at right guard.
What else to look for
At left tackle, if Baker looks like he is getting continually pushed back and can only run block, he should be cut in favor of Will Svitek. Svitek at least looks like he can pass block from the outside. At center McClure has the early advantage, but don't be surprised if Joe Hawley gets a lot of reps with the first unit.
At right guard, the Falcons have Peter Konz and Garrett Reynolds battling for the starting spot and it looks like the job will end up being Konz's in the long run. However, for now Reynolds takes the start. Blalock and Clabo are set starters and will be tough for anyone to unseat.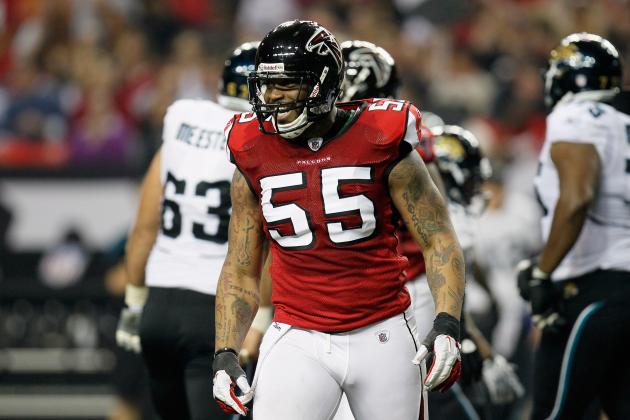 Kevin C. Cox/Getty Images
The Predator is back another year to chomp down on his prey.
Projected Starters: John Abraham and Ray Edwards at defensive end, Corey Peters and Jonathan Babineaux at defensive tackle.
Camp Battle to Watch: Vance Walker versus Travian Robertson for the final defensive tackle spot on the roster.
What else to look for
Mike Nolan is running a new scheme. It's time to see just exactly how that impacts both the pass rush and the run stuffing. The new scheme will definitely affect the defensive front seven the most and the defensive line should benefit from it.
As far as personnel, the starters are pretty much set despite Corey Peters missing out on the first couple weeks of training camp with a foot injury. However, the roles for the two main rotational spots at defensive end and the one rotational spot at defensive tackle are going to be heavily fought for in camp, and the backups are who to watch on defense in tonight's game.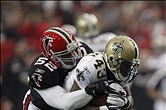 Josh D. Weiss-US PRESSWIRE
Dent will have to prove he is more than just a special teams player.
Projected Starters: Sean Weatherspoon at weak side, Akeem Dent in the middle and Stephen Nicholas on the strong side
Camp Battle to Watch: All three reserve linebacker spots with too many names to list.
What else to look for
Akeem Dent will be playing in the middle and there is question as to how well he will be able to take over from the departed Curtis Lofton. He is already more athletic and is known as an intelligent player, a leader and the hardest-working player on the defense.
For the reserve spots, it wouldn't shock anyone to see Mike Peterson as the backup to Dent in the middle. However, there are a lot of guys competing on the outside and it could make sense to bring in some players who were victims of final cuts instead of going with who is on the current roster.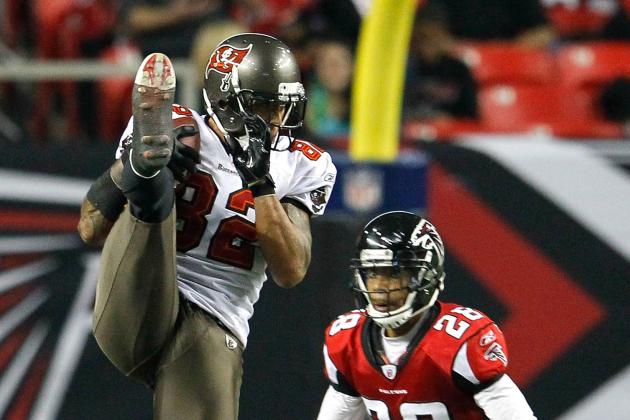 Kevin C. Cox/Getty Images
With a new scheme, expect better play out of Thomas DeCoud.
Projected Starters: Brent Grimes and Asante Samuel at corner, Dunta Robinson in the nickel, and William Moore and Thomas DeCoud at safety.
Camp Battle to Watch: Chris Hope versus Charles Mitchell for the third safety role
What else to look for
Brent Grimes and Asante Samuel should be back to their usual selves and a great fit for Nolan's defense. Robinson should have a much better year out of the nickel and expect DeCoud and Moore to play much more free in the secondary than they have in the past.
Competing for time tonight at corner will be Dominique Franks and Chris Owens. The second unit will also have Darrin Walls at the nickel. At safety, Hope and Mitchell will be competing for a tough job as the No. 3 safety and a special teams ace.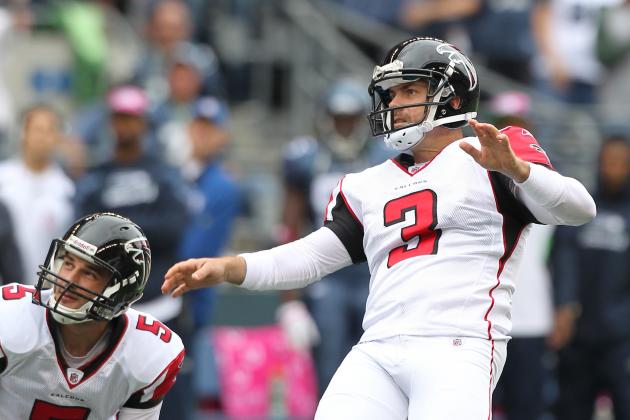 Otto Greule Jr/Getty Images
Bryant and Bosher make a great tandem.
Projected Starters: Matt Bryant at Kicker, Matt Bosher at Punter
Camp Battle to Watch: None
What else to look for
Basically, all that needs to happen is for these guys to already kick the ball as hard as they can and give Atlanta good field position with solid accuracy on their kicks. Bryant and Bosher are set in their roles and the only way it looks like they will lose them is through injury.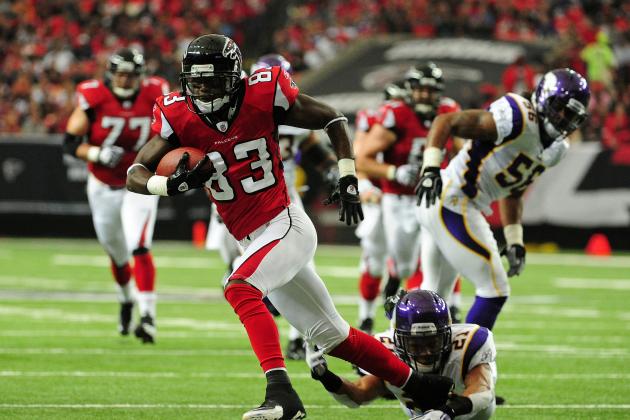 Scott Cunningham/Getty Images
Douglas will be doing more than just catching balls out of the slot.
Projected Starter: Harry Douglas at punt returner, Jacquizz Rodgers at kick returner
Camp Battle to Watch: Dominique Franks and Jacquizz Rodgers for kick returner
What else to look for
Franks has said multiple times that he wants to win the job as a return specialist. However, he will have to battle with both Rodgers and Douglas to earn a spot. Douglas looks like the starter at a punt return job many thought he was going to keep after he earned it his rookie year.
Rodgers will use his natural vision and ability as a running back to find holes to his advantage as a returner. If he earns the starting returner job, it wouldn't surprise anyone to see Rodgers as an over-2,000 all-purpose yard contributor in Atlanta.
Scott Carasik is a Featured Columnist and Trends and Traffic Writer for Bleacher Report. As a Featured Columnist, he covers the Atlanta Falcons, NFL and NFL Draft. He is also the Falcons analyst at Drafttek, runs the NFL Draft Website ScarDraft.com and hosts Kvetching Draftniks Radio.