NHL: 20 Goals in 12 Minutes a Game...Can It Be Done for a Doughnut?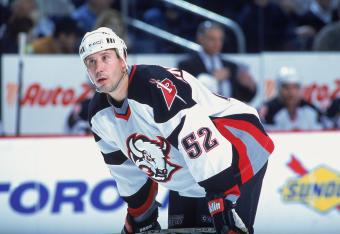 Dave Andreychuk is a member of an exclusive club.
Rick Stewart/Getty Images
The Chicago Blackhawks have not come forth with a lot of activity this month. It's been all quiet from the organization as training camp approaches. I guess this allows me to stray from the path and pursue...doughnuts.
Let me explain.
Wednesday, I profiled Michael Frolik and asked if he could reach the 20-goal mark he hit in his first two NHL seasons. One of the comments centered on the limited time in which Frolik would have in Chicago to score those goals. Here is the meat of the reader Shlomo Goldberg's comment:
Frolik was 11th among Chicago forwards for ice-time per game (30+ games played). Unlikely he will get many points on the 4th line playing 12 minutes a game. Additionally, in his first 3 seasons in the NHL he was getting PP time which helped increase his numbers and likely his confidence as well.

In Chicago, he will (1) not get the playing time he needs to score, and (2) will not be on the PP to boost numbers.

Find a guy that gets 20 goals a season playing 12 minutes a game in the NHL and I will buy you a doughnut.
The comment is spot on. It's hard to assume Frolik will get more than the 12:52 he averaged in 63 games last season. I agree with the contention that Frolik will have trouble putting up goal totals like the ones he had in Florida playing three or four additional minutes per game.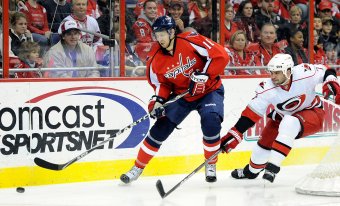 Greg Fiume/Getty Images
As for the doughnut challenge? It sounded like something that could have happened back in the 1980's, but since time on ice stats weren't kept then, who knows? Would it be possible today? Can a player reach the 20-goal benchmark in limited minutes on the ice?
It struck me as a fun challenge. Do I dare do some research, even with Shane Doan still a UFA? And yet, we're talking about doughnuts here. Duncan, Tim Horton, it makes no difference. What the heck? Let's do some digging.
To begin my quest for doughnuts, I did a quick sweep of the league last year and found out that no player who played 12:59 or less managed to net 20 goals. Frolik's teammate, Viktor Stalberg, had 22 averaging 14:04 a game. That's just over a minute more on the ice than Frolik. Impressive, but not doughnut-worthy.
Jamie McGinn scored 20 goals playing 13:26 for San Jose and Colorado. Benoit Pouliot had 16 goals for Boston in 12:12 of ice time. Mathieu Perreault of Washington had 16 goals playing 12:01 a game. Close, but no doughnut.
There were four players who got 20 goals playing from 13-15 minutes a contest, which is what Frolik could have been getting on the third line if that group hadn't gone belly up by the second month.
There have been some very efficient seasons posted by players skating limited minutes. Going back as far as the lockout, I looked for the magical 20-goal, 12-minute formula. Lo and behold, there were six players who met that criteria. All numbers were gleaned from NHL.com.
| | | | | | | |
| --- | --- | --- | --- | --- | --- | --- |
| Season | Player | Team | Games | Goals/Assists | Shooting % | Average TOI |
| 2009-10 | Eric Fehr | WAS. | 69 | 21/18 | 14.5 | 12:07 |
| 2006-07 | Petr Prucha | NYR | 79 | 22/18 | 16.2 | 12:59 |
| 2005-06 | Antoine Vermette | OTT | 82 | 21/12 | 17.1 | 12:34 |
| 2005-06 | Patrick Eaves | OTT | 58 | 20/9 | 20.0 | 12:28 |
| 2005-06 | Chuck Kobasew | CGY | 77 | 20/11 | 14.0 | 12:15 |
| 2005-06 | Jeff Carter | PHI | 81 | 23/19 | 12.2 | 12:04 |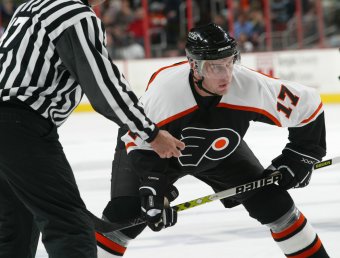 Len Redkoles/Getty Images
In the 2005-06 season, Prucha had 30 goals playing just 13:42 a game before having a Frolik-like drop-off and signing to play in the KHL last year. Sixteen of those goals came on the power play. His shot percentage that season was 23.1.
Most of the other players on the list saw their goal production spike in their 20-goal season. 2005-06 was Carter's rookie campaign and his minutes jumped in subsequent seasons.
It can be done, as evidenced above, but you had better shoot true and have some teammates setting you up. Jaromir Jagr was at Prucha's disposal early in his career with the Rangers, which couldn't have hurt.
You can see that four of the players reached this plateau the season the red line was eliminated. I continued my search as far back as the time on ice stat was kept (1997-98). Here's who made the cut:
| | | | | | | |
| --- | --- | --- | --- | --- | --- | --- |
| Season | Player | Team | Games | Goals/Assists | Shooting % | Average TOI |
| 2003-04 | Raffi Torres | EDM | 80 | 20/14 | 14.7 | 12:38 |
| 2002-03 | Tomas Holmstrom | DET | 74 | 20/20 | 18.3 | 12:27 |
| 2000-01 | Daniel Sedin | VAN | 75 | 20/14 | 15.7 | 12:59 |
Now, some of you may be saying, "Hold on. None of these guys actually played exactly 12 minutes a game," despite players like Fehr, Carter and Kobasew logging just a touch over that mark. For you, I dug a little deeper and found Dave Andreychuk's line from that 2000-01 season.
Returning to play with the Sabres at age 37, Andreychuck had 20 goals and 13 assists in 74 games, playing an average of 11:59 a night. The key lies in a 16.8 shooting percentage, plus the fact that Andreychuk potted an additional 620 goals over the course of his long career.
While putting up 20 goals in such limited minutes isn't done often, it can occur under the right conditions. For Frolik to do so, he may need to triple his anemic 4.3 shot percentage from last season for starters.
I felt so satisfied with my long and arduous search that I went out and bought my own doughnut. That way I can chew on it until a CBA is reached.
This article is
What is the duplicate article?
Why is this article offensive?
Where is this article plagiarized from?
Why is this article poorly edited?

Chicago Blackhawks: Like this team?