US Open 2012 Preview: Juan Martin Del Potro Not Real Contender for Final Slam
Andy Lyons/Getty Images
The Rogers Cup, also known as the Toronto Masters, is underway and already we are getting a picture of who will be the stars of this year's 2012 U.S. Open.
In a series of articles that will run until the start of the U.S. Open, I will analyze the contenders and non-contenders for the title at Flushing Meadows.
My first non-contender is Argentine world No. 8 Juan Martin Del Potro, recently knocked out of the Rogers Cup in straight sets by 33-year-old Radek Stephanek.
And I know what your first reaction will be. "Wow! Stephanek?"
Yes. Now, of course, some will say that he must have been tired and worn-down from his exertions at the London Olympics, and others will say that Stephanek can be a tricky opponent, but the fact is that he had a first round bye to get himself together.
Why Del Potro?
Following Del Potro's loss to Roger Federer at the Olympics, I found it extremely frustrating to hear Federer fans praising the efforts of the Argentine in his loss to Federer. I felt that he made no effort in the third set to win the tie.
The match wasn't going to be decided by tie-break, thus requiring each player to break their opponent and consolidate their break to win the match, but Del Potro didn't seem interested in breaking Federer's serve, let alone winning the match.
It wasn't a case of being unable to break Federer because he had done so in the first set and late in the third when Federer had broken him. However, on leveling the score, he reverted back to being uninterested.
Of course, playing Federer is never easy, but I knew what all the praise was for. In a bid to legitimize Federer's win—something Federer fans are doing for reasons still unclear to me—Del Potro needed to be portrayed as a worthy opponent (and he can be). One who threw everything and a half of what he had at Federer, only for it to miraculously still not be enough.
Dose of realism
The thing is though, that despite being the only man outside the trio of Roger Federer, Rafael Nadal and Novak Djokovic to have won a Grand Slam title since Marat Safin in the 2005 Australian Open, the resume of the Argentine is desperately drear.
Given how much he is touted as the next best thing outside the top four, it's funny how we easily forget to look at the details. For one, there is the issue of his astonishingly poor 8-29 win-loss record against the top four (some will mention his injury, but the fact is that it doesn't take three years to recover from an injury).
Even non Slam winners like Jo-Wilfried Tsonga and Andy Murray (if Del Potro is used as the fourth player) better that record.
Additionally, given his aesthetically displeasing game, the inconsistency of his ranking in the top 10 and a shocking lack of fitness that wouldn't be expected from a modern day top-10 player, non of this hype can be logically explained. He had one very good performance three years ago, but that's it. And we're still waiting for that first Masters 1000 title.
What does it all mean?
Be it far from me to criticize a person's motives for playing the sport of tennis—simply because I can never know what these motives are—I still find the way he repeatedly cries after losing matches deeply disturbing.
When you have just the one win (against Djokovic in the Olympics) in close to three years against the men you've been touted as being a threat to, there is a certain point when tears ought to be dispensed with and you should perhaps consider getting your act together, right?
And this has me wondering. Are his tears as much due to his losses as they are for his being momentarily held in another man's embrace when he shakes hands at the net?
Either way, Juan Martin Del Potro is not a real contender for the U.S. Open title.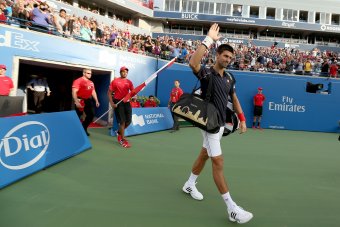 Andy Lyons/Getty Images
The W&S ATP Masters tournament, the final Masters 1000 tournament before the U.S. Open, gets underway this week and the field looks a whole lot more familiar than the one at the Rogers Cup last week.
The Top Three's Chances
Roger Federer: Prior to losing to Tomas Berdych in the quarter-finals last year, the current world No. 1 was a two-time defending champion (2009, 2010). Both years he failed to win the U.S. Open.
Novak Djokovic: Having won the Rogers Cup and being in better physical shape than the was at this time last year, Djokovic is a pretty strong favorite for this title. Although, some may debate the strength of the field at Toronto (there were only two top ten players in the quarter finals, Djokovic himself and Janko Tipsarevic).
Andy Murray: For his first few rounds in Toronto, Murray looked like he had some feel for the hard courts and, although tiredness may be a bit of an issue given the last few weeks he's had, I think he has a great shot at the title.
This article is
What is the duplicate article?
Why is this article offensive?
Where is this article plagiarized from?
Why is this article poorly edited?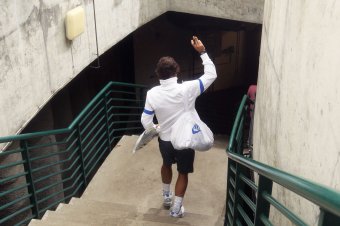 Oli Scarff/Getty Images
As the Rogers Cup nears it's closing stages and Novak Djokovic eyes the prize at the end of the road, somewhere not too far away Roger Federer is sitting back on his recliner and relishing his chances at the Cincinnati Masters, as well as the U.S. Open.
Why? Well, he is in form while his rivals are either struggling with theirs or with injuries and, secondly, he is resting for what is to come.
This isn't the same story though with world No. 3 Rafael Nadal.
The 11-time Grand Slam champion having pulled out early last week from the ongoing Rogers Cup in Toronto with injury, has now pulled out of the Cincinnati Masters.
This piece of news, however, isn't important just for the obvious reasons. Of course, his withdrawal will represent a third straight tournament that Nadal will miss through injury and it will mean that half the Cincinnati draw will be partly open, but it also puts doubt not only on Nadal's U.S. Open participation but also on his chances if he does participate.
This article is
What is the duplicate article?
Why is this article offensive?
Where is this article plagiarized from?
Why is this article poorly edited?