PGA Championship 2012 Leaderboard Day 1: Scores, Results and Analysis
Ernie Els, 2012 Open Champion
Sam Greenwood/Getty Images
Glory's last shot, the 94th PGA Championship, begins today in Kiawah Island, South Carolina.
Follow along all day today to see how your favorite golfer is doing on the second longest course in major championship history, the Ocean Course.
As of 7:47 ET:
94TH PGA CHAMPIONSHIP

| | | |
| --- | --- | --- |
| PLAYER | +/- SCORE | HOLE/SCORE |
| C. PETTERSSON | -6 | 66 |
| R. MCILROY | -5 | 67 |
| G. WOODLAND | -5 | 67 |
| G. FERNANDEZ-CASTANO | -5 | 67 |
| A. NOREN | -5 | 67 |
| J. DALY | -4 | 68 |
| G. OGLIVY | -4 | 68 |
| J. LUITEN | -4 | 68 |
| K. BRADLEY | -4 | 68 |
| A. BADDELEY | -4 | 68 |
| A. SCOTT | -4 | 68 |
| S. PIERCY | -4 | 68 |
| G. MCDOWELL | -4 | 68 |
A couple things to take away as we wind things up for the night.
What a good solid round by Adam Scott. He could have just completely packed it in and no one would have thought anything of it after his collapse at Royal Lytham, but he shoots a four-under 66 today and clearly never got ahead of himself. He plays better as the hunter as supposed to the hunted.
Second, even with the wind this afternoon, I did not see anything that would indicate that the winning score will be anything under double-digits. The greens are too slow and the course too wet not to be anything but receptive.
If and when the winds do pick up, there is a good chance that will come with some rain. While it may make play uncomfortable, when the wind dies the course will remain just as receptive as it was today.
That is it for tonight. We will be with you tomorrow around 6:45 a.m. and Carlos Torres will have Tiger's round in full here on B/R tomorrow afternoon.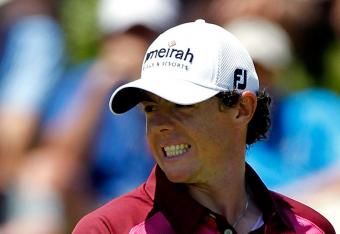 What a great day for Rory McIlroy.
Five birdies, 13 pars, no bogeys. He seemed to enjoy himself out there this morning and played the course aggressively smart.
Right now, he is the biggest name at the top of the leaderboard and as long as he holds his position, he has a real chance when conditions change
That takes care of the leaders for the night. A leaderboard update and an overview is coming up.
K. J. Choi bogeys his last hole, but still comes in with a three-under 69.
In all likelihood, Luke Donald played his way out of the tournament.
A two-over 74 that was highlighted by a double-bogey on 17, Donald failed to take any advantage of the conditions and the greens.
It is really hard to continue to make the argument he is the best player in the world when he could not take advantage of the course today.
And we get new numbers.
Alex Noren pars the ninth for an impressive opening 67.
Choi parred the brutal par-three 17th and is still four-under.
Justin Rose pars the last for a good, solid, 69.
We have not had an update from PGA.com since TNT signed off.
Still waiting to hear about Noren and Choi.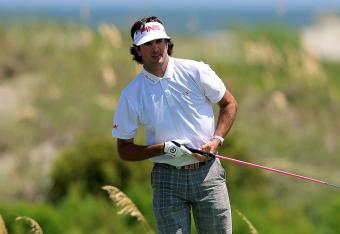 Bubba Watson's 73 today was also a result of wayward shots off the tee.
He plays early tomorrow when the course is supposed to be easy. If he can get it back under par before Saturday, he has a chance.
It looked like the putting speed fooled him a bit today too. While they were fast, they were not crisp.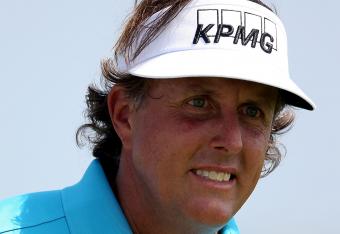 Several times today on TNT's broadcast, the crew commented on Phil Mickelson looking haggard and spent.
He just played the ball every place but the fairway in a similar fashion as he did at the U.s. Open and Open Championship.
His wizardy kept him in his round with a one-over 73, but with the heat and frustration, he will not be able to do that and stay in it much longer.
This course requires driver to be successful and he cannot trust it one second.
Sixty-six out of the 156 in the field are at even par or better and 43 of those are under par.
Phil Mickelson finished at one-over.
Rickie Fowler and Brian Haas at three-over this afternoon while Sergio Garcia finished with a four-over 76.
Brandt Snedeker finished with a surprising five-over 77.
Alex Noren birdies eight, his 17th, and moves to five-under and just one back.
Graeme McDowell in with a four-under 68.
Scott Piercy goes in with a 68. A solid four-under and just two back as TNT signs off on television.
Justin Rose just misses his birdie putt, remains at three-under.
Graeme McDowell finds the middle of the green on 18. No worse than a 68 for him.
K.J. Choi at four-under and on 17.
Justin Rose hits a great shot on the 17th tee and has about an eight-footer left for a birdie that would take him to four-under.
Alex Noren has a certain par on seven, his 16th, to stay at four-under.
Scott Piercy has birdied three straight, including a chip-in at 17 to get to four-under and two off the lead.
Graeme McDowell birdies both 15 and 16 and moves to four-under.
K.T. Kim bogeys drops a shot on nine, his last, and finishes with a three-under 69.
Leaderboard update around 7 then some breakdown of the round.
Luke Donald does not play well, finishes up with a two-over 74.
Miguel Angel Jimenez drops one at nine and finishes with a very good three-under 69.
Webb Simpson finishes with a seven-over 79.
The layoff was too much and he just never looked comfortable around his round.
Phil Mickelson is one-over through 17.
Bubba Watson finishes with a one-over 73.
Justin Rose takes a birdie at 15 and goes to three-under with the par-five 16th next.
Jimenez and Kim have parred the eighth, their 17th, and remain at four-under.
Adam Scott finishes with a 68, four-under and two back.
K.T. Kim pars his 17th. Also at four-under.
Zach Johnson nearly aces 17, two-inches for birdie. Gets him back to even.
Four-under is the best on the course and that is what we will focus on at dinnertime for the moment.
Alex Noren pars the fourth, and is still four under after his 13th hole.
Aaron Badderley has parred the ninth and finishes with a 68 and four-under.
This article is
What is the duplicate article?
Why is this article offensive?
Where is this article plagiarized from?
Why is this article poorly edited?