Re-Grading New York Knicks' Moves from Last Offseason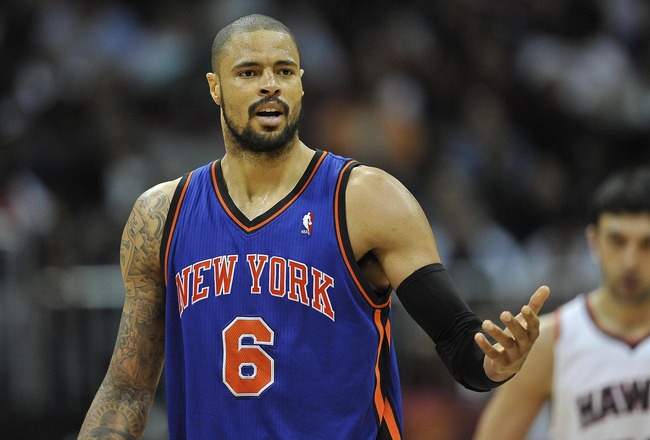 Paul Abell-US PRESSWIRE
After coming off of a first round loss to the Boston Celtics during the 2011 playoffs, the Knicks made a ton of significant offseason moves to improve their roster.
What the team really lacked the year prior was a point guard and dominate defensive presence.
They went out and brought in players who they believed would fill these needs.
Some worked out as expected, others drastically disappointed. Some of their offseason acquisitions even exceeded the team's expectations for them.
Here are grades for all of the New York Knicks offseason moves from last season.
Signing Mike Bibby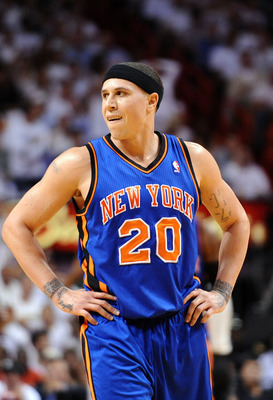 Steve Mitchell-US PRESSWIRE
2011-12 Statistics: 2.6 ppg, 2.1 apg, 1.5 rpg
Mike Bibby was horrendous as the Knicks' backup point guard.
Bibby is an above average three-point shooter for his career, but only shot 31.8 percent from three last season. He was even worse from inside the arch, shooting only 20.5 percent from that distance.
Not only was he a terrible shooter, but Bibby was also atrocious on the defensive end and at distributing the ball. He only had 21 steals in 39 games and averaged just 2.1 assists per game.
There was the no chance the Knicks were going to re-sign Bibby after how poorly he played last year.
Grade: F
Signing Baron Davis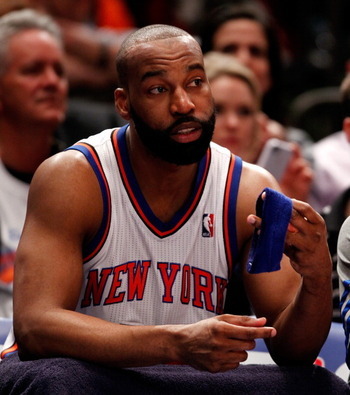 Jeff Zelevansky/Getty Images
2011-12 Statistics: 6.1 ppg, 4.7 apg, 1.2 spg
Baron Davis showed a few glimpses of his former self, but really slowed down tremendously after all of the injuries he's suffered throughout his career. Davis started the season off on the wrong note by missing the first two months with a back injury.
Then when he came back, he wasn't really in game shape and couldn't score the ball like he used to. It wasn't until March 26 that Davis finally scored in double figures for the first time.
The only bright spot of Davis' game was his ability to distribute the ball and his defense. During his first eight games back, Davis had six or more assists five times. He also averaged 1.2 steals per game even though he was only playing about 20 minutes.
Unfortunately, Davis suffered another setback when he tore his ACL and MCL in his right knee during the playoffs. He is confident he'll make a full recovery and be back in the NBA, but it won't be this season.
Grade: C-
Drafting Josh Harrellson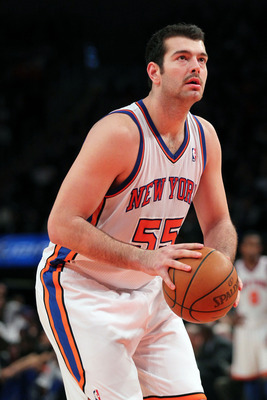 Anthony Gruppuso-US PRESSWIRE
2011-12 Statistics: 4.4 ppg, 3.9 rpg, 0.6 spg
Josh Harrellson, the 45th overall pick in the 2011 draft, was a bit of a surprise for the Knicks last season.
Before the season began, no one expected him to get much playing time. He was able to find minutes though since Amar'e Stoudemire and Jared Jeffries both suffered a few injuries throughout the year.
Harrellson made the most of his opportunities. In the first start of his career, he posted a double-double with 14 points and 12 rebounds.
Harrellson's biggest impact was his hustle. He played solid defense and was physical when going after rebounds. He even extended his range out to the three-point line and knocked down around 34 percent of his shots from behind the arch.
Every team can use a high-energy player like Harrellson coming off their bench, but unfortunately the Knicks needed to ship him off to Houston to complete their sign-and-trade for Marcus Camby this offseason.
Grade: C+
Claiming Steve Novak off Waivers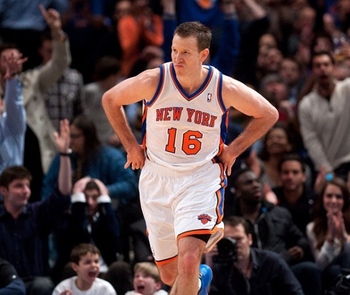 2011-12 Statistics: 8.8 ppg, 1.9 rpg, 47.2 three-point percentage
Everyone knew Steve Novak was a great shooter from his time at Marquette, but he was never really given a chance to prove it in the NBA.
The Knicks decided to take a chance on him and play him his career-high in minutes per game, 18.9. This decision definitely paid off as Novak went on to become a fan favorite and lead the entire NBA in three-point percentage at 47.2 percent.
As good as Novak is at shooting though, that's just how poorly he played on defense. He was a defensive liability whenever he was on the court because almost every player he needed to defend was quicker than he is.
Regardless, the Knicks decided to re-sign Novak this offseason to a four-year deal. Expect to see Novak pull out his new signature celebration, "the Aaron Rodgers' championship belt," a ton over the next four seasons.
Grade: B
Signing Mike Woodson as Assistant Coach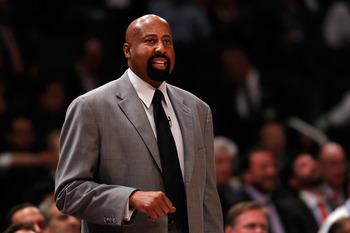 Jeff Zelevansky/Getty Images
2011-12 Record: 18-6
When the Knicks added Mike Woodson to the coaching staff last offseason, many people believed it was foreshadowing the end of Mike D'Antoni's tenure in New York.
Well, those people were right.
Woodson is known as being a defensive minded coach, which was his original role on D'Antoni's bench. When Knicks GM Glen Grunwald decided he was tired of D'Antoni's run-and-gun style of play and wanted to enforce an increased enthusiasm on defense, Woodson was the man he called for to implement it.
The players instantly responded and Woodson led the Knicks to an 18-6 record to end the regular season. With a full training camp as head coach, Woodson should only improve his team and lead the Knicks to an even more successful season next year.
Grade: A-
Drafting Iman Shumpert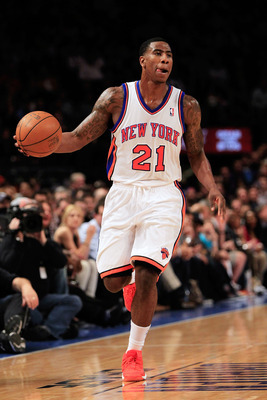 Chris Trotman/Getty Images
2011-12 Statistics: 9.5 ppg, 3.2 rpg, 1.7 spg
The Knicks fans at the Prudential Center in attendance for the 2011 NBA Draft gave off a loud "BOOOOO" when Iman Shumpert was selected by New York with the 17th overall pick in the draft.
Shumpert shut those fans up quickly with his exciting play right out of the gate.
Even as a rookie, Shumpert proved his defense was as good as advertised and was one of the best perimeter defenders in the league. He finished the season in the top-ten in the NBA in steals per game with 1.7.
Shumpert was also better than most people expected on the offensive end. Everyone knew he was extremely athletic and would throw down some highlight reel dunks, but he was also able to create his own shot and knock down some open threes.
He is currently rehabbing a torn ACL he suffered in the playoffs versus Miami, but when he gets healthy he should come back better than ever now that he has a season under his belt.
Grade: A-
Claiming Jeremy Lin off Waivers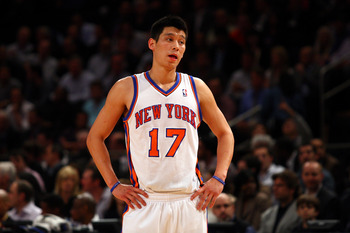 Chris Chambers/Getty Images
2011-12 Statistics: 14.6 ppg, 6.2 apg, 1.6 spg
What's there to say about Jeremy Lin that everyone doesn't know already?
Lin came out of nowhere last season to not only be the Knicks' savior, but the most exciting basketball player in the entire NBA.
Yes, he only played significant minutes in 27 games last season, but he single-handedly dominated his competition during those games. At one point, Lin had a ten-game stretch where he scored at least 20 points nine times, while also dishing out 9.2 assists per game. He couldn't be stopped and fans from all around the country were energized in the "Lin-Sanity" that surrounded the Knicks.
The biggest controversy of the entire offseason was when the Knicks decided the contract the Rockets offered him was too much for their liking and decided not to match it.
This move will turn out to be either one of the best or one of the worst decisions in NBA history, nothing in-between. We'll just have to wait and see which one it is.
Grade: A
Sign-and-Trade for Tyson Chandler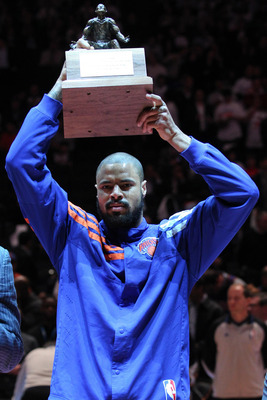 Anthony Gruppuso-US PRESSWIRE
2011-12 Statistics: 11.3 ppg, 9.9 rpg, 1.4 bpg
Tyson Chandler gave the Knicks everything they could have possibly hoped for and then some.
Chandler's biggest attribute is that he is a huge defensive presence in the middle, something the Knicks have lacked since Patrick Ewing was their center over a decade ago. Chandler didn't just play great defense for the Knicks. He played so amazingly on the defensive end that he was recognized as the Defensive Player of the Year in the NBA.
Not only did he play defense though, but he also was extremely efficient on the offensive end. Chandler never took a bad shot, which helped him put up the highest field-goal percentage in the NBA at 67.9 percent.
Chandler was also a beast on the offensive and defensive glass. He finished the season in the top-ten in total rebounds per game and offensive rebounds per game.
The Knicks could not have gotten better production out of Chandler this past season. It is easy to see that Chandler was a major factor in the Dallas Mavericks' NBA championship the season prior and why they had such a major drop off after he was gone.
Grade: A+
Keep Reading

New York Knicks: Like this team?