Projecting the New England Patriots' Wide Receiver Corps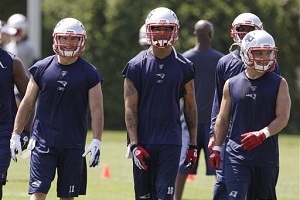 The real test of an NFL player's mental and physical condition is during the dog days of training camp. It's the time where the players who make the roster start to distance themselves from players who will not.
In positions where there is an abundance of talent and depth, the competition level is taken to another level as positions on the roster fill up.
One such position on the New England Patriots is their wide receiver corps. Arguably the deepest position on the Patriots roster, the 10 wide receivers in camp will be competing for what most likely will be six roster spots.
With four preseason games to come, competition for these six spots will be fierce. Here's how I see the six spots filling out.
Begin Slideshow

»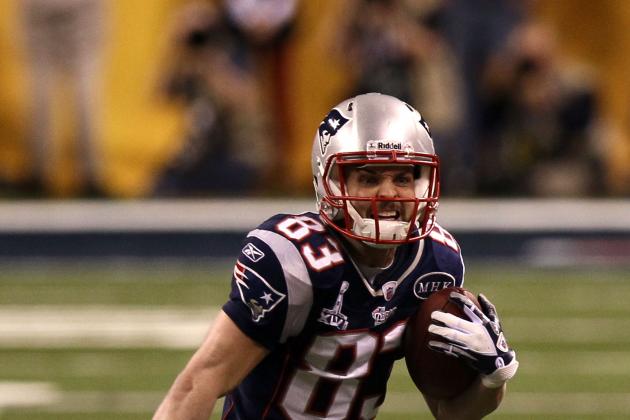 Win McNamee/Getty Images

A no-brainer here, as Wes Welker has been among the best receivers in the NFL ever since his arrival in New England.
The slot machine has registered 554 catches over his five seasons as a Patriot, with averages of almost 111 catches and 1,221 yards per season.
It's hard to think of a 5'9'', 180-pound receiver as your go-to guy, but that is exactly what Welker has been for Tom Brady and the Patriots the last five years.
Even with the new weapons at Brady's disposal this year, expect Welker to lead the team in receptions and receiving yards again.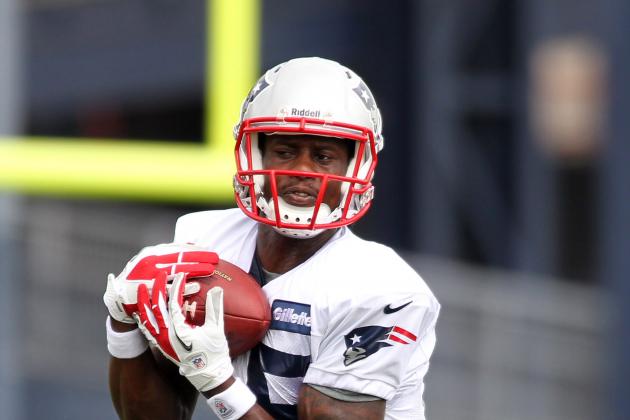 Stew Milne-US PRESSWIRE

The Patriots' big offseason acquisition this year, Brandon Lloyd figures to be the downfield playmaker that the Patriots have sorely missed since the departure of Randy Moss.
Already well versed in Josh McDaniels' spread offense, Lloyd has looked great throughout training camp, already displaying a chemistry level with Brady that Chad Johnson never reached.
Lloyd made his intentions clear with the Patriots when he signed an extremely team-friendly contract that he is in New England to win championships.
While I don't expect Lloyd to have production on the level of his 2010-11 campaign, his ability to take the top of the defense and open things up for Welker, Hernandez and Gronkowski should take the Patriots offense to another level.
A double-digit touchdown campaign is not out of the question for Brandon Lloyd.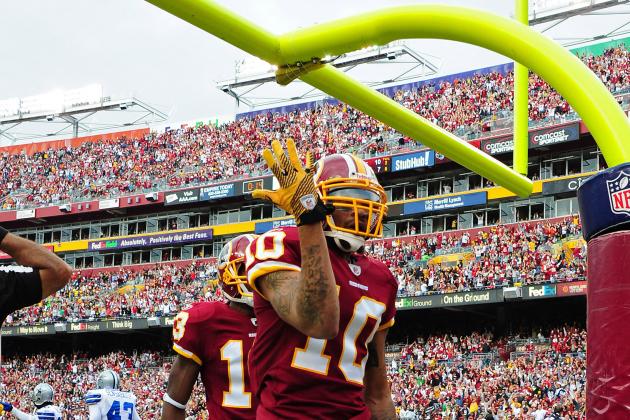 Scott Cunningham/Getty Images

A Tom Brady favorite, Jabar Gaffney, returns to New England following the two best years of his career.
After leaving New England in 2008 to follow Josh McDaniels to Denver, Gaffney succeeded as the No. 1 or 2 receiver for both Denver and Washington. With the Patriots, however, Gaffney should slot in behind Lloyd and Welker as the third receiver on the depth chart.
At 6'2'', Gaffney is one of the biggest receivers on the roster, and his size and speed will give him an advantage over small defensive backs.
Gaffney's role with the team should mirror the role he had during his last stint in New England. Having a receiver of Gaffney's caliber is a great luxury for the Patriots, and he should have a terrific year reconnecting with Brady.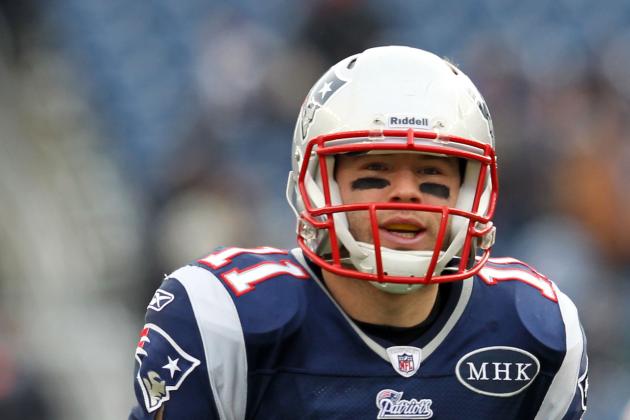 Jim Rogash/Getty Images

The football equivalent of a Swiss army knife, Julian Edelman's ability to do a little bit of everything will merit him a roster spot.
While he rarely saw the field as a receiver last year, Edelman contributed in the return game and played several snaps on defense as a nickelback/slot corner. Like Troy Brown before him, Edelman just seems to do whatever Coach Belichick asks him to do.
After a 37-reception rookie season, Edelman has only recorded 11 receptions over the last two seasons as his role on offense has become marginalised. However, he does provide excellent insurance in case of an injury to Wes Welker.
While I don't see him contributing a whole lot on offense, Edelman's all-around game will see him on the game-day roster.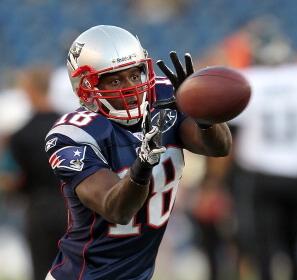 Jim Rogash/Getty Images

Like Edelman, Slater's contributions on the team come from other area's of the game. Last year's special teams captain, Slater only has one career reception to his name and most likely will not see the field on offense unless there is a serious injury.
Slater usually saw snaps when the Patriots were in a running formation or when Brady wanted to take a shot downfield. In most cases throwing to Slater was a pointless exercise, as he rarely caught it, and in the case of last season's AFC Championship Game caused an interception.
Slater may see one or two snaps on offense this season, so don't expect any real production from him. Slater's value lies in his special teams play and not his offense.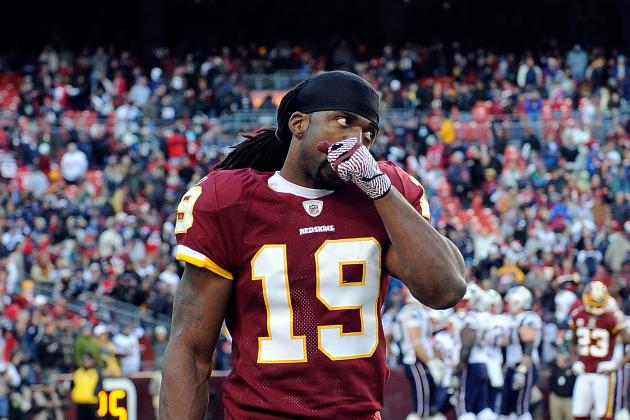 Patrick McDermott/Getty Images

The last spot on the receiver depth chart will end up going to either Donte' Stallworth or Deion Branch, and I see Stallworth taking it.
While Branch has been unable to get on the field due to injury, Stallworth has put forward a impressive camp showing. Arguably the fastest receiver on the team, Stallworth has been one of the better performers on offense for the Patriots.
After a one season stint with the Patriots record breaking offense of 2007, Stallworth has gone around the league from Cleveland to Baltimore to Washington and back to New England. While he hasn't had a good year since leaving the Patriots, hopefully a reunion with Tom Brady can bring him back to his 2007 form.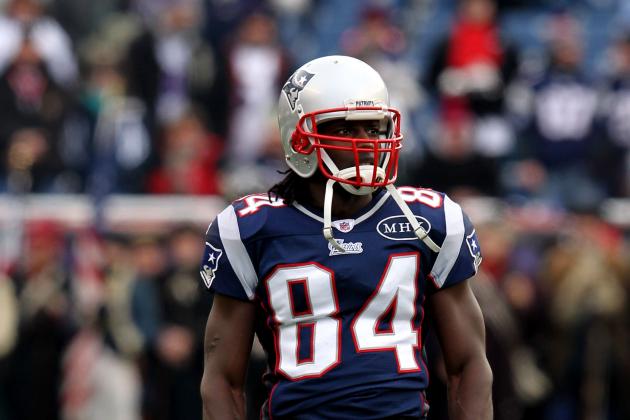 Jim Rogash/Getty Images

Deion Branch - the veteran and Tom Brady favorite seems like the odd man out this year. With a persistent injury holding him out of practice, Branch will most likely be a roster cut. Branch will always be a fan favorite and assuming he doesn't get picked up by another team, may have a chance at making the roster should the injury bug hit the team.
Jesse Holley - Holley, who made name for himself last year with a game winning catch against the 49ers, doesn't stand much chance of making the Patriots roster. While he has developed some good chemistry with Brian Hoyer in camp, which included a terrific catch in a scrimmage against the Saints, he hasn't done enough to pass the other guys on the depth chart.
Britt Davis - the biggest receiver on the roster, Britt Davis will most likely end up as a practice squad member this year. While he has all the physical tools, he just hasn't been able to put it all together on the field.
Jeremy Ebert - Ebert, who has missed most of camp with a hamstring injury, only started practice again a few days ago. A sixth-round pick in this year's draft, Ebert should make it onto the practice squad following roster cuts. Ebert has a little "Wes Welker" in his game, and his development may be an interesting story to following, especially considering Welker's contract status.