USA 2-1 Japan: Women's Olympic Soccer Gold-Medal Match as It Happened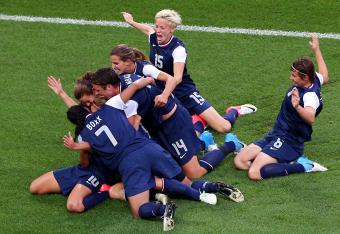 Women's soccer Olympic final / rematch of 2011 Women's World Cup final. Wembley Stadium, London.
USA 2-1 JAPAN (final)
Goals: Lloyd 8', Lloyd 54'; Ogimi 63'
Lineups
USA: Solo; LePeilbet, Rampone, Buehler (Sauerbrunn 80'), O'Hara; Boxx, Lloyd, Rapinoe (Cheney 57'), Heath; Wambach, Morgan
Japan: Fukumoto; Kinga, Iwashimizi (Iwabuchi 77'), Kumagai, Sameshima; Sakaguchi (Tanaka 59'), Miyama, Kawasumi, Sawa; Ohno (Maruyama 86'), Ogimi
The highlight of the game is right here:
WATCH: Here is @carlilloyd's game winning goal - nbco.ly/MDu7Kt #USAvJPN #USWNT

— Jeff Kassouf (@JeffKassouf) August 9, 2012
So now the U.S. national team heads into the "off years" between the Olympics and the next World Cup in 2015. They'll play some games at home and abroad.
Some of them will try to build a new women's soccer league in the United States. Some may go abroad.
It's a changing landscape for women's soccer. Teams in Europe's stable leagues are starting to splash some cash. Japan has embraced its team, plane tickets aside.
The USA faces a challenge keeping up. But as they've shown tonight and so many times, they know how to rise to challenges.
Thanks for following along with us.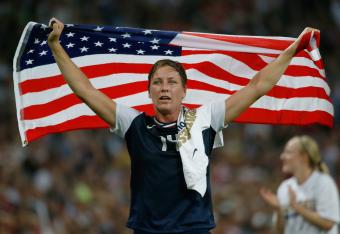 Brandi Chastain is paying tribute to Abby Wambach, and rightly so. This means so much to her. She was there in 2004 for the gold medal in Athens.
Then she toiled in obscurity in the years between the WUSA and WPS. Then the 2007 disaster, with the USA crashing out against Brazil.
The USA won without her in 2008. Typically, she went into a hard challenge. The result -- a broken leg.
Last year was heartbreaking for her. The USA came so close to regaining the World Cup crown and fell just short. Then WPS collapsed.
She has been fantastic in this tournament. No goal today, but she never seemed frustrated, and she did all the little things to help her team.
What she must be feeling right now ...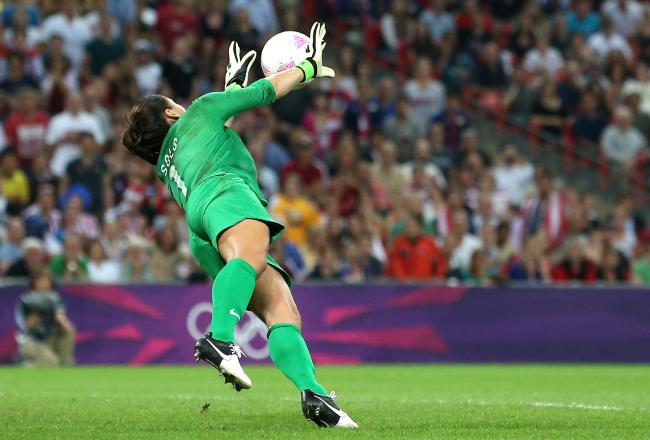 Lucky? Good? Both. Cynics will look at the one big break the USA got in this game -- the handball on Tobin Heath that wasn't called. But you can't say this win wasn't deserved.
Carli Lloyd, the goal-scoring hero of 2008, had two here. The first was set up by brilliant work from Alex Morgan. The second was a laser, against the run of play as Japan had the better possession in the second half.
And Hope Solo -- who had very little to do through much of the tournament and had little chance on the three Canadian goals -- came up huge in this game. In the first half, she punched one off her crossbar. Then one of the best saves you'll ever see, bailing out a mistake by the never-tiring captain Christie Rampone. And Rampone had a couple of goal-line clearances.
Long free kick bounds through ... and IT'S OVER!!!!! THE USA WINS GOLD AGAIN!
Last minute-Carli Lloyd fouls Sawa deep in her own half. Japan breaks forward but returns the favor with another foul.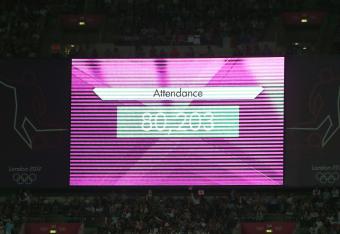 90'+1-Tobin Heath knocked over at midfield. Some time-killing before this free kick. The kick finds Alex Morgan who shoots. Deflected wide. Kelley O'Hara to the corner.
90'-Japan is patient ... maybe too patient. Then Abby Wambach picks up yellow for a rash challenge at midfield. Aya Miyama takes the free kick ... and no one gets it.
Only two minutes of stoppage time??!!
89'-USA not yet in clock-killing mode, sending a corner kick into the box. Abby Wambach puts it just high. This would mean so much to Wambach, who missed the 2008 Games.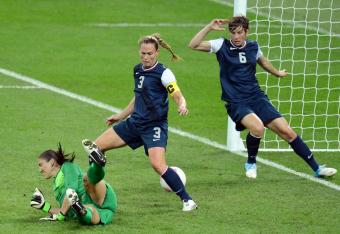 87'-Japan with the last roll of the dice, bringing in Karina Maruyama for the excellent Shinobu Ohno.
85'-Abby Wambach heads just wide off a free kick.
More on that last play:
Solo with a huge save! Christie Rampone just Claudio Reyna'd herself and her keeper bailed her out big tim..

— Mike Foss (@themikefoss) August 9, 2012
83'-HOPE SOLO with the save of her life. Tanaka had the far post open after stealing from Rampone. Solo at full stretch, punched it clear.
82'-Carli Lloyd bids for the hat trick. It is jussst over the bar.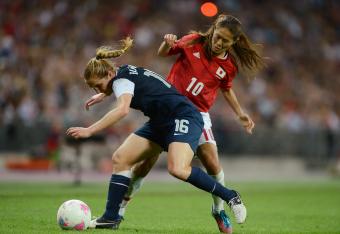 80'-Rachel Buehler looks shaken up. Becky Sauerbrunn is in for her.
79'-USA gains possession and crosses for ... Christie Rampone? Yes, we get it, you're one of the fittest people in the world. But should she be coming up that far?
77'-The dangerous Mana Iwabuchi is on for Aya Sameshima.
#USWNT having major issues with clearances. High and wide is where the ball needs to go. Currently going 5 yards on the ground. #USAvJPN

— Jeff Kassouf (@JeffKassouf) August 9, 2012
75'-Again, Alex Morgan slices through several defenders. And again, she shoots and doesn't spot a couple of runners.
73'-Now THAT handball was called. This one on Carli Lloyd. Not in the box, though. Long free kick for Japan.
And it's ANOTHER scramble/clearance on the line! Solo can't collect it. Amy LePeilbet blocks a shot with her chest. Then there's a Japanese foul in the scramble.
Living very dangerously here ...
71'-More tributes to Homare Sawa.
Not surprising, SAWA key to that goal. Follow up just enough to get to OGIMI. #USAvJPN

— Julie Foudy (@JulieFoudy) August 9, 2012
And then Abby Wambach heads just wide -- of her own post. Good defensive play.
69'-USA ball lands at the feet of Rachel Buehler, marauding forward from defense. Fukumoto smothers it.
66'-It was the Japanese talisman, Homare Sawa, who created that goal. Here's how Japan: Shinobu Ohno pulled the ball back to Sawa, who let fly. Christie Rampone was again there to clear it off the line, but she didn't get it very far. Sawa poked it away from a lunging Kelley O'Hara, then slid it to the post for the waiting Yuki Ogimi.
63'-GOOOOOAALLLL Japan. Ogimi punches it in.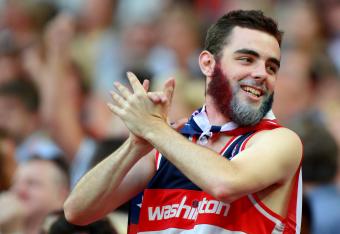 60'-Soccer's a funny game. If you've watched this game, you wouldn't think the USA should be up 2-0. Earlier today, France dominated Canada in the bronze-medal game, but Canada got the goal when it counted.
Of course, in the semifinal, the USA outshot Canada 8 zillion-3, and some people still think the USA got away with robbery.
Japan has made a substitution: Tanaka for Sakaguchi.
56'-Alex Morgan just drilled one ... high.
And now a substitution. Lauren Cheney on for Shan... no? Megan Rapinoe?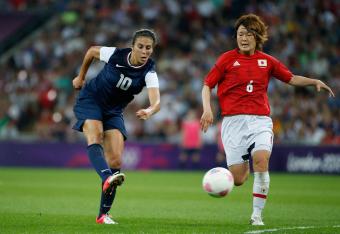 54'-GOOOOOALLL CARLI LLOYD with a tremendous blast from 25 yards to the far post!
52'-Japanese cross to Aya Miyama near the top of the box, and she should've/could've done better. Shoots wide.
This article is
What is the duplicate article?
Why is this article offensive?
Where is this article plagiarized from?
Why is this article poorly edited?