Olympic Track and Field Results 2012: Thursday Updates, Medal Winners, Analysis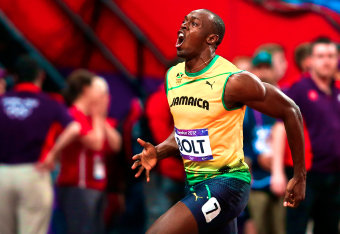 Thursday has come and gone at London's Olympic Stadium, both not without a bit of history.
Usain Bolt became the first man to win the 200-meter sprint at consecutive Olympiads while David Rudisha broke his own world record at 800 meters, capping a period of sustained dominance unlike any ever witnessed in track and field.
Elsewhere, Americans Ashton Eaton and Trey Hardee finished 1-2 in the decathlon, spearheading another successful day for Team USA.
For a full-er recap, check the blog archives.
Otherwise, we'll see you tomorrow.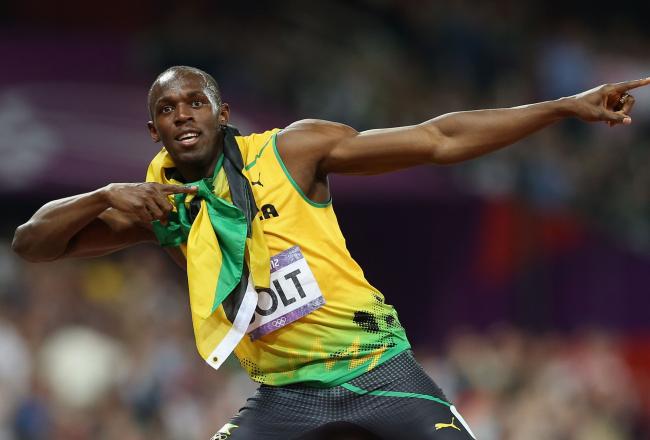 Breaking it Down:
A whole host of words come to mind regarding this evening's session, but they're all monosyllabic and recklessly non-nondescript.
"Wow!"
"Woah!"
"Cool!"
"Dang!"
It was one of those nights in London, the kind that overwhelm the vocabulary and leave the jaw sagging.
We saw history from wire to wire, starting with a fantastic final in the men's 800-meter run.
Kenya's David Rudisha broke his own world record, confirming his status as perhaps the best ever to run this event. But the rest of the field was almost as impressive. Eighth-place finisher Andrew Osagie clocked a time that would have won him gold at each of the last three Olympiads (via Graham Dunbar of the AP).
Then came the men's 200-meter finals, a ballyhooed showdown between Usain Bolt and teammate Yohan Blake.
Bolt prevailed with a fantastic final 20 meters, making him the first man to repeat in the 200 and the only athlete to win both the 100 and 200 at consecutive Olympiads. Blake finished second while fellow Jamaican Warren Weir notched bronze.
Through it all, we had our eye on young Ashton Eaton, America's decathlete extraordinaire. Though Eaton didn't quite live up to the lofty standards he set at U.S. Trials where he broke the 11-year-old world record, he was plenty good enough for gold.
Eaton was in command early on the first day and never relented, finishing well ahead of teammate and silver medalist Trey Hardee. Cuba's Leonel Suarez took third.
Team USA managed another 1-2 punch in the men's triple jump, as college teammates Christian Taylor and Will Claye finished first and second respectively.
A memorable day all around, with prime performances from some of the greatest athletes ever seen. Can't ask for much more.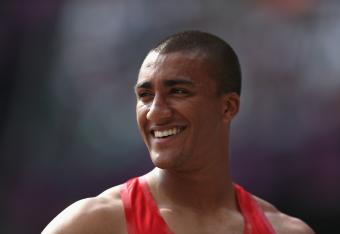 This is my favorite part of the decathlon...
All of the competitors gather at the finish line and congratulate each other. You can see there's a genuine warmth there -- a sort of acknowledgment that everyone has indeed survived.
They say decathletes form a kind of fraternity, bonded by their mutual affection for physical rigor. I'm inclined to believe them.
ASHTON EATON CLOCKS A 4:35...
It's gold for Eaton, but not an Olympic record.
Hardee hangs on for the silver. Leonel Surez will take the bronze.
It's the same athletes who medaled at the 2011 World Championships, but with Eaton and Hardee flip-flopped.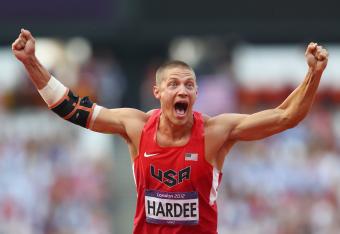 IN THE HUNT FOR THE MINOR MEDALS:
Team USA's Trey Hardee needs to stay within 33 seconds on Cuban Leonel Suarez to secure silver.
And they're off...
Ashton Eaton's number one objective is to stay on his feet. Anything after that is gravy.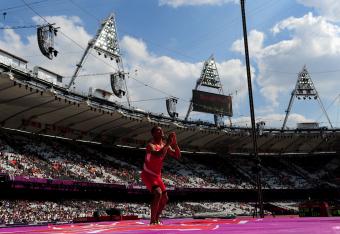 Ashton Eaton ready to run for the gold.
He needs just a 4:30.00 to set the Olympic record.
For comparison's sake, he was right around 4:15.00 at Olympic Trials.
1,500-METER RUN UNDERWAY IN DECATHLON
Ashton Eaton and the rest of the leaders won't run until Heat 2.
But jeebus criminy, can you imagine running a metric mile after nine stages of physical hell. Hats off to anyone who's ever finished this thing.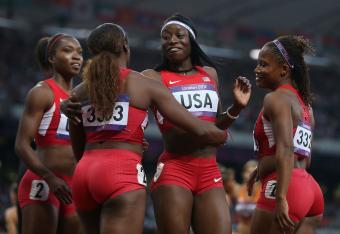 FINALS SET FOR THE WOMEN'S 4x100-METER RELAY:
Got a bit distracted with the whole Bolt-Blake thing.
In order of qualifying time...
United States
Trinidad and Tobago
Ukraine
Jamaica
Netherlands
Brazil
Germany
Nigeria
FINAL RESULTS IN THE MEN'S 200:
Usain Bolt, Jamaica -- 19.32
Yohan Blake, Jamaica -- 19.44
Warren Weir, Jamaica -- 19.84
Wallace Spearmon, United States -- 19.90
Churandy Martina, Netherlands -- 20.00
Christophe Lemaitre, France -- 20.19
Alex Quinonez, Ecuador -- 20.57
Anaso Jobodwana, South Africa -- 20.69
Bolt, Blake and Weir all train together.
Good job, coach!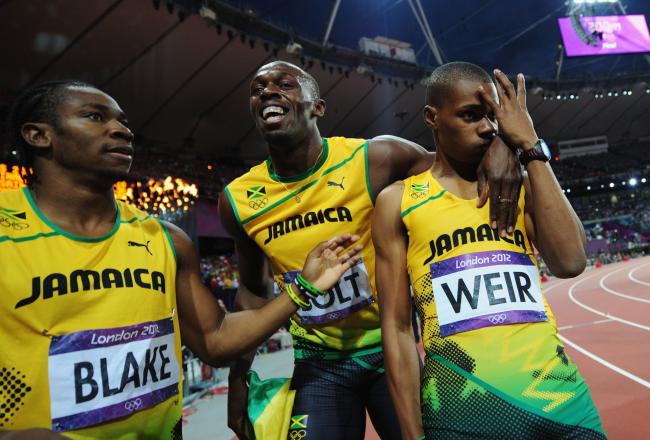 Question for the gallery:
Is there another country of Jamaica's size that matters as much on the Olympic scene?
A bit of perspective on Jamaica's track dominance.
Jamaica, land of 2.8 million inhabitants, has 9 medals in track & field so far: only 2 of them from Bolt #London2012

— Christopher Clarey (@christophclarey) August 9, 2012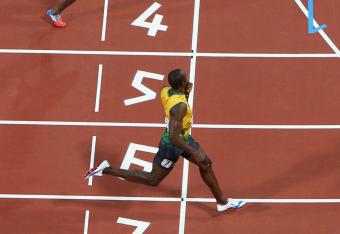 The history made tonight:
Bolt is the first man to repeat as Olympic champion at 200 meters.
He's the first person ever to double in the 100 and 200 at consecutive Olympiads.
And on a more subjective slope, he's the greatest sprinter I've ever seen.
Like I said, the man loves to entertain.
Bolt has grabbed a photographer's camera and is taking pics of Yohan Blake!

— IAAF.org (@iaaforg) August 9, 2012
Bolt is most in his element on a victory lap.
He gestures to the crowd. He strikes his gallery of poses. He soaks it up.
I don't know if I've ever seen an athlete who seems so much more at ease in front of 100,000 people than he does in a room of 20.
A remedy for your bruised pride...
Let's just pretend Bolt's American

— Ethan Strauss (@SherwoodStrauss) August 9, 2012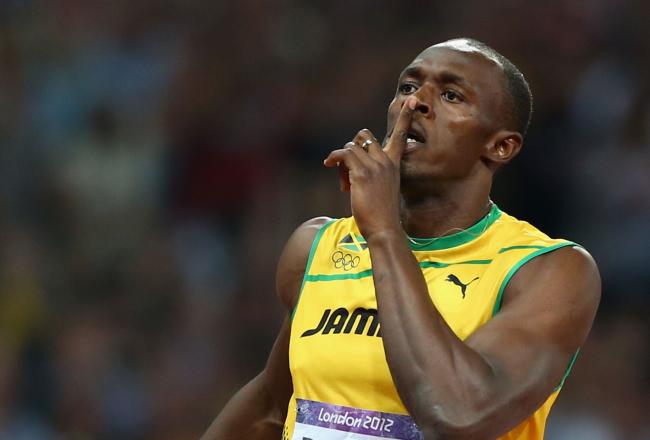 Bolt's message to his critics as he crosses the line...
What an Olympic Games for Jamaica.
Of course the Green-n'-Gold are always major players in the sprints, but look at this tally:
Women's 100: Gold and Bronze
Men's 100: Gold and Silver
Women's 200: Silver
Men's 200: Gold, Silver and Bronze
And the relays are yet to come.
Bolt had his critics coming into these Games...
And at times, I was one of them. But there is no doubting him now. The man loves a big stage. That mixed with crazy talent makes him so, so, so potent.
Now the hasty question:
Bolt is 25. Could he do this again in Rio?
The showman strikes again...
The photo at the finish line shows Bolt slowing up and putting a finger to his lips. In the Olympic 200m gold medal sprint. Mad genius.

— Awful Announcing (@awfulannouncing) August 9, 2012
Wallace Spearmon (USA) finishes fourth...
With a 19.90. What heartbreak after having his bronze medal ripped from him four years ago.
If he wasn't already...
Usain Bolt is the greatest short-distance sprinter who ever lived.
The legend has been cemented.
Bolt -- 19.32
Blake -- 19.44
Weir -- 19.84
It's a Jamaican sweep.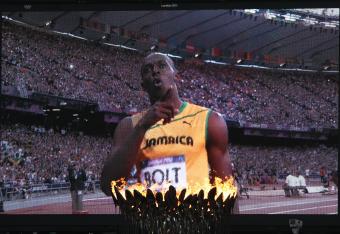 BOLT WINS

BLAKE SECOND.
WARREN WEIR (JAMAICA) THIRD.
It was a battle to the end, both came FLYING off the turn. But Bolt was too much in the last 20 meters.
Bolt clocks a 19.32.
They are in the blocks...
See you at the finish!
Usain Bolt slotted in Lane 7...
He'll be on the outside. Crowd roars at his mention.
Yohan Blake is in 4. The crowd seemed mildly bemused by his presence.
This article is
What is the duplicate article?
Why is this article offensive?
Where is this article plagiarized from?
Why is this article poorly edited?