Where Does Cardinals' Mitchell Boggs Rank Among Active MLB Setup Men?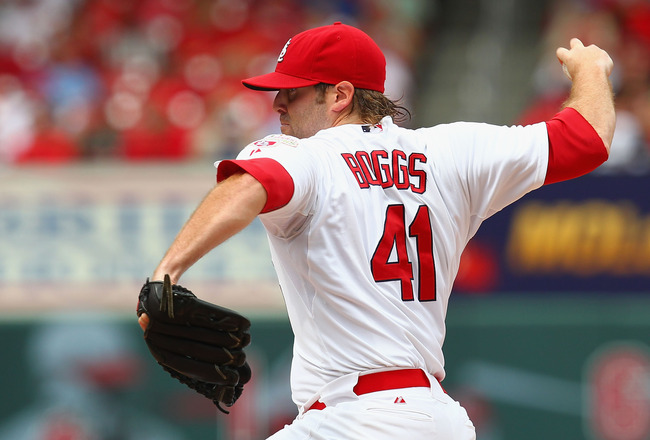 Dilip Vishwanat/Getty Images
The St. Louis Cardinals have had their fair share of bullpen woes in 2012, but it hasn't been entirely bad.
With all of the struggles they have seen around the seventh inning, little attention has been given to the solid quality they have seen in innings eight and nine.
The Cardinals eighth-inning solution has really come out of his shell in 2012.
Mitchell Boggs, who posted a respectable 2011, has shown in 2012 that he has what it takes to stick at the major league level.
Boggs has ensured in his 50 2012-appearances that if a team wants to strike against the Cardinals, they should do it early and often.
He, along with closer Jason Motte, have done a stellar job of shutting opponents down in the late innings.
To see where Boggs stacks up against the league's best active setup men, continue after the break.
10. Jonathan Broxton, Cincinnati Reds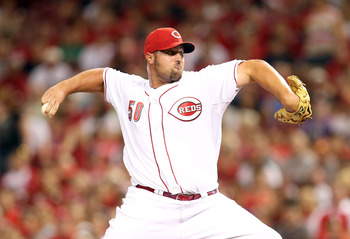 Andy Lyons/Getty Images
2.27 ERA/1-2/25K/9ER/38.1IP (2.2IP as a setup man)
While he is new to the setup role, his skill as a closer makes him a shoe-in for this list.
As a closer he has been great over the years. With the decreased pressure of being a setup man, he should be able to flourish well in Cincinnati.
Having one of the strongest bullpens in all of MLB in 2012, Broxton should be able to succeed in his new role of getting the game to closer Aroldis Chapman.
In three appearances as a setup man in Cincinnati, Broxton has given up only one hit and no runs in 2.1 innings. It's a small sample size, but still shows what he is capable of.
9. Jonny Venters, Atlanta Braves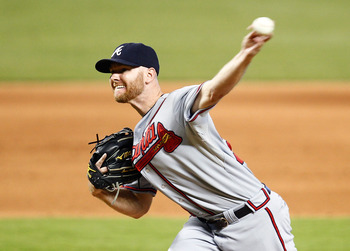 Sarah Glenn/Getty Images
3.89 ERA/4-3/50K/16ER/37IP
While he has had some elbow issues in 2012, Venters has been big for the Atlanta Braves.
In his return on Sunday, Aug. 5, when he came in the sixth inning with two runners in scoring position, he put together a pair of huge outs for the Braves.
It was out of his former setup role, but still shows his continued valued to this contending team.
The most positive news from the appearance, however, was that he looked very solid.
8. Ronald Belisario, Los Angeles Dodgers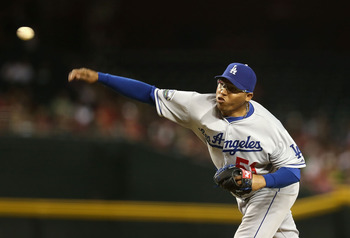 Christian Petersen/Getty Images
3.05 ERA/3-1/36K/14 ER/41.1IP
Prior to July, Ronald Belisario had been a solid piece for the Dodgers in the late innings.
Recently, that's changed quite a bit. In five of his last 10 appearances, Belisario has given up at least one run.
He's shown signs of improving over the last week, however.
Over his last two appearances, he has given up no hits, no runs and one walk with a pair of strikeouts over two innings.
7. Matt Lindstrom, Baltimore Orioles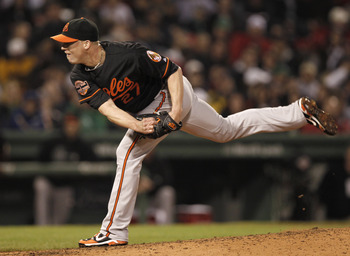 Winslow Townson/Getty Images
2.64 ERA/1-0/24K/9ER/30.2IP
With a bad outing on July 25 taken out of the mix, Matt Lindstrom would have surrendered only one run. The game on the 25th in Tampa Bay was as rough as he's looked in quite some time.
In total, over his last 10 games, Lindstrom has given up four runs in 13.2 innings with nine strikeouts and five walks.
If he can stay this consistent, the Orioles could hang onto hope for a playoff berth.
6. Scott Downs, Los Angeles Angels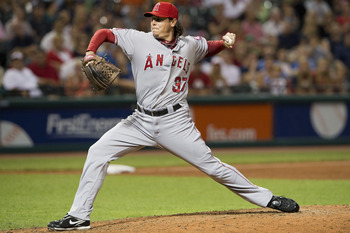 Jason Miller/Getty Images
2.57 ERA/1-1/24K/10ER/35 IP
While he is currently on the disabled list with a shoulder strain, Scott Downs has been invaluable to the Los Angeles Angels in 2012.
The halos setup man, gave up nine of his 10 runs between July 13-25. Prior to that he had given up only one run on the year. The Angels aren't expecting him out too long according to the Los Angeles Times reporter Mike DiGiovanna.
"We're comfortable with the fact this won't push him back too far, but he might need a couple of weeks for this to settle down," Manager Mike Scioscia said. "Right now, it's a minor issue, and we want to keep it that way."
5. Sean Marshall, Cincinnati Reds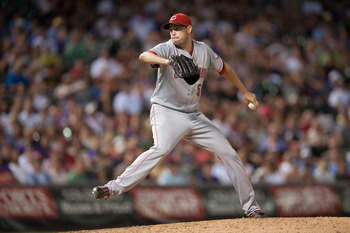 Dustin Bradford/Getty Images
2.34 ERA/4-3/49K/11ER/42.1IP
Sean Marshall, since being replaced as closer by Aroldis Chapman, has thrived in his setup role.
In his last 10 appearances over a total of eight innings, Marshall has surrendered only six hits and no runs.
With both Marshall and Broxton, the Reds can now share setup duties and also have more early bullpen punch if they choose to use either pitcher in that capacity.
One thing is for sure, with Marshall, Broxton and Chapman in the late innings, teams need to get their scoring out of the way early if they plan to win.
4. Sergio Romo, San Francisco Giants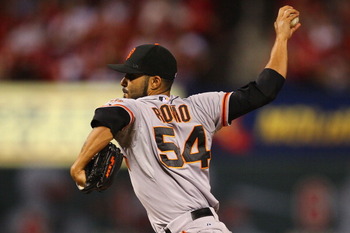 Dilip Vishwanat/Getty Images
2.06 ERA/3-2/42K/9ER/35IP
It was announced Tuesday that Sergio Romo will be sharing closer duties with Jeremy Affeldt now, so he won't remain a "pure" setup man, but that doesn't make his value any less.
Romo has put together huge numbers this year and is a key element in the Giants' rise to the top of the National League West.
With the loss of Brian Wilson early in 2012, Romo is one of several relievers who has stepped up to take the reins in his absence.
Any team would be lucky to have Romo hold things together in the late innings and the Giants know that well.
3. Sean Burnett, Washington Nationals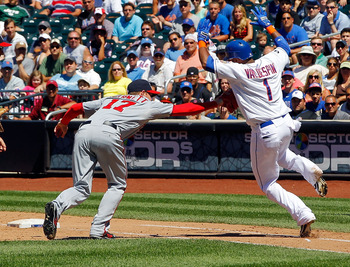 Jim McIsaac/Getty Images
1.90 ERA/1-1/42K/9ER/42.2IP
Sean Burnett continues to keep the Washington Nationals in the mix in the National League East.
Burnett in 2012 has been arguably one of the best setup men in all of baseball.
Over his previous 10 appearances, Burnett has given up only two runs on six hits in 9 innings.
He's also done a good job this year of not giving up free passes. To date he has given up only three home runs, 34 hits and a total of nine walks.
It doesn't get much better than that.
2. Mitchell Boggs, St Louis Cardinals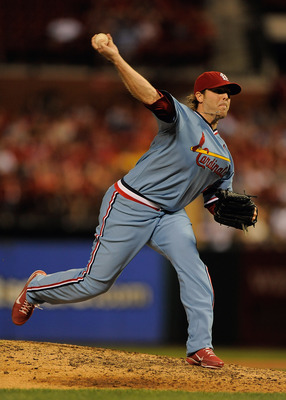 Jeff Curry/Getty Images
1.51 ERA/2-1/36K/8ER/47.2IP
We could talk about how Mitchell Boggs has been solid all season. We could even talk about how in his last 10 appearances he's given up only seven hits and three walks.
That's impressive on its own, but there is more to Mitchell Boggs in 2012.
As MLB.com Cardinals beat reporter Jennifer Langosch pointed out on Twitter this week, Boggs is in the middle of a career best stretch.
That is 23 straight scoreless appearances (20 1/3 innings) for #STLCards set-up man Mitchell Boggs.

— Jenifer Langosch (@LangoschMLB) August 6, 2012
Prior to 2012, Boggs' longest scoreless stretch was eight innings. That's a big step up.
Without him holding games together in late innings, it would be hard to imagine where the Cardinals would be sitting in the standings at this point.
1. Vinnie Pestano, Cleveland Indians
Ed Zurga/Getty Images
1.29 ERA/3-0/57K/7ER/49IP
Pestano takes the reins as best setup man for 2012, hands down. The only thing that would make him worth more is if his team was higher in the standings.
Over his previous 10 appearances, Pestano has given up no runs, only four hits and nine strikeouts over a total of 11.2 innings.
Those numbers are more than just those 10 appearances and have been that consistent all season long.
To have given up only seven runs in 50 innings with 57 strikeouts is more than impressive—it's special.
Opposing batters are hitting only .163 against Pestano. His biggest weakness would be against left-handed batters who are hitting only .196 against him—if you can call that a "weakness."
One thing is certain, any team—and I do mean any—would be lucky to have this young righty at the back of their bullpen. What has been seen from him so far is only the beginning, because at 27, he still seems to be growing.
Keep Reading

St Louis Cardinals: Like this team?