San Francisco Giants: September Call-Ups Who Could Make an Impact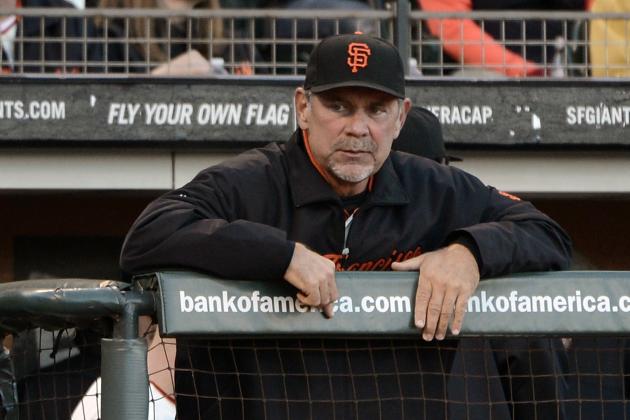 Thearon W. Henderson/Getty Images
Giants' manager Bruce Bochy is a master at mixing and matching his lineup
The San Francisco Giants lead the Los Angeles Dodgers in the NL West by one-and-a-half games. The Arizona Diamondbacks are also lurking, trailing the Giants by only five games.
With less than two months remaining in the season, it looks like there will be a three-team race for the division crown. The Giants, Dodgers and Diamondbacks all have their strengths and weaknesses. Whoever gets hot over these final few weeks will win the division.
Currently, the NL West teams are not in position to earn one of the two wild-card berths in the playoffs. The second-place team in the NL West, Los Angeles, is currently four games behind the second wild-card team.
Every game down the stretch will be critical. Each team will be allowed to expand their roster on September 1. Some of these September call-ups will play a role for their respective ball clubs. Let's take a look at ten players who the Giants are likely to promote and what their roles might be.
Begin Slideshow

»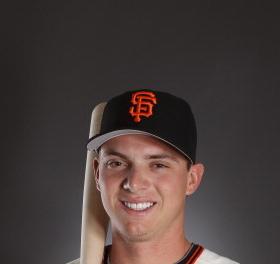 Ezra Shaw/Getty Images
Gary Brown was the Giants' top draft pick in 2010
Gary Brown got off to a slow start playing with the Giants' Double-A team, the Richmond Flying Squirrels. He has come on strong as the season has progressed and is currently hitting .285, with seven home runs, 37 RBI, 65 runs scored and 30 steals.
Brown is the top prospect in the Giants' organization and is expected to be ready for the Major Leagues in the latter half of 2013 or 2014. He is a solid defensive player with very good speed and once he proves he's ready, the Giants envision him as their center fielder for years to come.
Other than pinch running or a late inning replacement in a blowout game, Brown is unlikely to see any meaningful action.
The main reason to call up Brown would be that the Giants may believe it would benefit Brown's overall development to be around a big league environment. When the time comes for the Giants to have him on the roster down the road, Brown could benefit from spending a month with the big club now.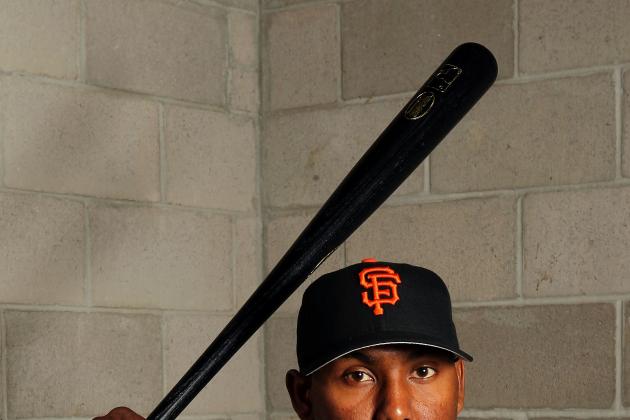 Jamie Squire/Getty Images
Francisco Peguero leads Fresno with 62 RBI
Francisco Peguero is a 24-year-old prospect, playing his seventh season of professional baseball. Injuries sidetracked him earlier in his career, but he seems to be making quicker progress at this point.
Peguero is a free swinger and a very undisciplined hitter. He reminds one a lot of Pablo Sandoval, as he is a "bad-ball hitter." In Fresno this year, Peguero has 391 at-bats and is hitting .266 with five home runs and 62 RBI. His RBI total leads the Grizzlies, but he must improve his OBP, which is a very low .290.
Defensively, Peguero has a very strong arm and is a plus defender. Similar to Gary Brown, I don't see Peguero making much of an impact, but the Giants may want to give him a taste of the Major Leagues in preparation for the future.
Ezra Shaw/Getty Images
Eric Hacker pitched one game for the Giants in April
Eric Hacker is a 29-year-old journeyman who has had very brief stints in the Majors with Pittsburgh, Minnesota and the Giants. Hacker started one game for the Giants in April, when they needed an extra starter. He threw six innings and allowed three earned runs.
Outside of his brief stint with the Giants, Hacker has been Fresno's best starter, with a record of 12-5. He has pitched 137.2 innings, allowing 137 hits and 41 walks, while striking out 97. The PCL is a notorious hitter's league, and Hacker's 3.99 ERA and 1.29 WHIP are very respectable.
If promoted, Hacker would act as a long man out of the bullpen and also could be used in mop-up situations when manager Bruce Bochy wants to save his core relievers.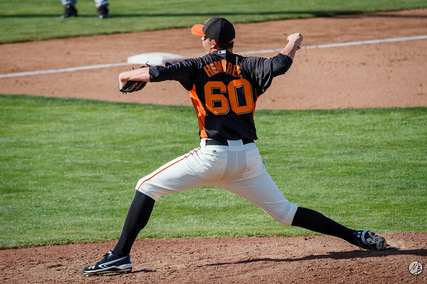 Heath Hembree is just returning from an elbow strain
Heath Hembree was expected to make an impact on the Giants' pitching staff this season. When closer Brian Wilson was lost for the year, many expected Hembree to have that job by midseason. Unfortunately for Hembree, it hasn't worked out that way.
In early July, Hembree was shut down due to an elbow strain. The Giants wanted to be very careful with their closer of the future. He has begun throwing again and if he looks healthy, could give the Giants a power arm out of the bullpen over the last few weeks of the season.
If there's any concern about Hembree's health, however, the Giants will shut him down. Playing at Triple-A Fresno, Hembree has pitched 31 innings, allowed 25 hits, walked 15 and struck out 26.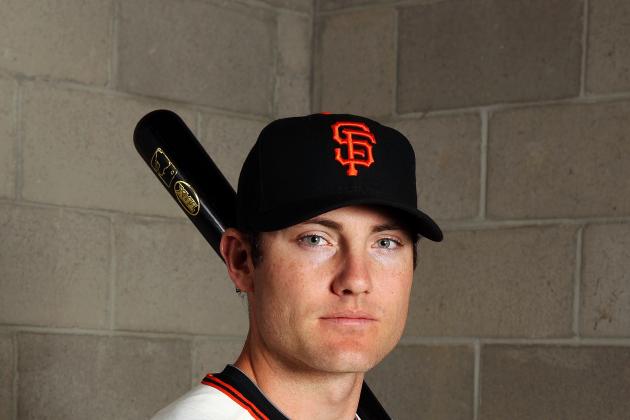 Jamie Squire/Getty Images
Roger Kieschnick can hit
Roger Kieschnick has hit at every level in the minors. Kieschnick is hitting .319, with 14 home runs and 37 RBI this year at Triple-A Fresno. His OBP is a robust .390 and his OPS is outstanding, at 1.012.
Kieschnick has worked hard to improve his defense, but that is not his strong suit. Simply put, he is a hitter. Giants' manager Bruce Bochy could use Kieschnick as a pinch hitter. The Giants have been very weak in terms of pinch hitting this year, so Kieschnick could add value in that role.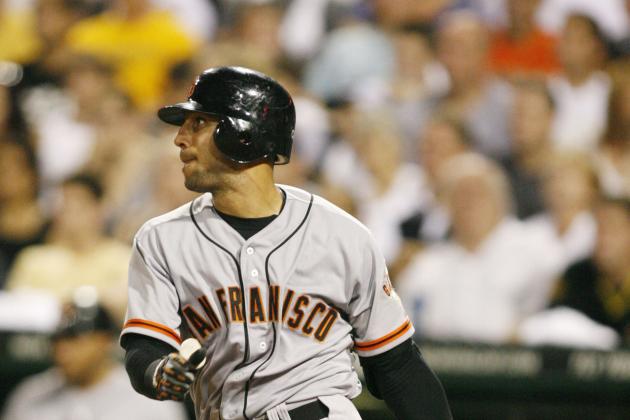 Charles LeClaire-US PRESSWIRE
Justin Christian has already played with the Giants this season
Justin Christian looks like your classic 4-A player. He has done a good job in the minors, but has not had a lot of success at the Major League level. However, Christian has skills that translate into being a very good September call-up.
While with the Giants, Christian hit only .158 in 38 at-bats. However, he has done much better when given regular playing time at Fresno. Christian hit .355 with seven home runs, 33 RBI, 56 runs and 12 steals with the Grizzlies.
Christian has good speed and can be used as a pinch runner. He is also a very good defensive player and can be used as a late-inning defensive replacement.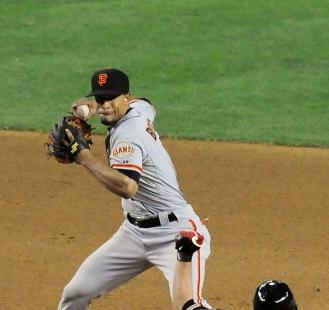 Norm Hall/Getty Images
Emmanuel Burriss won a job out of spring training
Emmanuel Burriss beat out Mike Fontenot for the last job on the Major League roster out of spring training. Burriss had an excellent spring and got a lot of playing time early on. However, he failed to produce and played himself out of a job.
As Ryan Theriot returned to health, he far outplayed Burriss and took over the starting second base spot. Joaquin Arias also moved ahead of Burriss as a utility infielder. With newly acquired Marco Scutaro producing, there was no room for Burriss.
I have never seen enough from Burriss to believe he could produce at the Major League level. He is a weak hitter with absolutely no power. Defensively, he is a solid second baseman, but much weaker at shortstop or third base.
In San Francisco for the first four months of the season, Burriss batted only .214, with an OBP of .273 in 131 at-bats. His SLG of .221 was laughable, as Burriss nearly set a franchise record for the most at-bats without an extra-base hit.
Like Justin Christian, Burriss has the look of a 4-A player to me. However, he has one main asset that can make him a valuable player for the September stretch drive. Burriss has excellent speed.
Giants' manager Bruce Bochy can use Burriss as a pinch runner in a tight ballgame when they need a stolen base or someone to score from second on a single.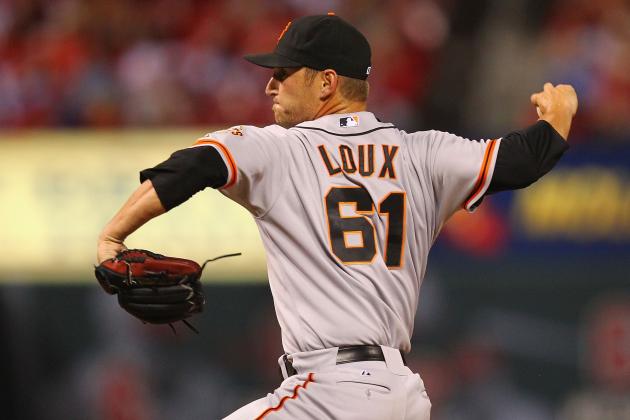 Dilip Vishwanat/Getty Images
Shane Loux can help keep the bullpen fresh
Shane Loux has pitched better for the Giants than his numbers would indicate. He is a 32-year-old journeyman with average stuff, but is not afraid to go after hitters. In 20.2 innings of work with the Giants, Loux has allowed 27 hits and has an ERA of 5.66 and WHIP of 1.597. He has struck out nine and walked six.
As I mentioned, those numbers are very poor. However, Loux can give manager Bruce Bochy some innings out of the bullpen. I would not expect to see Loux pitching in a crucial situation, but Bochy will not hesitate to use him when he just wants to eat up a couple of innings and save his bullpen.
Loux is currently on the disabled list with a neck strain. In an interesting coincidence, Loux mysteriously aggravated his neck when the Giants acquired reliever Jose Mijares from the Royals in a waiver claim.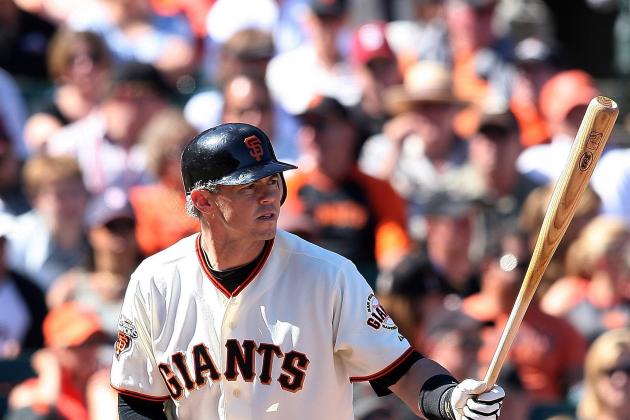 Tony Medina/Getty Images
Eli Whiteside will play a pivotal role for the Giants in September
Eli Whiteside will be an extremely valuable addition to the Giants in September. He will be used sparingly, but his mere presence will enable the Giants to utilize Hector Sanchez as a pinch hitter. This is something that Giants' manager Bruce Bochy was reluctant to do, as Sanchez was the only backup catcher on the team.
Having Whiteside on the roster in September allows Bochy to use Sanchez, who has a potent bat, a lot more. When given the opportunity, Sanchez has produced. He is currently batting .281, with two home runs and 32 RBI, in only 138 at-bats.
Sanchez has an excellent RBI total, given the number of at-bats he has taken. This shows he can produce in the clutch. In comparison, Brandon Belt has 33 RBI in 259 at-bats and Joaquin Arias has 17 RBI in 223 at-bats.
Whiteside was also used as a pinch runner for Buster Posey at times, although that won't be as necessary if the Giants also call up Emmanuel Burriss and Justin Christian.
If having Eli Whiteside on the roster enables Sanchez to get a few key hits to help the Giants win some games, then Whiteside's value is immense, even if he never plays.
Brad Mills-US PRESSWIRE
Xavier Nady was released by Washington in late July
The San Francisco Giants signed Xavier Nady on August 4, after he was released by the Washington Nationals. He was assigned to the Giants' Triple-A affiliate in Fresno.
Nady returns to the Bay Area, where he grew up and played his college ball at Cal. The Giants are undoubtedly hoping he can give them a jolt, much like Pat Burrell and Cody Ross did in 2010.
Nady is joining his eighth professional franchise and at the age of 33. He's a veteran who will not be intimidated by the pressure of performing in a pennant race. I fully expect Nady to get some playing time at first base, as Brandon Belt and Brett Pill do not inspire a lot of confidence.
Nady has 100 home runs, 399 RBI and a .271 batting average for his career. In addition to getting some action at first base, Nady will give manager Bruce Bochy a solid veteran presence off the bench in a pinch hitting role. Nady is the type of player that can win the Giants a game or two down the stretch and that could be enough to get them over the hump.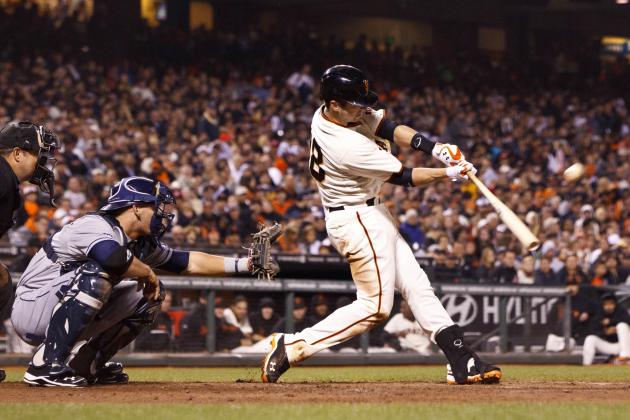 Jason O. Watson/Getty Images
Buster Posey has been playing at an MVP caliber level
The San Francisco Giants lead the NL West by a game-and-a-half over the Los Angeles Dodgers, with the Arizona Diamondbacks not far behind. These next few weeks of baseball will be filled with intensity and a playoff-like atmosphere.
A few of the September call-ups could play major roles in how the division race finishes up. With nine games remaining against both the Dodgers and the Diamondbacks, this race could go right down to the wire. Every win is critical at this stage and it will be an exciting end of the regular season.
The time is now for the Giants, as their window of opportunity is wide open.