New York Rangers: 3 Reasons the N.Y. Rangers Will Miss Brandon Dubinsky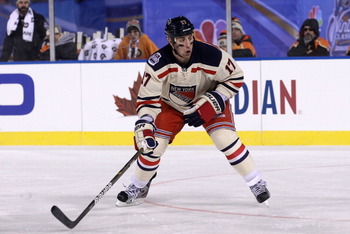 Bruce Bennett/Getty Images
In 2004 the New York Rangers selected Brandon Dubinsky in the second round of the 2004 NHL Draft. He played his first game for the Rangers on March 8th, 2007, against the New York Islanders.
From there, Brandon Dubinsky immediately became a fan favorite with the Madison Square Garden faithful. Dubbed as "Dubi" by the fans, in his first four full seasons with the Rangers, fans saw the center improve in goal scoring and point production. However, at the end of the 2011-2012 season fans saw Brandon Dubinsky at his low point. In 77 games, he scored a career-low 10 goals and 34 points.
On July 23rd, 2012, Brandon Dubinsky along with Artem Anismov, Tim Erixon and a first-round pick in the 2013 draft, were all sent packing to the Columbus Blue Jackets, in exchange for Rick Nash, Steven Delisle and a conditional third-round pick in the same draft.
While the loss of Brandon Dubinsky may not be evident yet, when the season begins it will have an effect on the New York Rangers.
3. Willingness to Stick Up For Teammates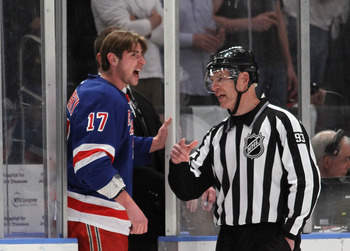 Bruce Bennett/Getty Images
Being part of any team, as a teammate you need to have the back of the players alongside you. During his tenure as a Blueshirt, Brandon Dubinsky did that multiple times, maybe more than any other player on the Rangers.
He was thrown out of Game 2 of the Ottawa series for being the "third man in" during the altercation between teammate Brian Boyle and Ottawa's Matt Carkner.
That is not the only time we have seen Dubinsky stand up for his teammates. In the past, we've seen him take on others, which includes the likes of the NHL's biggest superstars, Sidney Crosby and Alexander Ovechkin.
The Rangers will need to find a new player to become the "protector" of his teammates when they are being pushed around.
2. Toughness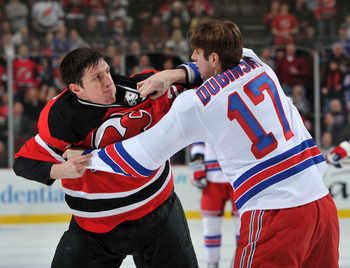 Christopher Pasatieri/Getty Images
This is directly linked to first reason given. When Dubi fought, it was usually to defend teammates.
Yes, I know the Rangers have plenty of players who can fight. Players like Michael Rupp, Stu Bickel and newly acquired Arron Asham, are all willing to drop the gloves. However, someone like Brandon Dubinsky inspired his teammates every time he dropped the gloves.
Why?
He showed toughness when his role did not require him to.
Dubinsky is not known as a fighter, unlike the three players mentioned above. They are supposed to drop the gloves, while he is supposed to provide secondary scoring. In addition, he's not one of the better fighters in the NHL, which is amazing considering how many fights he has had throughout his career.
Still, he backs down from no one. Fighter or not, you cannot teach toughness which Brandon Dubinsky had and will bring to Columbus.
1. Penalty Killing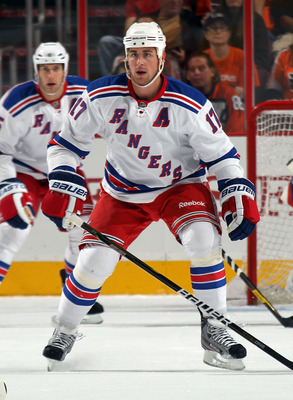 Bruce Bennett/Getty Images
The past two years the Rangers have finished top-5 in shorthanded goals and top-10 in penalty kill percentage.
This has come from great penalty-killing contributions from players like Ryan Callahan, Brandon Prust, Ruslan Fedotenko, Brian Boyle and Brandon Dubinsky.
With two of those players already gone before the trade (Prust and Fedotenko), the Rangers were already weak on the penalty kill. Now with Dubinsky, a player who can play well defensively and offensively (six shorthanded goals in his career), gone, the Rangers' penalty kill is even weaker.
This is where the loss of Brandon Dubinsky will affect the Rangers the most, especially with Rick Nash not known for his penalty killing.
Keep Reading

New York Rangers: Like this team?