Baltimore Ravens: Report Card Grades for Every Rookie in Camp so Far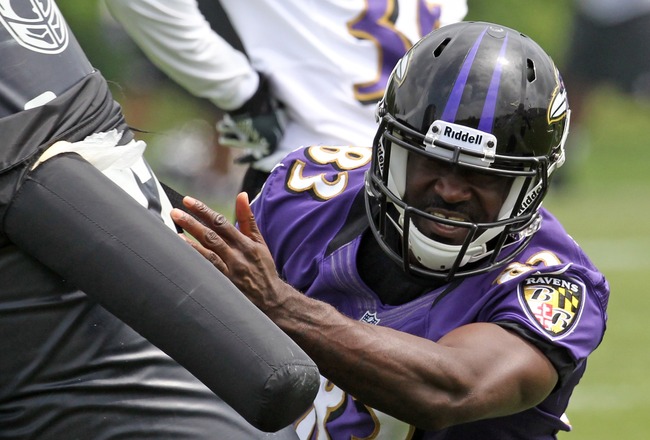 Mitch Stringer-US PRESSWIRE
With Ravens training camp well under way and the team's first preseason game tonight, it's time to look at the rookies and see how they've progressed thus far.
Ozzie Newsome has assembled another promising draft class in Baltimore as usual. With some minor injuries springing up thus far in camp, several rookies have already had to step up in prominent roles.
How are these Ravens' rookies performing so far? Let's take a look.
Courtney Upshaw: B-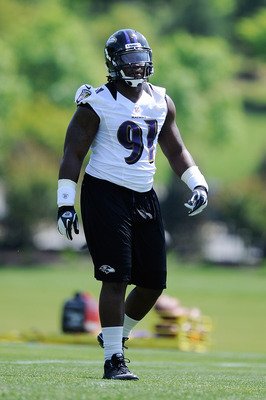 Patrick McDermott/Getty Images
Upshaw started strong but recently missed seven days of practice with a sprained shoulder. He should play in the team's preseason game against the Falcons.
Even before the injury Paul Kruger was getting reps with the first team defense. But the organization invested quite a bit in Upshaw, so he'll be on the field early and often, and fans hope to see his pass rushing abilities against Matt Ryan and the Falcons on Thursday.
Kelechi Osemele: A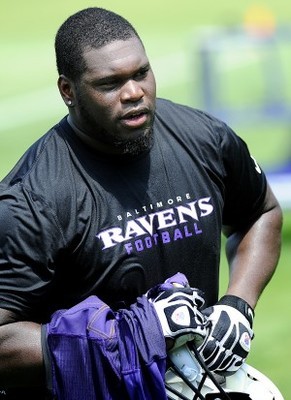 Photo Courtesy of Dylan Slagle, Carroll County Times
Ravens staff writer Garrett Downing noted earlier this week how great Osemele has looked. With Bryant McKinnie finally reporting to camp, it's a long shot the rookie cracks the starting lineup Week 1, but don't be surprised if he is there before you know it.
His strength and technique seem to have everyone at camp gushing over his bright future in Baltimore.
Bernard Pierce: D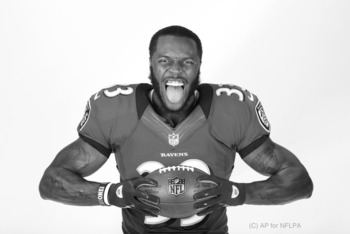 Photo Courtesy of Thomas Ovalle
Since the retirement of Ricky Williams, the team has been looking for an immediate replacement for his veteran production, but so far Pierce really hasn't had an impact.
According to John Eisenberg from Comcast Sportsnet, the former Temple standout hasn't established himself as a reliable option, and the team could look to add a veteran running back before the season starts.
Gino Gradkowski: B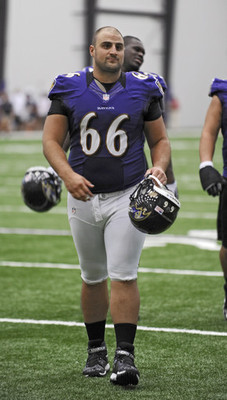 Photo Courtesy Kenneth K. Lam, Baltimore Sun
With ageless veteran Matt Birk sidelined, its been Gino Gradkowski playing primarily with the first-team offense. Getting experience this early in his development will only help him get better that much faster.
According to former Ravens beat writer and current ESPN blogger Jamison Hensley, Gradkowski might start in Birk's place if he's unable to go tonight in Atlanta. The team loves his football IQ, and it's already apparent that Gradkowski could be another example of Ozzie Newsome finding NFL starters late in the draft.
Christian Thompson: B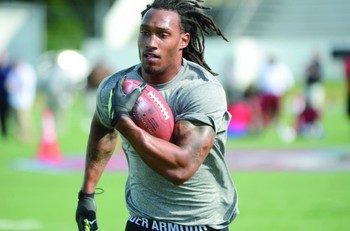 Photo courtesy of Thomas Grant Jr, The Bulldog Zone
The best thing that happened to Christian Thompson was when future Hall of Fame safety Ed Reed put his unhappiness with his contract behind him and showed up for camp. Thompson will have to replace Nakamura and Zbikowski, but having someone like Reed to show him the ropes is ideal.
Defensive coordinator Dean Pees recently described Thompson as "hard-nosed, tough, physical, and smart" which is exactly the type of players the blue-collar fans in Baltimore love to see play on Sundays.
Asa Jackson: C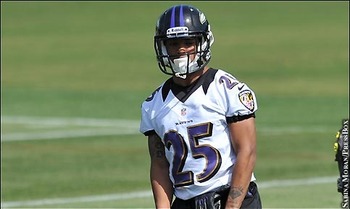 Photo Courtesy of Press Box Online
With defensive back being one of the deepest positions on the squad, Asa Jackson might need to display some different skills in order to get on the field in 2012.
In a recent interview with Baltimore Beat Down, Jackson let it be known that he is ready to learn. He will likely get some action on special teams during each of the preseason games.
Tommy Streeter: D
Patrick McDermott/Getty Images
After drafting speedster Torrey Smith last year and watching him blossom into a legit deep threat, the Ravens were hoping to find a late-round steal with Tommy Streeter, who has all the physical tools but underperformed at Miami.
According to Jason Butt, who covers the Ravens for CBS Sports, he has looked promising in camp and should have no problem making the team. However, he still needs to improve his route running.
DeAngelo Tyson: Incomplete
Photo Courtesy of Patrick Semansky,Associated Press
It's too early to give any analysis on DeAngelo Tyson. It's still early in camp and with the depth at the position, he really hasn't gotten many reps, if any, in practice.
Tyson will definitely get a good amount of playing time in tonight's preseason opener.
Keep Reading

Baltimore Ravens: Like this team?