Seattle Seahawks Training Camp: Opinion on the Latest News and Buzz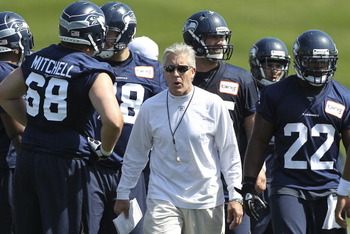 Otto Greule Jr/Getty Images
The crafty mastermind, Pete Carroll, is at it again, orchestrating a team of misfits and hopefuls.
You might recognize the names of some of the misfits. Does Terrell Owens, Braylon Edwards or Kellen Winslow ring a bell? I thought so.
How about the hopefuls? Tarvaris Jackson? Probably. Matt Flynn? Less likely. Russell Wilson? Oh, never mind.
Owens, Edwards, and Winslow are vying to climb the depth chart and Jackson, Flynn and Wilson are battling it out for the starting quarterback spot. Football is blossoming in Seattle, and the media has noticed, especially after the Seahawks signed Owens earlier this week.
If training camp thus far has been any indication of the drive and focus permeating out of the pours of each player, the Seahawks will be a team to reckon with come playoff time. And with an intelligent coach in Carroll at the realms, a playoff berth is completely plausible.
The Quarterback Race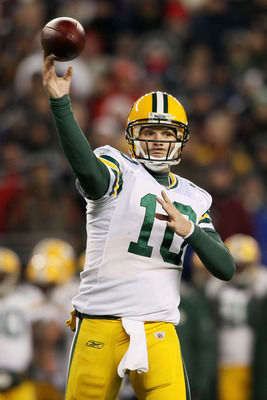 Elsa/Getty Images
The big news out of Seahawks camp Wednesday morning was the announcement that Matt Flynn will start the first preseason game against the Tennessee Titans this weekend.
After signing Flynn, the former backup to Aaron Rodgers with the Green Bay Packers, to a three-year, $26 million deal this past offseason, many believed he would be the front-runner in the quarterback race. Further supplementing this belief was the $10 million guaranteed on his contract.
According to The News Tribune writer Eric Williams, Flynn fared very well in exhibition games while with the Packers, throwing for 1,178 yards, eight touchdowns and three interceptions while completing 60 percent of his passes (105 for 175). He also shined in Week 17 last season, throwing for 480 yards and six touchdowns.
Nipping at Flynn's heals next week in camp will be Tarvaris Jackson and Russell Wilson.
Jackson was the everyday starter for the Seahawks last season, but after a 7-9 record and mediocre numbers, Seahawks fans would welcome a fresh face behind center. Jackson threw for 14 touchdowns and 13 interceptions in 2011 and was sacked an incredible 42 times, which could be partially due to his mobility behind the line of scrimmage.
Rookie Russell Wilson is hungry for that starting job. According to Tony Softli, a former personnel executive with the Carolina Panthers and the St. Louis Rams who spoke on Bob and Groz in Seattle, "I think he is the future, there's no question. Flynn, Jackson, they better not open the door because this guy will slam it shut."
Terrell Owens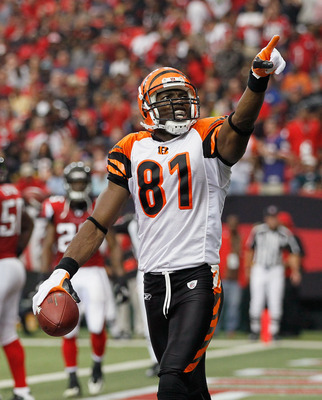 Kevin C. Cox/Getty Images
The T.O. Show is in Seattle—at least for a year.
After running the 40-yard dash in a blistering 4.45 seconds as a 38-year old, Terrell Owens signed a one-year, $1 million contract with the Seahawks.
If the pieces fall into place here, Owens could be a great addition to the team and would make general manager John Schneider and head coach Pete Carroll look like geniuses. The pieces are there with gunslinger quarterback Matt Flynn and a tall, deep-threat wide receiver in Owens.
In his last three active years in the NFL (2008-2010), Owens averaged 65 catches and over 950 yards, not to mention eight touchdown receptions. The top receiver for the Seahawks last year, according to Brock Huard of SeahawksBlog, was Doug Baldwin with 51 catches for 788 yards. Advantage T.O.
It also seems that Flynn and Owens are already creating chemistry on the practice field with Flynn throwing sharp, accurate passes, Owens running crisp routes and the two connecting for completions.
Now, if the new No. 10 can bring a mature, football-first mentality to the regular season and not the behavior that forced his Indoor Football League team, the Allen Wranglers, to cut him, the Seahawks could be on to something.
T.O. has been handling the press well, likely due to the no B.S. attitude of coach Carroll who has shipped out players such as T.J. Houshmandzadeh, Lendale White and Aaron Curry. After his first day of camp, Owens stated, "It's all about for me now being part of something rather than being the center of something. I understand a lot of the media is here because of me and again, I have changed in a lot of ways...", via ESPN.
I guess we'll see.
The Secondary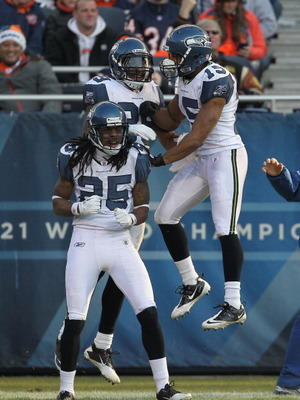 Jonathan Daniel/Getty Images
Three of the four members of the Seahawks' secondary were Pro Bowl selections last season: free safety Earl Thomas, strong safety Kam Chancellor, and cornerback Brandon Browner. Oh, and the fourth member, Richard Sherman, recorded 55 tackles and four interceptions. Not bad.
Needless to say, this unit is scary good.
Last season, the Seahawks defense was one of the best in the NFC. They allowed 3,518 total offensive yards (third), 19.7 points/game (second) and snatched 22 interceptions (third). And this secondary has no plans on slowing down.
Kam Chancellor was flagged and fined for a couple unnecessary roughness calls last season, but stated on the Bob and Groz radio show in Seattle that he won't let that deter his aggressive style. "I'm gonna bring that boom continuously. I'm gonna always do that because that's my game. I just have to be smart about how I do it."
The entire Seahawks secondary is going to be looking to bring that boom. Paired with an offense that may have difficulty moving the ball through the air resulting in short drives, the defense could see a lot of playing time.
Week 2 and Week 3 bring the Dallas Cowboys and the Green Bay Packers to town and will prove an early test to the young, yet formidable secondary.
Keep Reading

Seattle Seahawks: Like this team?