USA vs. Australia: Winners and Losers from Olympics Basketball Quarterfinal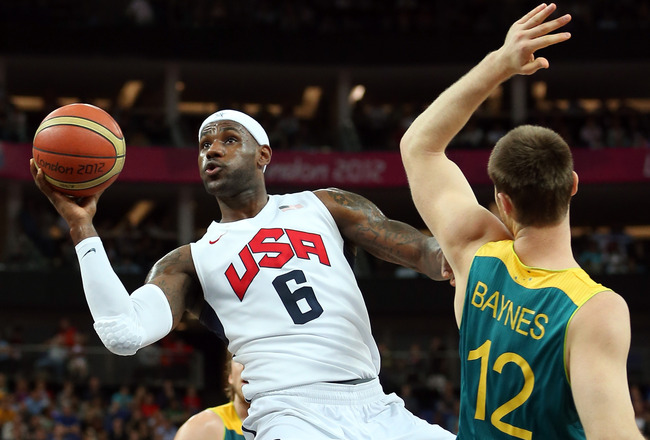 Christian Petersen/Getty Images
In a game that seemed far too close for far too long, Team USA eventually pulled away from the scrappy Australians for a comfortable 119-86 victory that flirted with the pregame point spread in the final seconds of the game.

It's easy to look at the final score and just assume that Team USA manhandled a far less talented Australian team, but anybody who watched that game knows just how deceptive final numbers can be. There was great drama through the game that led some of us to believe if we were going to see a historic upset while wondering if certain players were past their primes.

The fight Australia put up while looking completely overmatched on paper (and later in the fourth quarter) should be commended. With eight minutes left in the fourth quarter, Australia was still within striking distance, down just 87-75. The Americans finished those final minutes with a stifling and entertaining 32-11 run.

Both teams shot eerily similar in this game. Team USA connected on 45.3 percent of their shots overall, 41.3 percent from three-point range and 68.8 percent from the free throw line. Australia shot 45.1 percent from the field, 40.9 percent from three-point range and 61.9 percent from the charity stripe.

The big differences in creating the misleading final margin of victory were turnovers and second chance opportunities. Team USA doubled the offensive boards of Australia with a 16-8 margin and forced them into 18 turnovers, compared to America's 10.

Overall, it was a fantastically entertaining game that seemed to get better and better with each chaotic moment (unless you were rooting for Australia). And even though USA won by 33 points, there are winners and losers on both sides from this game.
Winner: LeBron James, Team USA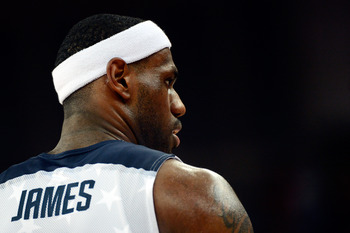 LeBron James finished the game with a line of 11 points, 14 rebounds, 11 assists and zero turnovers in 30 minutes.
Ronald Martinez/Getty Images
In all of the over-analyzation of LeBron James' ability on the basketball court and where he sits historically just halfway into his career, sometimes we forget to just sit back and appreciate how absurdly talented he is.

This was one of those games. There wasn't an overwhelming sequence of awesomeness that he displayed at any one point, but he was just steadily picking apart Australia's defensive efforts by being mentally a step ahead of their rotations. There were two passes in particular that stood out.

The first pass was the one he had early in the game. With a little over four minutes left in the first quarter, LeBron took a post-up opportunity on the right side of the floor (if you're facing the basket) against Mark Worthington. He caught Carmelo Anthony prowling from the left side and cutting baseline. With his back to Anthony, he dropped a bounce pass around Worthington and through the legs of Aron Baynes that set up Melo for the finish plus the foul.

The second pass came in the fourth quarter to start that enormous run to end the game. With the score 87-75, LeBron fired a one-handed pass across the floor from one corner to the other. Deron Williams caught the laser pass and knocked down a three-pointer. It's not often you see a crosscourt pass in the blink of an eye from one corner to another that the defense has no chance of picking off, especially not one on a straight line.

Overall, LeBron finishing with a line of 11-14-11 with zero turnovers absolutely makes him a winner of this game.

He managed it pretty well.
Winner: Patty Mills, Australia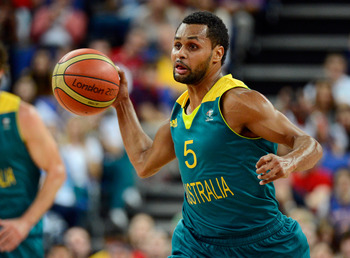 Patty Mills ended up with a 26-point effort to go with six rebounds and two assists in a loss.
Ronald Martinez/Getty Images
For anybody who watched Patty Mills at St. Mary's College, it does not shock you to see he dropped a lot of points on an unsuspecting defense.

Mills is one of those guys that you kind of want to see go off because it's unbelievable and inspiring at the same time. There isn't a single reason Mills should be able to hang with this backcourt that Team USA throws at him when you're looking simply at talent and athleticism. It's not to say that Patty isn't talented because he has a lot of talent in his arsenal.

It's just that he should be physically overmatched and hounded constantly when he's the main scoring threat for a team devoid of a lot of scoring threats. What allows him to have games like this is he plays extremely intelligently for creating space and has a ton of heart to know he has to have a big game to give his proud country a chance.

He hit nine of his 20 shots and knocked down four of his nine three-point attempts to tally the majority of his 26 points. There wasn't much Team USA could do to stop him. He used screens properly, knew when to attack off the dribble and did a fantastic job moving without the ball in a Jason Terry type of role.

Most impressive was his ability to recognize when he should push the ball against a U.S. team that was slow to get back defensively and when to cut into the lane to make plays for Australia.

Mills will now go back to being a relatively unknown backup point guard in the NBA, but he's proven that if you give him a chance to get loose on the basketball court, he can be a hell of a competitor to go against.
Loser: Kobe Bryant, Team USA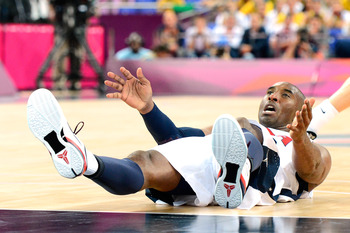 Kobe Bryant started this game in a rough manner with making none of his first four shots and turning the ball over three times.
Ronald Martinez/Getty Images
This was a bad moment for the Kobe Bryant era.

In the Olympics, we should be looking to see him go into Mamba Mode against weaker opponents and show why he's one of the greatest players we've ever seen. Now that he's older, it's much harder for him to come close to having those overwhelming moments.

He had such an embarrassingly rough start to the game that some people were calling for him to hang it up sooner rather than later. Joe Ingles from Australia was far too physical and quick for Kobe. Forcing him into dumb turnovers, not allowing him to get free for jumpers, and making him look like the old guy at the YMCA who can't really hang with the young crowd anymore.

It got to the point that whether you love Kobe and expected him to bounce back next season with Nash by his side or dislike him and wish the Lakers much failure, it was hard to watch him be completely overmatched by a guy who could possibly make a roster in the NBA.

He just made horrendous decisions that kept him from even looking competent out there.
Winner: Kobe Bryant, Team USA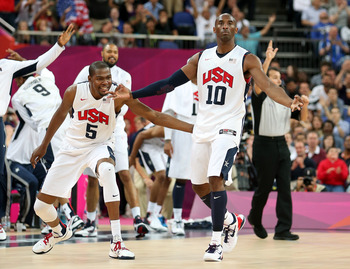 Kobe finished the game with 20 points on six-for-14 shooting, making six of his 10 three-point attempts.
Christian Petersen/Getty Images
OH MY GOODNESS, KOBE WENT ASSASSIN IN THE SECOND HALF.
After so many bad decisions in the first half, Kobe got out on a fast break early in the third quarter and went straight at his defender to draw the foul. It got him two free throws that allowed him to calm down whatever angst or anger he was feeling from his play in the first half and get his shooting form back in alignment.
From there, Kobe just became unfair.
He went full-on NBA 2K Rookie Mode in which he connected on six of his next seven three-point attempts, some from ridiculously confident spots on the floor.
The thing that made it so fun was that even after possibly the worst half of basketball Kobe Bryant has ever played in his life, his jumper was so on point in the fourth quarter (when he drained four straight threes on four straight possessions) that Team USA felt obligated to give him the ball to keep the show going.
Chris Paul had the ball in the half court and tried to hand it off to Kobe while throwing his body into Joe Ingles just to free Kobe up for more target practice. It worked to get Kobe a look, but he finally misfired from long range. To see a guy have it going like that and watching the best players in the world give up any chance of shooting to see him do it again was awesome.
And seeing their reactions on the sideline as they burst with elation after consecutively made jumpers from Bryant reminded you just how ridiculous he can be at times. He went from having people doubting whether or not he should play much longer to becoming a flamethrower in roughly 10 minutes.
Bravo, Kobe. Bravo.
Winner: Kevin Love, Team USA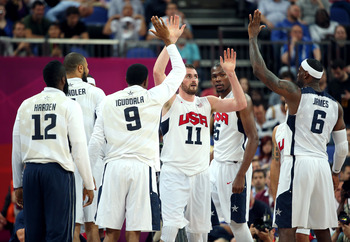 Kevin Love finished with 10 points and 11 rebounds (eight offensive) in just 21 minutes of action.
Christian Petersen/Getty Images
I don't know if anybody else will dispute this but Kevin Love is the best rebounder in the world.
There are some guys like Dwight Howard, Marcus Camby and Reggie Evans who can put up incredible rebounding rates, but Love seems to be a cut above the rest over the last couple years.

Because he lacks traditional athleticism that makes your jaw drop and your YouTube website to get its bells and whistles going, we often forget just how hard he works against entire front lines to secure errant shots. Against Australia on Wednesday, he showed just how devastating his knack for the board can be to the opposing team.
He kept eight possessions alive for Team USA, wearing down Australia's Bogut-less frontcourt and allowing his own team to get more points. They scored nine points on his eight offensive rebounds. His tenacity in the paint and willingness to claw and scrape his way to precious rebound after precious rebound was fun to watch.
He never shied away from contact and may have gotten away with a push or two when fighting for position. But, he kept the U.S. players going with a gritty effort and helped fuel as much momentum as they could muster when he was on the court.
His defense was also surprisingly solid, despite being one of the big things holding him back from being widely renowned as one of the top players in the NBA.
Loser: Tyson Chandler, Team USA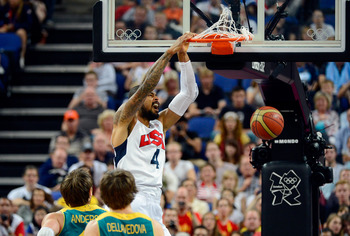 Tyson Chandler played just nine minutes against Australia, gathering six points and two rebounds.
Ronald Martinez/Getty Images
Tyson Chandler was supposed to be our answer for any big man combination thrown at us in the Olympics, and so far it's been a bit disappointing to see Team USA operate with him on the court.
It seems like Coach K is much more likely and comfortable going with a small ball lineup to wear down opponents than to protect the rim at all costs. I don't know if it's anyone's fault that Team USA seems to be sort of ineffective when Chandler is on the court. He's caught a few lobs, grabbed a few big rebounds and helped challenge shots over the past week or so.
However, Chandler just isn't changing the game like we all hoped he would. It's possible this is due to Coach K being too strict on his minutes and opting for a cavalcade of small forwards to defend the post instead of Chandler. But, when you watch team after team march through the interior and get easy baskets on pick-and-rolls, you start to wonder who Chandler has to swat around here to get some playing time.
As they match up against Argentina on Friday, maybe he'll play more minutes than he saw tonight (although he only played 12 minutes against Argentina on Monday). Or, maybe Coach K will continue to believe that hellfire and small ball fury will be the way this team wins, no matter what the size or skill of the opposing frontcourt throws at Team USA.
Regardless, it's disappointing to see how the reigning Defensive Player of the Year is being used on the court.
Winner: Carmelo Anthony, Team USA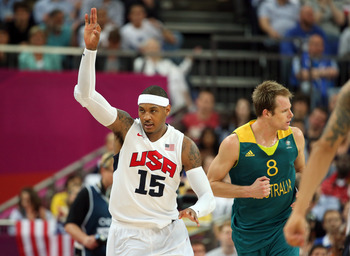 Melo contributed 17 points and four rebounds off the bench for Team USA.
Christian Petersen/Getty Images
Whether or not you believe Carmelo Anthony is the guy to lead the Knicks to a championship in the NBA, 'Melo is definitely the guy to lead the charge for Team USA's second unit.
This guy has been unconscious throughout the first six games of action. After completely dominating Lithuania in the five-point victory, Anthony kind of stunk up the place against Argentina in the final game of pool play. But, that's not going to deter someone like Carmelo from putting up more shots and trying to cook on the basketball court.
He returned to his typical smothering offense during international play. He made half of his 12 shots and was extremely active off the ball, which makes you wonder if the Knicks should have kept a certain ball-dominant point guard from Harvard.
This version of Carmelo Anthony we've seen this week is a guy that is still in love with the outside jumper, but also completely willing to mix it up inside. He's incredibly strong and mobile for his position and he hasn't been afraid to use that strength to be physical with bigger players.
Against Australia, he not only scored inside against bigger players but he also actually played some decent defense. While he wasn't completely effective and stifling on the defensive end of the floor, he was active and putting forth the type of effort that makes you daydream about a more well-rounded 'Melo.
Throw in the fact that he is in love with taking advantage of the goaltending rules in FIBA play, and we get to see a much more involved 'Melo when it comes to games like tonight.
Winner: Joe Ingles, Australia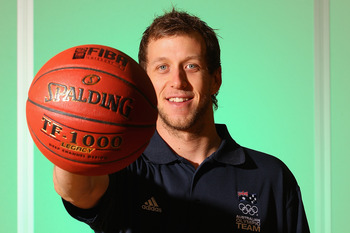 In a losing effort, Ingles showed an all-around game 19 points, eight rebounds, and six assists while playing all 40 minutes of this game.
Quinn Rooney/Getty Images
Joe Ingles played every moment of this game and, while he isn't exactly LeBron James on the floor, he was the LeBron for Australia Wednesday night.
Australia doesn't have the luxury of depth at most positions (although they have two fantastic young players who will be available for the 2016 games), so a player like Ingles had to do everything on the court and do it for the entire game against Team USA. His defense on Kobe was pretty exemplary early on in the game, as he helped frustrate Kobe to the point of combustion.
On the offensive end of the court, he scored from all over the floor to get his 19 points on six-of-eight shooting. He didn't force much offensively and just accepted everything within the flow of the game and what was given to him by the opposing defense. He moved the ball to open shooters when he needed to. He attacked off the dribble and cut inside for easier baskets. He fired in shots from long range.
He's just 24 years old, and an effort like this can really give him a lot of confidence moving forward. He tried to catch on with the Warriors during Summer League a couple years ago, and now plays for Regal FC Barcelona in Europe. You don't end up on that team without being able to play against some of the world's best competition.
Even though his team eventually got blown away by the depth and firepower of Team USA, Ingles had an effort that should make his country proud.
Loser: Those Praying for a Last Minute Point Spread Miracle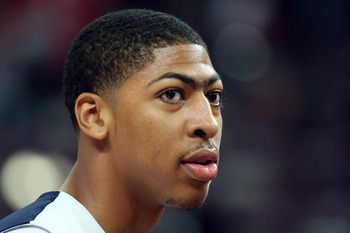 33-point spread and a 33-point margin of victory. Bettors can't be happy.
Christian Petersen/Getty Images
With Team USA favored by 33 points by quite a few sports books, there was a flurry of gambling implications in the final minute of the game.
The score was 117-84 right before Carmelo Anthony got an easy bucket with 40 seconds left to push the margin to 35. Bettors that laid the points rejoiced with greed and thoughts of money pouring into their fanny packs. Then Brad Newley scored a layup to push the spread back to, well, a push with 31 seconds left.
With USA needing to put up a shot before the shot clock would do that car alarm thing for the last time in this game, Carmelo missed a three-point shot with four seconds left. But, Anthony Davis flew in for the offensive rebound and the possible money-saving basket.
He bravely went back up with a shot attempt inside to give the points-layers their winning ticket, only to be turned away by Aron Baynes with a blocked shot.
The game ended in a 33-point tie, assuming you had money on the point spread.
Winners: Australia Men's Basketball Team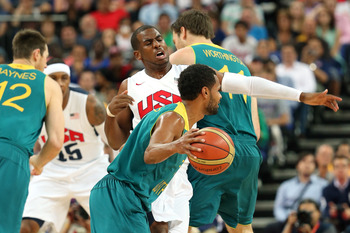 Christian Petersen/Getty Images
For people in the United States, anything other than a gold medal is completely unacceptable.
As the powerhouse in the basketball world, any other result would be a huge disappointment, and rightfully so. We've set a standard for ourselves that only the best results can give us joy as a basketball community.
But, that isn't the case for any other country. For Tunisia, the fact that they hung with Team USA for almost a quarter and a half in their matchup was probably a huge victory for their basketball program. Great Britain gutting out a victory to avoid going winless in their time hosting the games was also a pretty big moment for their basketball program.
And for Australia to win three of their five pool play games and move on to the quarterfinals while missing their best player, Andrew Bogut, it was a proud accomplishment for such a budding basketball program on the international scale. Australia hung with Team USA for the second time in the last three Olympic games.
In 2000, they advanced to the semifinals before getting defeated by France. In 2004, they never got out of group play despite losing to Team USA by just 10 points. And, in 2008, they made it to the quarterfinals before losing to the U.S. by 31 points.
Now, they managed to go toe-to-toe with the best basketball team in the world for the first 32 minutes of the game. That's something for Australia to build with and take with them into the 2016 games when Dante Exum and Ben Simmons join the Boomers.
Good on you, Aussies.
Keep Reading