Texas Football Training Camp: Injuries, News, Analysis and Position Battles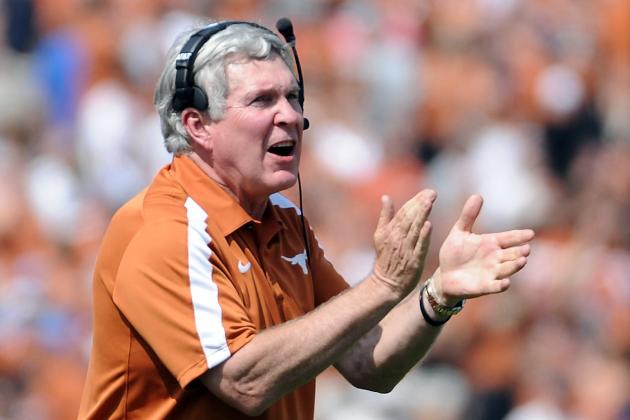 Harry How/Getty Images

There are only three weeks left before some of our top college football questions begin to get answered. One that many would like to know the answer to, is how are the Texas Longhorns going to fare in the 2012 season?
A program that is used to competing for conference titles and national championships has won a combined 13 games in the last two seasons.
While some would like to see a coaching change, this may be the season that Texas is able to turn things around, as they return 17 starters from a year ago. There simply aren't many teams in the country that have as much talent as the team that head coach Mack Brown is bringing back.
With fall camp underway, many eyes are going to be on this dark horse contender. And you can stay tuned for all of the latest updates, news, injury reports and more involving your Texas Longhorns during camp.
Begin Slideshow

»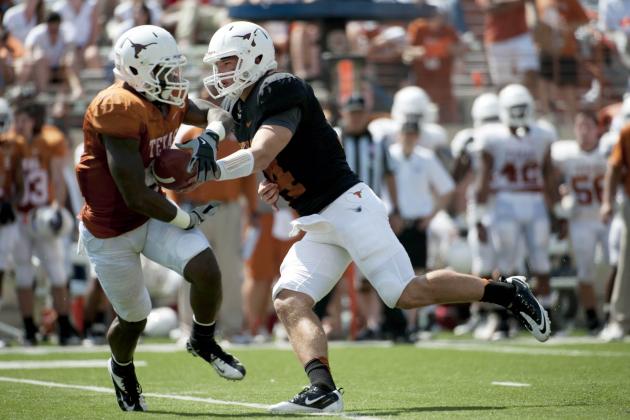 Brendan Maloney-US PRESSWIRE

Yesterday it was reported that David Ash will be the starting quarterback for the Teas Longhorns, but we did not hear anything from head coach Mack Brown. Now it is official that Ash will be the starter heading into the season opener against Wyoming. And while Brown feels confident that he will do a good job of leading the way, he still is leaving the door open for Case McCoy. (Via Carter Strickland of ESPN)
As we have been saying, it is obvious you have to have one walk out there first. Texas coach Mack Brown said. But we feel like both of them have been really good leaders and they handled summer well and they handle preseason well, so we are not hesitant to put either one of them in the game. But David will start.
Both quarterbacks saw significant playing time last season, but neither was able to separate themselves from the other. With the season just a week away, it looks like this is a quarterback battle that may last well beyond fall camp.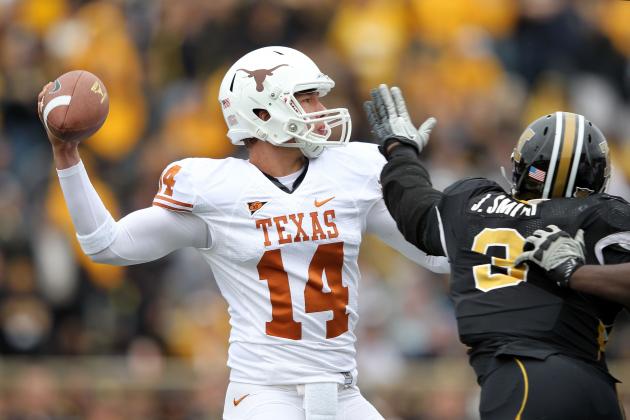 Jamie Squire/Getty Images

Bobby Burton of Hookem.com is reporting that David Ash will be the starting quarterback week one against the Wyoming Cowboys. This really comes as no surprise to anyone who has been following this competition, as Ash has seemed to be the front-runner for the starting job all along.
But earlier this week, co-offensive coordinator Bryan Harsin said that the Longhorns plan on using both Ash and Case McCoy throughout the game.
It is important to note that head coach Mack Brown has not made an official announcement on who the starting quarterback will be this season.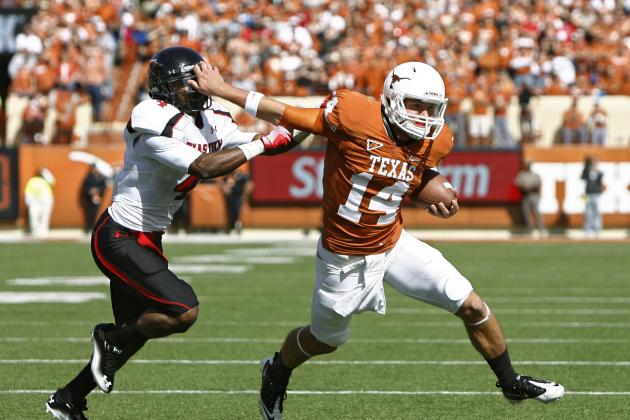 Erich Schlegel/Getty Images

The starting quarterback is a position that could either make or break this Longhorns team. And while many are waiting to see if the leader is going to be David Ash or Case McCoy, the coaching staff recently said that the decision will likely be made in the regular season.
The Longhorns kickoff the 2012 season against Wyoming, where you will probably see both quarterbacks play in the game. (Via Carter Strickland of ESPN)
We want both guys to play. co-offensive coordinator Bryan Harsin said.

Right now obviously one guy is going to have to roll out there at the beginning. You have to do that. Harsin said. But if they continue progressing like they have been through these next few practices before we play, you can expect both guys out there.
The Cowboys are a team that went 8-5 last season in the MWC and had a defense that was ranked 67th in the country. And while the Longhorns may be able to get away with a two-quarterback system in this game, it is interesting that neither quarterback has done enough to emerge from the pack so far in camp.
Brian Bahr/Getty Images

The wide receiver position is a big question mark for the Texas Longhorns. There is talent, but very little consistency on the offensive side of the ball. The position just took another hit, as DeSean Hales has decided to leave the team and focus on his academics. (Via Carter Strickland of ESPN)
Coming to this decision wasn't easy, but I've talked to my family and have decided that it would be best for me to focus on my degree and my career for the future. Hales said in a release. Football doesn't last forever, and I feel like I could be a help to the team in other ways outside of playing.'
Hales was considered one of the standouts from spring practice and will finish his Texas career with 13 receptions for 87 yards.
We appreciate the effort and work DeSean has put in over his four years as a player here. Head coach Mack Brown said in a release. We understand his decision and look forward to him staying involved with the team and being a positive influence, especially to the young receivers.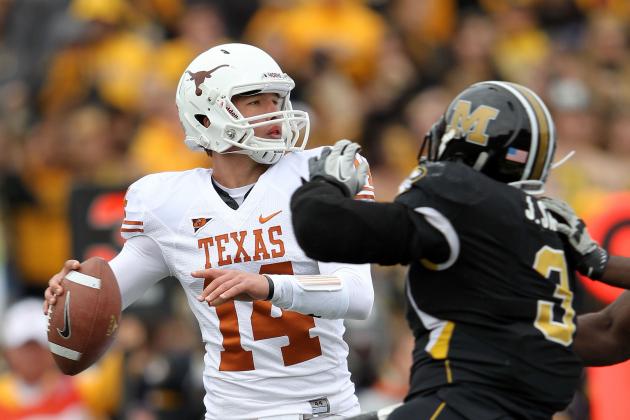 Jamie Squire/Getty Images

The Texas Longhorns have talent on both sides of the ball, but the one thing that could certainly hold this team back is the quarterback position. David Ash and Case McCoy are neither exactly two players you will feel comfortable with heading into the season. Unfortunately head coach Mack Brown has to make a decision on one of them and he apparently still has no idea who the guy for the job is going to be.
"We'll have two quarterbacks ready to play. We're having more consensus that both could play and we could still win a game." Brown said. (Via Kirk Bohls of statesman.com)
Playing both quarterbacks once again this year can't be the answer, as the Longhorns tried this last season and it didn't go so well. Texas had the 86th worst passing offense in the country and neither quarterback was consistent, throwing a combined 11 touchdowns and 12 interceptions.
"They're never where you want them to be or hope them to be," Mack said. "We're going to have a good team, but we're not there yet."
With only two weeks before the season begins, a quarterback must begin to step up and the coaching staff must hand over the keys to one of these players and hopefully everything works out well.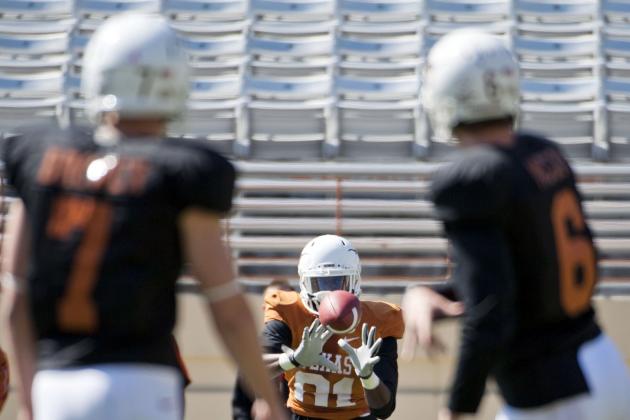 Brendan Maloney-US PRESSWIRE

Miles Onyegbule at tight end
While Texas continues to try and find consistency at the wide receiver position, Miles Onyegbule looks to move to tight end. (Via Head coach Mack Brown)
Decided 2day we're gonna give Miles Onyegbule a good look @ TE starting this PM. Big, strong, great hands. Really think he can help us there

— Mack Brown (@UT_MackBrown) August 11, 2012
Onyegbule played in every game last season as a freshman, caching four passes for 51 yards.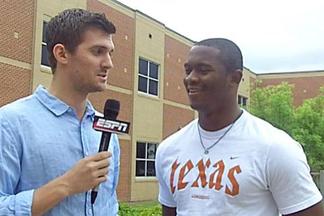 Photo Credit: search.espn.go.com
With Texas just beginning the fall process, there is one player who is already making an impact among his teammates. That is true freshman Jonathan Gray, who is a 5-star recruit from the 2012 class.
"You go by the film room and you see him in there," junior lineman Mason Walters said. "You go by the weight room and you see him in there. You are like, 'All right, I see.'" (Via Carter Strickland of ESPN)
We all know Gray has the potential to be a great running back, but with two established backs on the roster already in Malcolm Brown and Joe Bergeron, there is no telling just how many carries he will receive his first year on campus.
"We've got three of the best running backs, not just in the Big 12, but in the country," Quarterback Case McCoy told Strickland. "With having the three of them in the same room it's going to be interesting how we make it work."
Gray is more of a speed back who is a threat to take it the distance every time he is given the opportunity. And with his work ethic, as well as his talent, his teammates know that the sky is the limit for the young man.
"You can tell he's going to be good," Texas safety Kenny Vaccaro told Strickland.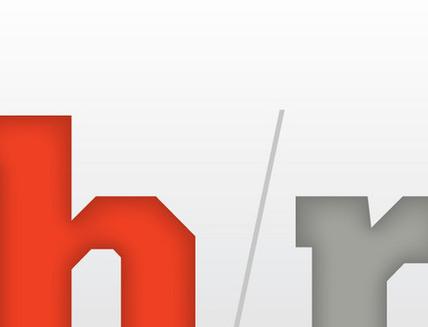 This article will be updated throughout fall camp to provide you with the latest news, injuries, and everything else that involves your Texas Longhorns.